There are always creative ways you can adopt to preserve your belongings and properties at home. Instead of having your bows, ribbons, and brooches scattered all over the place, you can always keep them safe, tidy, and neat in some corner of the house.
In this article, I have put together a couple of DIY bow holder projects that would be easy for you to DIY. All you have to do is pick a project, gather the materials, and start crafting. Making a DIY bow holder is very easy.
You May Also Like: 25 DIY Sunglasses Holder - How To Make A Sunglass Organizer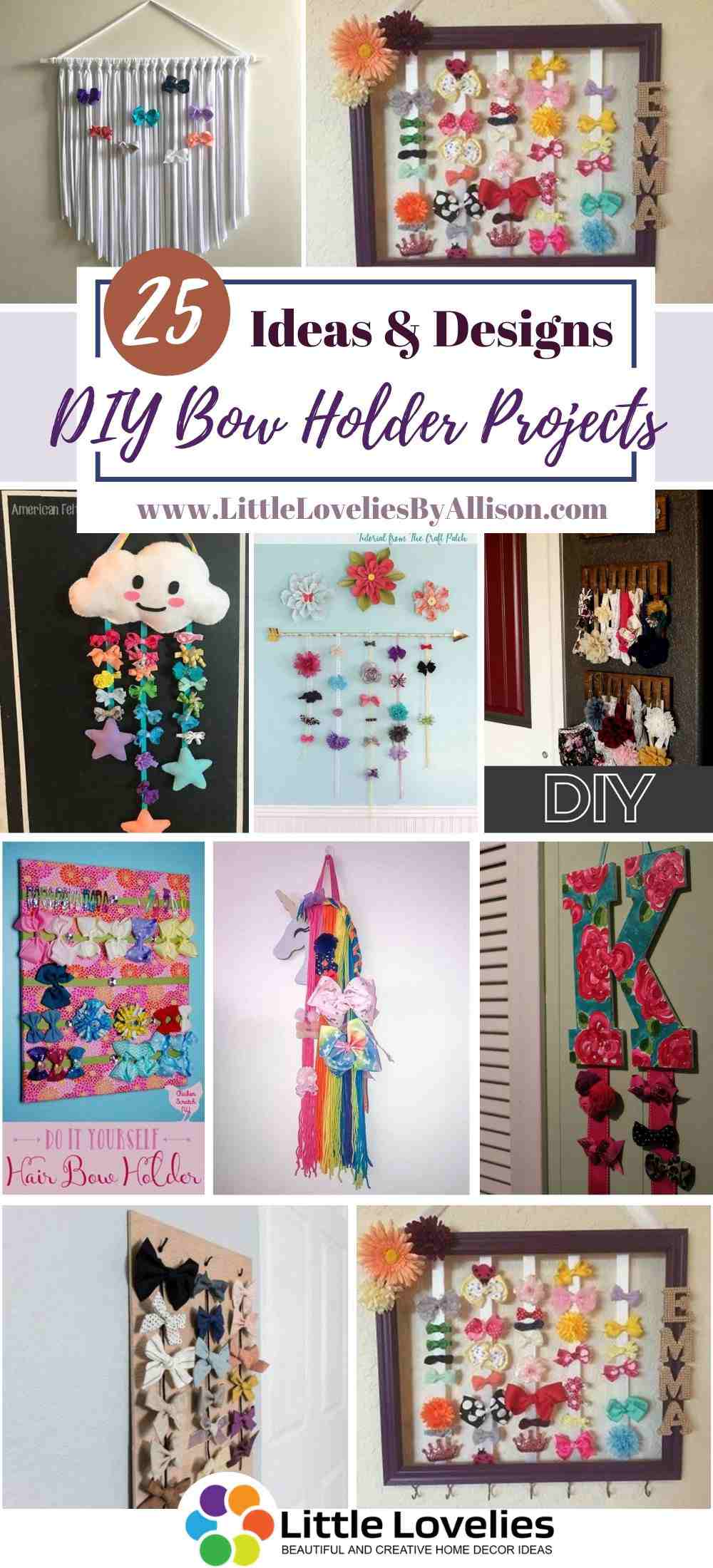 1. DIY Hair Bow Holder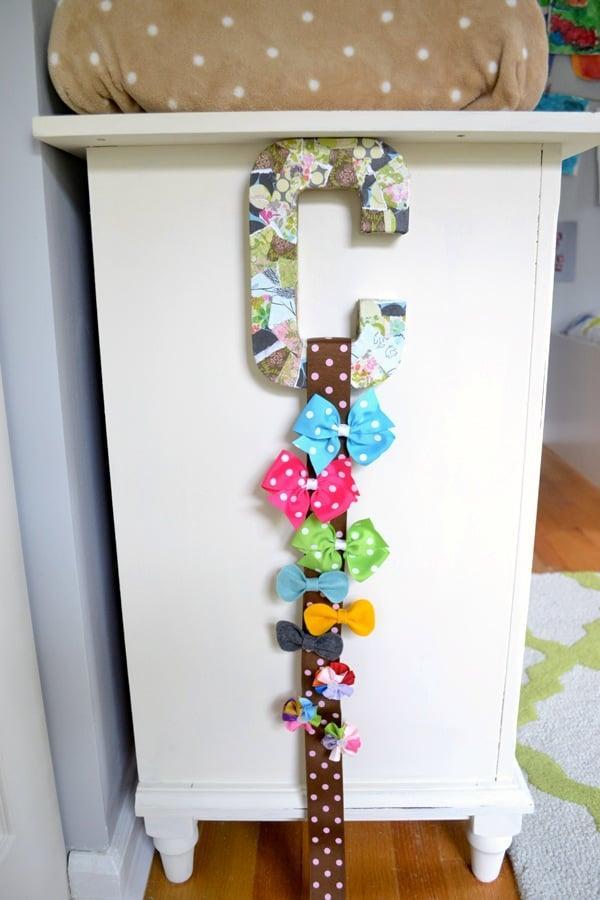 Use any letter as your starting point to customize this. To make this, you will need mod podge glass, wooden or paper Mache letters. Cover the whole letter with scraps then attach your ribbon with hot glue. The making process is pretty much easy.
2. DIY Cheap Bow Holder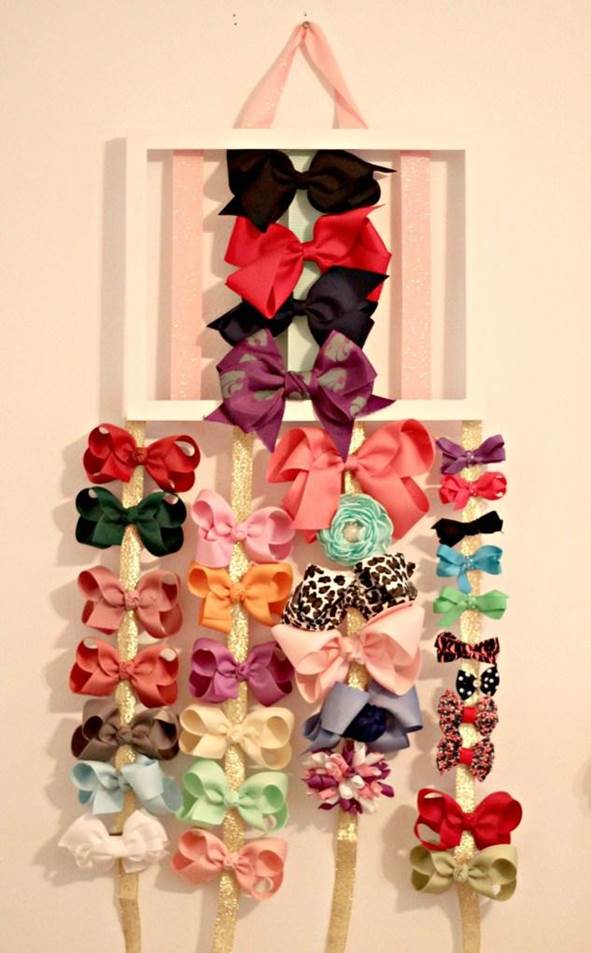 Are you looking for a low budget bow holder? This is a really fanciful DIY bow holder that looks like a frame for pictures. You will be surprised at what this can become. You can hang as many as 50 bows depending on the length of your ribbon. Get a wooden or plastic frame and assemble your strips of ribbons to it.
3. Simple Hair Bow Holder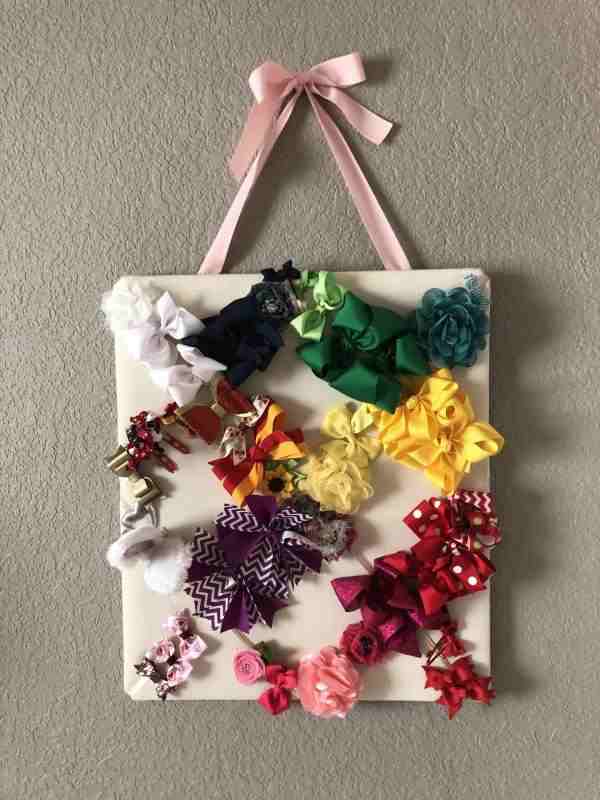 Looks like a bow-collage but it is a simple DIY bow holder. You will need a fabric photo board to get this done. You can put the bows in a rainbow or you can organize them as you please.
4. DIY Bow Holder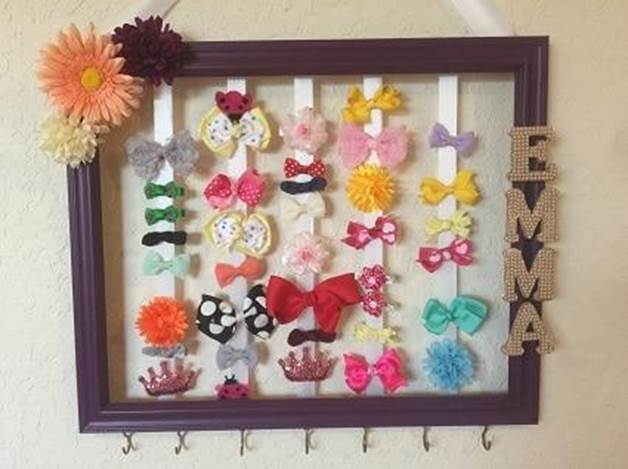 The sides of the frame are slots that you can customize easily. To make this, you will need a wooden frame where you will insert ribbons in it vertically. For the name, get the letters and glue some pearls on it to make it stand out.
5. How To Make A Hair Bow Holder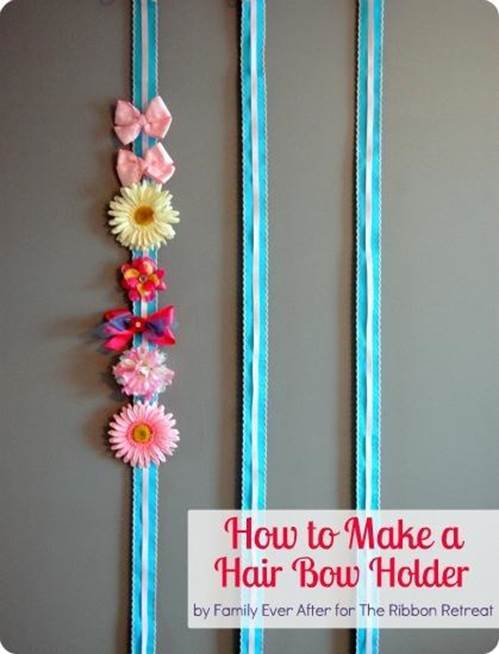 This is cheap and easy. Attach a slimmer ribbon to a larger one with different colors. You can decide to use blue and white as is seen there. Fit to a base.
6. DIY Hair Bow Holder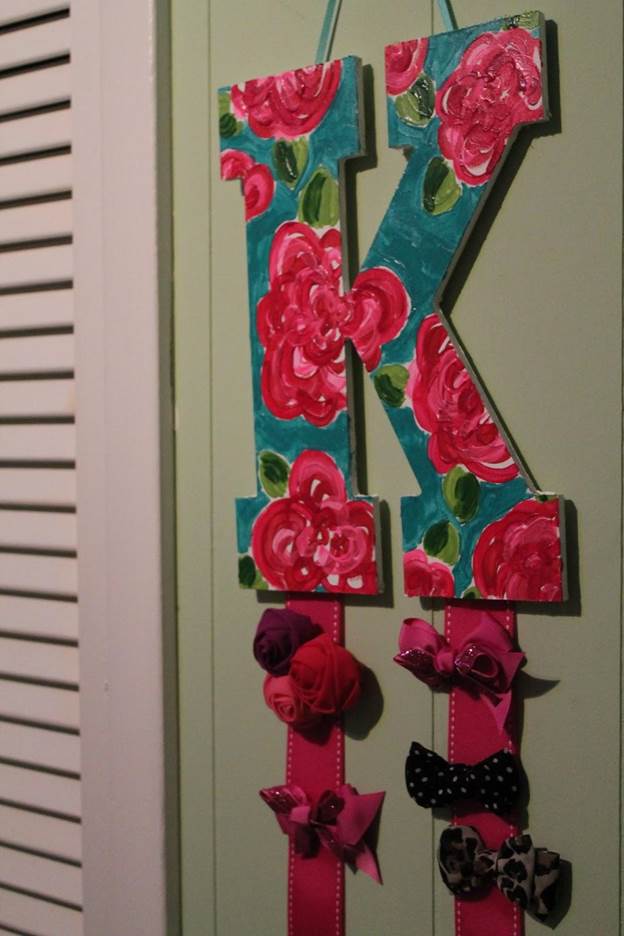 There are so many ideas that can give you the exact DIY bow holder that you want. This can be made by starting with a white surface for the letter. Paint it up the way you will love it. Finally hot glue a pink ribbon to the base of the letter.
7. How To Make A Simple Bow Holder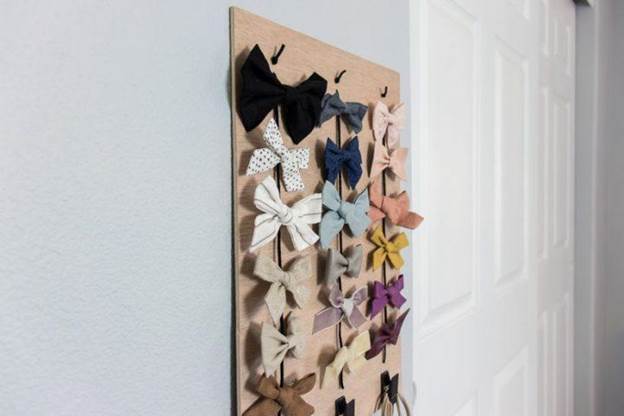 This looks like a collage of bows and it is really easy to make. You will need access to birch plywood. Cut the board to size and mark holes in it. Drill the holes and add your lace. Add your command spring clip and hang.
8. DIY Rainbow Unicorn Bow Holder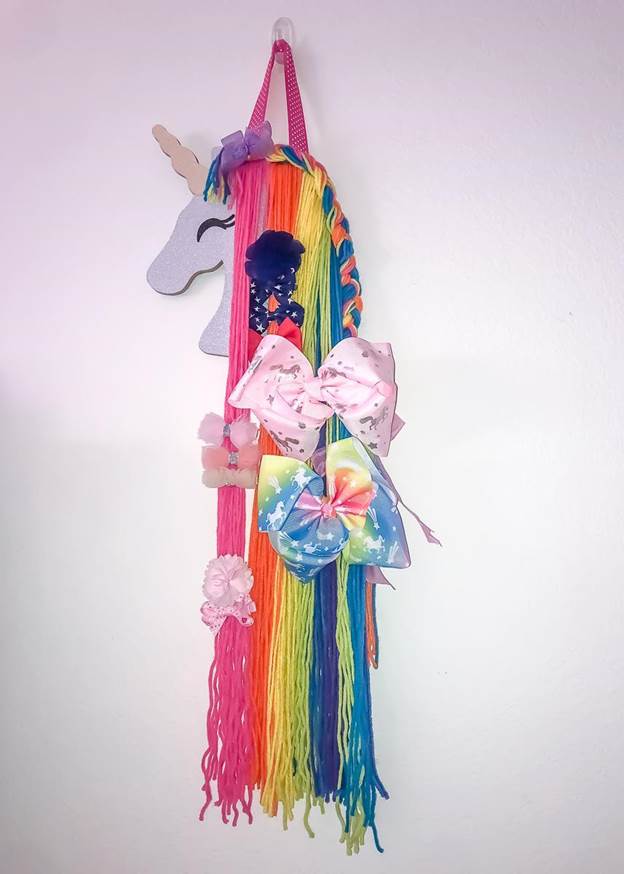 This looks like a colorful mop hair but there is something about it that can give a glow to your bows. It is actually a rainbow unicorn bow holder. The first and most important step is to create the unicorn head. Add several colors of yarn hair then add the braid. As complicated as it looks, the making process is very easy.
9. $2 Hair Bow Holder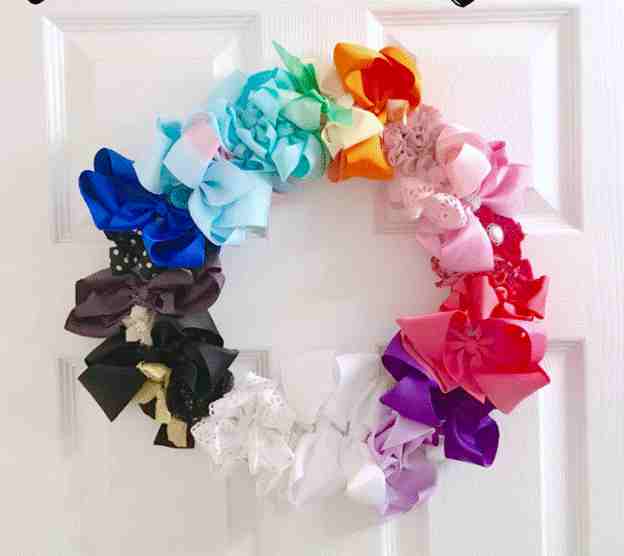 This wreath looking bow holder is done for about $2. Get an iron wreath form from the store, clear command hook, and spray paint. All you need to do is spray the wreath and hang it to the command hook.
10. DIY Bow Holder From Art Canvas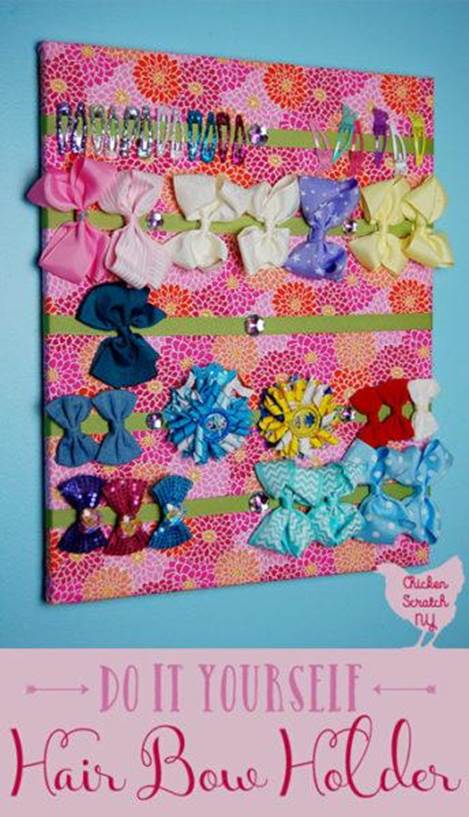 The unique part of this is that you can always use the best fabric in your collection as a base for this. Lay the canvas on the wrong side of the fabric and glue it in place. Put the ribbons across the front and glue down. Double the needle and sew each point.
11. DIY Bow Holder Under $10
Less than $10 can get you this cute piece for your bows. Purchase a wooden "A" frame. Paint the front of it and attach a hook. Make strips of colorful ribbon and attach them to the base.
12. DIY Frame Bow Holder
You don't need to buy a brand new frame, use an old one that has nice details around the edges. Paint it as you wish and glue the ribbons in stripes to the top and bottom.
13. How To Make A Tutu Bow Holder
This is a really fabulous creation of tutu and ribbons. Cut out a bodice stencil and place it on the cardboard. Cut it out and fit your colored paper to it. Cut your tulle and tie in bunches. Attach one by one to the base of the frame then fit in your ribbons.
14. DIY Baby Bow Holder
This piece of beauty has two hooks that can help it to be strapped to the wall. The slot for the hair bands is fixed on a wooden rod below the frame which is strapped evenly and can be detachable.
15. Low Budget Bow Holder
This bow holder on a budget is really amazing for your space. This is made from cloth hangers and ribbons. Do this by stripping patterned ribbons on the pole of a hanger. Glue down onto the hanger so that it won't float.
16. DIY Hair Bow Organizer
To prevent bows and hairpieces from being scattered all over your house, then this is a better way to keep them safe and neat. Get your pattern that looks like a gown on board and cover fabric over it. Use tulle lace on the lower part and layout straps of ribbons on it.
17. Hair Bow Holder DIY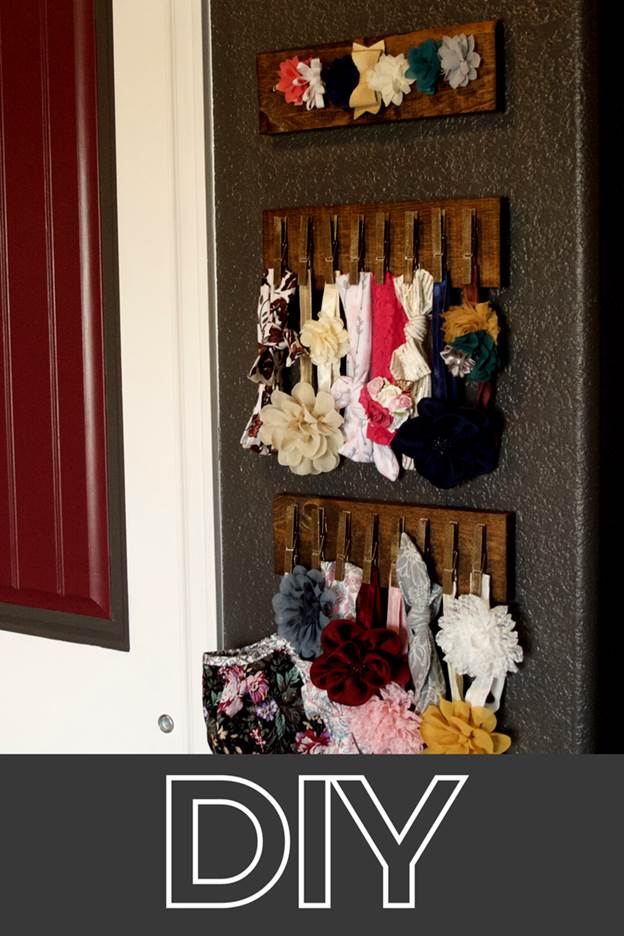 This can take both headbands and hair bows together in one holder. The frame is a wooden frame. Cut it to the shape you want. Drill holes in it for the ribbons to pass through. When you are done creating, use Velcro to hang each board.
18. DIY Arrow Hair Bow Holder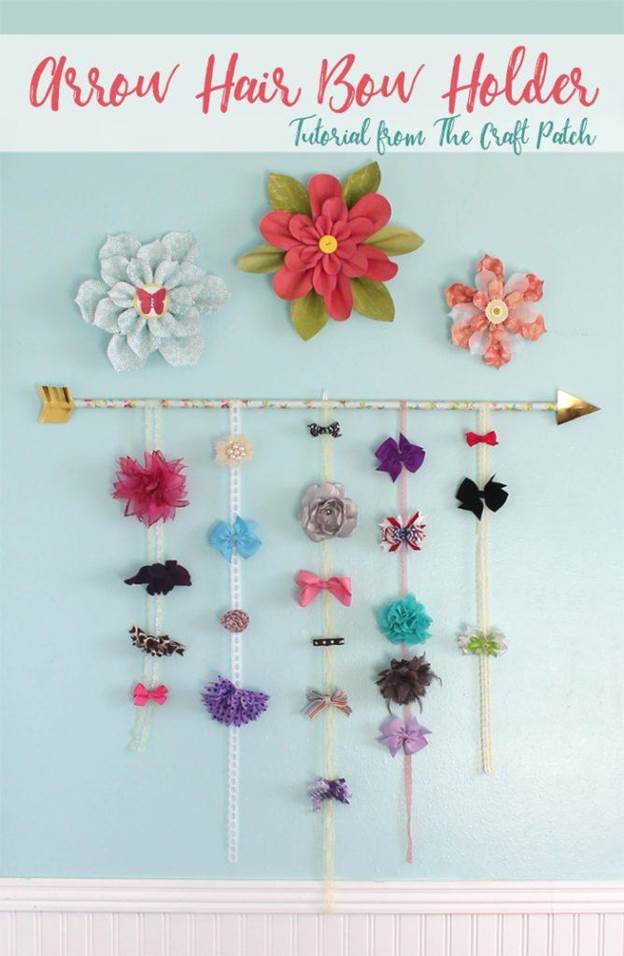 This is an arrow strip that is designed to hand bows. To make this, you will need a wooden dowel, scrapbook paper, ribbon, and glue supplies. Attach ribbon to the dowel. Attach an arrow point to the ends as well.
19. DIY Cloud Bow Holder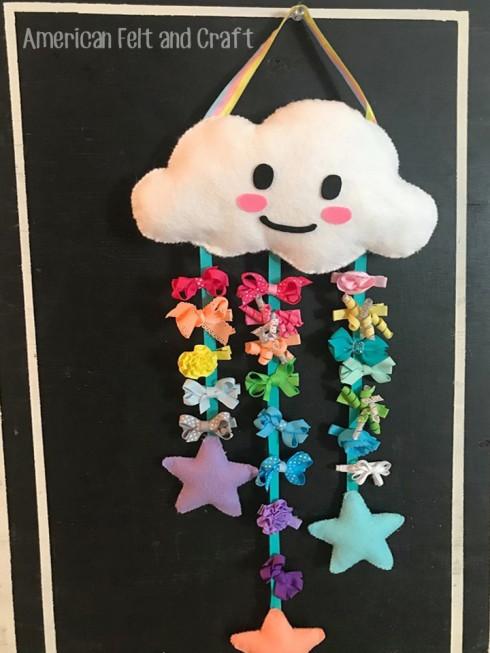 Here's another sweet idea to try out for your bow holder needs. Craft has come in another glow. If you have white felt to form the shape of the cloud then you are halfway there. Make star shapes and add ribbons to the tip and attach to the cloud.
20. DIY Hair Bow Holder Made Easy
This piece for hanging bows can be made easy by carving your frame with woodwork materials. Design the frame the way that fits you then cut the pieces and glue them together. Set straps of ribbons horizontally on the frame where the bows can be hung.
21. DIY Bow Hanger
This is a tic tac holder or you can call it a yarn bow holder. Fold the yarn in strips and make a loop, continue the process till it forms a sewn pattern. Attach a base made of a bow to the end of the yarn and fix it to your frame which is made of a stick and a hanger.
22. DIY Glam Bow Rack
If you are thinking of the best gift to give to your child then this can easily work for you. The amazing part is that you can make it with little or no cash. The first step is to get a frame either made of wood or any material you want. Make a hole and begin attaching your ribbons to it so it can hold the bows.
23. DIY Easy Bow Holder
If you don't want to make a frame from scratch, you can always buy one. Gather your tulle into bunches, tie the tip, and glue it to the base of the board and separate it. Attach ribbons in between each tulle. Strap little elastic lines on it for extra support.
24. Jersey Knot Bow Hanger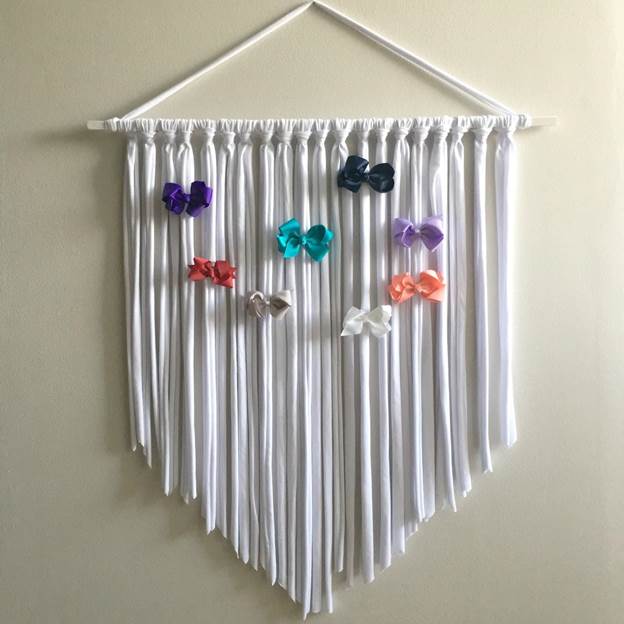 This looks a lot classy and easy to do. Get a white piece of PVC material and about a yard of fabric. Cut strips of the fabric from short to long pieces. Attach to the stick and make a hook.
25. DIY Headband And Bow Holder
This DIY bow holder looks like a pretty princess dress. Cut the frame to look like the top part of the dress. Decorate as you wish then add bundles of tulle to the base. With loops of ribbon.