Here is a great DIY that will teach you in the easiest way possible how to build a wood headboard. This is meant for the head of your bed. It's super easy to make and it's one of the important parts of the bed for a better sleeping experience and insulation from cold and draft.
It's not a hard task to make a headboard from wood, seeing as this DIY features only wooden headboards. Let's dive in and see how easy it is to build a DIY Wood headboard.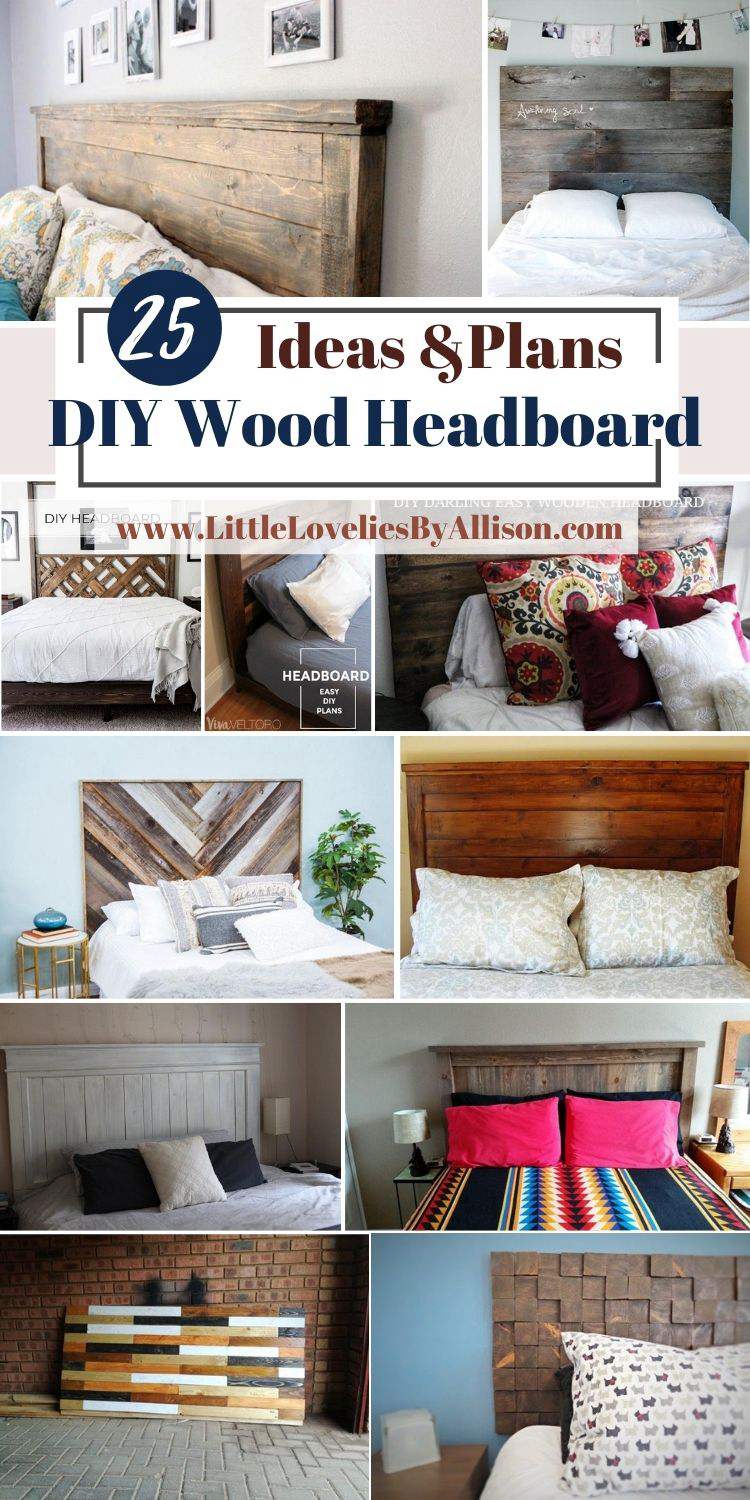 1. How To Build A Rustic Wood Headboard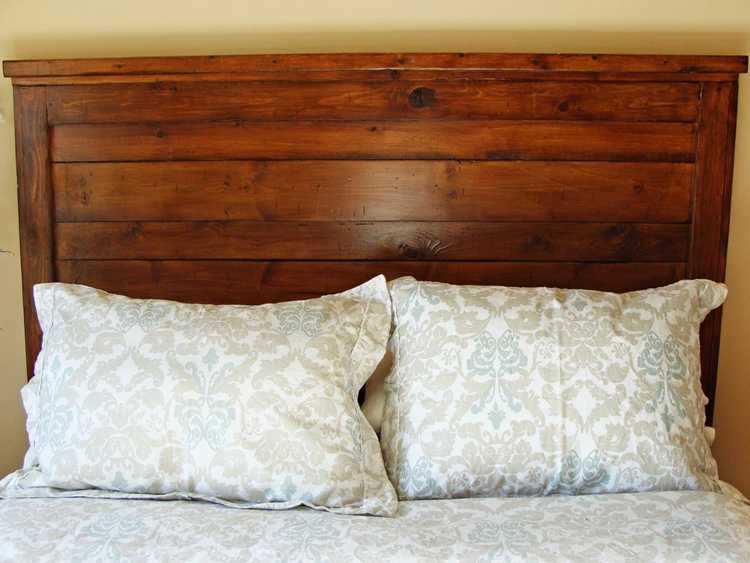 Here is a simple rustic wooden headboard, it's super easy to build and it's going to take just less than a day to make from scratch. There are just over 10 easy steps and a few easy-going tools and materials you'll need.
2. DIY Easy Wooden Headboard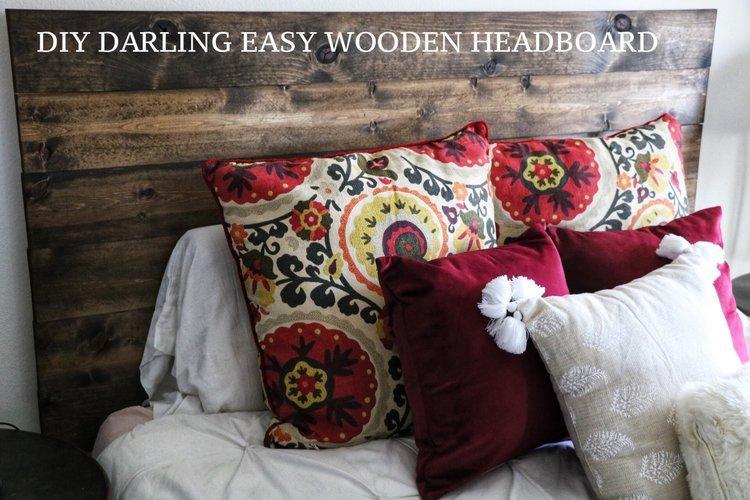 For this guide, you'll need to make a quick sketch of how the headboard will look, after which you start preparing your materials for building. You don't need an advanced woodworking skill level for this project.
3. DIY Headboard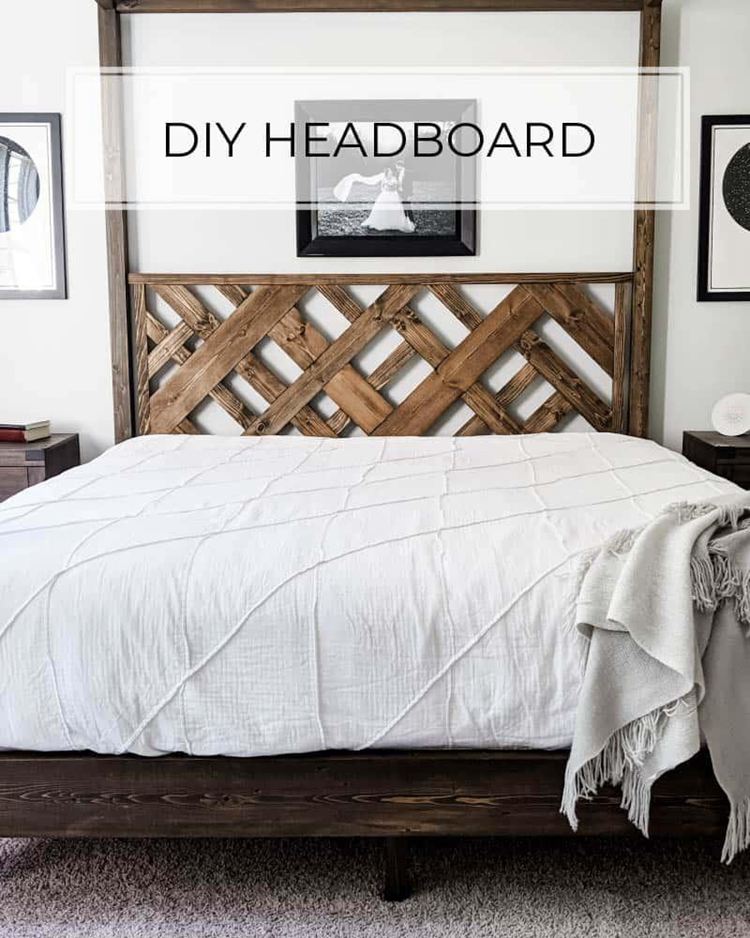 Here is another elegant and amazing headboard. It's not so expensive and it's super easy to build. You just need about $25 to $75 to make this headboard, and it will take you less than a day to finish.
4. DIY Reclaimed Wooden Headboard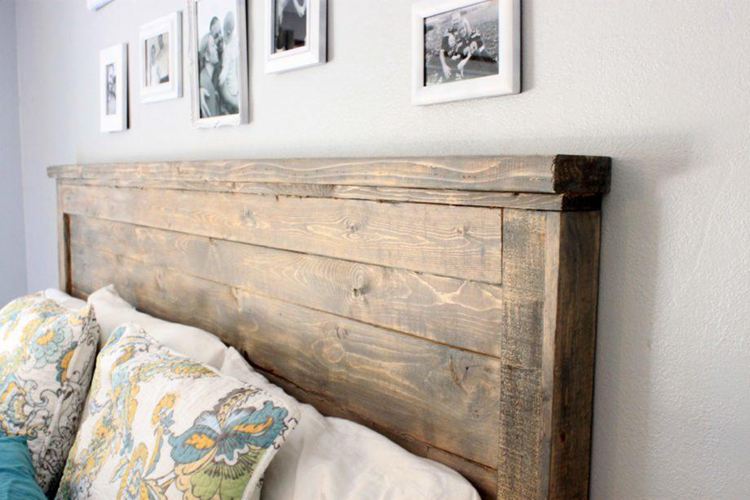 Using reclaimed wood is a great way to save money and make a simple and long-lasting headboard for the head of your bed. With just $50 and no special tool, you can make this headboard with ease.
5. DIY Plywood Headboard
What you'll need to make this simple headboard are one sheet of plywood and a few 2x4s. You'll need a few other tools and materials that are quite easy to come by.
6. DIY Headboard With Geometric Pattern
There is a link in this video description guide that will show you a list of the tools and materials the creator used for this project, and where he got them.
7. $25 DIY Headboard
Here is a simple headboard that you can make for just $25, it's super easy and fun to make. The making process is effortless. The creator made it like a butcher block gluing a few wood pieces together to form a wood board and using a wood sealer to fill in imperfections and sanding for a smoother feel.
8. How To Make A Wood Headboard Less Than $100
If you are keen on spending just over $90, then this video guide is perfect for you. With just $100 you can make a wooden headboard that is super easy to build with a few materials at your disposal.
9. How To Make A Wooden Headboard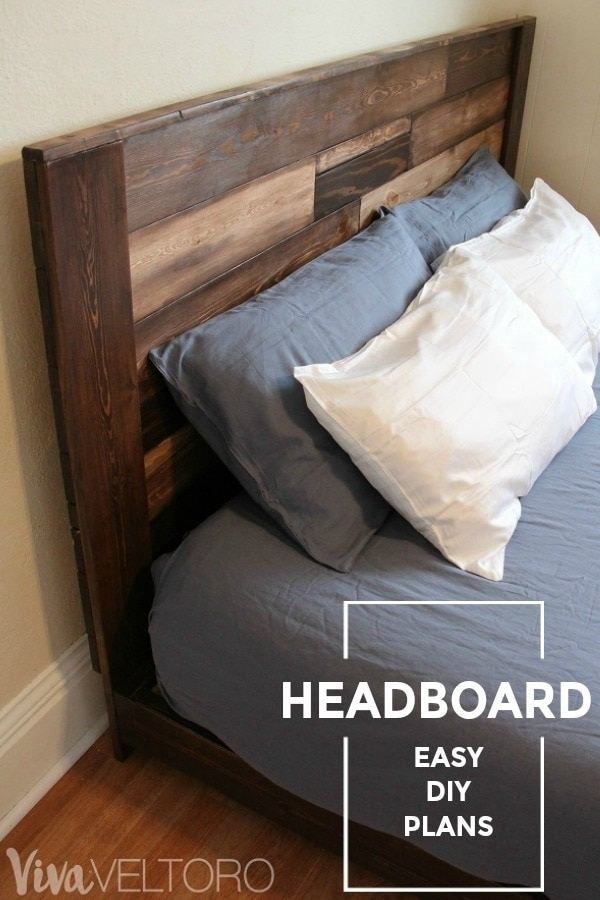 This is an easy-going woodworking project, this headboard is simple and easy to make. With step-by-step instructions, you can make this headboard for just $50.
10. DIY Salvaged Barnwood Headboard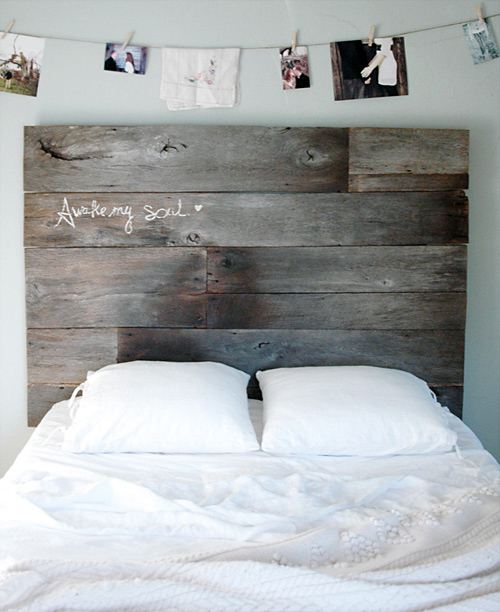 So, you can easily salvage a Barnwood to make a sweet headboard. It's super easy to make and quite sturdy. The creator used old barn wood and it worked perfectly for him.
11. DIY Pallet Wood Headboard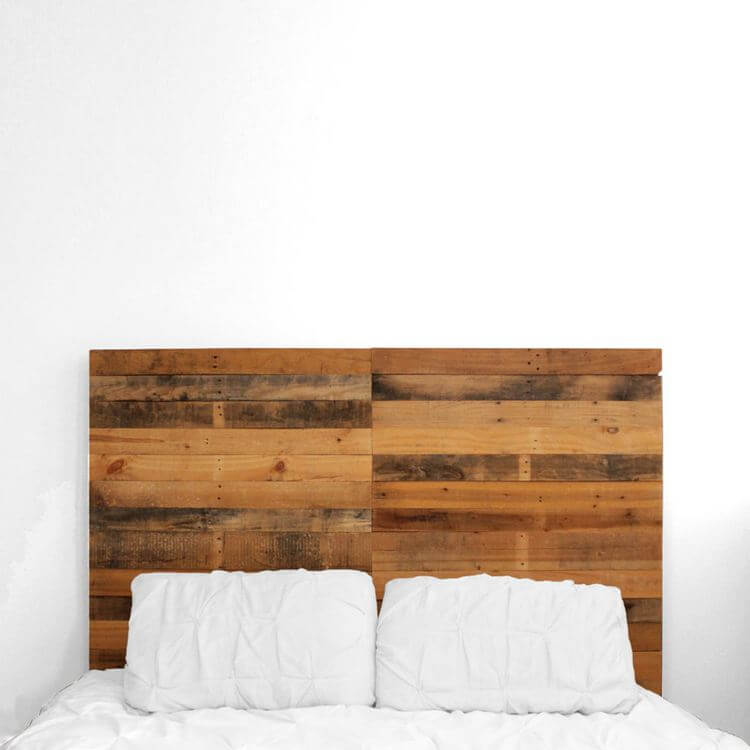 You can also use pallet wood as your wood selection for this amazing wooden headboard. You'll need strong wood glue and a few other power tools for this project.
12. Pallet Wood Headboard DIY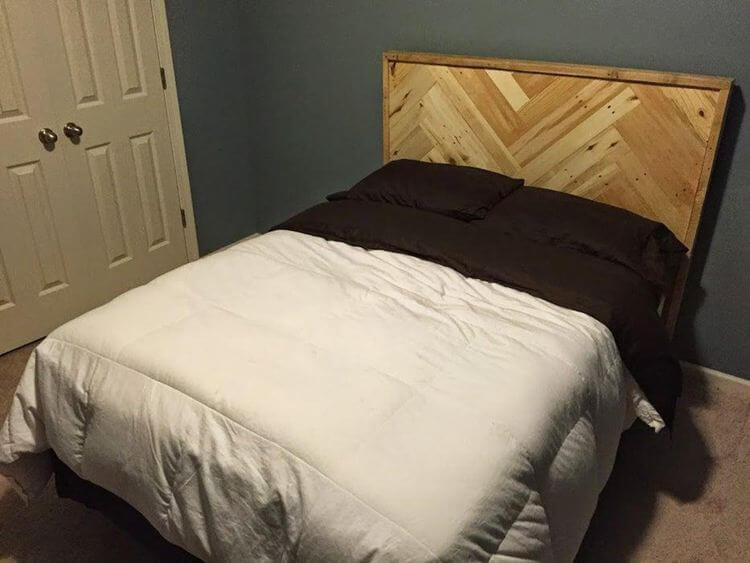 The headboard can be made with several pallets, the pallets will be striped separately and glued together with Titebond II wood glue. The making process is super easy and simple.
13. DIY Rustic Wood Headboard
With rustic wood, you can make any kind of headboard, or you can use this guide and use the design the creator came up with to make your headboard with rustic wood.
14. DIY Wood Slat Headboard
This headboard was made from wood slats and it's super easy. It also costs about $40 to build and the steps are easy to follow.
15. DIY Wood Farmhouse Headboard
When you hear wood farmhouse headboard it entails a sturdy wood that can be used to make a headboard that will last. You already know what a farmhouse looks like, just imagine a piece of that on your headboard. Once the board is made you'll need a stud finder to find the studs in the wall and you can easily mount your headboard for your bed.
16. DIY Wood Headboard Under $40
With just $40, you can make a simple headboard that is durable, simple, and quite small that can easily fit into a medium-size bed, but if you like the design, you can adjust and make it bigger for a bigger bed size.
17. DIY Reclaimed Pallet Wood Headboard
So, with reclaimed pallet wood, a smooth and great headboard can be made. It's seamlessly easy to make with step-by-step instructions on how to make it. Several wood planks were used to give the board the design that it now has, no painting required.
18. DIY Removable Wood Block Headboard
When it comes to the headboard, this is by far one of the most elegant and beautifully constructed headboards I've ever seen. The creator used Watco dark walnut stain to bring out that smooth finish on the headboard.
19. DIY Farmhouse Headboard
This headboard looks great like a farmhouse door. The wood you'll need is dependent on you, but the dimensions for the wood cutting are available in this guide. You just need about 5 power tools and your work is done.
20. DIY Queen Bed Wood Headboard
Indeed, it looks like a queen bed, the design and durability, it's sturdy and smooth. There are no building plans, just a step-by-step guide that is quite long but easy to understand.
21. DIY Pallet Headboard
Pallet wood is a great wood to be used to make a headboard. You can find pallet boards anywhere and use them to make a headboard. You'll cut them to the desired size and glue them together to form one board piece. The making process is super quick and easy.
22. DIY Wood Headboard For Queen Bed
If you have a queen bed at home, you should probably try out this guide, it will help you make the right headboard for the head of your bed. The making process is quite quick and easy but quite tasking. Because of the size, you might need an extra hand in mounting it on the wall. This project costs under $75, and that's quite inexpensive.
23. DIY Rustic Barnwood Headboard
You can build this in one day, with just a little under $100. It's simple and quite easy to make if you follow the steps properly. The materials are easy to get, the same goes for the tools. This video guide shows you how the creator built it from start to finish and that is the kind of guide you need to make this project work for you.
24. DIY Slat Wall Headboard
As the name implies, the slat wall, the entire wall behind the bed was made and filled with small wooden planks. If you're not keen on turning your entire wall into a wooden slat, then you can skip this guide altogether.
25. DIY Reclaimed Wood Headboard
The kind of reclaimed plywood used in this guide reclaimed plywood planks 9' long or longer that can cover the wall behind your bed. The headboard is unique and good for a king-size bed. The power tools used are not much and you can always build with a friend or family member by your side to assist to make the job faster and more accurate. There is a list of the wood cutting plans in the guide, it should help guide you to make the right cuts to form your headboard body before you talk about attaching a small frame by the sides.
Conclusion
So after all is said and done, it's quite a simple task. Making a headboard is not that difficult, so you don't have to buy a headboard online or at a local store. In the comfort of your home, use one of these DIYs above and make an amazing headboard that will suit your taste. Thanks for stopping by to view this post, hope you find the right headboard that will fit your bed, bye.