There are a good number of costumes that you can use to make your children look glamorous for a costume party.
In this article, I have put together a list of DIY piglets costume projects and ideas that will most definitely inspire you to create an amazing pig costume.
1. No-Sew Kids Piglet Costume
Your pretty child can look even prettier in this costume. You will need both a light pink snap footie and a deeper shade of pink for the tank baby suit. You will also need a black electrical tape or fabric maker. You may not need a glue gun, pink felt, and a headband but if you want to go a bit extra then you can use these.
2. How To Make A Piglet Costume For Babies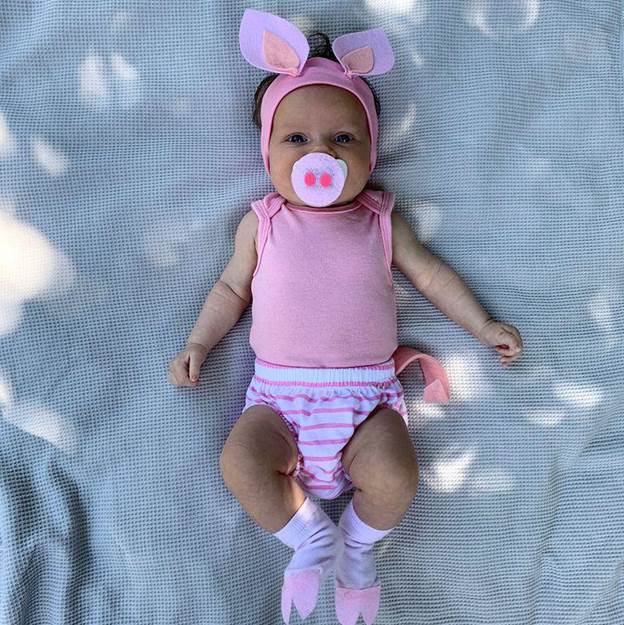 You can always make a DIY piglet costume for your kids. These three sample ideas are very easy to recreate and you can dress up your babies and toddlers for a wonderful photo shoot.
You have to make available pink and white baby clothes then make your designs for the ears, nose, and feet with felt. There are different designs that these can go along with. You can either make a baby costume or a piglet in a blanket or three little piglets.
3. DIY Piglet Costume
You can take the measurement of your baby but for this, light pink fleece, dark pink fleece, interfacing for the ears and tiny scraps of black fleece was used. You will need to print your pieces and cut the pieces according to the prints. You can always stitch around following the instructions given.
4. DIY Piglet Ears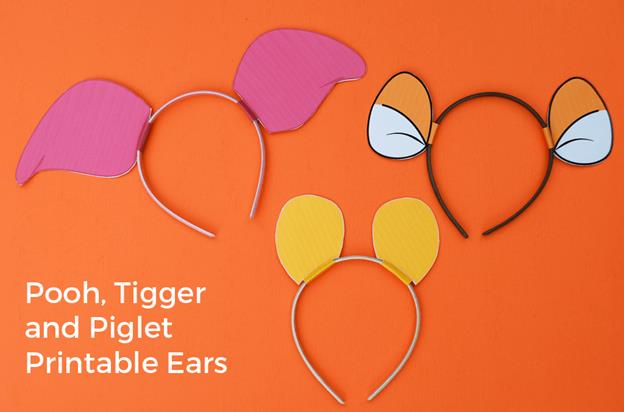 These piglet ears for a DIY piglet costume are not very difficult to make. This is actually a low budget piglet ear and can make a great costume idea. It could either be in the shape of a round ear or with a pointed tip. You can get a printable pattern and cut out on any material of your choice. You can decide to use felt material or hard paper. This cut out pattern will be attached to the band.
5. DIY Piglet Baby Costume
Give your baby an opportunity to dress in a DIY piglet costume. You will need a long sleeve baby suit and baby pants. The head warmer can carry the ears and a snout. All you need to do is to cut the shapes and patterns you need for each piece and paste appropriately.
6. DIY Little Piggy Costume
This cute little pig costume is blossoming. Make that occasion a really captivating one for your kids. You can sit and make this costume with your kids so that they can watch through the process.
This is somewhat identical to the penguins' costume. This fleece costume has a simple shape with a cinched in the elastic bottom. Then a pair of simple leggings can be worn at the bottom. And a long sleeve top above. For this DIY piglet costume, you will need to cut your pieces and sew them together.
7. DIY Piglet Ear, Nose, Tail For Kids
The piglet in the cartoon Winnie the Pooh is such a little and gracious creature. It is assumed that anyone who should dress like Winnie the Pooh should as well be the same. These DIY costumes are no-sew so you don't even need to know the basics of sewing to get this done.
The tail should comfortably fit around the waist of the little piglet. For the nose, start with a circular piece of felt then punch holes within. For the ears, cut 2 large ear shapes and fit around the band.
8. DIY Piglet Costume And Makeup
Adding makeup to the DIY piglet costume is actually cool. For the shirt, you can just take a pink shirt and draw straight black lines on it. For the makeup, you can add a couple of pink shades to your looks since a piglet is pink. You will use a blush that is pink for your cheeks then use a pink eye shadow for your eye and a pink highlighter for your nose.
If you have long flowing hair then that is cool because you can easily brush it down then place a DIY piglet ear with a headband over your hair.
9. DIY Piglet Disney Costume
You can always create something as fabulous as this for your kids. You will need a couple of materials for the DIY piglet costume. You can use a pink felt for the ears. If you don't want it to look flat when you make it then you can leave a space in the middle so you can put Styrofoam inside before you glue completely. The other parts are just easy.
10. DIY Baby Piglet Halloween Costume
Your kids can rock the Halloween costume perfectly. This DIY piglet costume is sure. It is not difficult to create and you would love the process.
If you can have access to these pieces of clothes then that's fine but if you can't then you can just buy them from the store. For the headband, you can just cut out the shape of the ear and attach it with artificial flowers then glue to a band.
11. Pig In A Blanket Costume
This is a hooded DIY piglet costume that looks quite pinky and girlie. It has a cape attached to it which can be easily cut and sewn. For the ears for the piglet, cut the material that is to be used for this project. It should be the same as the hood. Make two holes in the hoodie and fit each ear into each hole and sew it up.
12. DIY Piglet Halloween Costume For Teen
If you can get a pink shirt with black strips of line on it then you are good to go but if you can't, you can easily get a black tape and run it horizontally on your shirt. You don't really need serious makeup on this but make sure there is a touch of pink.
13. DIY Pig Costume
If you are a fan of Winnie the Pooh then you can easily make a costume for yourself so you can also feel alive while watching the cartoon. If you are a fan of last minute creations then this will fit you. Sketch your design on paper first.
14. Piglet Costume Idea For Baby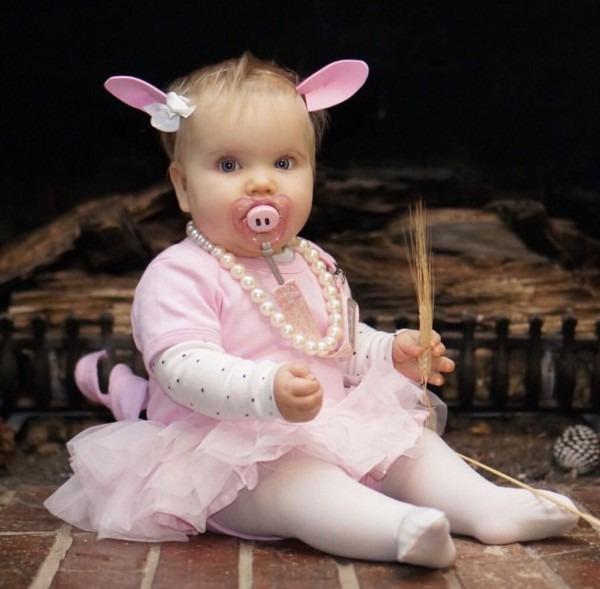 This little baby piglet surely looks gorgeous in this DIY piglet costume. This can comfortably pass for a Halloween costume for the baby. It has a combination of certain materials that can make sure your baby stands out exceptionally.
To make this costume for your toddler, you will need sewing skills, and fabric, you can save yourself from the stress by purchasing a pink dress for your toddler. The baby sucker is customized to look like the nose of a piglet, it can also be purchased online.
15. Scary Psycho Piglet Costume For Adult
At the end of the day, you can be sure to agree that the piglet costume is not just for kids and babies alone. It can also be for adults. This costume is scary and doesn't look appealing to the eyes but Halloween will surely find comfort in this.
The ears are customized to be very big and you will need about an hour plus to get one done. Trace the ears of the piglet on a hard paper and cut out the pieces to be glued together. Spray it to the shade and colors you want. The other part of the face is made with paper Mache.
16. Piglet Costume Idea

While doing my research, I stumbled upon this fantastic piglet costume idea that is perfect for cosplay. To dress up like this, all you would need to do is get a beautiful pink dress, after that the next step would be purchasing or making the piglet ears which is quite easy.
17. Piglet Halloween Costume
For this DIY Piglet costume, the pretty lady used different variations of pink which is also cool. In order to look sexy, I would recommend wearing pink leggings. And do not forget the headband, it is the most important part of this piglet costume.
18. Piglet Costume For Sisters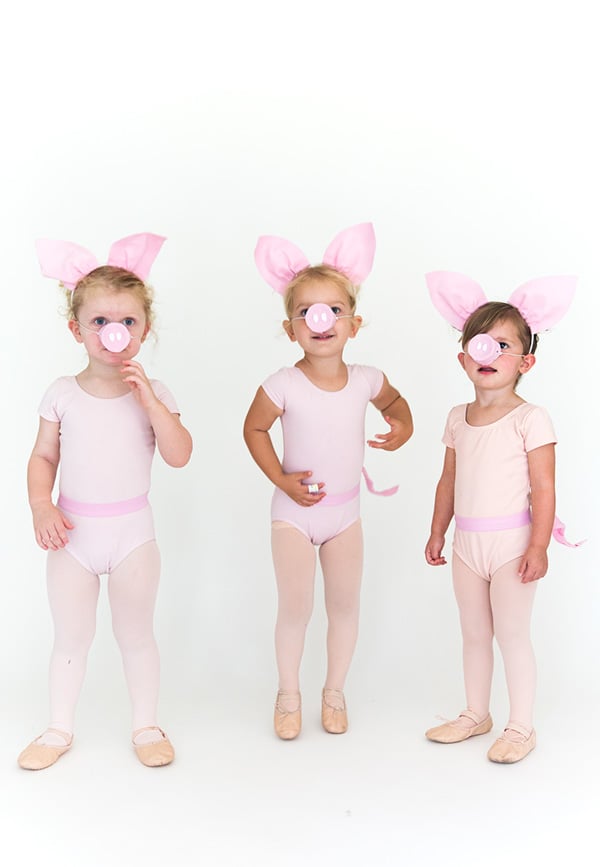 If you have kids who are about the same age, here's another great idea to try out. Dressing them using the same kits would be amazing for a photoshoot. You will need some pink leggings, the nose, tail and of course the ears.
19. DIY Pig Halloween Costume For Kids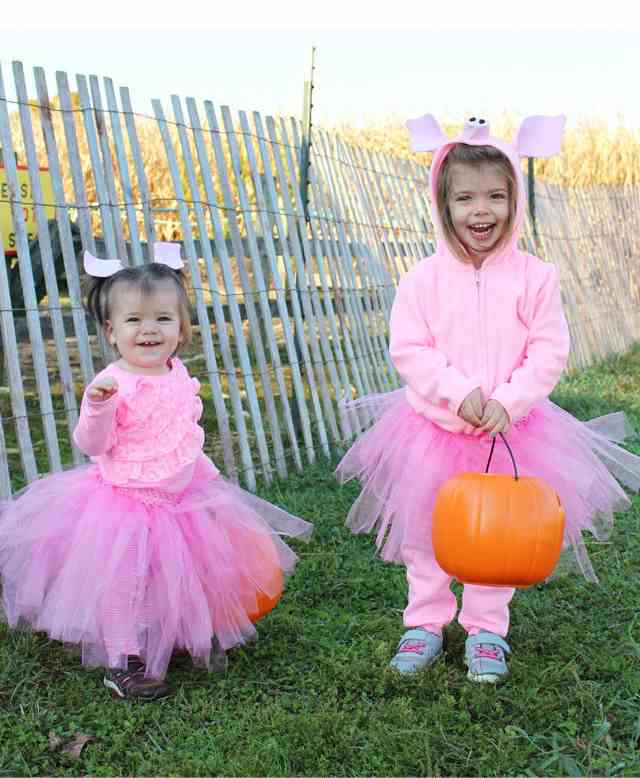 In order to dress up your kids in the most adorable pig costumes you will need a couple of materials like; a crochet headband, needle and thread, pink felt, scissors and a couple of other materials. The use of tulle for this pig costume is really pretty. Making this costume for your kids will surely put a smile on their faces.