Do you want your kids to be professional gymnasts when they grow up? You can build a balance beam, it will teach and improve their balancing skill. Even toddlers can also partake in the balance beam training process.
In this article, I have put together 20 DIY balance beam projects that you can DIY. Most of the projects listed in this article will need the use of special woodworking tools. I think everyone can make a balance beam if you put your mind to it.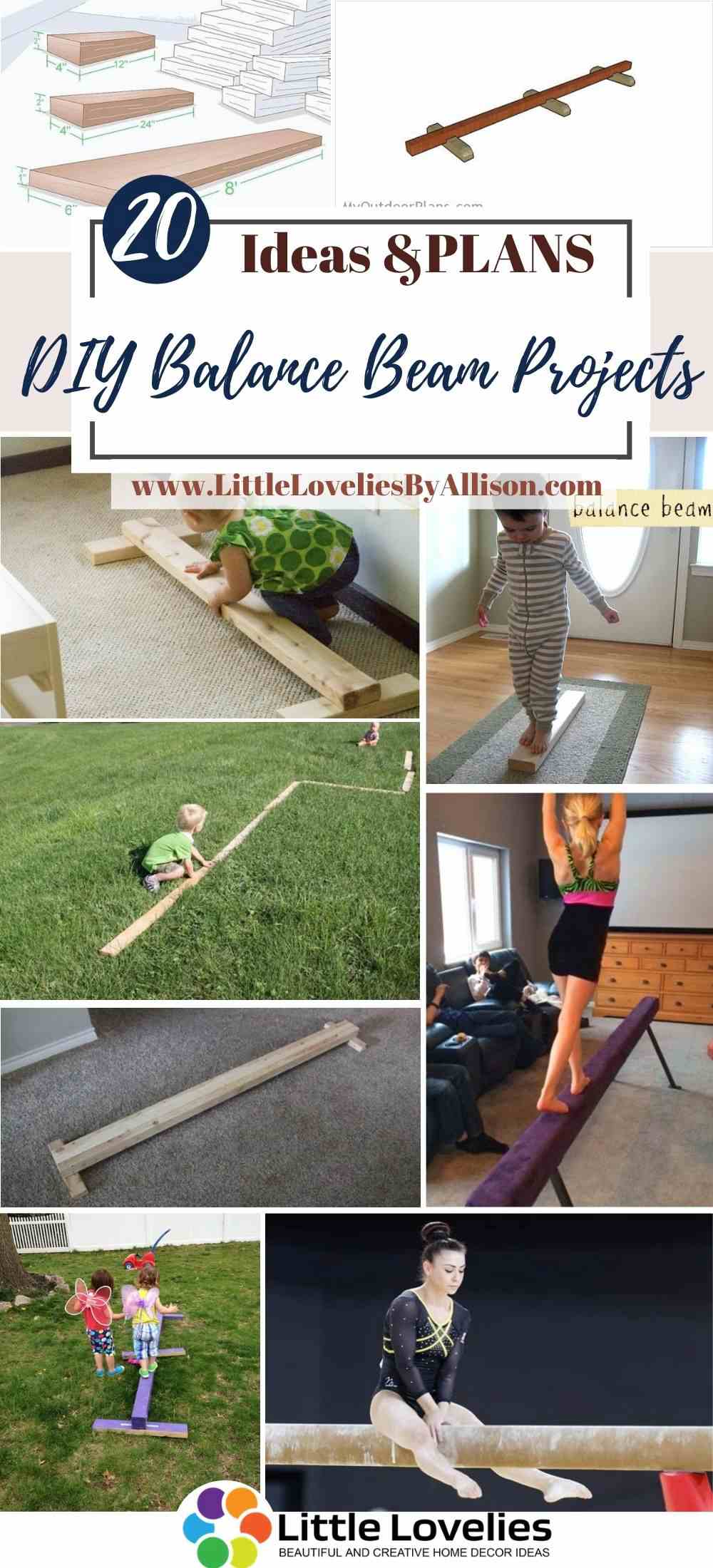 1. How To Make A Balance Beam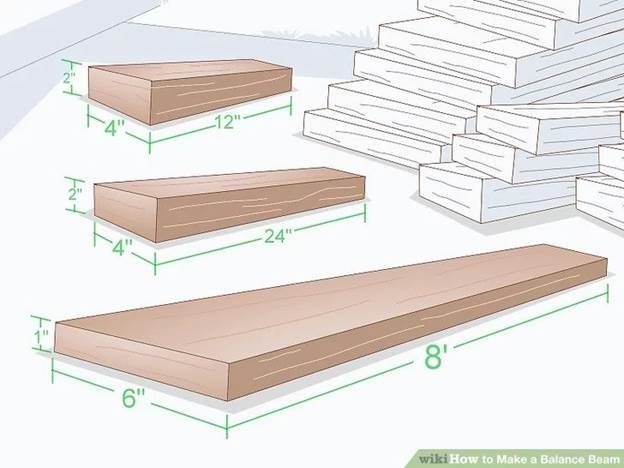 For any age, balance beams can be critical to master. A well made balanced beam can be used to teach young gymnast balance and agility, it can also be used to offer a series of challenges for even the most experienced gymnast. Learning how to build a balance beam can help the young and old gymnast practice and become better. In this guide, you will learn all the basic tips and steps needed to build a balance beam that can be used indoors or outdoors.
2. How To Build A Raised Balance Beam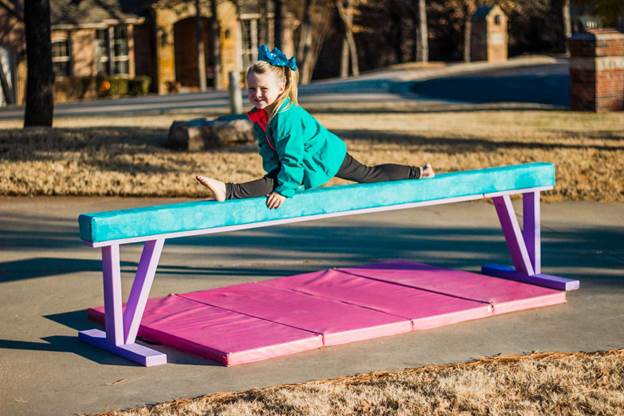 If you are looking for the perfect balance beam to build for your kid, here's one option. I found this raised balance beam to be pretty amazing. It will take you about four hours to build, also, you will need to spend about $60 on materials only. This tutorial will also show you how to pad the balance beam. The making process is fun to follow and quick if you have all the materials and tools handy.
3. DIY Wooden Balance Beam For Toddlers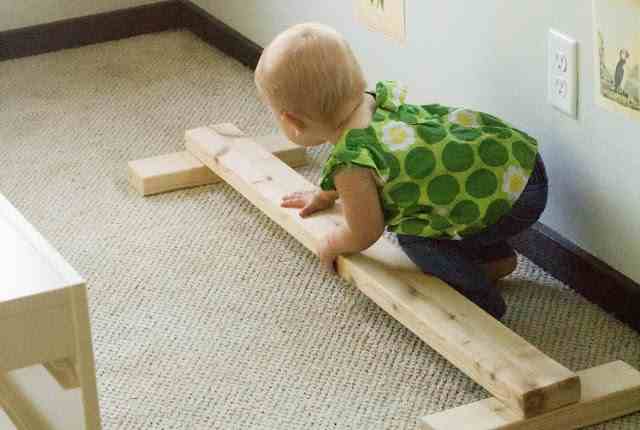 Teaching your toddler how to use a balance might seem weird, but trust me, in years to come, you won't regret your action. If monitored rightly, your kid would be able to learn how to balance using the beam. Making this isn't hard at all. You will need to sand the wood to avoid splinters, also, you will need some screws to put the balance beam together.
4. How To Build A Padded Balance Beam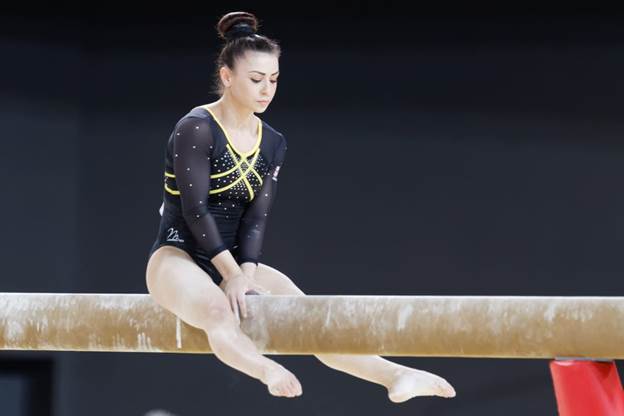 I would highly recommend this tutorial for anyone looking at building a professional adult balance beam at home. This guide will show you all the basics from purchasing the materials to attaching the legs and base. After putting your new DIY balance beam together, you can spray paint it with any color of your choice.
5. DIY Balance Beam For $30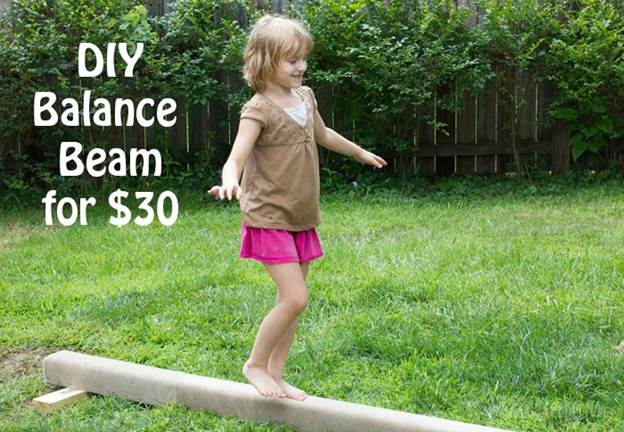 Your kids can have their very own outdoor balance beam that will most definitely keep them entertained. The best part is, this simple balance beam was made for just $30, now that's amazing. This particular balance beam is padded with foam padding, it is also covered with carpet, these two materials together would give your kids 100% comfort and you won't ever have to worry about splinters.
6. DIY Balance Beam For Kids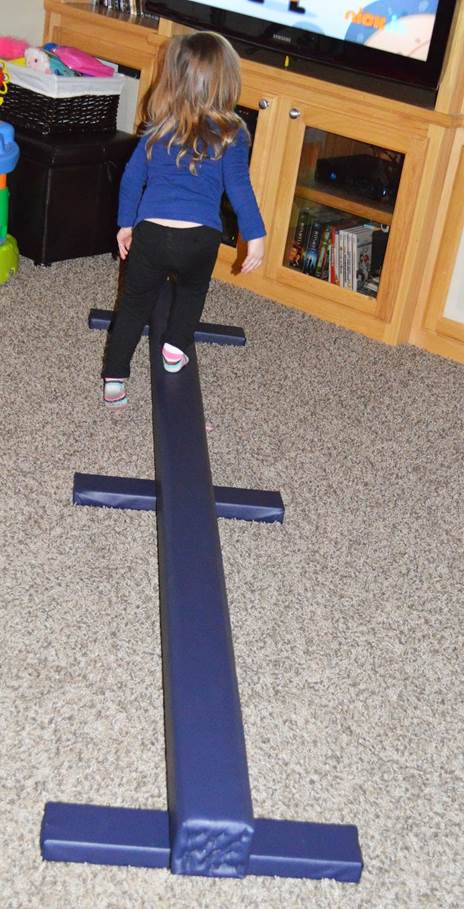 A balance beam of this size means it can be used outdoors and indoors. It cost about $32 to build this DIY balance beam, this was a long time ago, the price might be higher, but I'm sure it won't exceed $36. The build process is pretty much basic, add the foam for padding, spray adhesive on 3 sides, cover the beam, screw the boards together, and Viola!
7. Padder Leather Balance Beam For Kids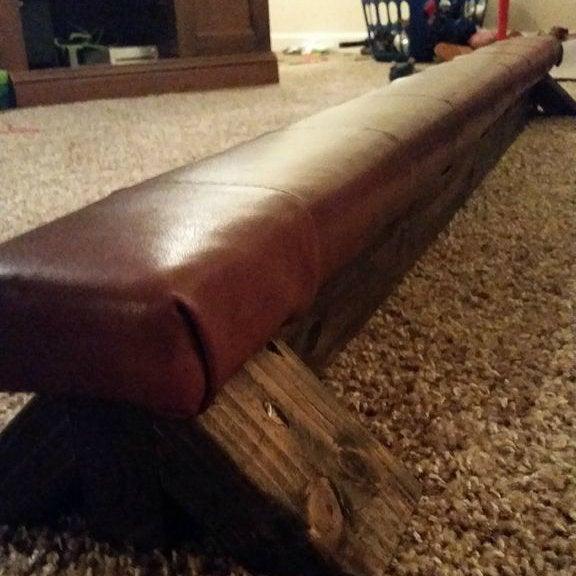 In this tutorial, the creator had to rip off leather from the back of an old chair. You can purchase the leather from your preferred store. Using leather gives a more comfortable feel. Also, he cut the feet using a different pattern and I love it because it will save space. Also, the height of this beam is quite low because it was built for kids between the age of 1 and 3.
8. DIY Balance Beam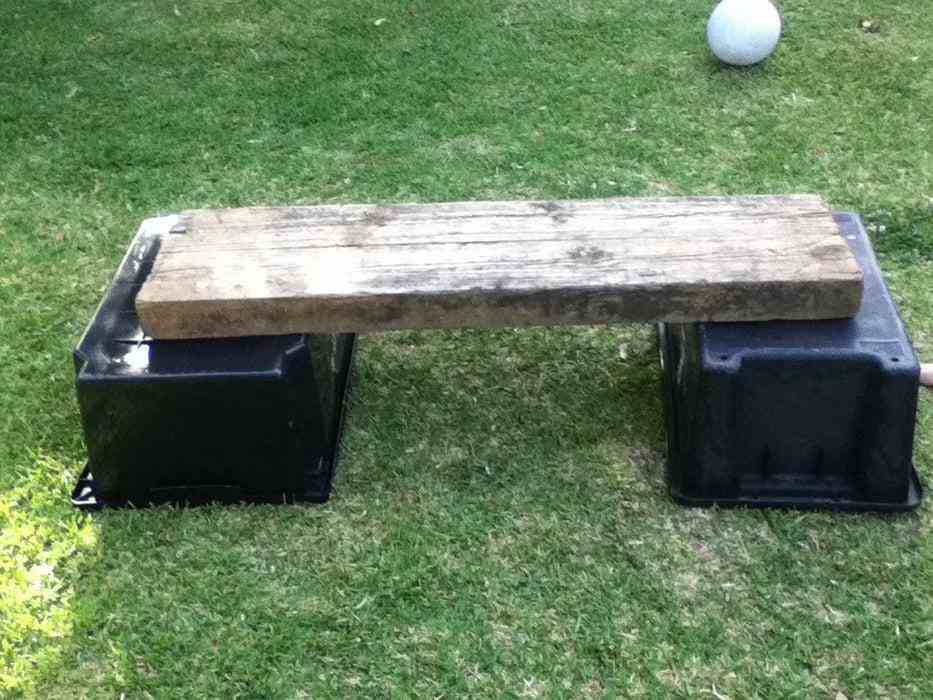 While researching for amazing DIY balance beam projects, I stumbled upon this unique build. It can be used outdoors and also indoors if you have enough space indoors to accommodate it. The best part of this DIY balance beam project is that you do not need any tools. Only two materials are used; two council recycling boxes and a large piece of wood. If you have the materials handy, you can make this balance beam in minutes.
9. DIY Balance Beam For Kids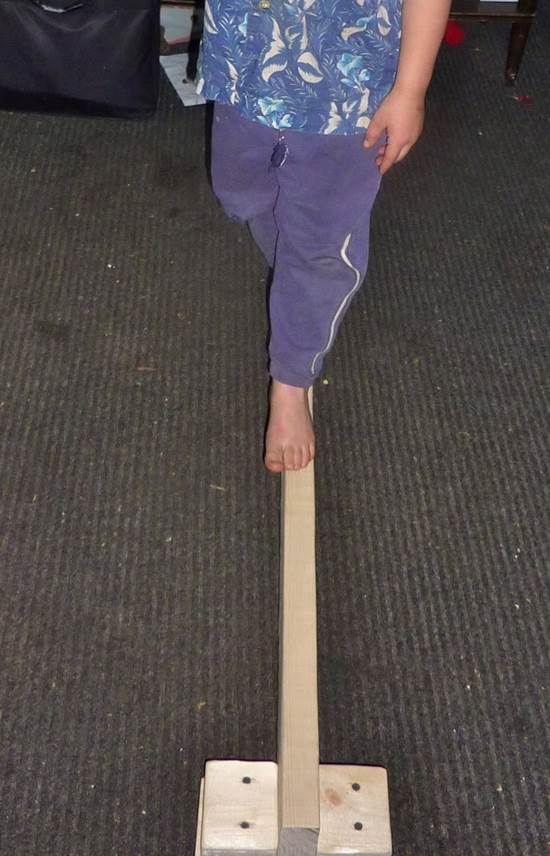 I also found this balance beam and what I noticed first was that the top of the beam was slim. This might be more challenging for your kid. It cost just $3 to build this balance beam, it might cost you more if you do not already have the required materials and tools used. Remember, due to the measurements used in this balance beam, it would be only ideal for kids between the ages of 1 and 4. If the beam is too small for your kid's feet, feel free to increase the size of the beam.
10. DIY Balance Beam Plans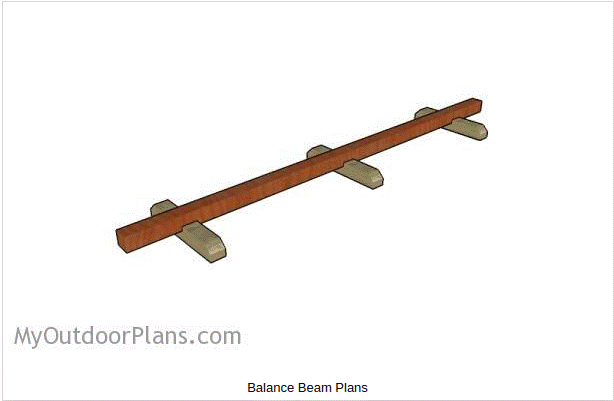 I found these balance beam plans to be quite useful. You do not even need to be a woodworking expert to get the hang of making this balance beam. Also, you can easily adjust the size of the beam to fit your needs, all you need to do is play around with the numbers given to you. I would recommend using this DIY balance beam outdoor unless you have enough space indoors.
11. How To Build A Balance Beam
This tutorial is pretty fun to watch. The creator's daughter wanted him to build a balance beam, his daughter was behind the camera recording the whole making process. The first step would be picking the wood for the beam. The balance beam is quite high and I won't recommend it for kids. Also, you would have to be a woodworking expert to get the hang of how the creator was able to piece this balance beam together.
12. Balance Beam For Kids DIY
Here's another great DIY balance beam project that you can DIY easily. The beam itself is made out of 2x4 and a piece of half-inch plywood. The beam is supported by 2x4's which are 13 inches tall. The total length of the beam is 8 feet. Unfortunately, this tutorial doesn't show the building process, but you are left with measurements that can be used to build one of these.
13. How To Make A Gymnastics Beam
If your teenage kids want a gymnastics beam, you can refer them to this video right here and have them do it themselves. Here's a cool project that they'll love. The tutorial doesn't show how to elevate the beam, it, however, will teach how to properly pad the beam. If you are good at woodworking, you can help your kids with the elevation.
14. DIY Toddler Balance Beam
Using 4x4s, the creator was able to make a great looking DIY balance beam ideal for toddlers. The creator did not use nails or screws for this toddler balance beam, due to hazards that may possibly occur in the future. For the making process, you will need a couple of power tools. The process of making this is not so easy, but it would be worth it in the end.
15. DIY Balance Beam For Toddlers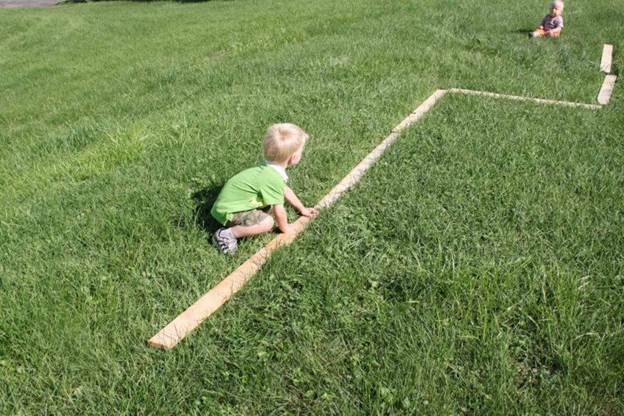 Here is a super easy-to-do project that I will highly recommend for any parent that wants to keep their kids occupied outdoors. With this balance beam, you would never have to worry about your kids getting hurt while using it. You will only need scrap wood planks for this balance beam. You can try smoothing the planks to avoid splinters. You can as well use the planks to build a maze, the kids would love it.
16. Toddlers Balance Beam Under $10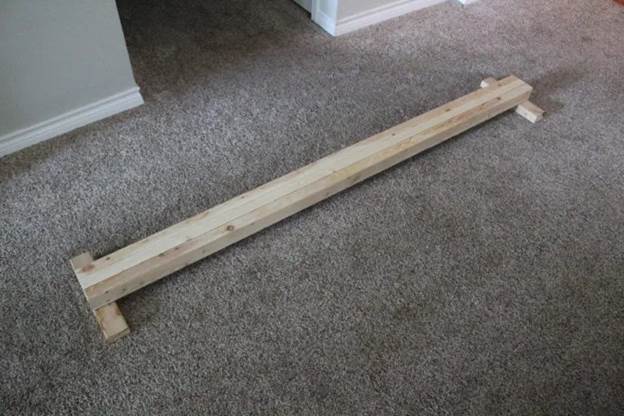 I found this cute balance beam that can be used indoors and outdoors. The height is quite okay for toddlers, but you might need to inspect your kid while he or she walks the plank. A slight misstep can be fatal. However, with constant practice and training your kid should be able to master the balance beam.
17. DIY Balance Beam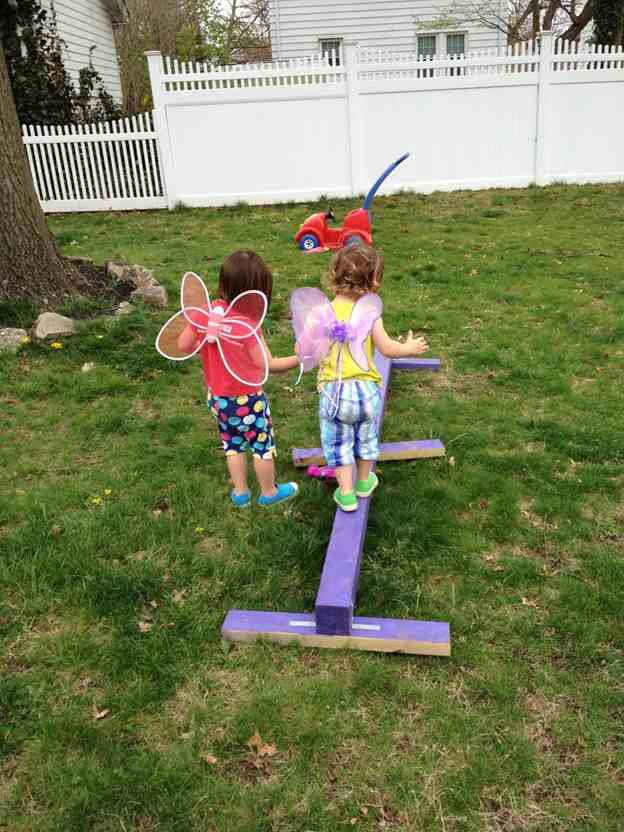 It cost about $15 to put this balance beam together. For this balance beam, you will need 8 foot long 4 x 4 wood, some screws, 6 L brackets, 2 x 4s, and most importantly spray paint, using spray paint gives the balance a pretty look. The directions are pretty straight forward.
18. Easy Homemade Balance Beam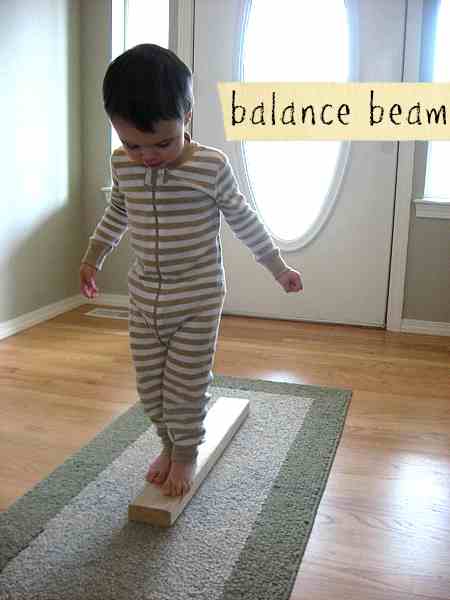 While this does not qualify for a top-notch balance beam, it is ideal for toddlers who barely have balance. From using a plank they can upgrade to something better in the future. Setting this up is straightforward. The first step would be getting the piece of scrap wood. Make sure the wood is smooth before putting it to use.
19. DIY Balance Beam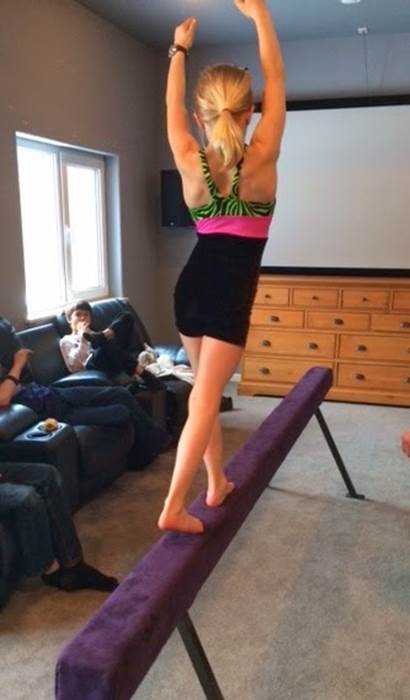 I found this beam for a bigger kid, it was actually made for a 9-year-old. It can be used indoors if you have a room with enough room to keep it. This tutorial will show you how it was built, from putting together the beam, to padding the beam and installing the legs. You will need a lot of materials to make this DIY balance beam.
20. How To Make An Extended Balance Beam
This tutorial will show you how to make an extended balance beam for kids. For this DIY balance beam tutorial, the creator used truck tires, bolts and nuts, and of course timber. The building step might stress you a bit but it is pretty basic. This would make an awesome add-on for a children's playground.