The little mermaid is a long-standing Disney creation that has been able to capture the hearts of a good number of children all around the world. The fascinating exploits of Ariel are worth remembering.
Another character in the movie, Ursula, is also a strong sea witch character and we will be seeing different ideas to come up with her costume. This DIY collection is surely worth the while.
I have put together 21 DIY Ursula costume projects that you can DIY easily. Remaking any of these costumes is quite easy. I hope you find the perfect Ursula costume.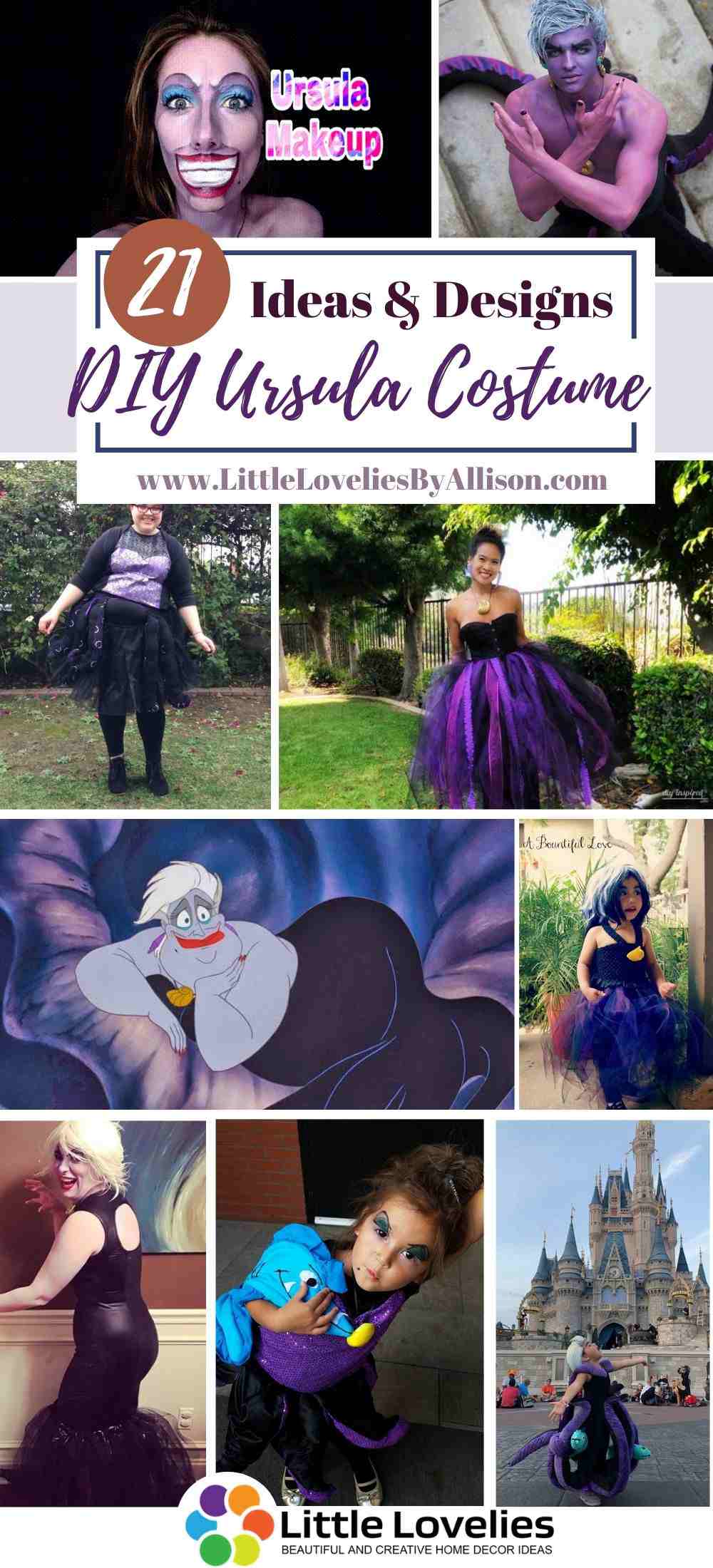 1. DIY Ursula Costume Idea
This is a really beautiful ball gown that can easily stand in for Ursula's costume. It is pretty much easy to create and of course, the obvious color is purple. For this costume, you will need both black and purple tulle and ribbon. The first step is to make the tulle skirt then add the ribbon tentacles. Don't forget finishing touches like a black skirt under the tutu. This particular costume is made for adults, but you can reduce the size to fit kids.
2. DIY Ursula Costume
Ursula was a pretty much plus size lady and if this costume gets into the hands of someone with that size then I'm pretty much sure that they will rock it really well. You can create your own blubber from foam and design the skirt around it. The necklace is made from simple modeling clay painted in gold metallic. This corset top uses boning and fusible interfacing.
3. Simple Ursula Costume
This simple DIY Ursula costume is made with a dress and a dun hairpiece that is also made of purple. Pay attention to the mouse ears, hair, earrings, make-up, neckpiece, and the dress. The main part of the costume is the dress. This is a wraparound apron that covers the front and the butt, just the back is exposed.
4. DIY Ursula Costume For Little Girl
Looking for a sea witch costume for your kid? You came to the right place. Your children can also dress as Disney villains with this DIY Ursula costume. Cut the basic tentacle shape, hand stitch elastic down the middle to get a curved look, and then stitch them up and use poly-fill. The makeup is the high point.
5. DIY Ursula Octopus Dress
This costume is made of a black and purple dress and some tentacles made of foam filling. To make this, if you have a dress that is fitting then you can use it as a pattern. Cut the pieces and sew up. The tentacles consist of 3 pieces of fabric. Sew the pieces and stuff then connect the tentacles.
6. Homemade Ursula Costume
This is a pretty scary costume that uses the dress, some tentacles, and scary makeup. She uses a trident too for finishing touches. Workaround with black and purple to make the right colors. These are really large tentacles so you will need to fit it with a rod so it can easily bend.
7. How To Make Tentacles For A Costume
To make the tentacles possible, you need to build a wire armature. You will need to shape the tip of the pool noodles so it gets to look sharp as the end of a tentacle. Paint it to your specifications and set it. The making process is quite easy to follow. All you need are the materials and tools, allow the guide to show you the process.
8. Ursula Makeup And Costume DIY
The tentacles of this costume are quite bigger and longer. You may need to draw out a pattern on brown paper first before you begin to cut out on the fabric. Sew the pieces together and fit a metal edge so it can be sharp and bend easily. Insert your fiberfill to make it look real. Paint with circle and white colors to give a better description of a tentacle. For the makeup, you may need to be a lot more detailed.
9. DIY No-Sew Ursula Costume
10. Ursula The Sea Witch Costume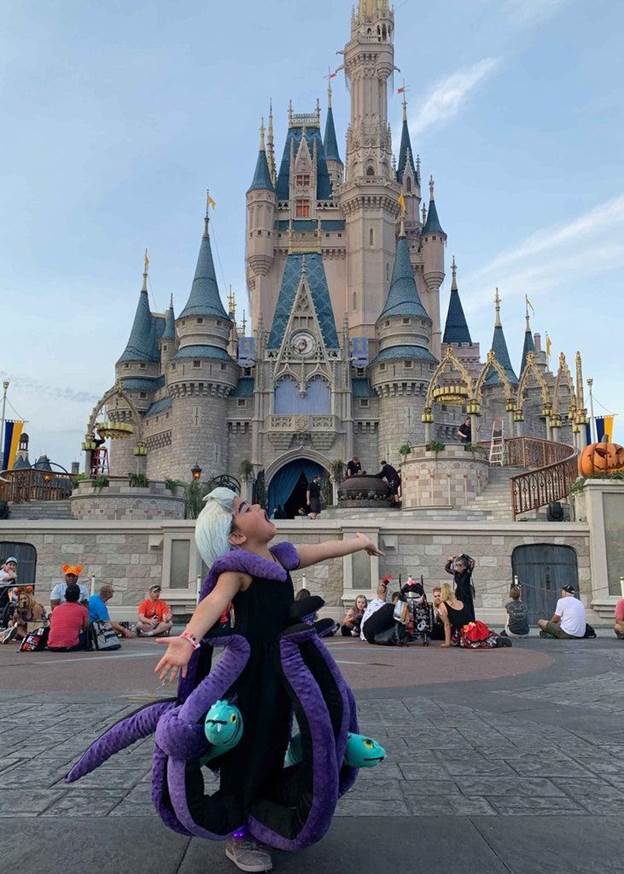 This costume looks real and rich. It has purple and black as depicted in the movie. The tentacles are fluffy and there are smaller creatures stuck to the tentacles. Get a dress and sew your tentacles around it. Get a flotsam and Jetsam necklace.
11. DIY Ursula Sea Witch Costume
This is a fully black DIY Ursula costume. Your daughter can also dress like Ariel, the little mermaid. The Ursula costume is really body fitted and the bottom flares out with tulle material. Measure and cut the dress to be sleeveless and reach the knee then below it should be the peplum.
12. How To Dress As Ursula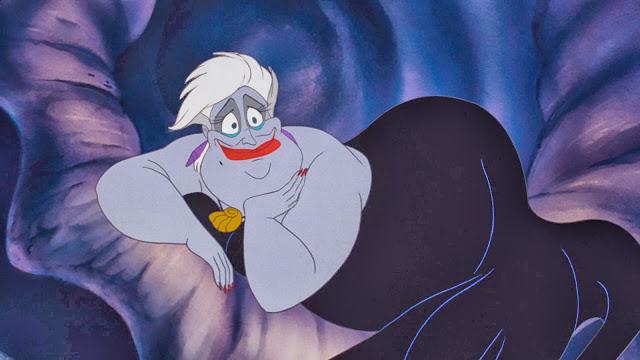 Dressing as Ursula will need a bit of technicality especially with the makeup and the tentacles. For this costume, you can get a fitted black dress and attach tentacles to the base. A tulle is added to the part where the slit stops then the tentacles are created. The necklace is made from a craft foam cut into a shell shape.
13. Ursula Costume For Little Girl
This is a simple little girl costume of the character, Ursula. This is made from a deep blue tank elastic top and a purple tulle. Measure the size of the waist of the child and cut your tulle according to the measurements. Fold the tulle into half across an elastic band. Keep filling until you are sure you have exhausted all the free spaces. Create a neckpiece and a bit of makeup.
14. DIY Octopus Costume
For plus size women, this will be a better fit. The tentacles have some white circles spotted around them which makes it look pretty much real. To make this, you will need a plain black short dress, tulip fabric paint, black tube socks fiber fill, masking tape, purple ribbon, and petticoat. Assemble all your materials and begin cutting and joining. Use the fiberfill inside the crafted tentacles.
15. DIY No Sew Ursula Costume
You have to get some materials to make the costume and get ready for Halloween. You will need a fiberfill to stuff the tentacles. Ursula's hair is white so you will need a wig cap and some artificial strands to come up with this. For the tentacles, cut out different pieces and attach them together after filling with the fiberfill.
16. DIY Ursula Halloween Costume
If you are not ready to make a costume from scratch, then you can always get purple tulle to make your tutu and a black corset from a store. Cut out the pieces of tulle to the desired length then get a ribbon that fits around your waist. Tie them on with a larks head knot till you get to the end. Lay the tentacles evenly around the skirt.
17. How To Make A Homemade Ursula Costume For Kids
This is a DIY Ursula costume that uses a black spaghetti top with a skirt made of tulle and tentacles made of purple and black fabric. She also rocks a shell pendant and a crown. She uses a patterned purple fabric that has depressions in it. Cut the pieces and sew them together. These ones are not shaped regularly.
18. DIY Ursula Costume No Sew
If you are not a fan of sewing then this should pretty much appeal to you. You will need copper wires, fabric, and a glue gun. After cutting your pieces, you will need to glue the parts together instead of sewing. The making process of this no-sew Ursula costume is pretty much easy and basic.
19. DIY Ursula Face Paint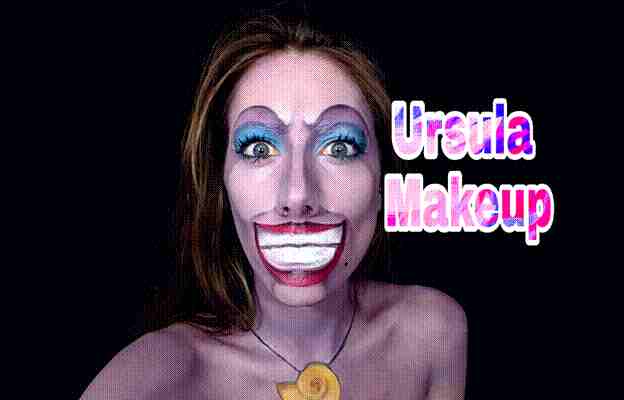 For this makeup, you will need a purple base. Sketch out the wrinkles on the mouth. Fill in lines with the eye shadow to give the face more character and shape. Red body paint can fill the lips. The eyebrows are very large and curvy. Fill the teeth with white body paint.
20. DIY Ursula Belt
The tentacles will need a lot of measurements to come up with the actual. You will need black and purple fabric. Cut out the pieces then sew the edges. Turn it inside out to show the smooth part. Wire each piece so it will be able to bend. Attach all back together.
21. Ursula Costume For Men Idea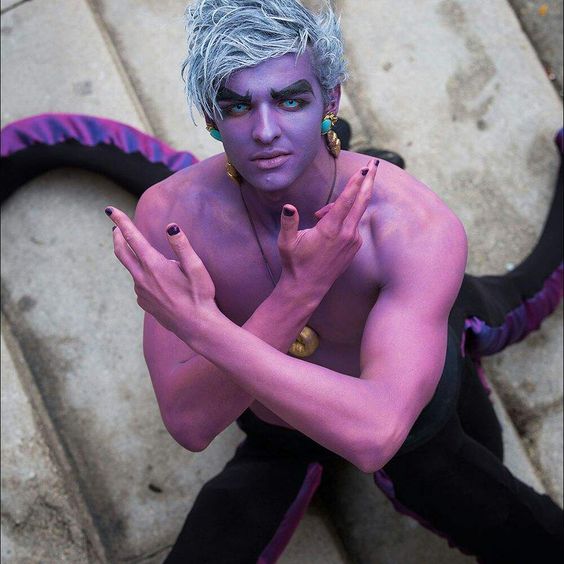 Here's an idea to consider if you are male and you want to rock the Ursula costume. The first thing is to make tentacles for yourself, after doing this you need to use purple on your body to depict the character properly. The color of the hair and makeup is also very essential. Do not forget to paint your nails for the final touch.