Bo Peep is a character from the Disney toy story. She's a shepherdess who is always doing her thing spontaneously. Her beautiful dress, staff, and bonnet have gained people's interest over the years. The Bo peep costume has a color scheme of white, pink, and blue.
Here are 20 fantastic guides on how to style your Bo Peep costume for you and your little girl. All the DIY bo peep costume ideas listed below are beautiful, I'm sure you will find a perfect match.
1. DIY Bo Peep Costume
Costumes are not only for children; adults too can put on costumes while visiting Disney parks or for Halloween and other occasions that warrant costumes. But the most challenging part of this adult costume is how to find an outfit that will not look too babyish.
A blue romper with a pink belt and bow for this Bo Peep costume will give out the best look. In place of the belt (in case you don't have one), you can use a thick ribbon as the belt; you can make a ribbon bow from it as well.
2. Toy Story Bo Peep Costume DIY
The Blue and pink colors are peculiar to the little Bo-peep toy story. So if you want to make your Bo Peep costume, those two colors should be among the Colors you will be using. In this guide, the outfit consist of a Pink scarf, white eyelet fabric, blue pants, blue t-shirt, dark blue fabric, cane, scissors, fabric glue, paintbrush, glue gun, Lace trim, Pink felt pins, cardboard, acrylic paint, and white yarn.
Once you've gathered all these supplies, the next step is to start making the top; cut the white eyelet fabric and attach it to the blue t-shirt with fabric glue.
3. DIY Bo Peep Costume For Kids
Putting the Bo peep DIY costume together is very easy; you don't need any expertise in sewing as all you need to do is stitch up the fabrics together.
Here are some of what you need Lace, royal blue cape, pink ribbon for belt and hair bow, fabric flower, pink hair bow, black shoes, giant candy cane, blue-ribbon to wrap the staff, scissors for cutting, and needle and thread for stitching. You can decide to buy the staff or single out the giant candy cane, blue ribbon, and double-sided tape to make it yourself.
4. How To Make A Little Bo Peep Costume
When preparing your Bo Peep costumes as an adult, bring the accessories down to the level of a girl as Bo Peep from the toy story is a little girl; a light blue capri pants, light blue round, blouse and black ballet flats, and a dark blue cape will be perfect for the go. But if it's for your little girl, you can consider a long-sleeved bodysuit combined with matching leggings. Cover the leggings with a ruffled diaper cover to keep the little girl warm. With all this, you have to maintain the Bo Peep color scheme as you're picking out the dresses. White, blue and pink.
5. Easy DIY Bo Peep Costume
For this beautiful Bo Peep costume, you need a blue dress with no waist seam, wide link elastics, pink fabric for the bow, plastic snap with snap pliers, light blue grosgrain ribbon, and black Mary Jane shoes.
You will need some sewing supplies and well to put the costume together. If your daughter has blonde hair, that means you are halfway up already; you don't need a blonde wig for her.
6. Bo Peep Costume DIY
Make a no-sew Bo Peep dress by watching this video tutorial from Payton and David. They used dark blue fabric for the Cape, a pink snap/button, a blue romper, black Mary Jane shoes, and a staff made from a broomstick. The stick is bent at the top to give precisely the Bo Peep staff and covered in pink ribbon. Check out the full tutorial by watching the video.
7. How To Make A Bo Peep Costume
Learn how to make Bo Peep dress from scratch by watching this video tutorial. In this video, the instructor did a great job by demonstrating the steps involved in putting the Bo peep costume together. You will need fabric for the Cape, blue fabric for the romper, pink ribbon for now and belt, and white lace.
8. DIY Bo Peep Cane
The creator made this Bo Peep cane from two pool noodles, duct tape, and wire hangers. Cut off some inches from one poo noodle, straighten one wire hand and insert it into the pool noodles.
Take the second noodle and insert it into the remaining wire hanger on the first noodles. Once the gap is closed, bend the Devon pool noodles where the wire hanger stops and cut the extra noodles off. Now, cover the pool noodles in duct tape, and you're good to go.
9. Bo Peep Costume DIY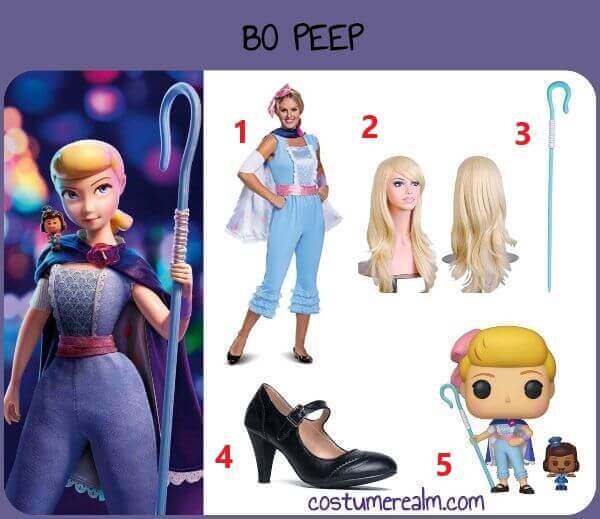 See how to make a Bo peep costume by yourself.  A complete Bo peep costume composed of blonde wid, Bo peep staff, and Mary Jane shoes. It is super simple and cheap.
You can get the romper from a clothing store, buy a pink belt for it or make a belt out of ribbon. Make your hair ribbon and prepare the staff. Once you do all this, you're almost there.
10. Little Bo Peep Costume Tutorial
A sewing machine is optional for most of the Bo Peep costume, and this is because most of the fabric sticks together very well with little hand stitching or no-sew glue. But, if you know how to sew and have the machine, you can go ahead and sew the clothes together. A giant plastic cane and blue ribbon will work well for the staff. See the link below for the full tutorial.
11. Bo Peep Costume For Kids DIY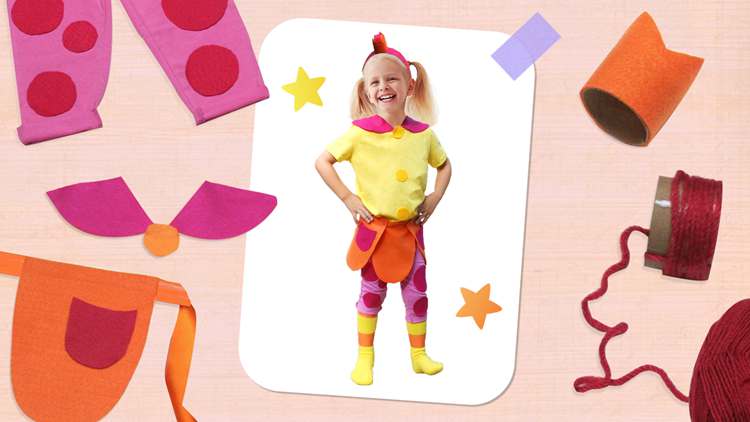 Bring little Bo Peep to live with this cheap and beautiful costume for children. Invite your kids while making their costumes and see how unique the whole project will be.
The combination for this particular costume is a yellow t-shirt, pink leggings, orange ribbon, orange duct tape, dark pink cardboard tube for the staff, and some felts ( orange, gold, and dark pin).
12. Homemade Little Bo Peep Costume
Is your child a fan of Little Bo Peep? Bring Bo Peep to life with this simple and affordable costume craft! If your daughter already has blonde hair, all you are left to do is to make a pink bow and attach it to the hair. Make a belt from the pink ribbon, and you're good to go.
13. DIY Bo Peep Halloween Costume
Learn how to make a Bo Peep polka dot skirt, bonnet, and staff. Here is what you need for the dress, bonnet, and staff: white fabric, pink fabric, pink net, hot glue gun, scissors, snaps, buttons, and stick. For that too, you can use your crochet top or any pink top that fits.
14. Bo Peep Toy Story Costume DIY
Learn how to dress like Bo Peep from the toy story! The character; Bo Peep gained a lot of interest with their super cute dress in the story. This video will teach you how to make the costume with some fabrics, lace, ribbon, and a blonde wig. You can get an already made romper or dress for the costumes.
15. DIY Vintage Bo Peep Costume
To get the Bo Peep dress very well, especially for beginners, you can draft the design on s pieces of paper to make it easier and faster. After this, the next step is to gather the fabrics and other supplies needed for the costumes. Make sure everything you get for the outfit is within the Bopeep color scheme ( white, pink, and blue), and top it with nice black Mary Jane shoes.
16. Bo Peep Makeup Tutorial
If you're interested in dressing like Bo Peep, you need to follow the scheme of color and that No peep is a little girl/teen girl; the makeup should not be too much. A light one is okay. See this video tutorial on how to make your own Bo Peep makeup.
17. Little Bo Peep Toddler Halloween Costume
See this beautiful Bo peep costume in white and pink! The dress is made from pink fleece materials and white lace. The staff is covered with pink ribbon and a small pink ribbon attached to it. The bonnet is made of pink fabric and white lace on its edge.
18. DIY Little Bo Peep And Sheep Costume
Make this Bo peep costume for your daughter during Halloween. The outfit comprises white lace, pink fabric Whits staff with a pink bow. The bonnet is made from pink fleece Fabrice and lace around the edge. See the complete guide by clicking the link below.
19. DIY Little Bo Peep Costume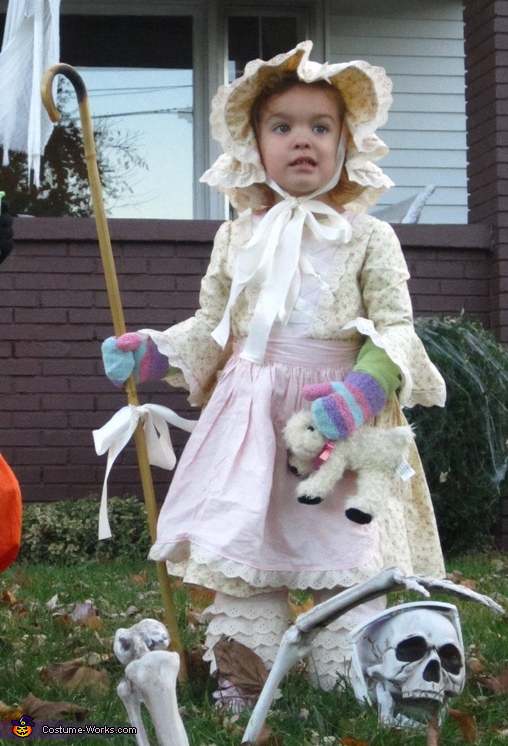 Dress your little girl up in a beautiful Bo Peep costume. The bonnet and the dress were made of butter color fabric with white lace on the edges. The staff was designed with one white bow. Click the link below to learn more about this Bo peep costume.
20. DIY Bo Peep Costume With Cricut
You will need sky blue, pink, and black infusible ink. To cut this infusible ink, place the sheet on a cutting mat, color side up. Mirror the image and try as much as possible to touch the sheet always. The sheet can be lifted and cause it to be blotchy. After this, you need to press your infusible ink. A heat press is recommended.
Conclusion
There you have 20 amazing DIY Bo Peep costumes. The costumes are beautiful and easy to make as no expertise is required in making them. Weather you are looking at making a DIY bo peep costume for an adult or kids, this guide has got you covered.