There are a lot of fun costumes that you can make for your kids for a costume party or just to wear around the house for fun. This DIY tiger costume collection will not just give you one of the best ideas, it will also show you how to make them.
Most of the projects listed are quite easy to make. Some involve the use of makeup, others might require your sewing skills.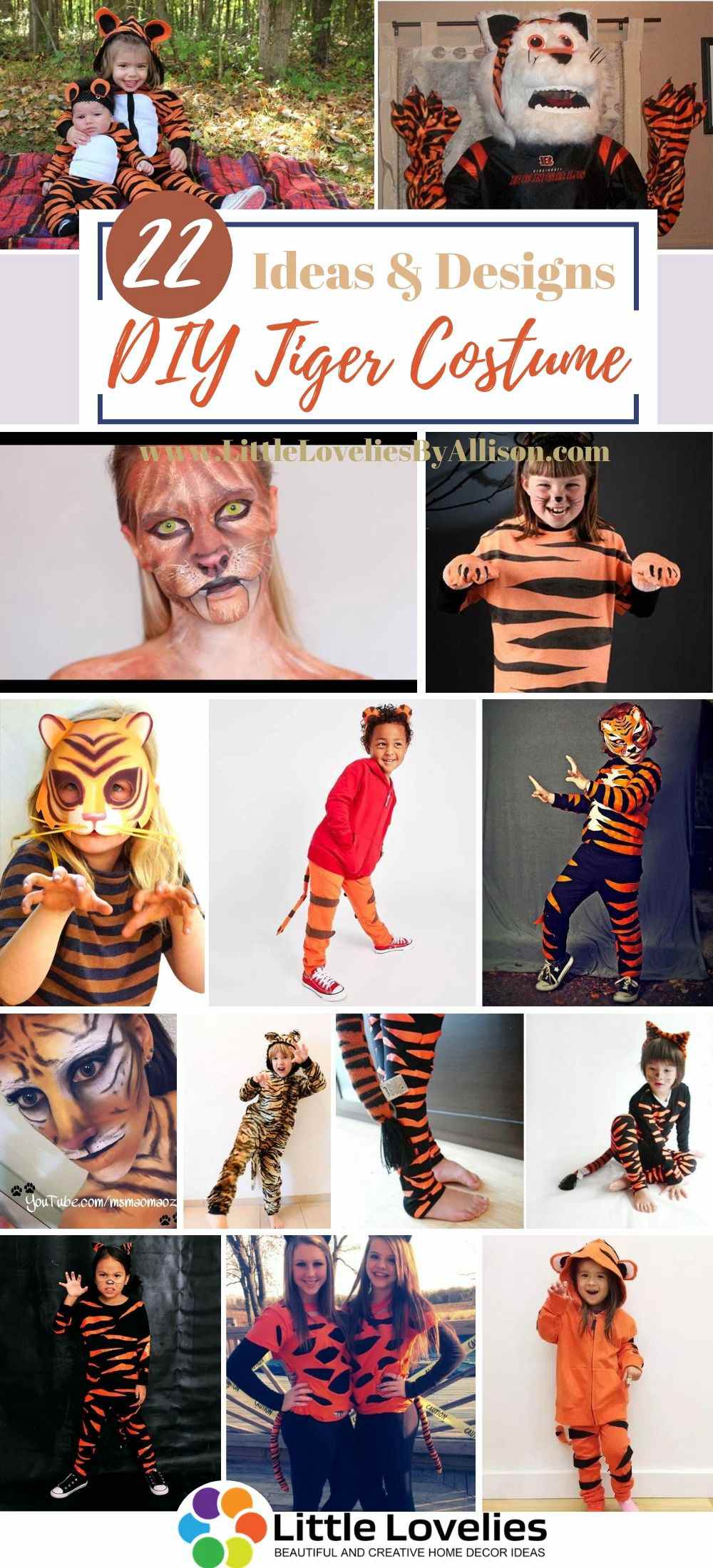 1. DIY Tiger Costume for Kids
If you are looking for how to have a fun time with your kids then this DIY tiger costume is the best bet for you. If you have an orange kiddie's hoodie and pajama top and pants then you are good to go. Cut the long strip of black felt and attach it to the side of the body. Cut 4 rectangles of orange felt and round the corners for the ears. You can still use felt to make out the tail.
2. Duct Tape Tiger Halloween Costume
A little crazy is the new normal. Try it and see how your kids will be excited. This costume is made of duct tape and some other supplies you can get from around the house. The headband is made by cutting 6 strips of black duct tape and placing it on the headband. The stripes for the body can be made by cutting various triangles like slits. Then make the tail by folding a strip of black duct tape and pressing together.
3. DIY Tiger Costume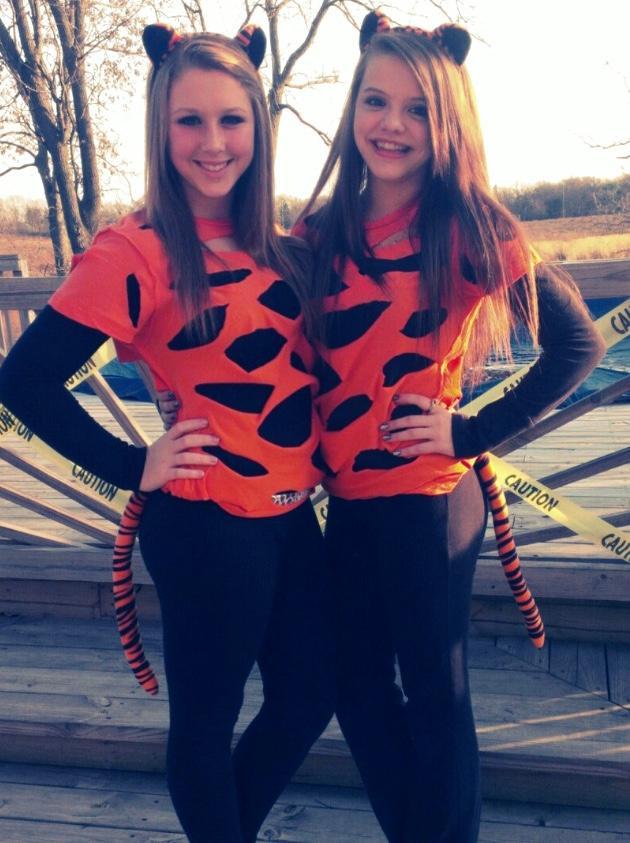 Halloween just got better! These costumes will surely turn heads. There are a couple of samples here that can be used. This is a DIY tiger costume courtesy of Amanda is a trendy little dress with a few touch-ups.
4. DIY Tiger Dog
Even our pets can join the vibe of the party with this DIY tiger costume. The dog was painted with washable pet paint.
5. DIY Tiger Makeup Transformation
Beautiful and sassy might be all you need for a Halloween transformation. This makeup is just easy to do. Add white above your lip then orange around the white. Add yellow on the nose and forehead. Add brown along the hairline and cheeks. Use pink at the bottom of your nose. Add a little more detail and stripes.
6. How to Sew a Terrific Tiger Costume
If you know the basics of sewing then this should not be very difficult for you. First get a tiger print for the onesie, hood, ears, and tail. Measure the person and cut the fabric. Use the machine and join the pieces together. Fix in the attachments.
7. Fiery Tiger Costume
There is a lot that you can do to create a DIY tiger costume so you need to stick to the basics. You will need black sweatpants and sweatshirts, white, orange, and black felt. You can get the other supplies from the store including a mask. Glue or sew the strips on the cloth.
8. DIY Tiger Halloween Costume for Kids
If you are looking for the perfect gift for your kids then this can go really well for you. You will need an orange onesie for the costume and three spools of tulle to make the tutu. You can get tiger leg warmers from an online store or make one yourself. If your child is sensitive then you can wear them leggings first before the costume.
9. DIY Tiger Costume
It is time for you to be stylish and fabulous. This DIY tiger costume will give you a chance. Get an orange hoodie and orange jogger. Cut strips of felt and glue to the pants. For the headband, cut 2 layers of D shape to form the ear, then glue. For the tail, cut two matching long skinny rectangles.
10. DIY Tiger Halloween Costume for Kids
There are a lot of easy DIY tiger costumes that you can easily pull together for your party. Cut strips of orange felt and place on your blacktop and pants. You can get a second-hand tiger ear headband and make the tail out of tape.
11. DIY Tiger Costume Tutorial
You can always customize your costume to look like what you want. To make a tiger tee, get an orange tee, glue gun, and other things that you will use. Put a board inside the short-sleeved shirt so it does not reflect on the back. Keep cutting black strips of felt and attaching to the tee.
12. DIY Tiger Makeup Tutorial
This DIY tiger costume helps you to make good use of your time to establish an exciting Halloween experience for yourself. The facial makeup, body art, and costume can be made easy. Follow step by step and you can get this done.
13. How to Make a Tiger Mask for Cosplay
You can either get your DIY tiger costume made or bought but making it will give you a more sense of fulfillment. Get a paper and trace your design. Make sure it will fit the child well. Add the different parts of the face then use drawings to mark out the strips and whiskers.
14. Kids Tiger Halloween Costume
Create time-out for yourself to unwind and chill with your kids. You can make this costume by cutting stripe shapes and making use of them. You don't need to plan a pattern. Roll black felt into a tube shape for the tail. You can sew two ears to the hoodie.
15. The Cat's Meow Tiger Costume
With the help of this DIY tiger costume, you won't have to rack your brain for the best Halloween outfit to match your personality. Press the tee with an iron first. This will need to be sprayed so you will place freezer paper inside and at the back. Use black chenille stem to make a loop and wrap for the headband.
16. DIY Sexy Tiger Makeup
Sassy and sexy says it all with DIY tiger costume and make-over. This makeover needs a lot of concentration. More priority is placed on the strips and the nose especially skin design. Not much work is done on the eye.
17. DIY Halloween Tiger Costume
You can build up your creative side by trying out this DIY tiger costume. This face makeup is actually sassy and will require that you already know the basics of makeup. Start with applying white paint on the face. Pay attention to skin tone while doing it. If the first layer does not look enough then you can add some more but be sure the other is dry so it doesn't come out all clogged. The eyes of the tiger are important so make the eye shadow full. And repeat the other way. Fill the inner side of the nose and make it darker. Put some pressure on the fur so it makes more depth. It uses more white than orange. Use a black costume to make a ghostly look.
18. DIY Tiger Makeup Tutorial
Have you ever thought of making your DIY clown costume cute, classy, or creepy? Start by making the base dark orange then use white for the neck. Use a baby pink for the nose and outline with a stroke of black. Use white paint for the whiskers. Make the liner, mouth, and fill in the teeth. Create the fur and stripes. Use a contact lens to give that fiery look.
19. Homemade Tiger Mascot Costume
Use your ideas to be productive. Do it yourself! Start with a paper Mache head. Fix in the nose and mouth, then the eyes and ears. Don't forget the white fur. Fix in the finishing touches to make it stand out.
20. DIY Tiger Toddler Face Paint
If you want to think of a really cool costume for your toddler, using paint is a big deal but you can also make it really beautiful. Start with a white base and use orange to blend in well. Make the eye markings fierce and scary.
21. Printable Tiger Mask
This printable DIY tiger costume can be used to mask the face for a mask party. Print your template on a heavy stock paper and cut out the parts. Attach them carefully and use a ribbon to the side of the mask.
22. How to Make Tiger Tails for Cosplay
Cut the fur and remember to flip the pattern when tracing the second. Pin and sew the pieces one by one. Start with the black and orange before you get to the black. Do this till you have the halves of the tails. Pin and sew the two halves together. Add belt loops and stuff with pillow stuffing.