The color peach always looks cute on princesses. The super Mario character princess peach is the inspiration for this costume. This DIY princess peach costume is a big hit for any event, party, or dress up session. It can come in really flamboyant styles that can turn heads.
After doing some research, I was able to come up with a list of DIY princess peach costume ideas that you can try out, you will also find ones that will be suitable for your kids.
1. DIY Princess Peach Costume Girls
You can always look like this cute princess peach if you follow these simple steps. Since it is all about the peach color, you can use designs that will help your costume stand out. If you are lucky enough to find a peach dress then that is fine but if not, you may need to buy a white one and dye it. Add white tulle under and jewels to the center. The crown can be created with bow material and jewels. Take a wooden star and paint on it or simply get a gold star online.
2. Do-It-Yourself Princess Peach Costume
This costume can be made from home easily, you will need to do some sewing. This seems to be a Disney sleeping beauty costume. It is made from a light pink fabric top with gold in the center. To add some volume, sew tulle inside the skirt. The bottom is wrapped with an elastic pink satin. And the belt is also wrapped up to make it look like a gown.
3. DIY Princess Peach Costume For Girls
This costume is a charmer. You can get this gown at a local store for a few dollars. It's a cold shoulder round neck gown. For the crown, you can get a pattern and hot glue fake jewels on it. Get her a white glove and pink lipstick to match. My favorite thing about this costume definitely has to be the crown. It's really beautiful.
4. No-Sew Princess Peach Costume
If you are not a fan of sewing then you will love this one. For this costume, you will need a baby long sleeve dress, a baby cardi sweater, which you can get online. Use a dark pink felt on the waist flaps and attach it with fabric tape. Cut a yellow oval for the pendant and a blue one to fit in. for the crown, cut a long rectangle, shape, and glue then add jewels on it. The making process is quite easy to follow.
5. DIY Princess Peach Costume Girl
This is for adults but can also be applicable to children too. This can be done without a pattern but you need to be really precise and meticulous. You need a top, skirt, crown, cameo, and earrings. You can buy gloves and knees high too. Measure yourself and cut the material for the skirt and top. Use interfacing between the top and the skirt. For the crown, you will need gold wire, beads, and crystals.
6. Princess Peach And Mario Couple Costume
Here's an ideal couple costume for next Halloween. Making a costume as a couple is easy. You will need tulle and elastic to make a tutu for the princess outfit. Use a pink top on the skirt with a crown and gloves. Mario will need a blue fabric to fix his trouser firmly on his waist. A red shirt and using a funny mustache is vital for that perfect Mario look.
7. How To Make Princess Peach Costume
Here's another one for adults, the making process is pretty much straight forward. You can also adjust the measurements and sew for your kids. To make this costume, trace your measurement on a newspaper then cut your fabric along with the pattern. Use a machine to stitch the pieces together. If you do not know how to sew, this guide might be hard for you.
8. DIY Princess Peach Crown
To make this crown, you will need a template that is curved on the base and not straight. Cut out some pieces of a circle from the cardboard. Using an EVA material will give it some thickness. Use buttons as a pattern to create holes for the jewels. Paint the buttons and attach them.
9. DIY Princess Peach Dress
This costume has an underlying layer that makes it seem a little bloated under the skirt. It is made of blush pink china silk, crepe, and satin then the hair adorns totally to look like a princess. This reminds us of the princess peach toadstool in super Mario. Cut your pieces for the dress and stick them up together. The making process might be a little complicated for beginners but the pros would not have a hard time putting this costume together.
10. Easy Princess Peach Dress DIY
This is a very simple and pretty DIY creation that you don't need to break the bank for. Measure your jewel and place it on the dress using the align tool. Remember to place the vinyl color down before cutting. Preheat your easy press to 300 degrees then use it to attach the jewel.
11. Princess Peach Makeup Tutorial
Princess Peach does not really need terrible makeup. Just something soft to make her look gracious. First, create your crown before you proceed to the makeup using paint that can be easily washed off the face for the brows. Start with your foundation and highlighter. For this process, you will need to bring alive your creativity.
12. Princess Peach & Bowser Cosplay With Your Pet
Princess peach and bowser is a super cute combination to come up with if you want to add your pet to the party. You can start with a template for Bowser's shell. Make 4 slits on the corners then bend inward to create a shell. Design it the way you want. For princess peach, you will need to pattern out your material and cut to create your gown. Use gloves and a crown to complete the costume.
13. Princess Peach Costume Idea
These costumes are so fun to put together and your kids will surely love them. You will certainly need your hair to be flawless and the makeup to be done after rocking this perfect costume. A lot of cutting and sewing with tulle needs to be done for this costume to stand out this way. The crown can easily be cone with a hard paper and some glitters and fake jewels.
14. Super Mario Family Costume Idea
Your family can easily recreate the super Mario family idea with really creative costumes. For Mario, you will need Denim overalls, red shirt, brown boots, faux mustache, hat, and plush star. You can easily wear all of these on. For the Princess Peach, you will need a pink leotard or poofy skirt, yellow wig, pink lace parasol, white gloves, and pink shoes. This can easily be put on alongside.
15. Princess Peach Dog Costume Idea
Your dog can also join the party with a red cap and red and blue pinafore which is half side. It also has an imaginary big white button placed on the cloth. Trust me, your dog will look great on this costume. If you have a bigger dog, you can opt for a bigger costume.
16. No-Sew Princess Peach Felt Crown
One of the most important things about princess peach is her crown, she can't be a princess without her crown. If you are having issues creating a princess peach's crown for your needs, here's a guide that will show you how to create a princess peach crown, and the best part is that this is a no-sew project.
17. Princess Peach And Toad Costume With Baby
This costume can come to life with a modern twist. To get that look of princess Peach, you will need to get a wig, crown, and a dress. While for the toad, you will need a blue vest, head warmer, pants and mocs. To get the blue vest, use an old shirt, and cut the sleeves off. Cut out fabrics and glue 6 large red felt circles to make the mushroom cap hat.
18. DIY Princess Peach Crown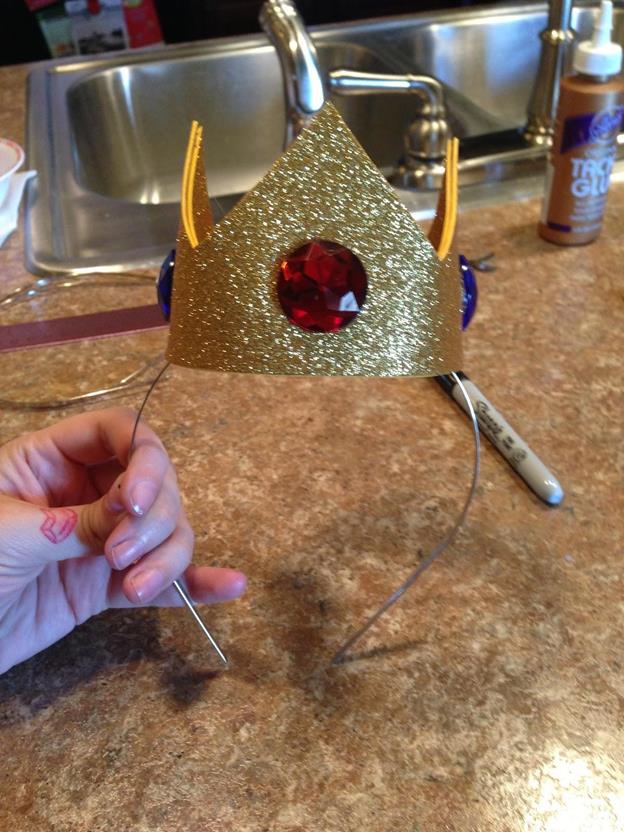 Making a crown should not be that difficult. A paper crown will be really amazing for the kids. You will need gold glitter sheet foam, red and blue gems. Make a pattern first then cut out carefully. Make two pieces of this and join them so the inside is the same as the outside. Add your jewels and you are good to go.