Having a chandelier is one way to bring life to your home. Buying a chandelier can be a bit high for some. Some chandeliers can cost up to $1000, why spend so much on a chandelier when you can make one for yourself?
I have put together a list of 24 Homemade DIY Chandelier Ideas that you can easily DIY. Go through my list, make your pick, and start creating.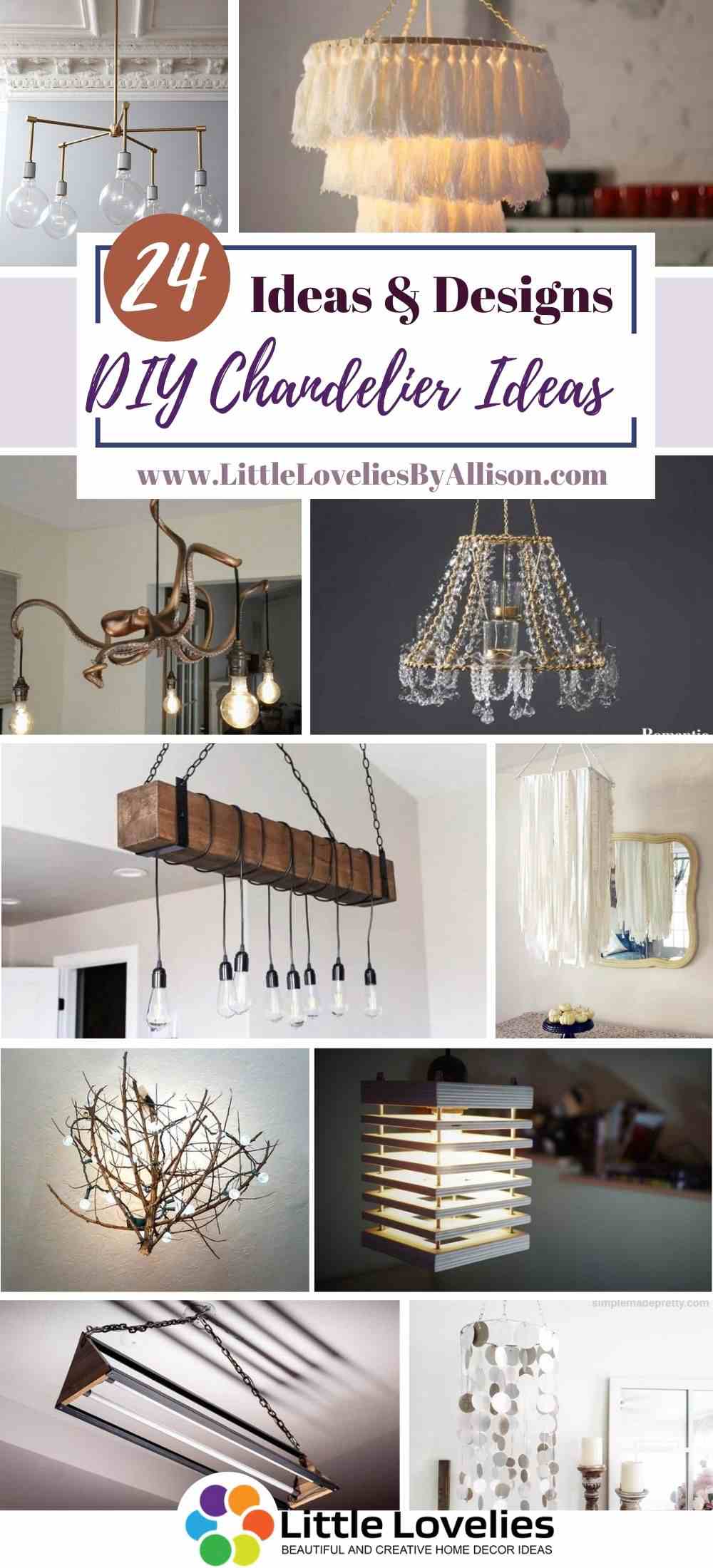 1. Brass Chandelier DIY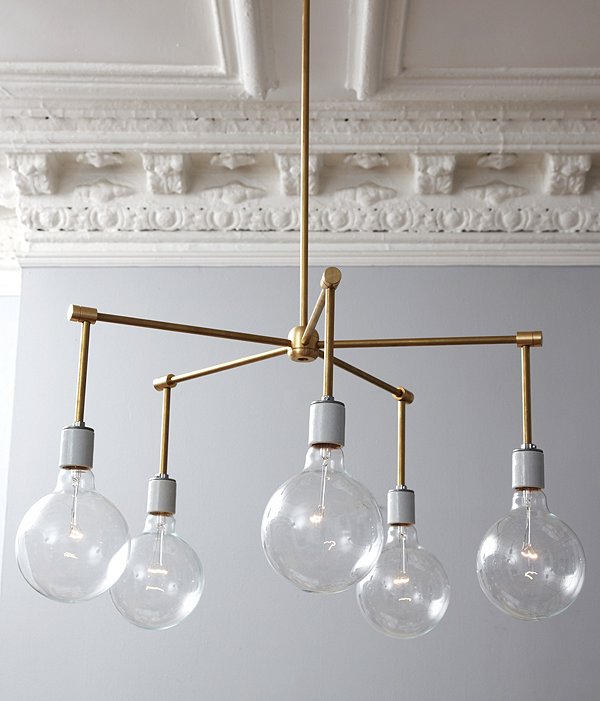 Here's one project that will look amazingly in your home, especially in modern houses. For this chandelier, there are a total of 5 bulbs that light up the place, it is made of a couple of brass pipes, a brass loop, and a couple of other tools. The making process is very easy to follow if you have all the required materials and tools handy.
2. DIY Octopus Chandelier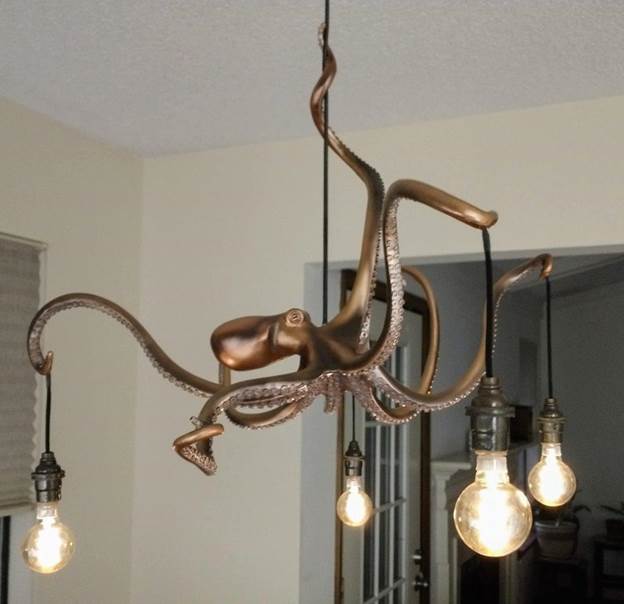 While looking for out of the world ideas on DIY chandeliers, I came across this unique chandelier that looks like an octopus holding four bulbs. In the making process, the hardest task is creating the octopus form, if you are determined and you have the materials, you would be able to make it.
3. DIY Beaded Chandelier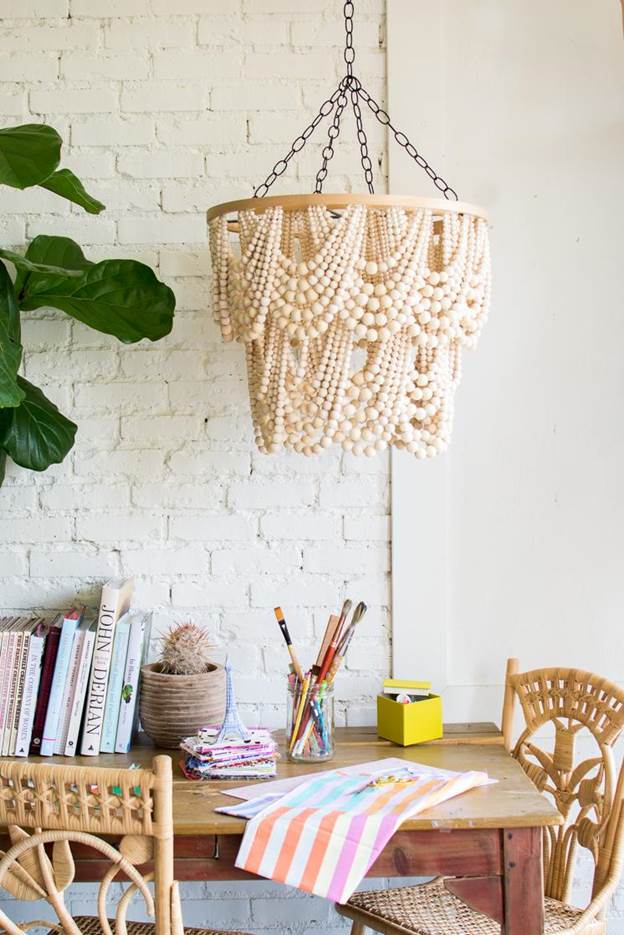 I was once told that there were beaded chandeliers, I never believed till this moment. The best part about having a beaded chandelier is that you can go with any color of beads to match your home decor. Also, this is one of the easiest to make DIY chandeliers, you won't have to spend much.
4. DIY Tassel Chandelier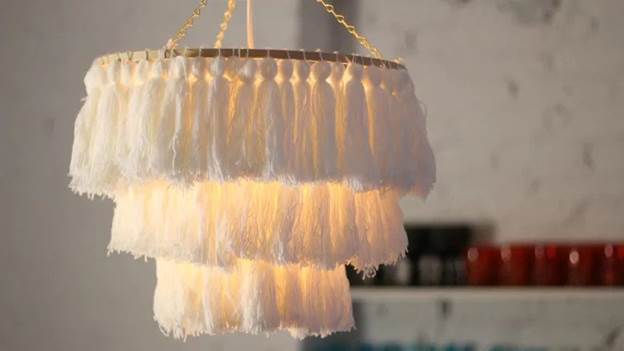 Imagine making this for your wedding ceremony, It would be amazing. For this DIY tassel chandelier, you will need 4 balls of yarn, scissors, cotton string, and a couple of other materials. The making process is pretty much concise and straight to the point. Feel free to make adjustments.
5. DIY Crystal Chandelier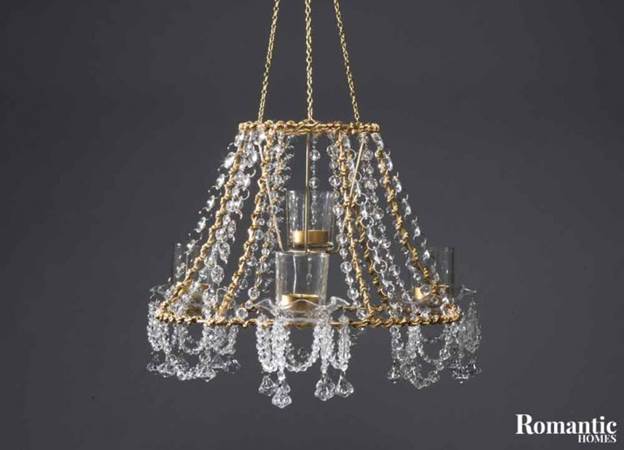 Crystal chandeliers have a way of adding a unique sparkle to a room. This crystal chandelier is made up of 1 lampshade, gold spray paint, a jewelry chain, and some other materials. Feel free to make creative adjustments to this DIY crystal chandelier.
6. DIY Oversized Fabric Garland Chandelier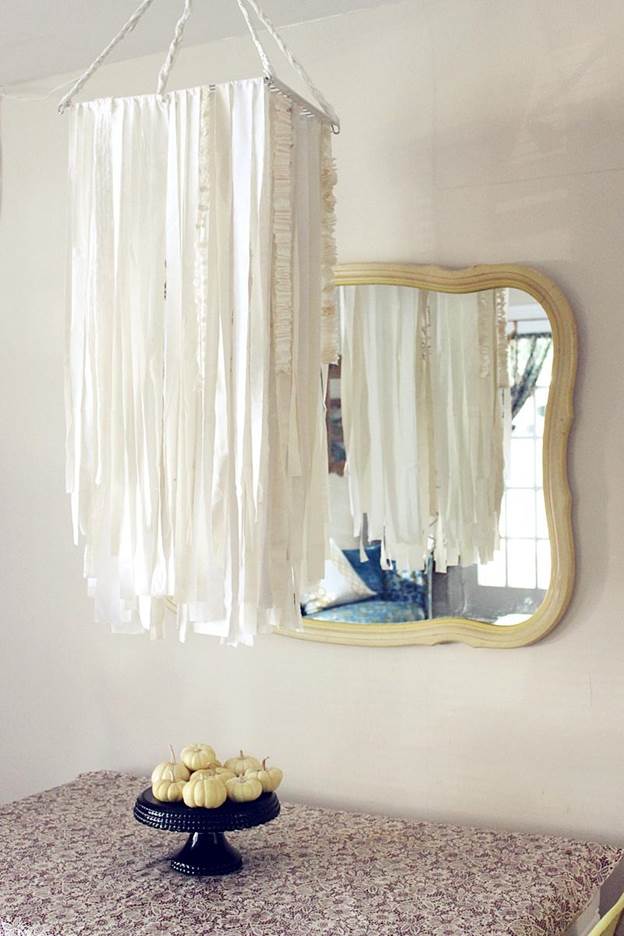 It is called an oversized fabric garland chandelier due to its enormous size. This is the kind of piece that will most definitely draw the attention of people due to its beauty. You can fit this chandelier over your table, you can also use it to bring life to a particular area in your home.
7. DIY Farmhouse Wood Beam Chandelier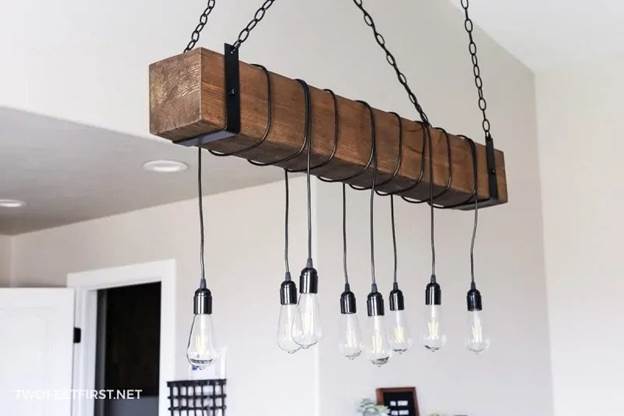 Get wood, attach some bulbs, and chain it to the wall, this DIY wooden chandelier might seem easy to make but the reverse is the case. Without proper planning, it might not look as beautiful as this. There are 8 bulbs on this chandelier, you do make your more or less, it is all based on preference.
8. DIY Chandelier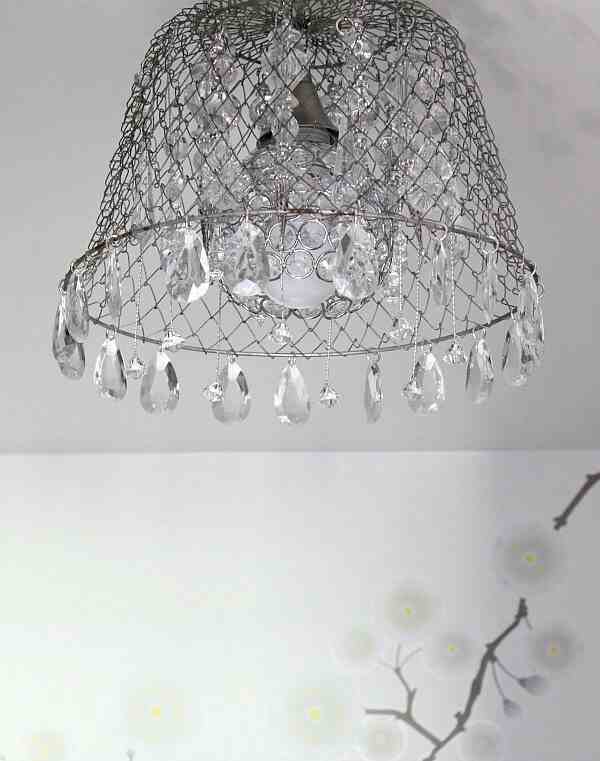 Here's another chandelier for the lovers of modern crystal chandeliers. This is the one to use if you want your home to look expensive. The basic materials used are; a vintage mesh basket, crystal ornaments, and a couple of other materials. Trust me, the making of this crystal chandelier is easy.
9. DIY Faux Crystal Chandelier
If you have ever checked the price of a crystal chandelier you would agree with me that most crystal chandeliers cost well above $1500. In this DIY tutorial, the creator was able to make a faux crystal chandelier for less than $100. It is really beautiful and can be used just about anywhere.
10. DIY Dream Catcher Chandelier
For this DIY tutorial, get ready to spend some time putting the chandelier together. While this is an easy project, you would have to sacrifice time. The first step starts off with wrapping wool on a ring and then tying knots afterwards. The creator also used beads and feathers for this project, feel free to use any color of your choosing.
11. Feather Crystal Chandelier DIY
Here's another DIY chandelier that can be used for your wedding celebrations. It will also act as great decor for your home. For this chandelier, you'll be using feathers and crystals to make this chandelier, trust me, it will look amazing after you are done, this, however, will be dependent on your ability to follow the making instructions.
12. DIY Easy Pearl Chandelier
This DIY chandelier makes me realize that almost anything can be used to make or decorate a chandelier if you are creative enough. Using pearls, the creator was able to make this amazingly outstanding pearl chandelier, it will look in your female child's room. The making process is very easy to follow.
13. DIY Fringe Chandelier Tutorial
The first and most important step to building this fringe chandelier is finding a base. The creator used a beautiful retro-looking lamp for the project, however, you can find better ideas. The making process is pretty much basic and easy to follow.
14. Modern Wooden Chandelier DIY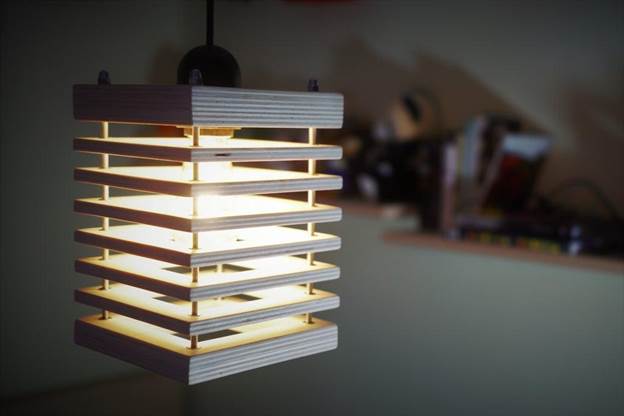 I decided to include this DIY chandelier for the lovers of wooden crafts, if you are into woodworking, here's a challenge for you this weekend. The creator used different pieces of wood with a bulb to make this chandelier. It is not as fancy as a crystal chandelier, but it will surely make your rustic home look a whole better.
15. DIY Tumble Chandelier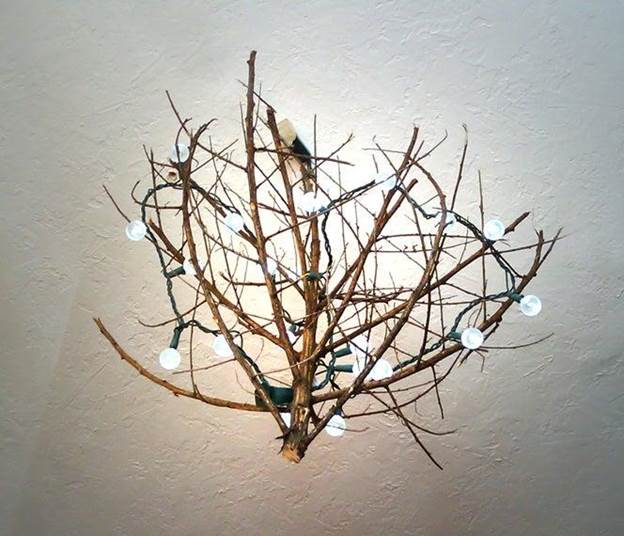 Did you know that you could make a chandelier out of dead twigs and tumbleweeds? The best part about making this is that you do not need to spend a lot of money. It would look great in a rustic themed home. Also, if you are looking for something out of the box to try for Christmas decor, you can consider this.
16. DIY Beaded Chandelier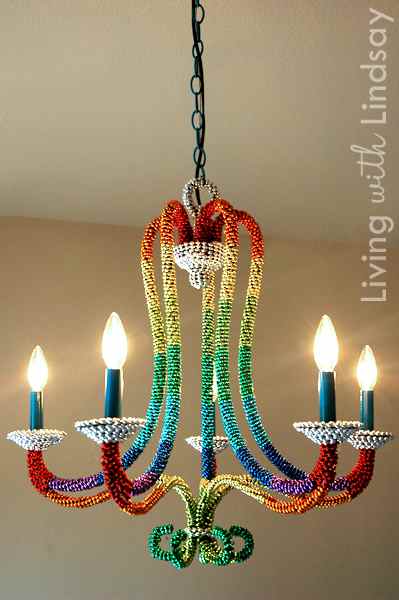 Here's another beaded chandelier that you can DIY easily, it is a combination of beads in different colors, as beautiful as this chandelier looks, the making process is very easy to follow, you should be done in no time. Also, this is a  low budget project that won't require you to spend much.
17. 6ft DIY Chandelier
Looking for a huge chandelier for your living room? Here's one that you can DIY, the making process is not easy, you will need to invest a lot of time and resources to get this done. The tutorial is basically a time-lapse video showing you how this DIY chandelier was made.
18. DIY Hula Hoop Chandelier
You can add beauty to your home without having to spend much. Using a hula hoop, the creator of this chandelier was able to bring this amazing piece of art to life. The hula hoop has a lot of light bulbs wrapped around it which makes it look a whole lot better.
19. DIY String Light Chandelier
This is a simple and rustic chandelier made of string lights and wood. Although this a wooden project, you won't need a lot of tools to make it. The tutorial will show you all you need to know to link the string light and wood together.
20. DIY Chandelier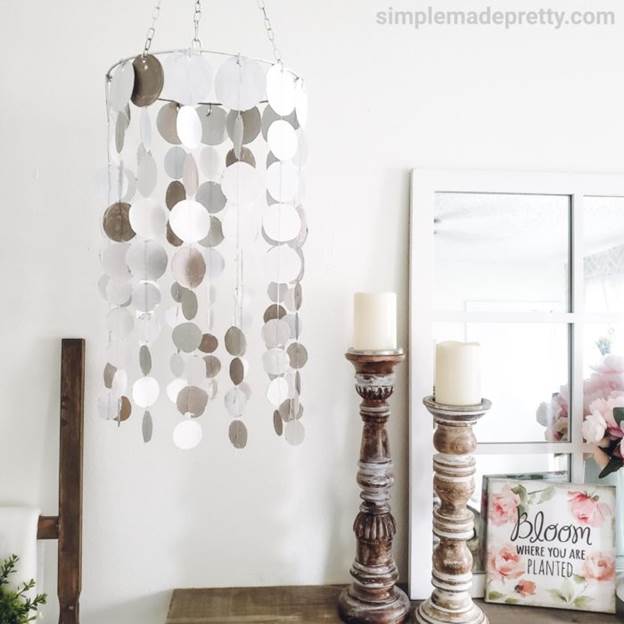 This was specially made for the lady's room, what do you think? The first thing to consider is the materials used, all the materials can be found on Dollar Tree. Also, it cost only $1 to make this DIY chandelier.
21. DIY Drum Shade Chandelier
If you are a drummer, you should consider making this chandelier for your bedroom or living room, your musician friends would love it. You will need these tools, a drum shade, fabric, rope, a small piece of PVC pipe, and a bunch of other tools. This drum shade chandelier is battery powered.
22. DIY Deer Antler Chandelier
This is one of those creative ideas that you would probably leave your friends in awe. The rotating feature on this deer antler chandelier is really amazing. It gives the room a sort of cool effect.
23. Industrial Chandelier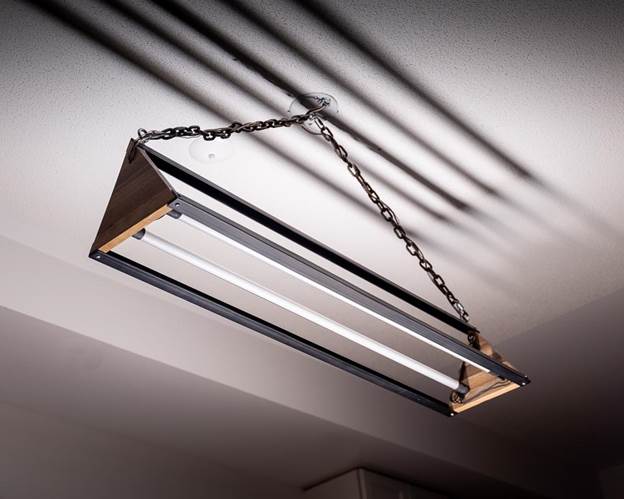 Still can't find the right chandelier to make for your home? You should check this out. This is a project made using industrial materials like an angle iron steel and big thick chains. You will also need a bunch of other supplies for the making process like the T8 bulb.
24. DIY Chandelier With Artificial Flowers
There's nothing wrong with having a chandelier made with flowers, in fact, it is one of the most beautiful chandelier ideas you can try out. For this project, the creator used artificial flowers, feel free to use any flower you want.