Have you ever wanted to dress up like a cowgirl but didn't know how to? Dressing as a cowgirl is a lot interesting. It reminds you of the countryside where a woman herds and tends cattle on a ranch. This is mostly seen on the western side of the United States of America.
In this article, I have put together a couple of DIY cowgirl costume ideas that you can easily DIY from the comfort of your home. You might not necessarily need to sew, just get a few materials here and there, put them on, and voila! You're dressed up as a cowgirl.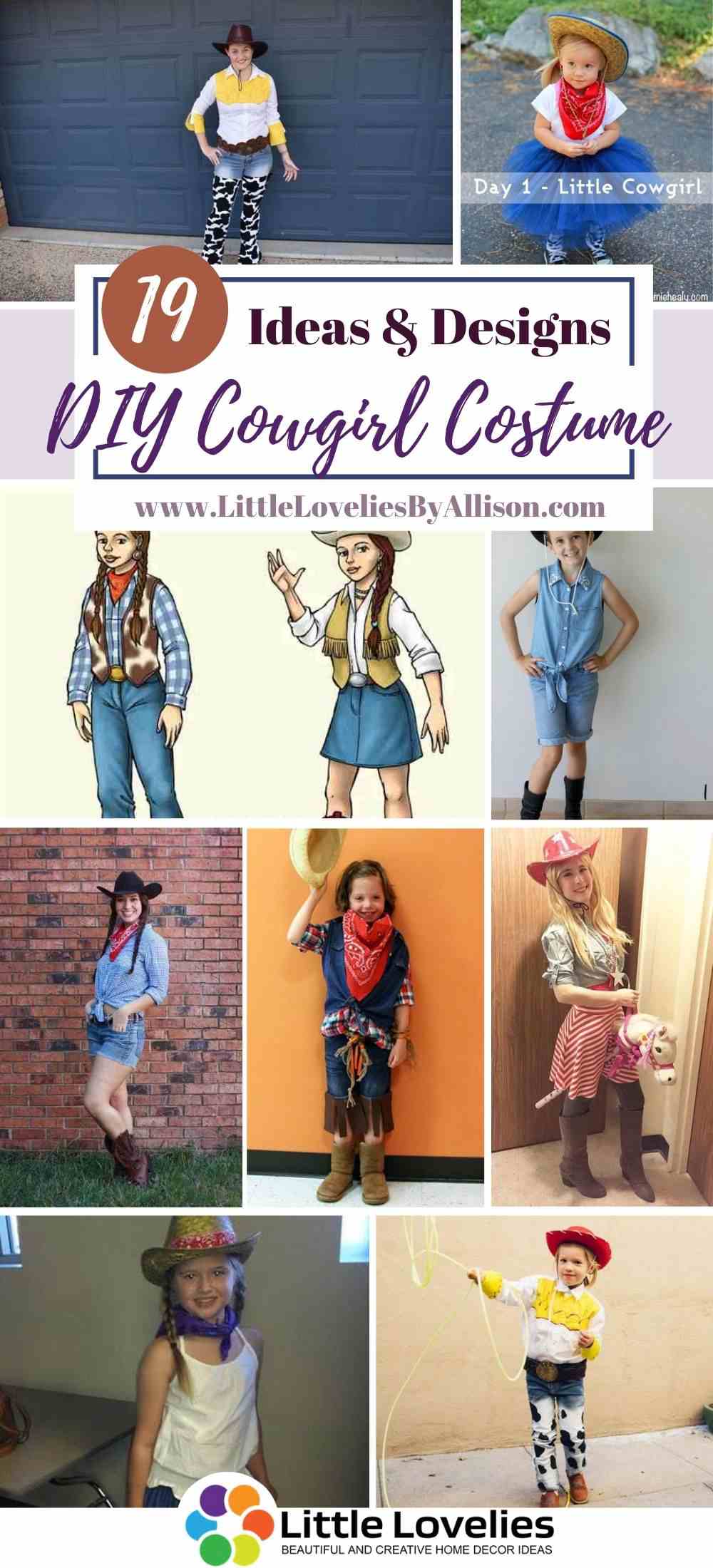 1. Easy Cow Girl Costume For Little Girl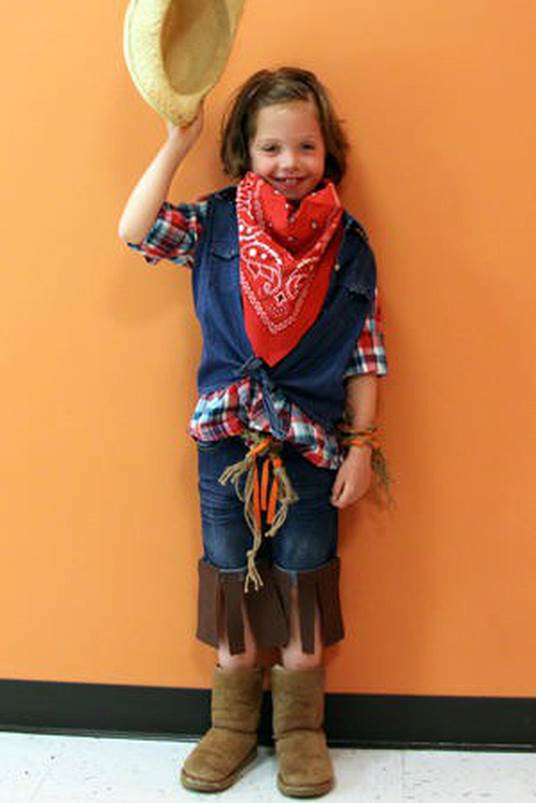 This is a really classy costume for a girl child. A lot of it calls out to jeans since the child uses a jean jacket and a pair of jean shorts. The short is folded in and a slit brown cloth is wrapped around the bottom of the short. The brown cloth is a slit in several places. She puts on a patterned shirt with a red bandana as a muffler. It goes with a hat and boots.
2. Cowgirl Costume Idea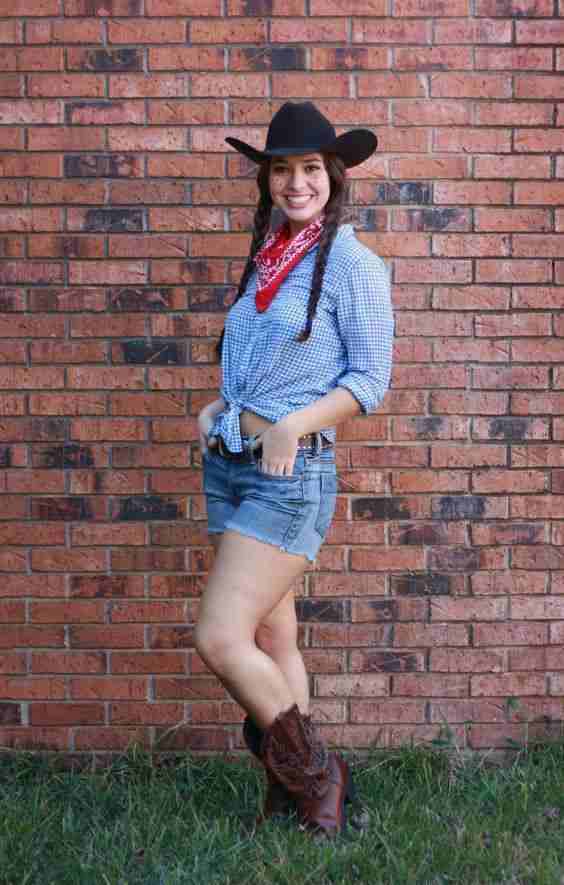 This is a classy costume that is sexy. It can be used for adults and children. All you need to put on is a blue shirt, blue shorts, a black hat, a red handkerchief, and brown boots. For the shirt, put it on and tie the tip of the shirt to make a semi crop top. Fold the bandana into a triangle and tie to the back so the front tip can be in front.
3. DIY Little Cowgirl Costume
This cute little cowgirl will surely make your day. If you need a DIY cowgirl costume for your kids then you can start off with this amazing beauty. This is super fun and safe to make. You will need navy blue tulle for the tutu, a white dance leotard, cow print leg warmers, a red bandana, and a play cowboy hat. Assemble all these materials and put on your child.
4. How To Make A Cowgirl Costume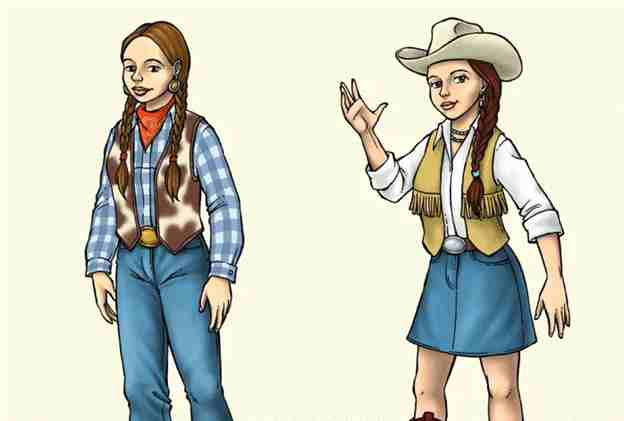 This is fit for a western-themed party or a Halloween party. The first step is to assemble all the things you will need to make this costume. Consider the top, bottom, shoes, accessories, and hair. Layout your costumes properly. To tie the shirt, take the two bottom ends and bow in the middle. You can now add completely components like vests, handkerchief, and belt. Get your accessories and style your hair.
5. DIY Cowgirl Halloween Costume
While looking out for the very best DIY cowgirl costume, I stumbled upon this sexy cowgirl costume which is ideal for ladies who want to appear sexy in a cowgirl outfit. Simply put on a black top on a black jacket and a blue jean that the crouch has been cut off. Attach some suspenders so it will be able to stay on the waist.
6. DIY Red Hot Cowgirl Costume
This cowgirl is indeed a red hottie. Deadstock fabric can be sustained easily. Add pieces of your cow print to the red trouser. Use the same fabric for the top and add your decorations. I highly recommend this cowgirl outfit for ladies who are looking at trying a sassy look.
7. DIY Glam Cowgirl Costume
This is a really fascinating cowgirl costume and you can try it out at home. Add fabric glue along the edge of the hat and add a thin rhinestone chain to the glue. Add another layer and cut pieces of chai to add to the tip. Do the same for the shirt.
8. DIY Toy Story Cowgirl Costume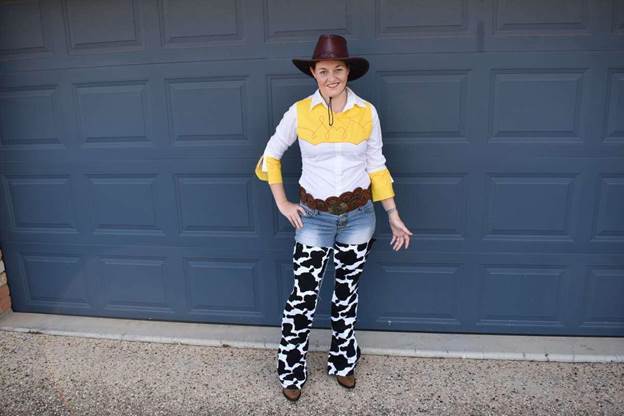 If you have ever watched Toy Story, this cowgirl costume should bring back some sweet memories. This is a really creative costume that has cow print on the tip of an A cut jean. Put on a white shirt that has paints of yellow on the shoulder and wrist. Your rodeo hat is a game-changer.
9. DIY Cowgirl Costume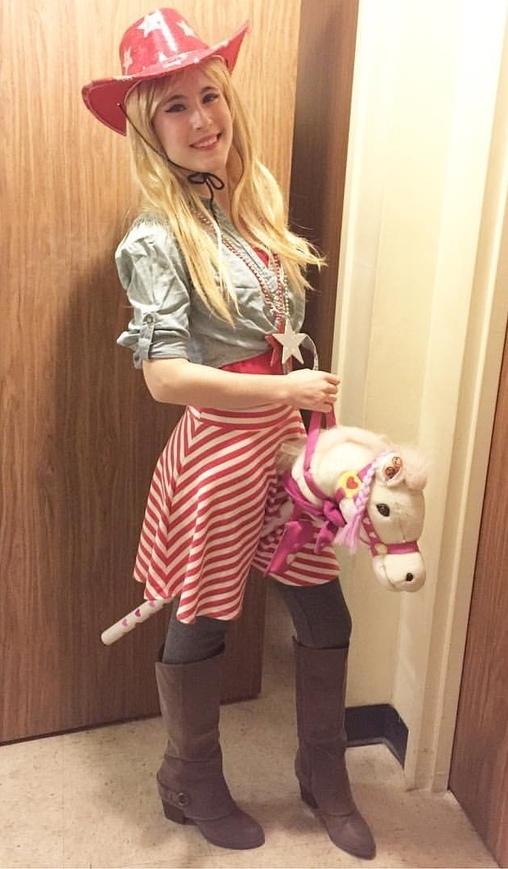 This wonderful costume goes well with a horse made of a doll and a mop stick. Most of the things you will need for this costume are already in your wardrobe. These long boots are already the center of attraction. The blonde wig is a Hannah Montana wig.
10. DIY Cowgirl Outfit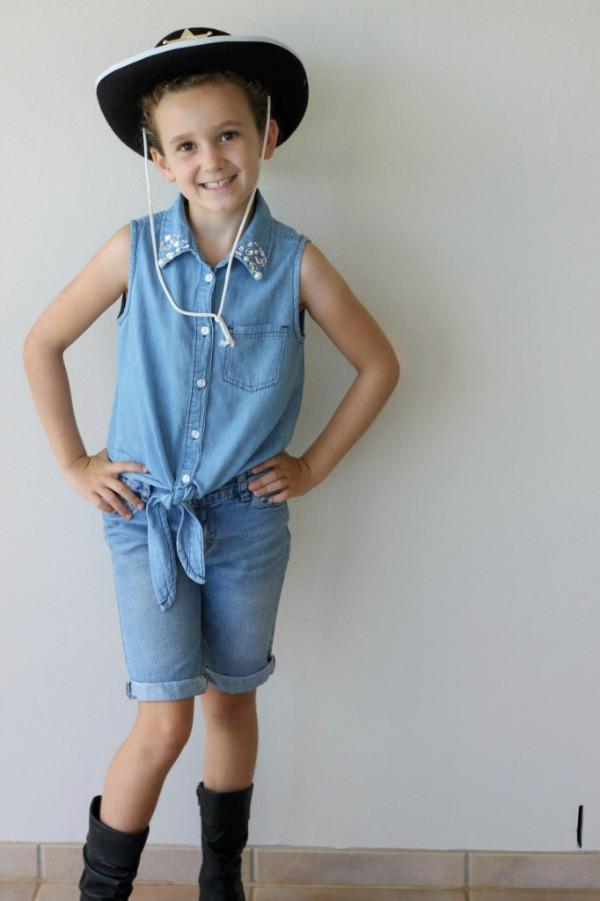 This makes the child look beautiful and confident. This can be easily put together because all the materials are readily made available. The hat has a star label on it with a rope that dangles right below the neck. A ponytail hairdo will make the job easier. The armless jean jacket was gotten from a store online.
11. DIY Toy Sory Jessie Costume
If your daughter is a fan of the toy story cartoon then you can easily make this costume of Jessie for her. You will need a white collared shirt, jeans, paintbrushes, black fabric paint, scissors, felt fabric paint, and so on. To make this, paint the top of the shirt a yellow and the sleeves. Apply the felt on those areas too. Attach everything you need to.
12. Cowboy Outfit DIY
You may also love to dress like a cowboy and this is not even difficult to do. Get the different materials you would love to use to create your costume and measure according to your size and cut out. From the trouser, cut off the crouch area then put straps to the belt area to wear it in. after making your shirt, you can add a bit of trim to the hand below the arm.
13. DIY Cowgirl Makeup
A DIY cowgirl costume is not so difficult to recreate and so is makeup for the costume. Begin with the foundation. Pick a shade close to your skin color. Use a concealer under your eyes to get rid of dark circles. You will need a setting powder as well. Take a primer and add to strategic spaces.
This is a really natural look so you can add champagne nude to your eyelid. Fit in your eyeliner and the fake lash. Complete this with a light shade of lipstick. The next step is to brush out your hair and section into different parts and braids. Take a flannel shirt on a jeans and a nice hat and you are good to go.
14. How To Sew Cowboy Costume
While researching I also stumbled upon a cowboy costume. The first step for this sexy costume is to get a denim jacket as the base. Trace and cut out, evict the part around the crouch. Measure the waist then attach a band. Design on the trouser and jacket with stones.
15. Denim Cowgirl Skirt Costume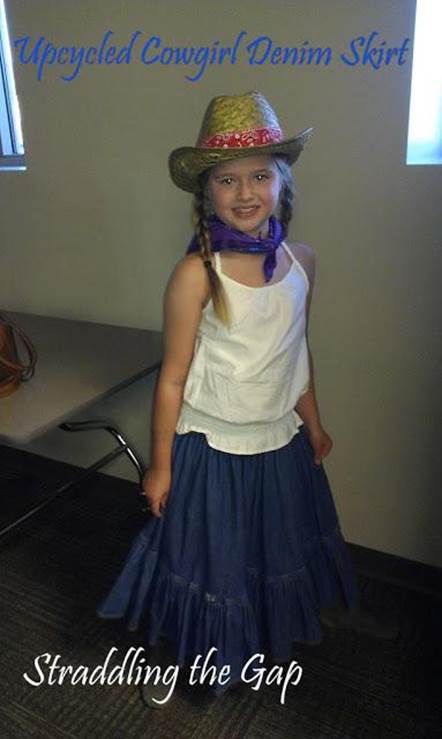 This project will not take so much of your time. Making this costume is as easy as getting a big denim skirt and a white little top to take the stress away from you. If your skirt is too long, you can always cut the base and measure accordingly, sew and add a ribbon.
16. DIY Cowboy Costume
If you need a Halloween costume for yourself, there is always a good way to go about it. This costume used jean velvet pants. Make some markings where you will need to cut off to be worn on another cloth. You can use another fabric to make the shirt too. Then rock your cap and bandana.
17. DIY Jessie From Toy Story Costume
The toy story character, Jessie, is an amazing cowgirl with sparking colors to match her outfit. All the items to make this costume can be gotten from the store. You will need jean paint, a white shirt, a cow skin print, yarn, trim, fabric paint, hat, and belt. Mark lines on the shirt and adds the yellow fabric paint. Attach the cow print to the jean. Glue the trim to the shirt and make the Jessie hair too.
18. Easy Cowgirl Costume
You can always get a DIY cowgirl costume for Halloween using the easiest of materials. Begin with your makeup. When you are done, divide your hair into two and braid each lap. Put on your red check shirt and blue jean shorts. To make it look mote crazy, let the shorts be really short. Then put on your boots.
19. Cowgirl Outfit Idea
One of the important things to note about dressing up as a cowgirl is the use of vintage checked shirts, they are a lot of them in different variations. For this cowgirl outfit idea, she used a checked shirt with a pair of blue jeans. For the belt, you can order a cowboy or girl belt from an online store. Don't forget the cowgirl hat.