Tinkerbell is a popular character in the Peter Pan cartoon. You can easily make a costume like this for your kids for Halloween. A popular color for this costume is green. The wings are also an important part of the costume but not a necessity.
In this guide, I have put together a couple of DIY Tinkerbell costume ideas that will show you how to make different variations of the Tinkerbell costume. Most of them are very easy to remake. Also, you will find options for kids and adults.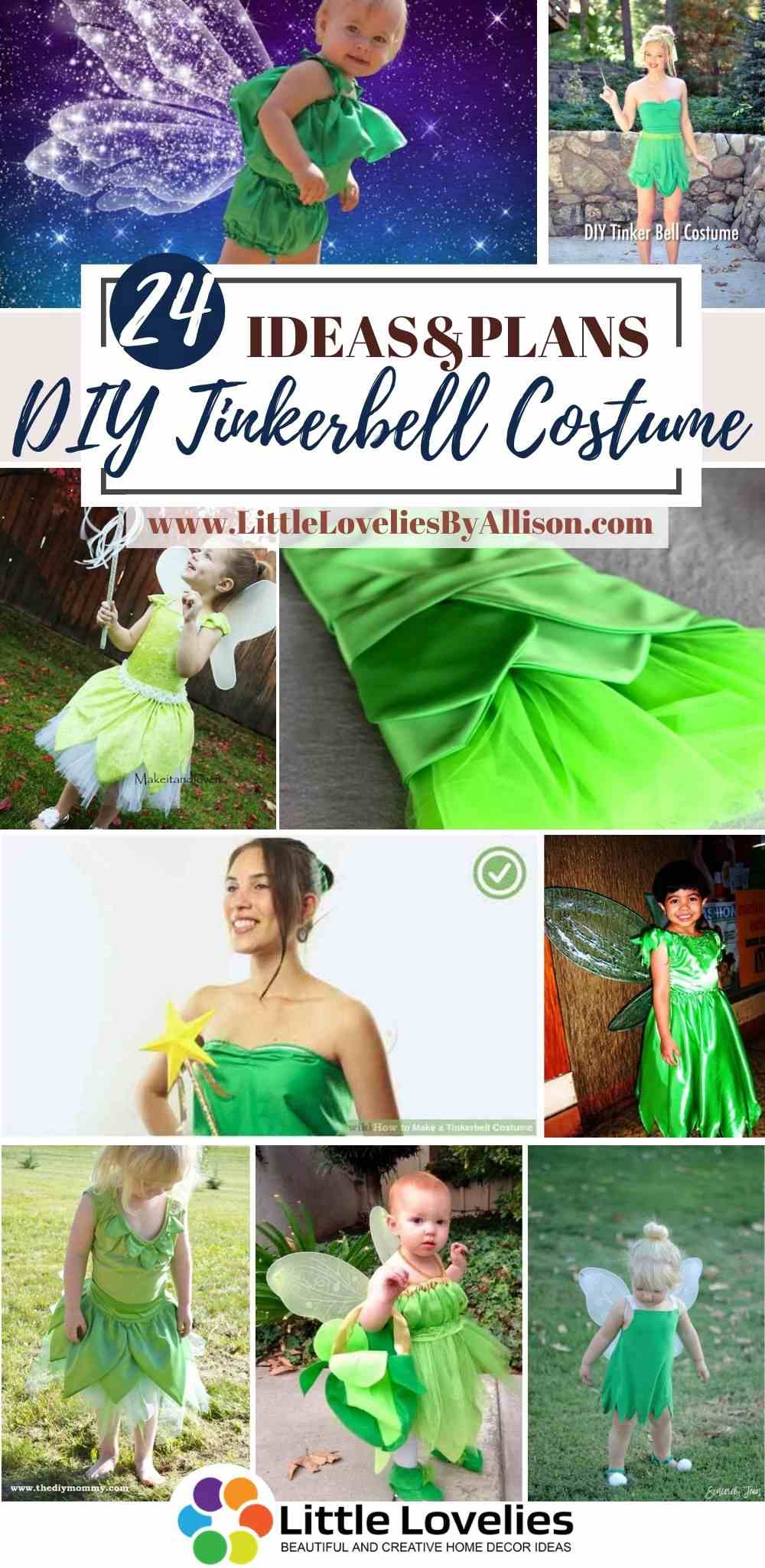 1. How To Make A Tinkerbell Costume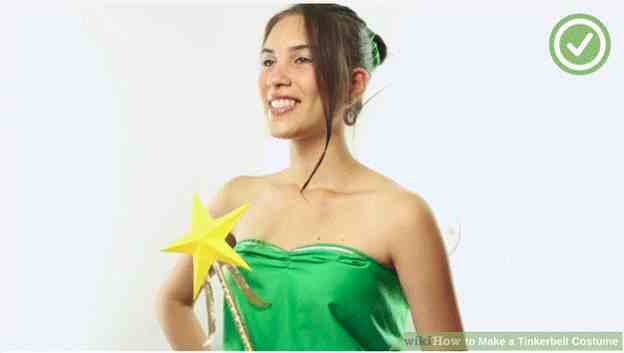 This simple tube dress will surely create a remarkable statement for you. To make this costume, choose a form-fitting sleeveless green dress. Cut out triangles along the bottom to make pointed hemlines. Carry a wand with a star at the end. You can buy fairy wings from the store.
2. DIY Tinkerbell Costume No Sew For Kids
You can dress your kids in this fairy costume with a perfect pocket dress. If you like to add more fullness to the skirt part then you are good to go. For the wings, use a large sheet of white poster board then cut and decorate. The making process of this DIY Tinkerbell costume is very easy to follow.
3. DIY Tinkerbell Costume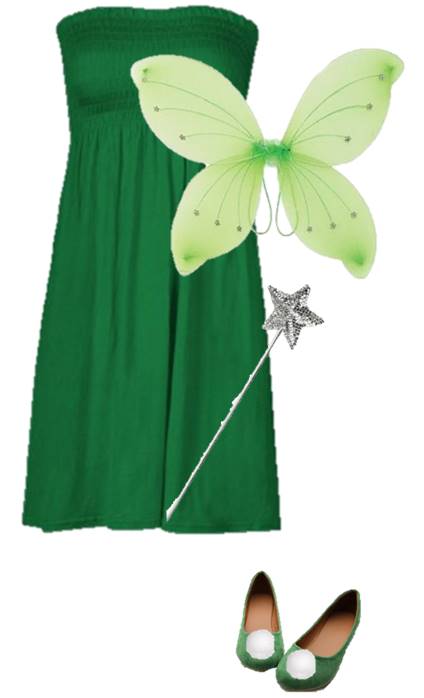 This is a simple straight to the point costume that can be made by purchasing these various items from the store. You will need a top dress, suede ballet flats, pom poms, star wand and fairy wings.
4. How To Make A Tinkerbell Costume
To make this costume, the first step is to drape your sweetheart bodice dress. Cut out the pieces of the center front, side-front, side back, center back. Purchase green flannel fabric and green lining fabric to make the dress. Spray your flats green and you are good to go.
5. DIY Tinkerbell Costume For Kids
Your kids can also dress in this costume easily. To make your pattern, use another cloth and cut out on the green fabric. Cut out triangles from the base to make the exact costume.
6. How To Make A Tinkerbell Costume From A Shirt
Using a t-shirt, you can get yourself this beautiful costume. Get a really oversize shirt so you can craft your pattern on it and cut out. For the wings, you will need to do some wiring to get the right angles.
7. DIY Tinkerbell Costume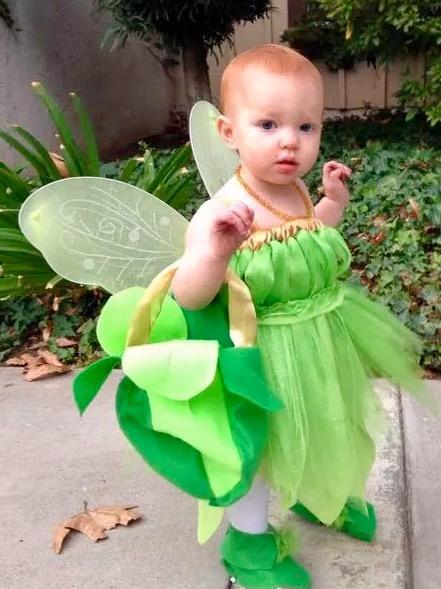 This baby DIY Tinkerbell costume is made from tulle, organza, and some embellishments. This is a no-sew dress. The organza was used to make a slip for under the tulle. For this costume, it is the messier the better. The shoes are made from felt too.
8. DIY Tinkerbell Costume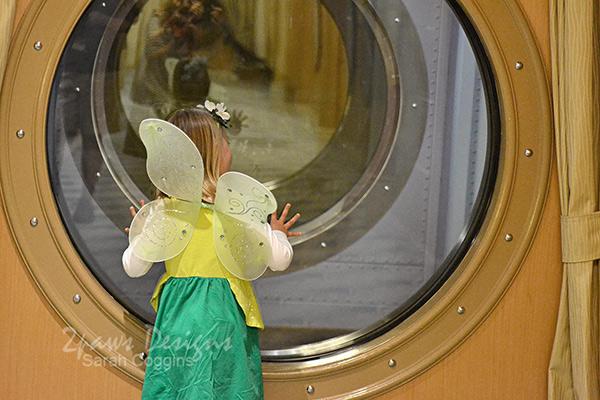 This is a two-piece costume made of yellow and green fabric. There are also detachable wings for this costume. Make an elastic green skirt with a sleeveless yellow blouse. You can put on a white long-sleeved shirt under the yellow blouse.
9. DIY Toddler Tinkerbell Costume And Hair
This is a cute baby Tinkerbell with an adorable green costume. A green fabric was used to sew the gown and little triangles were cut out from the tip to make the pointed edge then use white elastic for the hand. Trust me, your little baby will look amazing in this DIY Tinkerbell costume.
10. DIY Fairy Tinkerbell Costume
Here's another option to consider for your bundle of joy. If you are good with the machine, you can get this easily done and make it in time for Halloween. Measure the costume wearer and make a tutu from tulle. Attach the sewn dress to the tutu and get ready.
11. No-Sew Tinkerbell Costume
For this costume, you will not need to use a machine. This is an easy no-sew costume for Tinkerbell. Place your fabric on a flat surface and cut out the edges. Fold up tulle to make a shape of a shuttlecock and attach to each edge with glue. Make holes which the string will fit through.
12. DIY Tinkerbell Skirt Top
This costume is made of satin fabric, tulle, and a tank top. The skirt is made separately and worn on the top. For the pattern, cut out petal shapes from the fabric and sew them together to be attached to the tutu. Make a small belt on it so it can be detachable and a bow can be made.
13. How To Make Tinkerbell Wings
This is a really shiny and green costume that depicts Tinkerbell from Peter Pan. To make this costume you will need GI wire, floral wires, tulle, brush, glue, and glitters. Bend to make the joints to form the wings. Form the wing and add tulle. Use glue and glitter to add the pixie dust
14. Tinkerbell Hair, Makeup, And Costume Tutorial
As much as the dress is important, the makeup is important too. You will need to make a ponytail hair for this costume. Spread a green color on your eyelid for the makeup. Add finishing touches. The process is pretty much basic.
15. DIY Tinkerbell Wings
The wings are the highpoint of this costume since the character in question is a fairy. You will need cardboard, spray adhesive, wire, foil tape, cellophane, and wire cutters. Create your pattern on paper. Craft the wires to form the wings.
16. DIY Tinkerbell Costume And Makeup
This dress is one side off-shoulder dress with glitters. Cut out your pieces and sew up the dress. Use simple makeup with a green undertone especially on the eyes. After the makeup, dust glitters over the shoulders.
17. DIY Tinkerbell No Sew Costume
This costume can be easily made without sewing. The top part is a crotchet and the lower part is a tutu. Attach the two sides with a ribbon and you are good to go. Create a bow for the waist and the hand.
18. DIY Tinkerbell Costume And Makeup
There is a really easy way to make the tips of the costume instead of cutting the fabric. You can always detach and reuse the gown again. Measure the base and select the parts you will want to pull up and pin making the center drop.
19. Tinkerbell Halloween Tutorial
The Tinkerbell costume doesn't need too serious makeup, but be sure to harness the power of the green color. Set your brows well and make them bushy. Conceal them to make them stand out and rub the primer to let the makeup stay longer.
20. DIY Tinkerbell Costume
This sunsuit can be made into a mixed dress with or without a ruffle. The shorts are made with a bubble effect and a bottom ruffle. The wings are made from high quality printable starry sky glitter digital.
21. DIY Tinkerbell Shoes
This shoe is pretty much easy to make and it is made up of mod podge, green acrylic paint, brush, hair clips, pompoms, and any flat shoe of your choice. Assemble your materials and begin to add your embellishment.
22. Tinkerbell Halloween Makeup Tutorial
This makeup is pretty easy to create. It is a simple, less crazy makeup. You will need some glitters and sparkles. Make an eyeshadow base after making your brows. Attach a liner under your eye. Fix your artificial lashes.
23. DIY Kid Tinkerbell Costume
This baby costume is made from a lemon green color and is made with white color for the tutu. Make a bodice pattern from old cloth to know the size of the baby. Cut out your pieces and sew up to make the same thing. Begin the processes for the skirt made from glitter fabric, ribbons, and tutu.
24. DIY Tinkerbell Costume
This is a classic crochet that makes the DIY costume. The easiest way to do all of this is to sew the different pieces with the pin before you attach all of them together to make the costume.
You May Also Like:24 DIY Fairy Costume - How To Make Fairy Apparel For Kids & Adults
Conclusion
For women, recreating these DIY Tinkerbell costumes is pretty much basic and very easy. With your materials and tools handy, all you would need to do is follow the guide or tutorial with rapt attention.
Thanks for stopping by, for more exciting DIY tutorials, feel free to navigate our unending catalog of DIY tutorials.