As you might know already, a power hammer is simply a mechanical forging hammer that doesn't require the use of a muscular power source to raise the hammer for striking. There are a lot of projects that show you how to make a power hammer but I found the best of the best.
After days of research, I was able to put together a list of 8 homemade power hammer projects that you can DIY. However, you might need a couple of tools and skills for this project. Brace yourself, because it will be time-consuming and also energy draining.
The good thing is, in the end, you would have built an amazingly outstanding power hammer for yourself.
1. DIY Pneumatic Power Hammer
The first tutorial we have for you is one that will show how to build a pneumatic power hammer, the time-lapse video is a quick walkthrough that will show you how the hammer was made. As the name implies "pneumatic" this power hammer is powered by gas under pressure.
You will need these parts for the build; a cylinder, foot pedal, quick exhaust valves ½ valves, plastic exhaust silencers, and a cylinder cushion. All of these items can be gotten from your favorite online store.
You might need to spend much more on tools if you do not have the tools used for making the power hammer. The tutorial has different segments that will show you the build process in detail.
2. Homemade Power Hammer
Here's a homemade power hammer made from scrap, this power hammer runs by a treadmill motor. Acquiring the materials for making this might not be easy, you might have to spend money to buy scrap parts if you do not already have something similar at your disposal.
After getting the parts, you'll need to build the power hammer by welding the parts onto a base. The next step would be getting a treadmill motor that would power the power hammer, the tutorial will show the process of installing the motor for the hammer.
For this project, you will need to have a couple of equipment that will help you in the build process. Making this might take a while to accomplish, but with determination, you will get the hang of it.
3. How To Make A Drill Powered Hammer
Here's another cool project that might be of interest to you. In this tutorial, the creator walks you through a time-lapse video showing you how he was able to make a drill powered hammer. For this project, he used a drill, wood, some nuts, and bolts, and a couple of other materials. A wooden drill was also used to make holes where necessary.
The making process kicks off with building a compartment where the power hammer will sit, thereafter, wood is processed for the power hammer. The process is quite easy if you know your way around woodworking.
Also, an actual hammer is used for this project, after building and securing the area for the drill, he then links the drill with the powered hammer in a seamlessly easy way. This is an easy-to-make power hammer that I would recommend for people who are looking for an easy to build power hammer.
4. The Bicycle Power Hammer
Here's another project that is fun to make. If you have an old bicycle in your garage, you can use it to build a power hammer. This bicycle power hammer works manually, which means you would have to hand crank it for it to work.
The making process starts off with taking off the tires of the bicycle until you are left with just the rims. You will also need to take off the spokes and for this, you will need a saw.
After a series of pulling off, the creator starts with the hammer build, basically, you will have to saw off parts from the bicycle and make some modifications. You will also need to build a solid base for the bicycle so it does not fall off while you are using the hammer.
I think this is a one of a kind power hammer, it is less expensive, efficient and can be used to do a lot of good. The process of converting a bicycle into a power hammer is time-consuming but I'm sure you'll get the hang of it.
5. DIY Power Hammer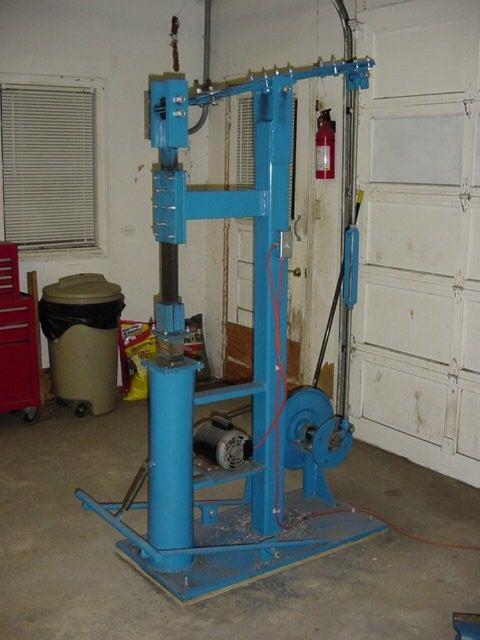 Are you a professional looking for plans to build a beautiful power hammer for yourself? While doing my research I came across these free plans containing a number of steps with images that can be used to build a power hammer. Feel free to make modifications.
Parts are what make up this homemade power hammer, this tutorial shows you details for making all the parts. I love that the power hammer is motor powered and doesn't need manual effort to work.
The only downside to this amazing power hammer is that there are no detailed instructions on how to make it, so, making this hammer might be difficult for a complete beginner. However, if you are an experienced blacksmith, the images should be useful. Simply click on the link below to see the full instructions.
6. DIY Small Power Hammer
Here's a fun tutorial that will show you how to make a small power hammer, the video is broken into different parts. In total, the video is divided into 6 parts, all the parts are basically time-lapse videos that show how the creator was able to build the power hammer.
Part 1 shows the building of the crank plate and shaft, subsequent videos show how to make and assemble the toggle arm for the power hammer, making the anvil, the die plate, and welding on the dies.
Part 6 is the part everyone looking at making this should check out, this is where the creator explains all the dimensions used for the build. For this homemade power hammer, you would need to spend a lot of money on materials and tools if you do not already have them handy.
7. How To Make A Full Metal Power Hammer
I found another video tutorial on how to make a full metal power hammer, this is also a small power hammer that is not as big as the previous ones in this article. The making process starts off with sketching the power hammer on a piece of paper, this gives you a more precise way of cutting out the parts you need for the power hammer.
Afterward sketching parts of the power hammer, you will need to cut metal to the desired shape using a metal cutter. For materials, you will need a spring, a 3 quarter inch rod, a one, and a half-inch rod for the anvil, and a couple of other tools. Basically, you need to do a whole lot of cutting, and after that comes the fun part which is assembling.
The tutorial is segmented into 3 different parts that explain in detail how to make a full metal power hammer, this hammer might not be ideal for carrying out huge projects, however, it could come in handy sometime.
8. How To Build A Power Hammer
Here's another tutorial I found useful. This is a guide that will teach you how to build a power hammer, but the best part is, the power hammer is fully customizable, which means you can adjust the dimensions to fit your needs.
Unfortunately, the video tutorial does not show the making process of this power hammer, however, the creator takes time to show you all the important measurements of his power hammer, how you would want to build it is totally up to you. You can make it smaller, or bigger.
For materials, you will need a whole lot of metal and some power tools to do the cutting for you. The power hammer sits on a wooden base, you can build this wooden base for yourself by simply cutting wood and doing the needful.
9. Homemade Power Hammer Build
Have you ever wondered why most people use wood for their power hammers instead of steel? This is because using wood would be quieter than using steel. If you have neighbors around, you should consider using wood, it might not be completely silent, but it would be way better than using steel.
In this video tutorial, the creator walks you through the motor used for the hammer, he also shows all the components used to make this power hammer and explains how he put it together. The tutorial isn't very detailed as it doesn't show you the building process, however, if you have the skill, building this should not be hard for you.