Do you want to build your first DIY laser cutter? Laser cutters are part of a cutting technology that uses laser beams to vaporize materials, resulting in a cutting edge. Prior to recent times, they were used mostly by industrial manufacturing establishments, but are now used by various small businesses, schools, architectures, and hobbyists.
The optics and CNC( Computer Numerical Control) of lasers are used in directing the material or laser beams that are generated. They work by directing the output of a high-power laser, most commonly through cs.
Unlike traditional mechanical cutting techniques, laser cutters reduce the contamination of workpieces. They can also cut small diameter holes with complex detailing and good edge quality; they are also really economical to use. The problem with this highly helpful machine is the fact that it is expensive to get, you do not have to worry about going past your budget to acquire a laser cutter these days as they can now be easily made from scratch at home, and I have been able to compile 14 of the best DIY laser cutter projects that will teach you how to make yours.
1. DIY Homemade Laser Cutter
Have a few problems with your old laser cutter? Or are you interested in the challenge of creating your laser cutter from scratch? You might not even be interested in learning how to create a laser cutter but just want the knowledge. You would totally love to check out this DIY tutorial guide.
You can now easily create your own CO2 laser cutter using the combination of a 'V & T' spotted aluminum profile 3d printed parts. The best part is making this cost barely half of what it takes to get a new one.
2. 40W DIY Laser Cutter
A 40w CO2 laser CNC machine is used for engraving holes and cutting different materials such as wood, plywood, acrylic. Why would you want to waste so much when you could easily get supplies and equipment like CO2 laser tubes, rail glides, power supplies, etc. And build your very own laser cutter for just as much as $400. One of the best deals ever!
3. Cheap Laser Engraver
By now, if you are a lover of craft or an avid lover of woodwork and material engraving, you would have figured out how expensive it is to get a quality and durable laser cutter machine. Worse off, the ones with cheaper prices attached to them produce low megawatts that can barely cut a piece of paper, much less a piece of wood, or harder materials like metal. This project was created to help most artisans create their own high-power laser cutter at an affordable rate.
4. Simple DIY Laser Cutter
3D printers are important components of any laser cutter because they are great for prototyping anything at all and can be used to create any shape at all, but 3D printers are, of course, expensive and can not be afforded by everyone, learn how to make a simple CNC machine with the minimum amount of parts. Without using a 3D printer, the drill and several handles take up the role of the 3D printer in this project.
5. CO2 Laser Cutter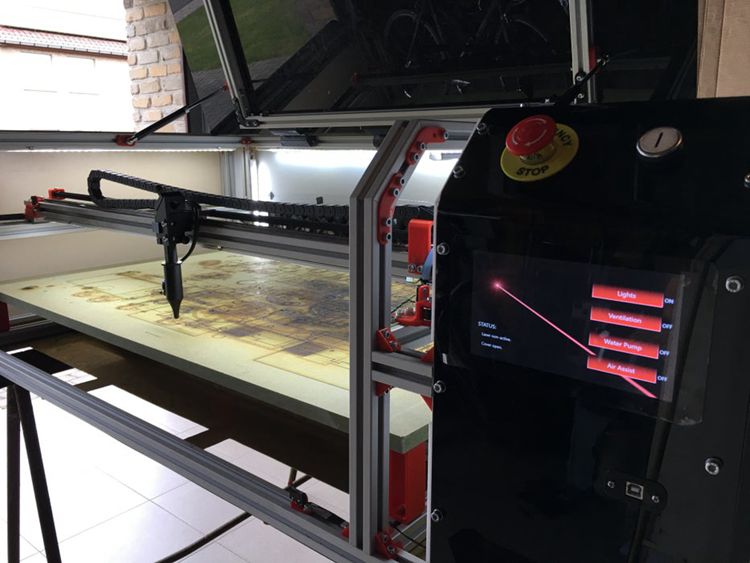 As a startup hobbyist or an architect, getting a good laser cutter for work projects can be practically impossible because laser cutters cost so much.
Well, if you decided to go on a new challenge and create your own laser cutter machine for half the price, you are in luck, as this DIY tutorial would teach you step by step all the practice ways and processes to go about creating your own laser cutter. This 40w CO2 laser cutter machine has a large cutting area of 1000 by 600mm and a touchscreen.
It runs on two microcontrollers, an Arduino with GRBL and a raspberry pi with a touchscreen to control the parts of a laser cutter. Also, the touch screen makes it more convenient as you don't have to transmit software from your computer to the laser cutter. instructables
6. How To Build A Laser Cutter
Make your mini CNC laser machine at home with some common supplies such as plywood, steel rods, screws, clamps, sellotape, scissors, 3D beam lights, and others. It works just as well as the large laser cutters and is good if you intend to create some space at home.
7. Mini CNC Laser Engraver
This is one of those cheap projects to carry out if you build a CNC laser cutter/engraver. It is a great resource tutorial for amateur industrial students. It requires 2 DVD writers, a laser, Arduino UNO, a CNC shield V3 A4988 driver board, Relay 5V, and other materials. Follow all the processes and map out designs and measurements to achieve a great result.
8. DIY Laser Engraver Using DVD Drive
Do you have an old DVD and you are thinking of what fun new experimental project to make use of it or parts of it to create, the mini CNC laser cutter/engraver consisting of DVD drivers is just the perfect project for you. It does not take much time and skill, provided you follow all the instructions carefully and are also very pocket-friendly.
9. Powerful Laser Cutter From DVD-RW
With this DIY tutorial, learn how to make a powerful laser cutter that burns. Yeah, you heard me, BURNS! It can serve as a pretty fancy piece of torchlight to light candles, but be careful as they are really powerful and burn really hard. This video tutorial explains all the important pieces of stuff, from the list of things to get, then all the physics behind all of this, then to the final assembling of all important parts.
10. DIY Laser Engraver
This is the first part of a DIY laser engraver series, and you will find out all the important procedures that go into creating the core XY motion system of a laser engraver. The parts simulate the movements of the laser beam. It is a really fun project you should try out, but remember to be careful as laser beams, if missed, are highly dangerous to not only us but both our loved ones and the general public, which is why this video also explains how to create and use the laser beam for projects carefully.
11. DIY Laser Cutter
One of the things you would learn from this DIY tutorial guide is how to make a DIY laser cutter from scratch with aluminum frames. The aluminum frames are assembled and joined at the right parts, and it makes you a mini 3D printer centered on the aluminum frames. It is a creative start to finish project for all beginners.
12. DIY Mini Laser CNC
Start building from scratch your different mini laser CNC laser cutter/engraver following the guides from this DIY tutorial. Mini lasers are super helpful to every artisan. You can make as many mini lasers for businesses as quickly as possible without struggling. They are composed of various, easy to get supplies you can purchase anywhere online or offline at any hardware store. Some of these supplies include; a Capacitor, a Resistor, Arduino, Arduino PCB, 3D printers, 250mW laser, motor drive, transistor, magnet, 12V power, amongst a host of other materials.
It is a quick project as it can be finished within days or, at most, a week.
13. DIY Arduino Laser Cutter
Get proper insight and instructions to create a DIY Arduino laser cutter using Arduino NANO, A4988 motor drive, 200 - 250mW 650 nm laser module, IRFZ44N N-channel Mosfet, LM7805 voltage regulator, T-220 Heat sink, 47ohm & 10k resistor, 1000uf 16V capacitor, Male & Female header pin, screw terminal, 2.54mm jumper cap, shrink tube, DVD writer, 5mm Acrylic sheet, Nylon Hex PCB, standoff spacer, M3 Hex socket screw, Laser module Heat sink, etc. and where you can purchase them, as well as how to configure, assemble and join them to create your DIY laser cutter.
14. DIY Handmade Laser Cutting Machine
Put your knowledge of laser cutter and your DIY laser cutter creation to good, creative use with this DIY tutorial showing this handmade laser cutting machine being used to make a wall clock. Laser cutters can be used to make so many other valuable things like a wristwatch, paper art, furniture imprints, and all that.
This DIY tutorial guide shows how the laser cutter cuts all selected parts detailedly, then assembles the parts in their various places after painting them to your desired colors.
Laser machines are super resourceful and useful machines needed in all craftsmanship levels.
Conclusion
As you must have noticed, this isn't one of those very easy DIY projects, making a laser cutter takes time to complete, but with the right materials and guide, you should finish building yours in less than a week. Thanks for stopping by, if this DIY laser cutter article has been helpful, do well to share it across your social media accounts.