This is a great DIY article that many woodworkers have been waiting for. How to make your table saw is an amazing project that is easy and simple to follow. Instead of spending hundreds of dollars on a sophisticated table saw, you can make your table saw that will be sturdy, durable, and designed to your taste.
So, without further ado, let's begin and see the easiest and cheapest ways that you can make a table saw by yourself and for yourself. We have listed 15 DIY table saw projects that would be of interest to you. Check them out below;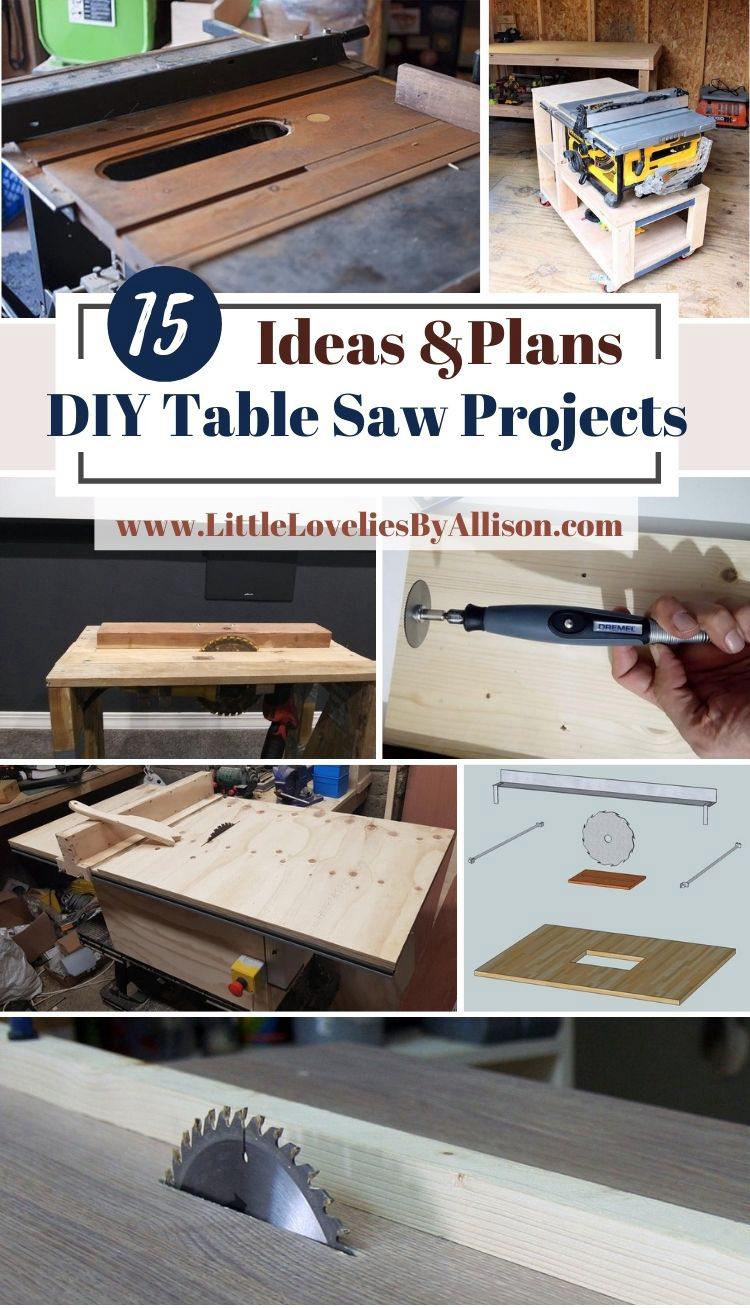 1. Homemade Table Saw DIY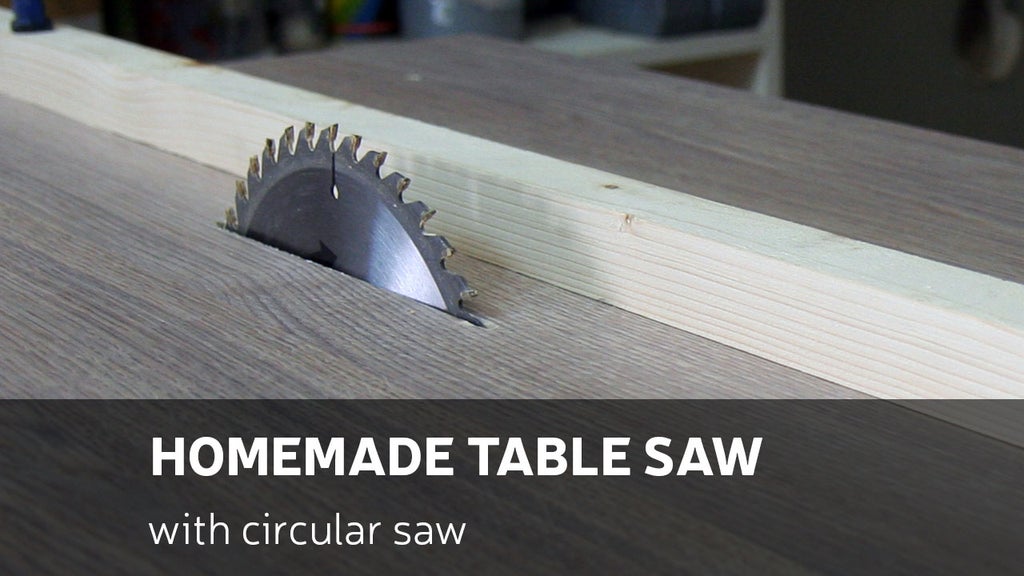 This is a simple homemade table saw that you can make with a regular circular saw blade. You'll need some flat head wood screws, melamine or plywood for the tabletops and legs, a circular saw, a zip tie, and a power strip. For the tools, you need drill and drill bits, clamps, a file, and a square. The making process is easy and simple to follow.
2. How To Rehab An Old Table Saw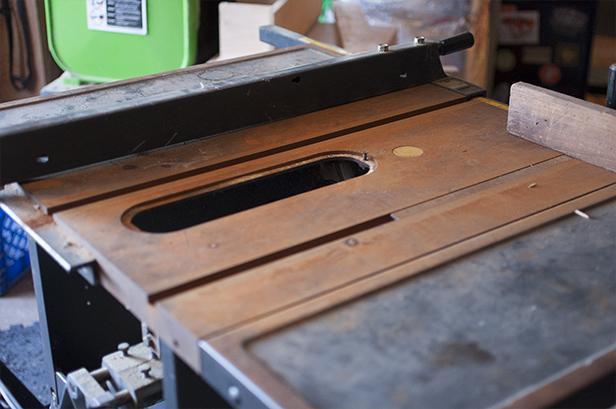 This guide will teach you how to rehab an old table saw and turn it into a better table saw than it ever was. So, if you have a table saw at home that is worn out and needs refurbishing, this guide will help you make that happen. It's super easy and the table saw will last longer than anyone that you could have gotten from an online store.
3. DIY Table Saw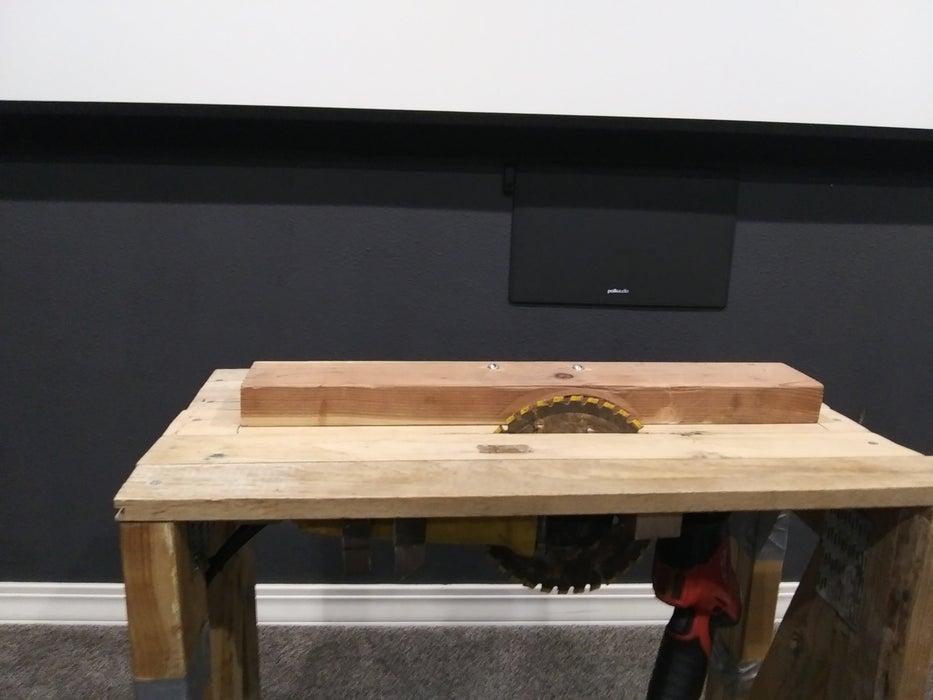 This is a simple table build, quite easy to assemble, and works efficiently. You'll need an electric grinder, screws, bolts, washers, metal straps, a circular saw blade, lug nuts, and a few more supplies. The first step involves cutting the table, then assembling the saw, then the guide, and you're good to go. This project can be done by beginners who are trying it out for the first time.
See also: How To Clean A Table Saw Blade
4. How To Convert Hand Saw To Table Saw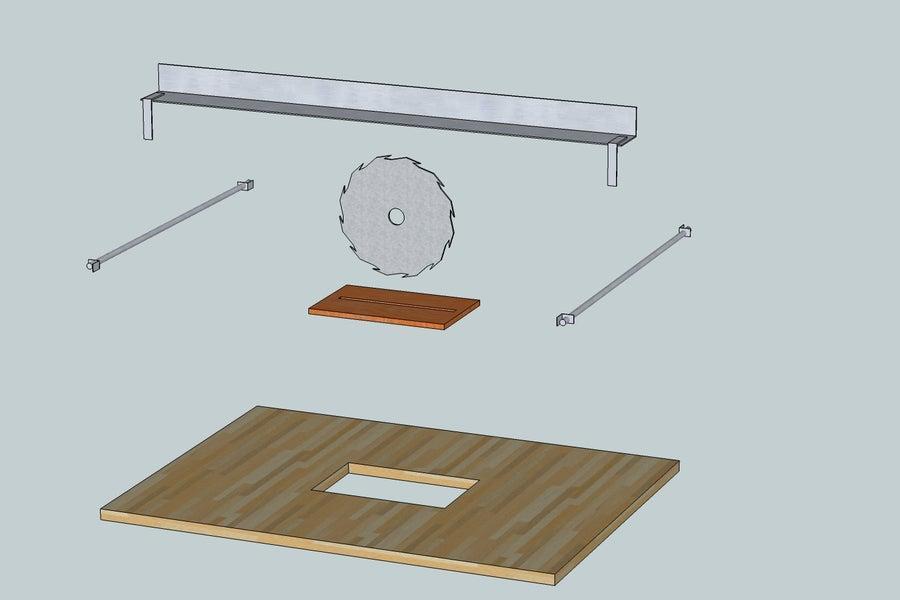 Almost every woodworker has a handsaw, even those that aren't woodworkers tend to have a handsaw handy. Now, you can easily convert that hand saw into a great table saw for a faster and cutting. It's easy to make.
5. DIY Table Saw
Before you get down to making this amazing table saw, you need to get some working plans, check the video guide to see the plans the creator came up with. With those plans in mind and at hand, you can start getting the right materials and tools for this project. You'll need adjustable levers, a miter gauge, plywood for the tabletop, and much more. The making process looks complex, but it's quite simple if you follow the step properly.
6. DIY Cheap And Simple Table Saw
This is a cheap table that was made by the creator of this video tutorial guide. The creator started by measuring and cutting the plywood board with a hand saw to form the table saw tabletop that will be used. The making process was quite quick and easy. Although the creator never said how much he got his materials, from the looks of things, it was inexpensive.
7. DIY Homemade Table Saw
The creator of this video tutorial guide made this table saw to standard, it works efficiently and works like a standard table saw that you could buy online. It has an emergency stop button and the circular saw blade is well set, sturdy, and precise. The table saw was also made with a built-in router and an inverted jigsaw. It's an amazing 3 in 1 machine. This project might take you a whole day, but it's worth it.
8. Simple DIY Table Saw
The creator started this time-lapse video guide by cutting some wood planks to form the frame and legs of the table saw. Then he attached the circular saw blade machine on top of the frame and covered it with the tabletop. The blade is sticking out of the tabletop opening making it easy to cut your wood on top. This project is quick and easy to build and can be done by anyone at all.
9. DIY Table Saw Cart Free Plans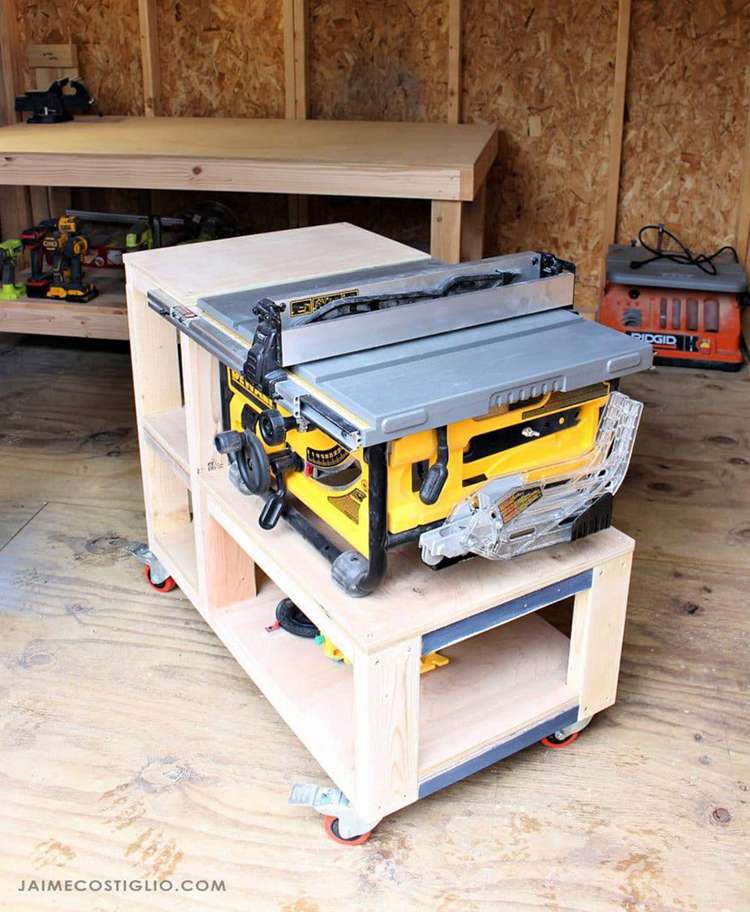 This is the table saw that is worth building, it was made with storage or cart under the frame, and it's also mobile. You can easily roll this table saw in and out of your garage, for the days you wish to work outdoors, roll out and do your cutting. It's also efficient and accurate in terms of cutting. This can be tagged as the best table saw the idea on my list. practically, the creator just made the table saw wood frame and mounted a Dewalt table saw machine on top.
10. DIY Wooden Table Saw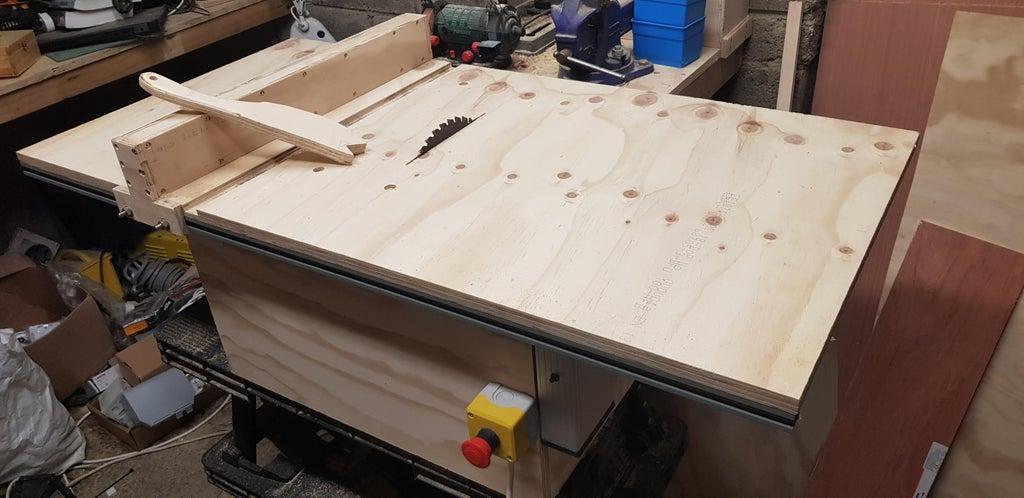 This is a sturdy table saw that is durable and looks great with all the features that make a table saw what it is. The creator used a Makita 5009B saw, that's heavy and sharp. The entire build is simple and can be done by anyone, even a beginner with no or less experience. It's also an indoor table saw, pretty heavy to be moved around, so if you need something mobile, check above, there is always something for you.
11. DIY Dremel Table Saw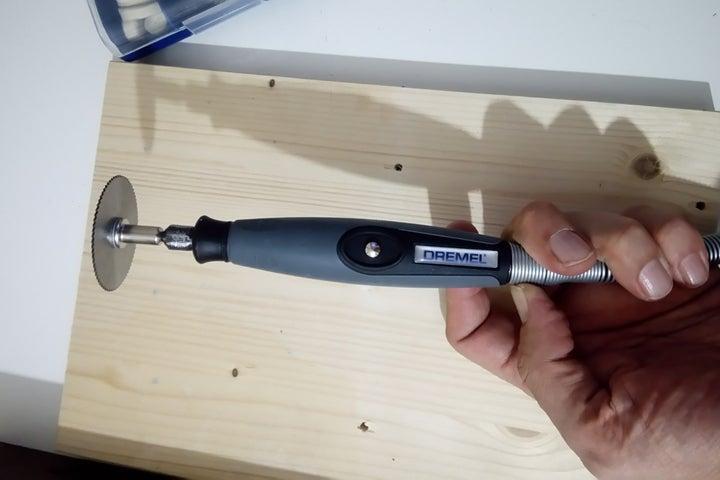 To make this project work, you'll first need a Dremel 3000, then some wooden boards, Ikea drill cutting board, hand drill, wood screws, meltable thermoplastic, and a few other materials. The steps are easy to follow, and it just takes 5 of those easy steps to complete this project. This is simple to install once it's built and it can be done by anyone at all, even a newbie giving woodworking a try for the first time can complete this task.
12. How To Make A Table Saw At Home
With a few materials and tools at your disposal at home, you can make a table saw that will suit your taste. The creator used a 5" circular saw blade, and it cuts pretty well. The table frame was made first, and the part was easy to build and also quite fancy. If you follow this video guide step-by-step instructions, then you'll have a pretty great table saw. This table is not as big as others, but it's efficient and productive in giving accurate cuts.
13. DIY MDF Table Saw
Using an MDF board to make your table saw is another great idea that works. If you have some of these MDF boards around the house this makes your job a whole lot easier. The creator uses a bandsaw, a marker, a level, and a few other tools that will aid the making process. The making process is simple to follow and you don't need to have any expert woodworking skills to make a useful table saw for woodworking purposes.
14. Free DIY Table Saw DIY Plans
This video guide has a free table saw plan that You can follow. Follow the plan and make the type of table saw that will peak your excitement. With these free plans, you are going to be shown every other thing that you are. The creator of this guide has also worked hard to assemble the parts of the table saw together, from the part of building the wood for the frame and legs of the table.
See also: How To Use A Table Saw
15. How To Make A Table Saw
This is the coolest thing ever, a mini table saw. This is not the regular size table saw that you normally use or intend to get. This table saw is super easy to build and also pretty cheap. It can only cut small fine pieces of wood. The creator also used a DC 775 motor to make the saw work for that size. It also has a small timing pulley, motor shaft coupler sleeve, timing belt, steel shaft, and a few other essential supplies.
This is the last and most creative table saw you have ever seen. This table saw might also not be what you're looking for because of the size, you can always check another guide above.
Conclusion
After all is said and done, this DIY has fulfilled its obligation to help you build a good, working table saw with a few simple materials and tools that are easy to come by, with ease, and effortlessly without stress. Kindly share this article with your friends and family if it has been of help to you. Thank you for stopping by, it's always a pleasure, until next time, bye.