After reading this article you'll learn steps that you can apply with a few simple materials and tools to make a log splitter for yourself. It's pretty easy to make and this DIY gives you that opportunity.
A log splitter is an important part of wood preparation, for woodworkers or if you just want to split wood for your fireplace. So, without further ado, let's dive in and see the list of inexpensive, and super easy DIY log splitter ideas available.
1. Homemade Log Splitter
Here is the first homemade log splitter on this list, it's a hydraulic log splitter that was made for under $200, it's cheap and pretty easy to build if you follow the steps carefully.  Most of the parts of this log splitter were salvaged from an old rusted yard tractor.
2. DIY Log Splitter From Scrap Metal
If you've got any scrap metal just laying around, now would be a good time to put them to use to make a log splitter. You'll need an electric hand saw for the cutting, a measuring tape, and a welding kit for welding the metal pieces.
3. DIY Log Splitter From Rebar
This log splitter is pretty easy to make, you'll need iron pipes, steel sheets, a welding kit, saw, and a few other supplies. You'll need to have a fair knowledge of welding to make this project easier for you.
4. Powerful Wood Splitter DIY
If you have an old axe you probably shouldn't throw it away, you can use it to make a powerful wood splitter in a matter of hours. You'll need some metal square pipes, an axe head, a large metal circular pipe, and a welding kit. When you're done with the making process the axe blade will be facing upwards, and you will place the wood on it and use a hammer to hit it down and the wood will split perfectly.
5. DIY Unicorn Log Splitter
This is a pretty technical project, it requires some high level of experience to make this log splitter work. First, you'll need to make a drawing of all the parts that will be fitted to make the unicorn log splitter work. After a few steps of assembling and welding here and there, the entire splitter is like an engine, you start it and the unicorn log splitter like an arrowhead will divide the wood perfectly.
6. DIY Manual Log Splitter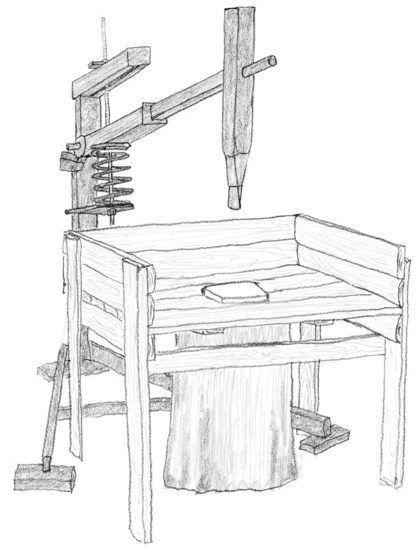 Man has evolved from using hand to split wood, you can buy a wood splitter from an online store or you can check out this guide and build one yourself. The creator of this guide couldn't find the full plans but you can check the guide and see the video link to where you could watch everything yourself.
7. DIY Small Log Splitter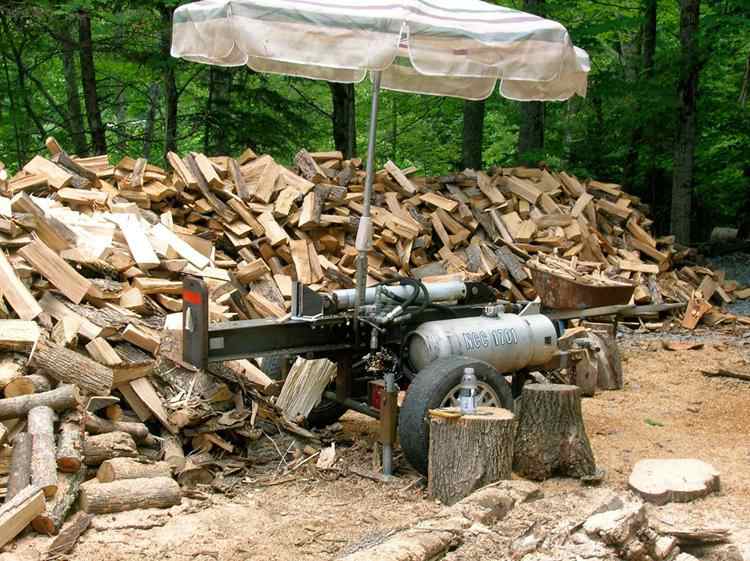 With this log splitter in your house, you can split a lot of wood in a matter of minutes. This is a heavy-duty wood splitter, it's mobile and can easily be moved with tires. You'll also need an old propane tank.
8. Building A Log Splitter
This project is a pretty technical one like some on this list, which involves a lot of construction and assembling. This is one project you don't want to do alone. Things to consider are the oil tank, metal beam, axle, pump, and lots more.
9. DIY Log Splitter Build
To make this log splitter, you'll need a few things like an iron rod, an axe or hand digger head, and a few other metal parts. Don't forget the welding part of this project, if you don't have any experience in welding, then you might have a problem there but it's pretty easy to learn. All around the project and steps are pretty simple to follow.
10. How To Build A Homemade Log Splitter
This project can only work for you if you have an old log splitter already. The creator found a rusted old log splitter and decided to refurbish it and turn it into a new and improved version. It's pretty easy to make one with this process but if you don't have one and it'll require you to start from scratch, you might want to try another guide.
11. Homemade Wood Splitter With Four Blades
The creator of this video tutorial guide decides to make a homemade wood splitter with four axes, and some steel bars. Next, you need to cut the handles out of the axe to get only the axe blades then,  sharpen them, and weld them to the metal bars. The rest of the steps are simple to follow if you're used to welding.
12. How To Make A Firewood Splitter
This is a pretty simple project, the firewood splitter made by the creator of this video guide is straightforward and easy to make. First, he got a thick wooden base, your axe head, and a metal frame where the axe will rest on. You're going to weld the axe head to the metal frame, and then screw the metal frame to the thick wooden base. This firewood splitter is cool and effective.
13. DIY Screw Log Splitter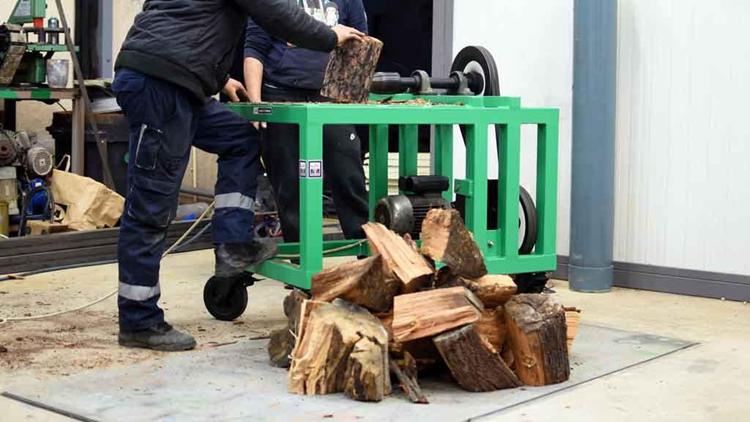 This is a sturdy screw log splitter, you'll need a motor, a couple of metal bars, and the large spinning arrow-head piece for the splitting of the wood. This is a comfortable way of splitting wood with ease and style. The splitter is pretty easy to build with a few welding and construction here and there.
14. DIY Foot Operated Log Splitter
The Creator of this video guide made this log splitter from a bottle jack and a few other things that he could find around. It's a foot-operated log splitter, this means you can easily match in the foot pedal and the axe head will split the wood, quite easily and efficiently. It's also pretty sturdy, and effortless to build.
15. How to Make a Log Splitter with a Hydraulic Jack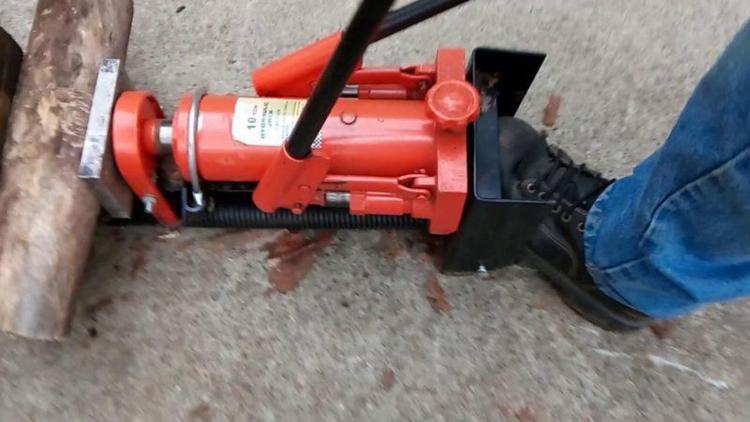 Here are a few things you'll need for this project, a hydraulic jack, hydraulic hoses, sheet metal, steel bracket clamps, steel beams, a single-blade wedge, castor wheels for mobility, an acetylene torch, and a welding kit. It's quite easy to build if you follow the making process properly with just 6 simple steps.
16. How To Make A Log Splitter With Jack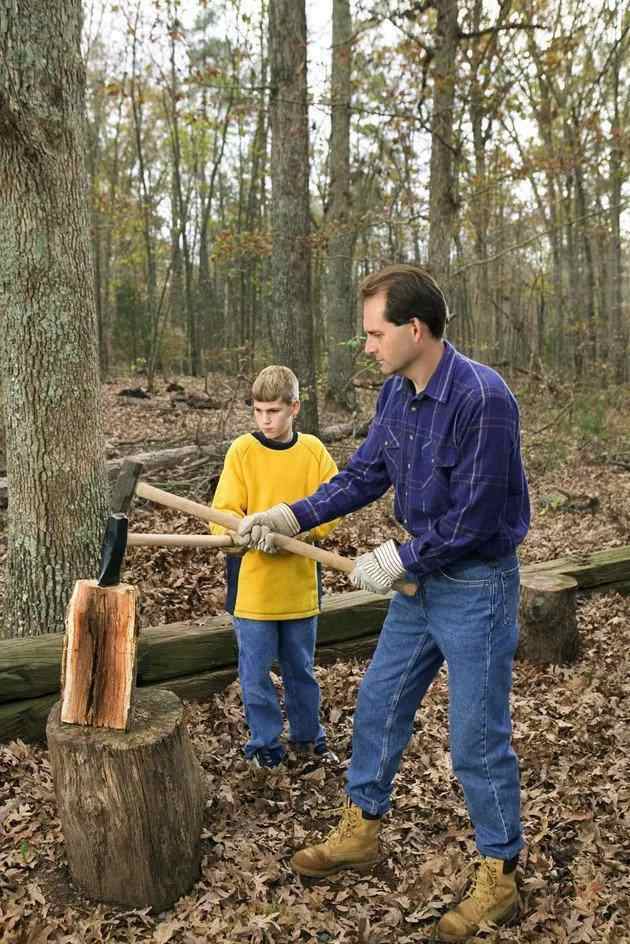 Here are the supplies you'll need to make this splitter with a jack, first, a hydraulic car jack, acetylene torch, T-square, 140-amp stick welder, a ¾ inch steel plate, and a tape measure. Frankly, that's all you need. The making process is seamlessly easy and the steps are simple to follow.
17. Homemade Log Splitter
This is a massive homemade log splitter, it's like a tractor log splitter, it takes time and patience to build something as big as this, although the creator didn't show how he did it from scratch, he just mentioned a few features to show you how it works. You need to be an expert to understand the video guide, and if you do, it'll be quite expensive to make.
18. Machete With DIY Log Splitter
This is a simple log splitter idea, no serious welding or construction needed, just a simple attachment of an axe feature into a strong machete to make it super efficient and effective as a log splitter. The creator bought his machete for $21, and it has worked pretty well so far.
19. DIY Log Splitter Build
This log splitter is another large machinery that is super effective in splitting lots of logs. The tools you need are a belt grinder, plasma cutter, welding kit, chop saw, drill press, a band saw, a vise, and lots more. You'll be using some steel square pipes and other metal frames including a motor for this log splitter.
20. DIY Log Splitter
So, for this project the creator used steel beam and misc steel plates that cost $35, rebar that cost $5, pneumatic 8-ton air ram for $68, two 10 inch tires that cost $12, splitting wedge for $10, and all this cost $130 in total. The making process is quite simple to follow and even easier for those with prior experience.
Conclusion
In all, making a log splitter yourself is pretty fulfilling and better. You have full control over the mechanism and operation, and you can decide to change and remake whatever part into whatever you want in the future when technology advances. So, thanks for viewing and I hope you got the knowledge you need to make a great log splitter at home, bye.