Bandsaws are great for resawing boards into thinner pieces. They are essential tools if you need to make ample use of your wood because they turn less wood into sawdust, unlike other saws like table saws. They're also suitable for making deeper cuts, ripping through rough lumber, cut half-lap, tenons, etc.
Seeing as this is an essential tool for many workshops, it wouldn't be a bad idea to have one of these in your workstation, would it? Luckily, you don't have to spend too much because you wouldn't need to get a new factory-made fence, which is expensive.
With as little as $100, you can make a very quality bandsaw fence with the scrap material you find around the workshop. Even if you have to make any purchases, they wouldn't still cost as much as a new fence would. This would be a fun DIY challenge for you, and you get a good, functional bandsaw fence at the end of it all.
1.Simple and Cheap Bandsaw Fence
This band saw fence was made for barely $15! This band saw fence helps you to rip better, resaw and do a bunch of other important construction work with your bandsaw. The video  tutorial is clear and easy to understand.
For this design, you would need one-inch construction screws, rods, pieces of MDF, pencils, a band saw, and some other items found within the tutorial. The designer built this fence to help make circle jigs, rip fence, and other things.
The instructor walks you through the tutorial and makes it interesting enough for you to follow the processes. There are no dimensions in this tutorial, so you may have to figure out the measurements yourself, but this shouldn't be too difficult as you can simply work with the steps you see in the video.
2.DIY Quick-Release Bandsaw Fence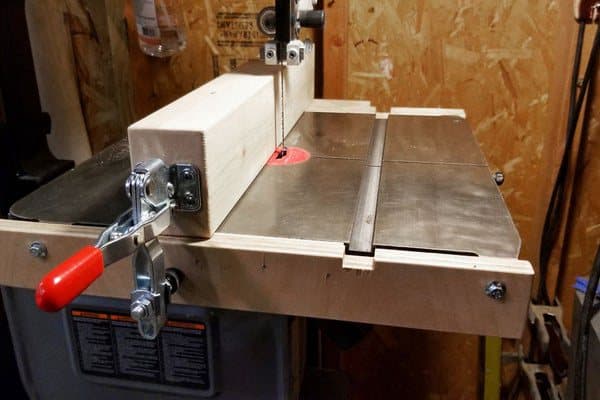 This is a written tutorial with 11 steps and quality pictorials for explanation purposes. For this construction, you would need vertical toggle clamps, bolts, bolt with a point, plywood, wood, bandsaw, level, table saw, clamps, square, and others listed in the tutorial.
To begin this construction, you would need to attach the rails on both sides, and then attach the angle catch. Next, you measure the mitre gauge slot and cut it out, and then create your fence. After this, you would need to chamfer the edges of the fence with a block plane.
Moving on, you would then need to attach the clamp and the catch. You can find clear instructions on how to do all of this in the tutorial. Finally, you finish the work by sanding, finishing, and reinstalling the rails before you can set up and use your saw.
3.Homemade DIY Bandsaw Fence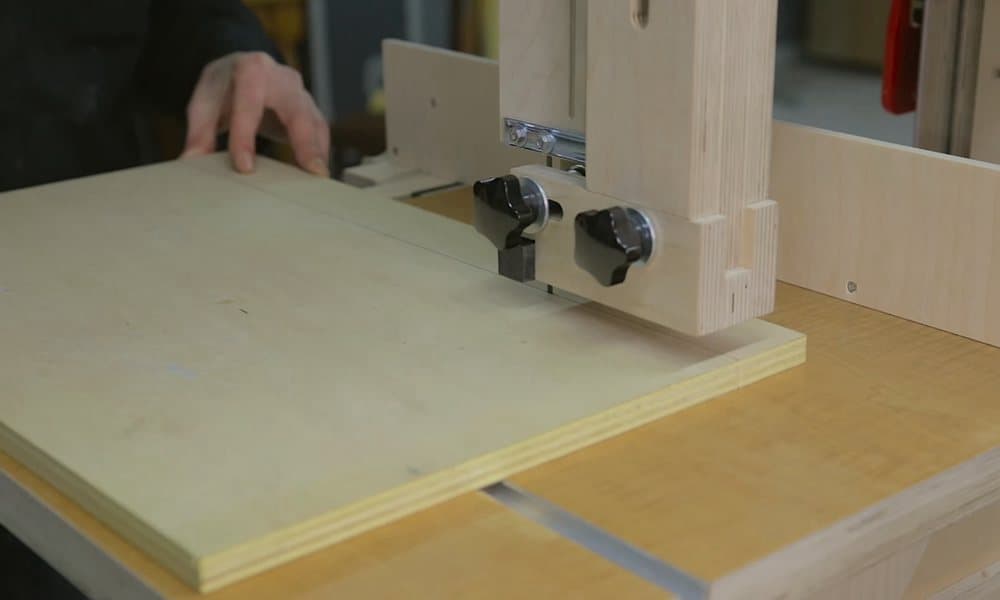 Building this band saw fence was easy, according to the designer. This written tutorial has 3D plans that you can take a look at before you delve into the main content of instructions. It is laden with ample pictures that you can use to compare your progress as you work.
Materials that the designer worked with include a table saw, screws, plywood, wood glue, drill, countersink bit, band saw, hardwood, etc. In this tutorial, there is a clear breakdown of how to go about making your saw fence. It is written in an easy-to-understand format so that anyone can use it effectively.
Before you begin, you may want to look through the tutorial to take note of all the materials you would need so that you can get them ready for work. The unique feature of this bandsaw is its lock system. This makes it easy for it to lock it in place during use.
4.DIY Bandsaw Rip Fence
This super short but simple video tutorial will teach you under 3 minutes, how to make a cool bandsaw. Like most DIY projects, the designer fashioned this one out of some scrap ¾ plywood. It took him only about one hour to build and found it quite fun.
For this project, you would need a bandsaw, rigid cordless set, a jig, some glue, pliers, saw blade, and a few other items. The video is self-explanatory, so you only need to pay attention to the steps as the construction is being done in the tutorial.
5.DIY Bandsaw Resaw Fence
This is another video tutorial that gives you a thorough explanation of how to construct your bandsaw fence. Plywood, table saws, clamps, drill, screws, and glue, are some of the materials and tools he used while working.
The saw features a built-in clamp that helps to keep it locked in place. The video is quite detailed, easy to understand, and follow. You may, however, want to take notes while you watch as it is a bit lengthy. You don't want to forget essential bits and pieces.
For dimensions and measurements, you may want to listen intently during the tutorial because the designer mentions the measurements he uses as he works. Overall, this will make a good fence for your band saw.
6.DIY Unique Bandsaw Fence
Many band saws fail in one very essential feature; the ability to easily adjust it for blade drifts, especially to make straight cuts. If you cannot adjust the bandsaw, it would be difficult to make long straight cuts that have a square edge. That was the need the designer of this saw wanted to solve.
With this saw, you can easily adjust the fence to allow blade drift. In this tutorial, there are labelled pictures that you can use to aid clarity. The written tutorial is divided into clear steps with specific points that show you how to recreate a similar band saw fence accurately.
Luckily, this tutorial has free pictures of the building plan clearly labelled and complete with measurements and dimensions. It also has a list of materials used, such as plywood, hard maple wood, and tools such as a table saw, drill presser, jointer, a list of the hardware used, and the cutting list.
It is divided into four main steps and fourteen simple points.
7.Simple DIY Bandsaw Fence Design
Get ready your plywood, wood glue, screws, carriage bolt, nuts, a hinge, and bandsaw. The rest of the materials you need, you would find in the tutorial. This is a pretty simple bandsaw fence design, which cost the designer only about $100 to build.
The designer began by gluing pieces of plywood together to create the fence, then ripped them at a 45" angle, cutting both front and back rail guides to match. Using some bolts and nuts, the designer mounted up the fence. In place of a plastic knob, you may have to build one for yourself.
He then went ahead to use a hinge to attach the tensioner and then aligned the bandsaw using the alignment guide. This tutorial is simple and straightforward. It would be pretty easy to make yourself a bandsaw fence with the instructions in the guide.
8.Quick DIY Bandsaw Fence
For this design, the builder made use of a scrap of wood that has a straight edge and is almost the same length as the bandsaw tabletop. He also used a tape measure, clamps, jointer, sander, and other tools while he was building this equipment.
The tutorial also comes with a few tips and tricks for your bandsaw fence to make it better. For instance, he reminds you to go with the pace of the saw blade when cutting, never rush the material you're cutting through the saw.
There are no pictures or building plans in this tutorial; neither are there measurements, so you would have to figure that out on your own. You would need to make notes as you go through the tutorial because there are some important points he makes regarding the design within the tutorial.
9.DIY Rip Fence for Bandsaw
This designer created his fence from scrap plywood and some cheap hardware. Using the design to create yours, you can adapt it to fit your type of bandsaw. In this video tutorial, the designer starts by drawing out the building plan before he begins construction.
He uses different sizes of plywood, some wood glue, clamps, table saw, mitre gauge, some bolts, and screws. The tutorial is clear, and the designer works you through each step so you can follow easily.
10.Universal DIY Bandsaw Fence
This is pretty easy to make. The designer uses a thick plywood sheet, table saw, mitre gauge, clamp etc for this design. This video tutorial teaches how you can use the fence in making a very large joint; it is adjustable and good for making long cuts.
The instructor teaches in simple English and gives you step by step instructions on how to build your bandsaw.
Conclusion
Following the instruction in the tutorials above, you can easily make a model similar to any of your favourites in the list. Some of the tutorials do not have measurements, so you may need to create yours before you begin to build. With the right tools in place, enough time and concentration, you would create a working bandsaw fence in record time.