This guide is specifically for people who are looking at making their tumblers look a whole lot better. If you own a stainless steel tumbler, you most definitely should check this guide out.
I have compiled a list of 24 DIY tumbler projects that will show you how to transform your favorite tumbler.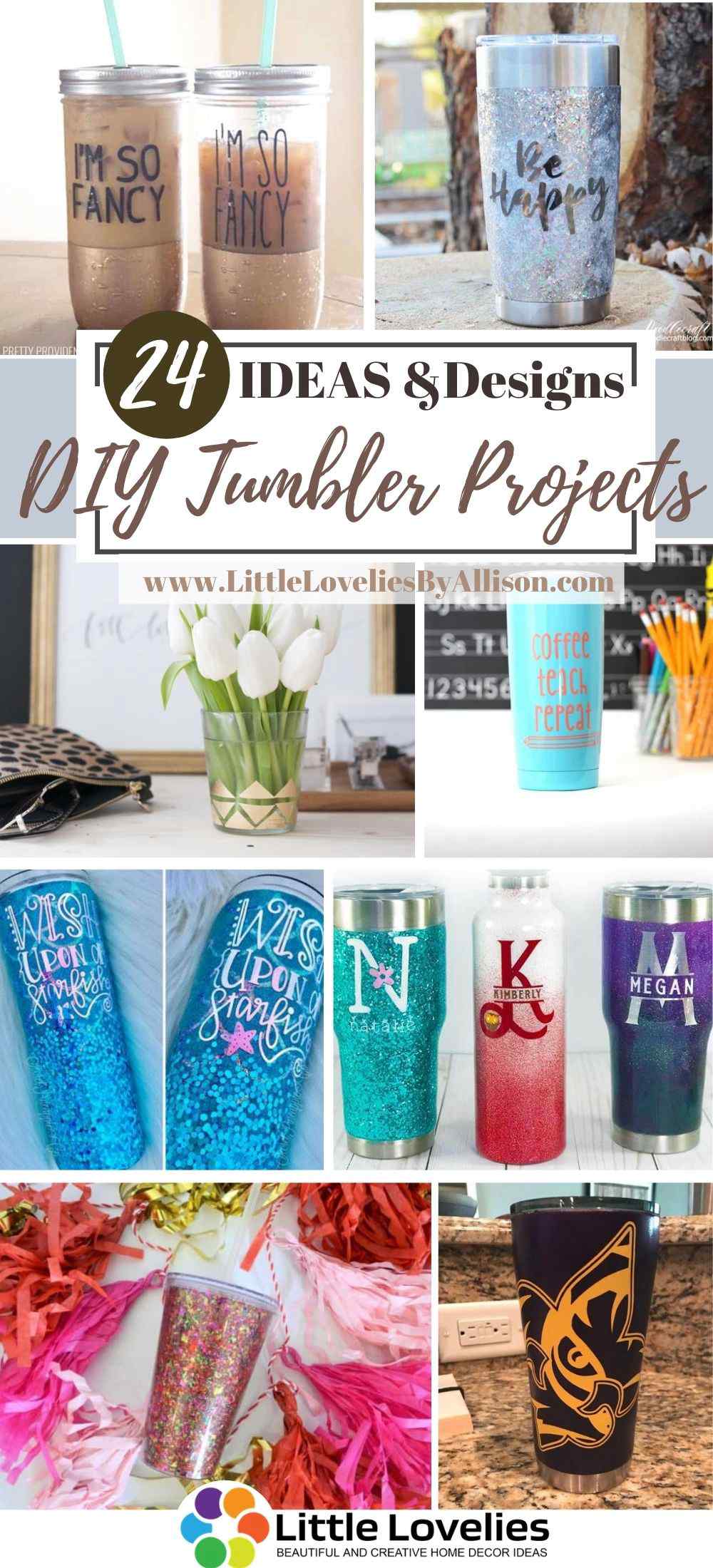 1. How To Create a DIY Glitter Tumbler
The first on my list of DIY Tumbler projects is this beautiful glitter tumbler made with epoxy and a couple of other materials. I think this is a pretty cool design that will intrigue lovers of blue. For the SVG (Wish upon a starfish), you can get it from the tutorial page or use whichever you want. The making process is easy to follow if you have been into epoxy designs.
2. DIY Glitter Tumbler
I found a pretty long tutorial that is ideal for people who are trying out epoxy designs for the time and are looking for all the information they can get. I love the glitter on each of the tumblers, also, you can see that each tumbler is customized for the owner in their respective names.
3. Painting A Tumbler
Having a stainless steel tumbler can be boring most times. Here's another way to add color to your tumbler. In this DIY tumbler project, you will learn how to paint a tumbler, unfortunately, the painting process won't be like painting the walls in your room, you would have to follow a series of instructions to paint your tumbler.
4. Iridescent Foil Vinyl Project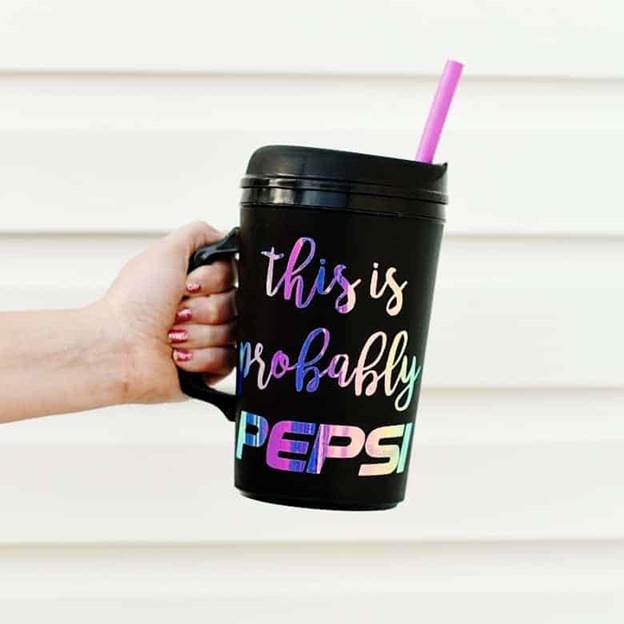 A fancy write-up on your favorite tumbler is yet another way to add more beauty to it. This is a foil vinyl project, you will need a couple of supplies to make this. This DIY tumbler revamping idea would look great on a white or black tumbler. You should try it out.
5. DIY Confetti Decorated Tumbler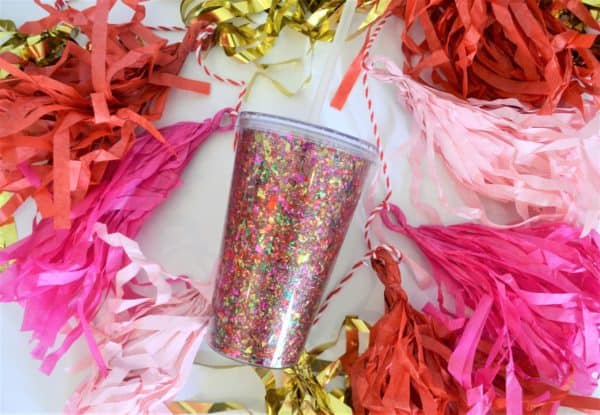 The total time taken to make this confetti decorated tumbler is 30-minutes. The materials needed are; foam brush, mod podge matte, clear tumbler w/ removable insert, and of course Confetti. I went through the making process and found out that it is easy to make, all you have to do is get all the required materials and follow the steps accordingly.
6. How To Add Resin To A Tumbler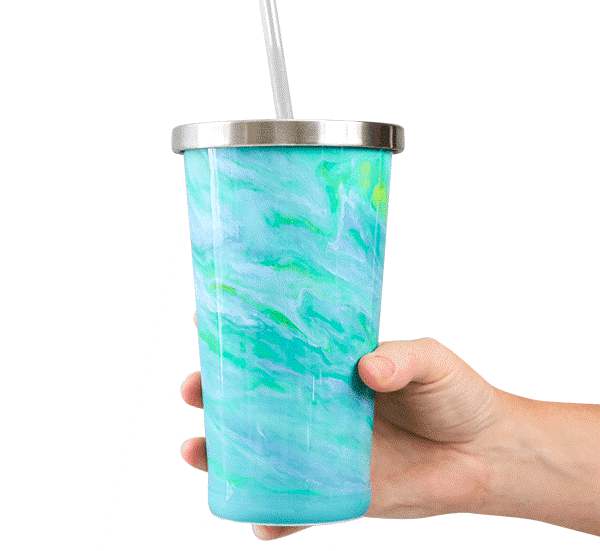 If you have a stainless steel tumbler in your home, with the steps in this tutorial, you would be able to transform your stainless steel tumbler into a beautiful resin tumbler. The guide will show you an easy-to-follow method of how to add resin to a tumbler. You should try this with only a stainless steel tumbler.
7. DIY Monogrammed Tumbler
Are you into monograms? If the answer to that is "yes", Then you would fancy the idea of having a monogrammed tumbler. In this DIY tutorial, you will be first taught how to create the monogram, and afterward, you will be taught how to apply the monogram unto your tumbler. The process is quite easy to follow even for beginners.
8. DIY Floating Glitter Tumbler
As the name implies, you can see floating stars inside this tumbler. The making process of this DIY tumbler would require the use of a Photo Acrylic Tumbler
, You will need to take out the original content and replace it with water and glitter mix. This DIY tumbler comes out beautiful if done rightly.
9. DIY Beer Bottle Tumbler
This tumbler is made out of a bottle. I know this seems a whole lot risky, but if done rightly, you would not have to worry about glass getting into your drink. The making process requires the use of a tile cutter, a scrap of wood, and sandpaper.
10. Geometric Gold Foil Tumbler DIY
While doing my research I stumbled upon this geometric gold foil tumbler, the creator made this using gold foil sheets, plain juice glass, and a couple of other materials. The making process is quite easy. You can choose to use the tumbler as a flower vase after making it, you can also use it as a tumbler for your drinking needs.
11. How To Make A Resin Tumbler
This is one of my favorite resin tutorials. In this DIY tumbler guide, you will learn how to make a resin tumbler in four different ways. There's the red, white, and blue striped tumbler, the marbled tumbler, the glitter tumbler, and the alcohol ink tumbler. Have fun transforming your favorite tumbler into whatever you please.
12. How To Epoxy A Tumbler
If you are trying epoxy for the very first time, I would highly recommend a video tutorial. A text tutorial might not be as concise as possible. Using a simple technique, Racheal shows how she was able to Epoxy three different tumblers and they look pretty amazing.
13. DIY Glittered Fall Leaf Tumbler
Is it that time of the year and you are looking at making a couple of tumblers to fit the mood, here's the tutorial to check out. Here, you will learn how to add glitter fall leaf designs to your tumbler. The tumblers are very beautiful. You can make these designs during the fall season.
14. DIY Lightning Bolt Smoke Tumbler Effect
Here's something you don't see often. I would recommend making this for your male child. Trust me when I say your kid will love his new tumbler with the lightning bolt effect. In this DIY tumbler tutorial, the creator will work you through a series of how to make one of these.
15. DIY Disney Monogram For A Yeti Tumbler
Were you a Disney fan from childhood, or do you have a child who loves Disney? I bring to you an amazingly outstanding DIY Disney monogrammed tumbler. If you are looking for a simple design to add to your stainless steel tumbler, this is one to opt for.
16. DIY Fancy Mason Jar Tumbler
This tutorial is ideal for people who have mason jars and are looking at making the jars look a whole lot better. The creator was able to customize this tumbler by giving it a gold base and also adding a text to the body of the mason jar. I think this is a great idea that you would be able to DIY easily.
17. DIY Milky Way Tumbler
In the course of my research, I also came across one DIY tumbler project that I tagged as my favorite DIY tumbler project. In this project, the creator will take through the process of creating a milky-way tumbler using epoxy.
18. DIY Minecraft Glitter Geode Epoxy Tumbler
Here's one DIY tumbler project that you might probably love if you are into video games. In this DIY tutorial, the creator was able to make a Minecraft glitter geode epoxy tumbler that indeed has a lot of glitters, if you are making epoxy tumblers for the first time, making this might probably be difficult for you.
19. Glitter Resin Tumbler With Cricut Vinyl
With this DIY tumbler design, you can make your stainless steel tumbler look a whole lot better without having to cover the whole tumbler with glitters. This is one of those projects that is not so difficult to make if you have the required materials handy.
20. DIY Teacher Tumbler
Here's one that would make a great gift for a teacher. The making process of this DIY tumbler requires the use of a software called Silhouette studio. Not to worry, the whole process is explained in the DIY tutorial.
,
21. DIY Painted Tumbler
For this DIY tutorial, the creator used a stainless steel tumbler, ready-mixed paint, pouring cup, and other tools. The process of making one of these is fun. This DIY tumbler is a simple way to add beauty to your tumbler.
22. Stainless Steel Tumbler
If you do not have a stainless steel tumbler in your home, you can purchase one quickly. This stainless steel tumbler can absorb epoxy. Its size is 20 Oz, while this isn't so big, it can be used for your DIY tumbler project.
23. 20 Oz Stainless Steel Tumbler
I found yet another stainless steel tumbler that you can purchase for your DIY tumbler needs. This one has a different design from the previous tumbler. It is also a 20 Oz tumbler.
24. Glittered Heart Tumbler DIY
In this DIY tutorial, you will learn how to transform regular tumblers using glitter hearts. This DIY tumbler makeover would be perfect for use on Valentine's day.