Fairy jars are usually glass containers of any size that appear to have little fairies inside, in which small bulbs, glow sticks, candles are used to make a silhouette of the cutout fairy outstanding.
Fairy jars are cool and a good way to decorate and beautify your home or kids' room especially at night. They are super easy to make and here are lists of a few DIY fairy jars that you can make at home.
1. How To Make A Long Lasting Fairy Jar
It's not just about making a fairy jar but making a fairy jar that will last as long as possible because you don't want to be making a fairy jar every two months, or more. To make them you need a 9V battery case, glitters, a hot glue gun, heat shrink tube, glycerin, and much more.
2. DIY Fairy Lantern
To make this, first of all, you'll need a design of a fairy on paper. You will carefully cut out that fairy design and stick the fairy and some other tree designs on the inside of a middle size jar. Furthermore, you'll need acrylic paint, fairy dust, artificial flowers, and a few more materials for the fairy lantern.
3. DIY Fairy In A Jar
Just a few simple items are needed for this project, a printed image of a fairy (very important), a mode podge, a mason jar, a twine, white glitter, and white cherry blossom flowers. With those items, you'll make a gorgeous fairy jar, it will indeed be a fairy in a jar.
4. DIY Hanging Fairy Jar
The first step in making this fairy jar is to paint the rim of the bottle with any cool or warm color that matches your decor, then the rest of the steps involved putting your wire lights and hanging the fairy jar using any string you have. The beauty of this jar is the fact that it hangs on the wall from a string and can even act as an additional decor to your room.
5. DIY Fairy Dust Jars
The materials you need to make this fairy dust jar are mini jars, the creator got a lack of six from a dollar store for just $1.50. You'll also need glitters and a paintbrush for applying some glue to the bottle. It's a fun and easy project to do, and you can make as many fairy jars as possible.
6. DIY Fairies In A Jar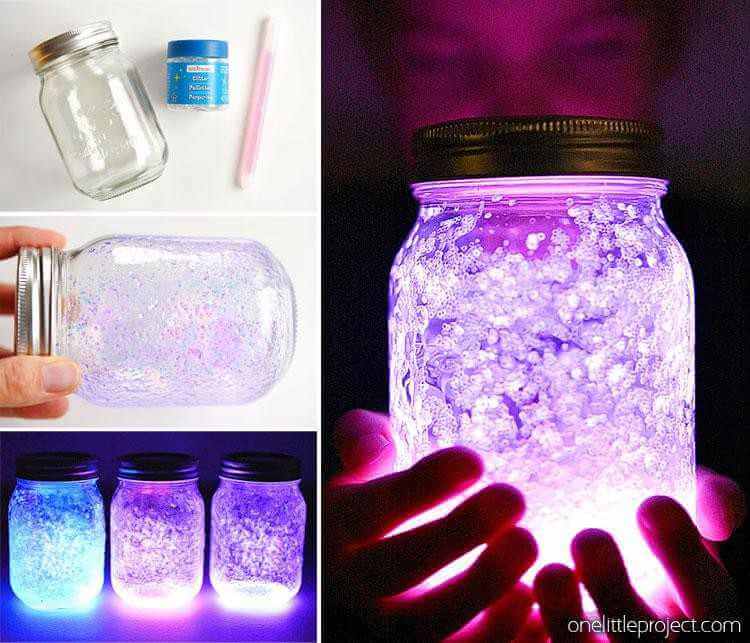 I think this is the coolest and most beautiful fairy jar yet, it's super easy to make. All you need are 1 mason jar, a fat glow stick, and iridescent white or clear glitter. You can get most of there's stuff at a dollar store for a great, cheap price.
7. DIY Fairy Jar
Here's a fairy jar that you've been waiting for, first draw your fairy and her habitat, then cut it out with scissors, then glue them to the outside of the glass jar. Then, glue a thin tissue paper on the outside of the jar, on top of the fairy design. Add the remaining decor at the rim of the jar and your fairy Jar is good to go.
8. DIY Fairy Night Light
This is a fairy jar that is perfect during the night in your bedroom or late-night bathroom trips with the night lights that makes it so cool and beautiful. It also has an on/off switch, so you can turn the lights in it off during the day and turn it on at night. Check the link to see more on the materials used.
9. DIY Fairy Glow Jars
Here is a way to make a great fairy glow jar with few simple ingredients, a jar, fine glitter, a chunky star-shaped glitter, regular white glitter, bracket-sized glow sticks, and a few other items. Once you've all that ready, your glow jar will be ready in a bit.
10. DIY Fairy Light Mason Jar
For this DIY project, you'll be using a large mason jar, a Dremel rotary tool with a sanding bit, bandsaw, Howard's feed-n-wax, a scrap piece of thin wood, and a few other items for the fairy light. You can buy the fairy light on Amazon or eBay. The making process will take 6 easy steps.
11. How To Make Fairies In A Jar
This project will be best done in the evening when you can see the lights. The first step is finding a suitable jar, a small jar will make your glow brighter and better. Consider using a tinted mason jar, and a 6-Inch glow stick.
12. DIY Fairy Jar
Do you want a super bright fairy jar, you can make one at home with a few essential materials like glow sticks, glitters, a serrated knife, and some mason jars. Furthermore, consider using diamond glitters to make them work better.
13. How To Make A Fairy Lantern In A Jar
To make this fairy lantern in a jar, you'll need a few supplies as well as some fairy cutout designs. You can draw one by yourself or print it instead. Apply your fairy designs to the body of the jar you'll be using with glue.
14. DIY Fairy Light Jar
You can use this fairy light jar idea to make a simple fairy jar with amazing flower designs on the top. You'll be using artificial flowers and other cutout fairy designs for the body. Instead of tissue paper on the body, you can use acrylic paint to finish.
15. How To Make A TinkerBell Fairy Jar
You'll be using a tinker bell design. You can download and print a silhouette image or draw one on paper and cut it out. Then, cover the body of the jar with a light white tracing paper, and apply with glue using a brush. The project is super easy.
16. How To Make Glow Stick Jars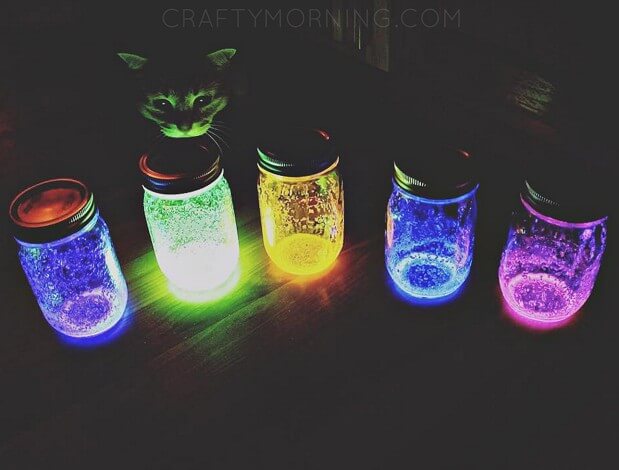 Here are a few supplies you'll need to begin, glitters, glow sticks, gloves, straws, Mason jars, and scissors. First, put on your gloves, crack the glow Sticks, cut the ends with scissors and pour the contents into the jar, put a lot of glitters into the jar filled with glow, and shake properly.
17. How To Make A Fairy Jar
It will take you less than 25 minutes max to master the steps required to make his fairy jar. You'll need a sequin mix, sequin round, heat shrink tube, glycerin, glitters, LEDs, a 9V battery case, soldering iron, and a hot glue gun. The steps are super easy to follow.
18. DIY Fairy Jar
A fairy jar is a great addition to your kid's room, instead of using a dimmer, you can make a simple fairy jar that will light up the room in a cool and comfortable way. You'll need some mask jars, cardstock, LED light strings, Epsom salt, glue, and a few other supplies.
19. How To Make A Glow In The Dark Fairy Jar
This is an amazing fairy jar that is so easy to make. The method used is so unique and I'm positive you'll love it. The creator used a glow the dark puffy paint. It's amazing because when you apply it and want to light up your jar, just take it close to the light and take it to a dark room, and it will glow so well. It's also long-lasting.
20. DIY Glitter Fairy Mason Jar
This is an amazing airy jar, it's plain, no fairy design on the body just glitters, spray adhesive, and. Battery-operated LED lights. Of course, the first thing you need to secure is a jar, preferably a mason jar. You can also add spray paint if desired.
21. DIY Mason Jar Fairy Lantern
You'll need white glue, food coloring, fine glitter, foam paint brush, battery-powered light strand, and a few other essential items. This is great for kids, especially girls, considering the color of paint you'll use.
22. DIY Fairy Jars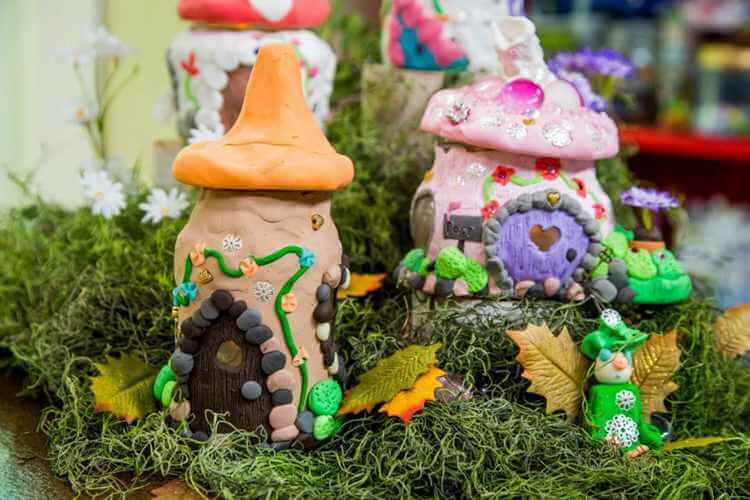 Here's what you'll need, a flameless candle, AM jar, polymer clay, and other accessories. This is a unique and amazing fairy jar. The directions on how to make this is in the link below. You are just a click away from making this beautiful DIY fairy jar.
23. How To Make A Fairy Jar
Here what to look out for if you decide to use this method to make a fine fairy jar, strat glitter, normal glitter, a jar with a firm lid, and a glow stick. Furthermore, all the supplies can be gotten at any dollar store near you, except for the star glitter.
24. How To Make A Fairy Lantern Jar
It's a day to make fairy jars for your kid to light up their room at night. It's super easy and cheap to make. You need a mod podge, white glue, some glitters of several colors, some white wrap or tissue paper, and most importantly, jars.
Conclusion
That's all for today's DIY on fairy jars, as you can see they are super easy to make and also quite cheap. You can make as many fairy jars as you want for your kid's room. It's a great night light for even any part of your house. Thanks for stopping by, have a great fairy jar-making time.