You don't need to be a professional cobbler to make beautiful shoes, with a few tricks up your sleeve, you can transform your old shoes to amazing homemade shoes that can't be seen elsewhere.
In this article, I have put 25 DIY shoes; they'll teach you how to make and revamp old shoes.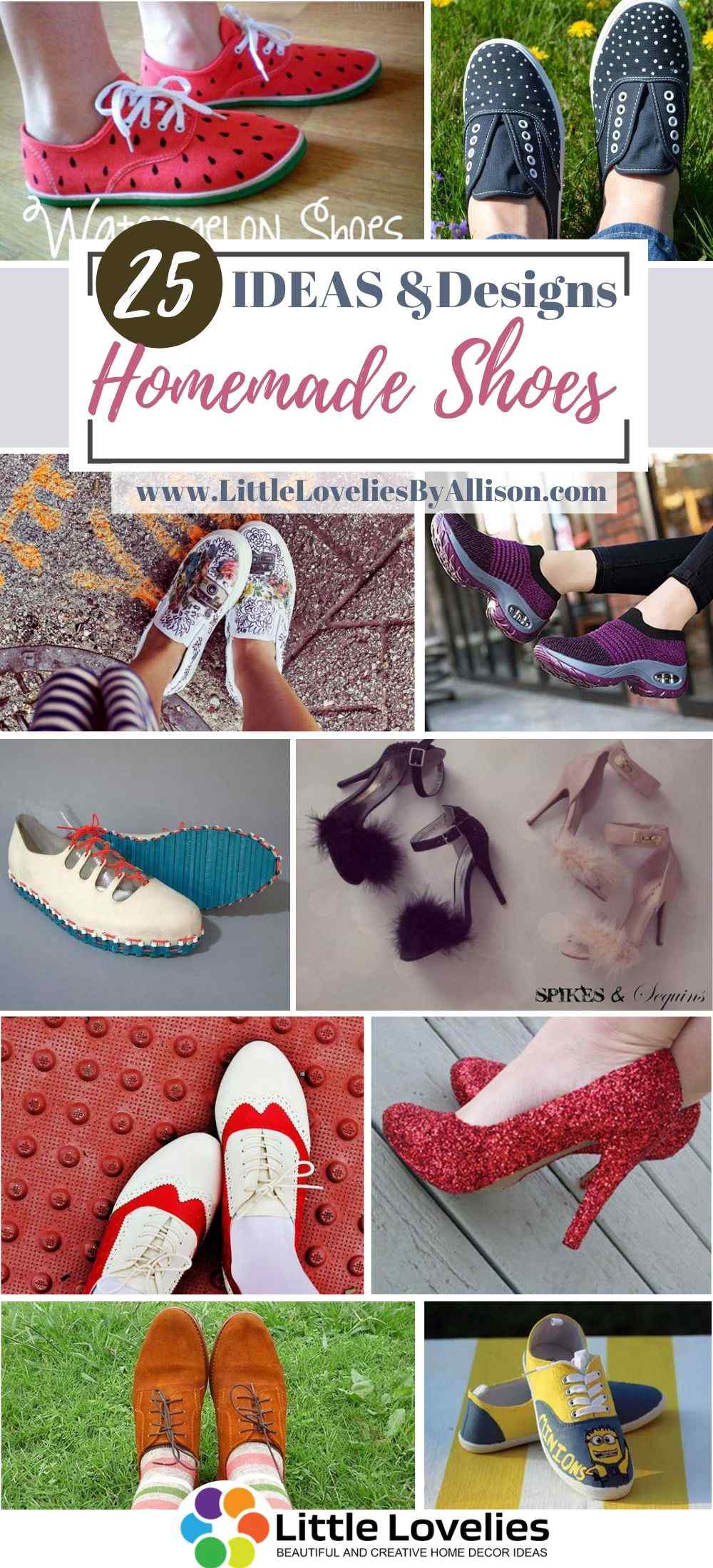 1. How To Make Shoes
Although it may be a bit complicated procedure for beginners, nevertheless, it is possible to make your own pair of shoes from home. This DIY guide will show you how to prepare the basic materials needed to make your own shoe, you will also learn how to make a foot cast, and then comes the assembling part. I would recommend this tutorial for beginners who are looking at trying out shoemaking.
2. DIY Party Shoes
Are you going to a party? Check these shoes out, the gold color makes it look quite amazing. Using Gold poly foil, strong fabric glue, and a bunch of other tools, the creator was able to put this together. I think it would be great from prom night. If you are used to wearing heels, you should have issues dancing in these.
3. DIY Gold-tipped Flats
This guide will show you a quick and easy way to revive your old shoes. If you have an old ballet flat in your home, you should check this DIY guide. You will need materials like painters tape, gold spray paint, and plastic bags to make these DIY gold-tipped flats. The process of making these are quite easy to follow.
4. DIY Modular Shoe
The making process of this modular shoe isn't going to be like a walk in the park. I would only recommend this tutorial for professional shoemakers. In this DIY tutorial, the creator was able to attach a sole to the shoe using a new method. The process involves using a lot of tools. However, the durability of the sole is top-notch. If you are into shoemaking, you should check this out.
5. DIY Floral Vans
I can end this article on DIY shoes without including a floral design for flower lovers. This project will show you how to transform white canvas shoes into these amazing floral designed shoes.
6. DIY Sparkling Red Shoes
Have you ever wanted a pair of sparkly red shoes? Look no further, I have got you covered. The shiny nature of the shoe is gotten by using a lot of glitters. Before putting on the glitter, you will need to add some glue. This DIY project can be done with any kind of shoes.
7. DIY Painted Ice Cream Sprinkles Shoes
Looking for the perfect shoes to make for your kids? Why not try these. I love how the creator was able to use the ice cream sprinkle effect on these pairs of shoes, the process isn't so hard to follow, all you would need to do is gather the required tools and paint properly following the instructions given by the creator. The different paint colors would make these DIY shoes compatible with a lot of tops.
8. How To Make Red Saddle Shoes
70% of people have already made white shoes in their homes. If you belong to this category of people and you are looking for a quick way to add color to your shoes, here's one. In this DIY guide, you will learn how to make red saddle shoes from plain white shoes. The making process is easy, you will need paint and a paintbrush.
9. DIY Miu Miu Sneakers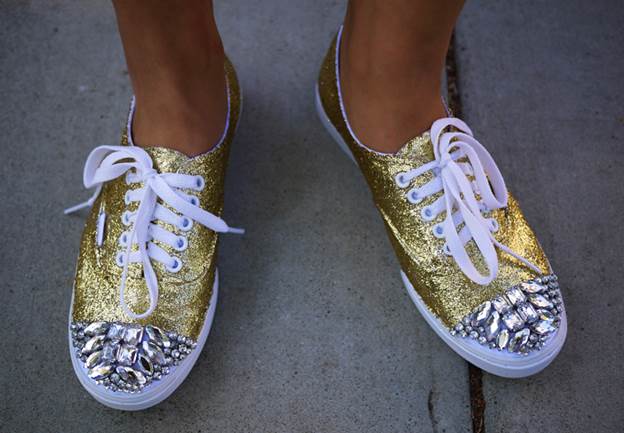 Here's one of my favorite DIY shoes projects. In this DIY shoes project the creator will teach you how to completely transform your plain shoes to the beautiful pair you are seeing above. I love the rhinestones used for the tip of the shoe, they are pretty easy to install if you follow the guide.
10. DIY Watermelon Shoes
I think these would be a perfect pair for your next summer vacation. I bet you have never seen watermelon shoes before, well, there's a first time for everything. You can make these for yourself masking tape, green posca, and black posca. You will also need a pair of white shoes and a red or pink dye.
11. Making A Pair Of Leather Shoes
Ever wondered how leather shoes are made? The process isn't quite easy. Here, Alexander Vesenka was able to make a beautiful pair of leather shoes using styrofoam, scrapwood, glue, leather, dye, and a whole lot of other tools. The making process of these pairs would take a long time to complete, but you would be proud of the finished work.
12. DIY Fluffy Heels Under $30
While these would cost way over $30 in stores, you can make them for yourself using old shoes in your house for less than $30. The making process of these beautiful fluffy heels is quite easy to follow. Just make sure you have all the required materials.
13. How To Cover A Sneaker With Ankara Fabric
I found another Ankara project that you probably might like, this one will show you how to cover a sneaker with Ankara fabric. The process is quite easy, it involves the use of masking tape, scissors and glue. You would be able to cover any kind of sneaker with Ankara using the guide from this tutorial.
14. How To Make Shoes Using A Sewing Machine
These pairs of shoes are quite unique, it is called "The women's ballet flat". The making process involves the use of a sewing machine and thus requires sewing skills. In the video tutorial, you will be walked through how to make a sole for your new shoe and also how to sew.
15. Rainbow Tie And Dye Shoes DIY
Using tie and dye, you can customize your plain white shoes and make them look amazingly outstanding. Here, the creator will show you how to transform a pair of plain-white canvas into these beautiful rainbow patterned shoes. The process is quite easy to follow.
16. DIY Minions Shoes
While doing my research, I came across this fantastic pair and I said to myself "This is perfect for the kids." You will do better if you know how to paint. The process of making this would require you to outline and paint. Some items required in making these DIY shoes are tape, a pair of white tennis shoes, and a couple of other items.
17. DIY Light Up Shoes
Want to make these pairs of DIY shoes for yourself? This is the kind that would attract the eyes of people, especially at night. The making process isn't a walk in the park, it is quite difficult because it requires the use of a lot of gadgets.
18. DIY Polka Dot Sneakers
This is by far one of the easiest to make. I know most of the DIY shoes in this article involve using a white pair of shoes. Well, here's one that requires a black pair of shoes. For the tools, you'll need basically a permanent white fabric pen.
19. How To Dye Suede Shoes
If you have got a pair of suede shoes that you have been using for years, and they look old, you do not need to throw them away, You can bring them back to life with dye, here's a guide that will show you how to dye suede shoes.
20. DIY Shoe Clips
Did you know that you could transform a pair of simple flats using vintage costume jewelry? While researching, I found this amazing guide that will show you how to transform a pair of simple pumps using clips. You should check it out.
21. DIY Shoes For A Bride
When it comes to bridal shoes, you would agree with me that it has to glitter. In this DIY tutorial, you will learn how to glam up shoes for a bride. The whole process involves transforming a normal looking shoe using a shiny bracelet, necklace, or Brooch. It is low-budget and quite easy to make.
22. How To Make Flat Ankara Shoes
Are you planning a trip to an African country? Why not leave them in awe by making a shoe that will fit their style. I found this guide that explains in detail how to make flat Ankara shoes. For this project, you will need an Ankara material and a couple of other supplies. The making process involves the use of a sewing machine. This tutorial won't be ideal for you if you can't sew.
23. Womens Walking Shoes
Not into making or transforming old shoes? I found this pair of sock sneakers and I think they are pretty amazing and quite affordable. They are different color variations to choose from, I think they'll look good on you.
24. Men's Sneaker
The men aren't left out of the fun. While researching, I also stumbled upon these amazing pairs of classic men's sneakers. It comes in Taupe, light brown and grey.
25. DIY Summer Slipper Shoes
Last but not least on my list of DIY shoes is this beauty right here. This is a vintage style shoe that was made using a couple of vintage stuff. The making process is easy to follow with the right tools handy.