Is your gym looking messy? A quick way to fix the clutter in your gym is by having a dumbbell rack, however, most dumbbell racks sold in online stores are overly expensive. You can save cost by building your very own dumbbell rack.
I have put together 21 dumbbell rack projects that you can DIY easily. The best part about making a dumbbell rack is that your gym will be clutter-free.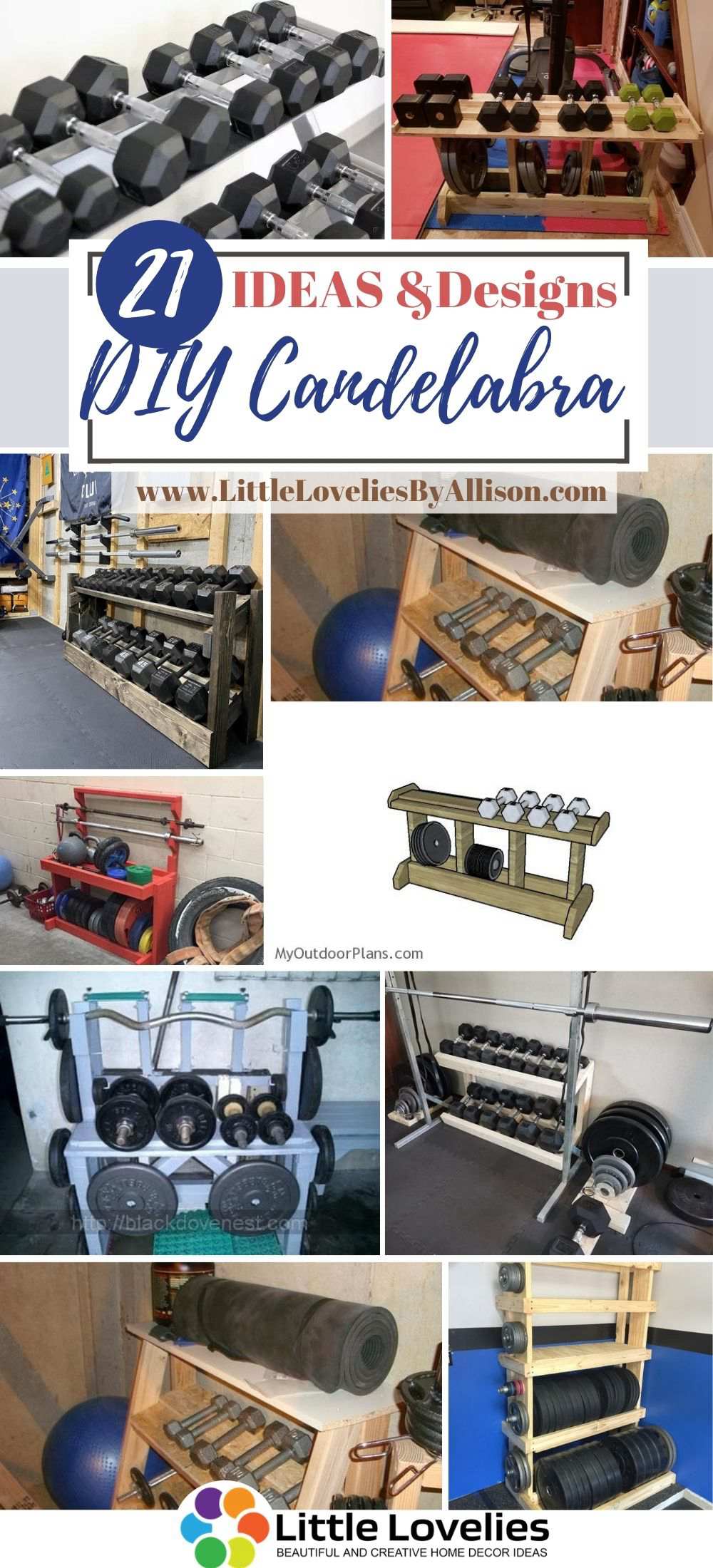 1. DIY Dumbbell Rack
When opting for a dumbbell rack, you should consider one that would add beauty to your gym just like this unique dumbbell rack. You would be able to place a couple of dumbbells on this rack, the number of dumbbells that can be placed would depend on the size of the dumbbells you have.
2. DIY Cheap Dumbbell Rack
This is one of those cheap projects that you would fancy. For the making process, you will need 2 pieces at 32 inches and also 2 pieces at 16 inches. You will also need a special kind of metal that would hold the dumbbells in place. The making process of this DIY dumbbell rack is easy.
3. Homemade Dumbbell Rack
Another fun project to try out is one that involves welding. If you have ever handled welding equipment before and have some experience, here's a fun project that you can try out. You will need some iron and some other tools. After hours of hard work, you should end up with an amazing homemade dumbbell rack.
4. How To Build A Dumbbell/Weight Rack
With this rack, you can neatly organize your weight plates and dumbbells. As you can see in the image above, this dumbbell rack has a fair amount of space for dumbbells. I love the fact that it doesn't consume much space. If you have a messy gym and you are looking for the best way to organize your gym equipment, I would highly recommend this DIY dumbbell rack.
5. Low-Budget Dumbbell Rack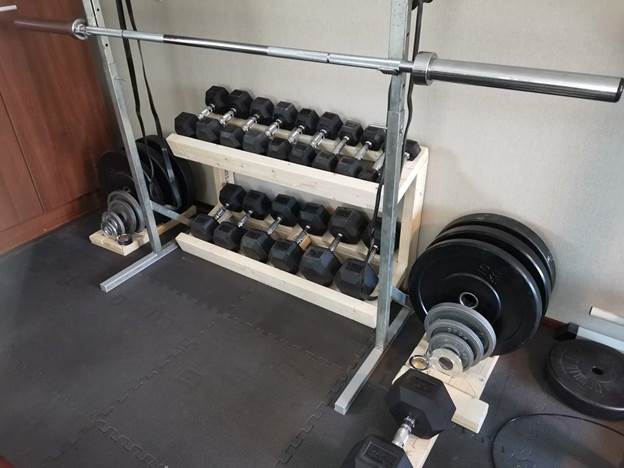 Do you have a lot of dumbbells in your gym? This low budget dumbbell rack would save cost and also provide enough space for your dumbbell storage needs. The making process is very easy to follow. All you have to do is get the measurements right and have the required tools. You should be done making this DIY dumbbell rack in no time.
6. How To Make A Dumbbell Rack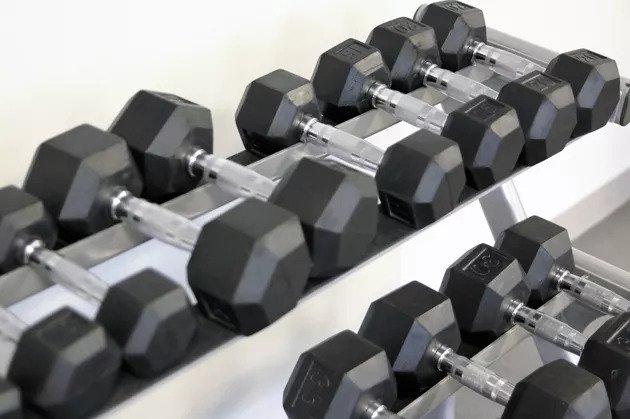 I found this quick tutorial to be quite useful. You should check it out if you are looking at making a dumbbell rack out of metal. The instructions in this DIY dumbbell rack guide will show you a step-by-step procedure on how to make a dumbbell rack that will make your gym clutter-free.
7. DIY $20 Dumbbell Rack
Can you really make a dumbbell rack with only $20? Well, yes you can. Although this tutorial was done a long time ago and the prices made have surged up, I don't think it will be above $30 which is still quite cheap for a dumbbell rack compared with how it is sold in online stores. This is a woodworking project that is quite easy to make. If you follow the instructions given in the DIY guide, you should be able to make this dumbbell rack.
8. How To Make A Dumbbell Rack From Scrap Wood
Scrap Wood projects can also be referred to as cost-saving projects, why? Because you do not have to spend money to buy wood. This DIY project is especially for people who have scrap wood in their homes and are looking at making a dumbbell rack. I love the triangular shape of the dumbbell rack. It is also one of those easy to make projects.
9. How To Build A Wooden Dumbbell Rack
Due to the many compartments of this DIY dumbbell rack, I would suggest this build for a public gym. You can make as many as you want. The DIY dumbbell rack is made of wood and painted blue to give it that perfect finish. The making process of this DIY dumbbell rack is easy to follow, you would be done making it in no time.
10. Weight And Dumbbell Rack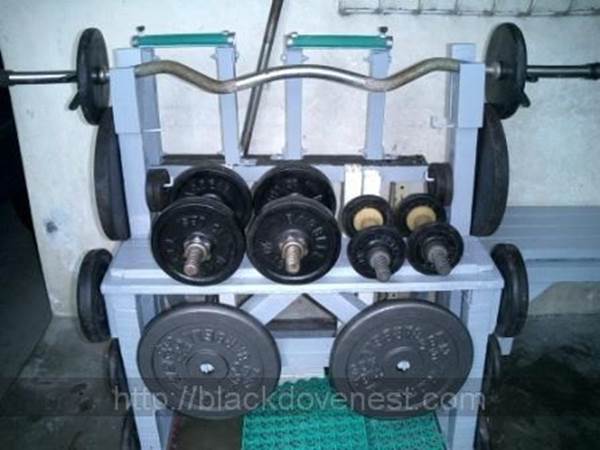 While researching, I came across this multi-purpose rack, it can be used to organize a bunch of things like weight plates, dumbbells, and also a barbell. I think this is a must-have if you are looking at putting an end to the annoying clutter in your gym. Unfortunately, this guide won't give you the build plans, but you would have an idea of how to build one of these.
11. DIY Barbell And Weight Storage Rack
This is specially made for people who lack storage options in their gym, with this fantastic rack you can store your barbells, weight plates, and maybe other gym equipment. I love how this weight storage rack is simple and space-saving.
12. DIY Dumbbell Table Desk
If you are really into woodworking projects, you would know ana-white, she has made a lot of amazing projects that we have featured on our website. Here's another amazing rack made by her, this rack is perfect for holding dumbbells. She named it a table desk because of the flat top surface. I think this is a great dumbbell rack that would meet your dumbbell organizing needs.
13. How To Build A Dumbbell Rack
This tutorial will show you how to build a 4 tier, dumbbell rack using wood. I love the shape of this dumbbell rack. It is really beautiful. I also think it is space-saving. The building process is easy to follow if you have the required equipment.
14. Custom Made Dumbbell Storage Rack
I found another project that involves the use of metal and metalworking tools. Before going ahead to make this, make sure you get all the required gear. The making process might be harmful to beginners, you should have some experience before going ahead to make this. However, this custom made dumbbell storage rack can be used to organize a lot of dumbbells.
15. How To Build A Wooden Dumbbell Wall Rack
I strongly believe that a wooden dumbbell rack would be much easier to make than a dumbbell rack made of metal. The best part about this rack is that it is hung on the wall. This kind of dumbbell rack is ideal for people who do not have a lot of space in their gym.
16. DIY Custom Weight Gym Rack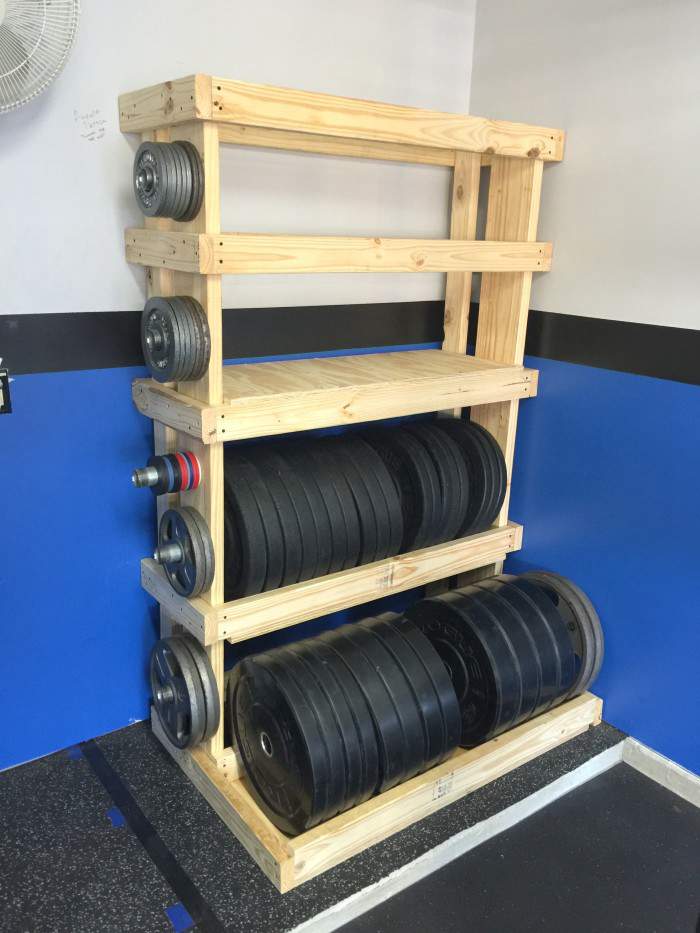 Due to the build of this weight gym rack, it can be used to store weight plates, and also dumbbells. It is perfect for people who have a lot of weight plates and dumbbells in their gym. The DIY guide will give you some tips on how you can build this DIY dumbbell rack for your gym.
17. DIY Weight Rack Plans
Are you a professional woodworker looking for weight rack plans? I found one that you would love. These plans are free and easy to follow. With this rack, you won't have a hard time organizing your weight plates and dumbbells. Feel free to make some adjustments and customizations.
18. DIY Dumbbell Rack
The top shelf of this dumbbell rack is from an Ikea bookshelf that fell apart, this dumbbell rack has two racks that can be used to store your dumbbells. In this DIY guide, you will see quick plans that you can use to make this for your gym.
19. DIY Wood Shelf For Gym Equipment
Is your gym a clutter? I understand how annoying that can be. In this tutorial, the creator will walk you through how he was able to make a wood shelf for basic gym equipment. For the making process of this wood shelf, you will need a good amount of wood. After the making process is complete, you should have a fantastic wood shelf for your gym equipment. However, you should only make this if your gym has space for it.
20. DIY Homemade Dumbbell Rack
If you are looking for a beautiful dumbbell rack that would add some sort of beauty to your gym, I would highly recommend this one. It is easy to make and also space-saving.
21. Fancy Dumbbell Rack Idea
At the brink of ending this article on DIY dumbbell racks, I came across this jaw-dropping dumbbell rack. I couldn't help but admire the uniqueness of this rack. Its wideness makes it possible for it to accommodate a lot of dumbells. For a woodworking expert, making this should be too much of a task.