Want to make a pair of DIY platform shoes? Platform heels are back in fashion again! Revamp and refine old and new shoes into a better look using flip flops or foam. Platform shoes come out cool in any type of shoe you plan to platform the heels.
Follow these easy tutorials and learn how creepers, boots, ankle boots, trainers, etc., can be refined into something unique at home. It is elementary and requires just hot glue, flip flop, and scissors. Pick up a pair of shoes and choose any of the easiest methods to improve the look of your shoe and draw lots of attention. Enjoy this new look!
1. DIY White Platform Shoes
See this super cute platform shoe that uses materials that can be seen lying around the house. Flip flop, glue, duct tape, and foam are all you need to make your platform dream shoe come through. You can use white flip flops and white foams or paint the shoes to your desired color for a white platform shoe. Making a platform shoe is very easy, and the charm is that it is a no-cost project and time-effective.
2. DIY Platform Shoes
Platform shoes differently in multiple colors depending on what you want. You do not have to necessarily be on the lookout for a particular flip flop or shoe. All you need to do is to paint or wrap it with duct tape. DIY platform shoes are more straightforward than you would ever imagine. Try out this cheapest way to make platform shoes and rock with any outfit.
3. How To Make Foam Platform Shoes
What's stopping you from making your platform shoes, flip flops? No worries. This DIY platform showcases how platform shoes can be made without flip-flops. Flip flops might be very scarce at home, but I can bet you still have foam lying around your house. With just glue, foam, and a pair of shoes, you can finally make your platform shoes that still look cool even without a flip flop. This process will show how foam can be shaped into your shoe size and how incredible your results can be.
4. DIY Gucci Platform Shoes
Sometimes we have to paint or add something spicy to our shoes to make them more attractive. I found these adorable rainbow-colored platform shoes that you can DIY with ease. The number of flip flops used for this project is six, and you can decide to increase or decrease the number of flip flops and duct tape. The outcome of this DIY is super cool, which draws lots of attention and onlookers.
5. Easy Monster Platform Shoes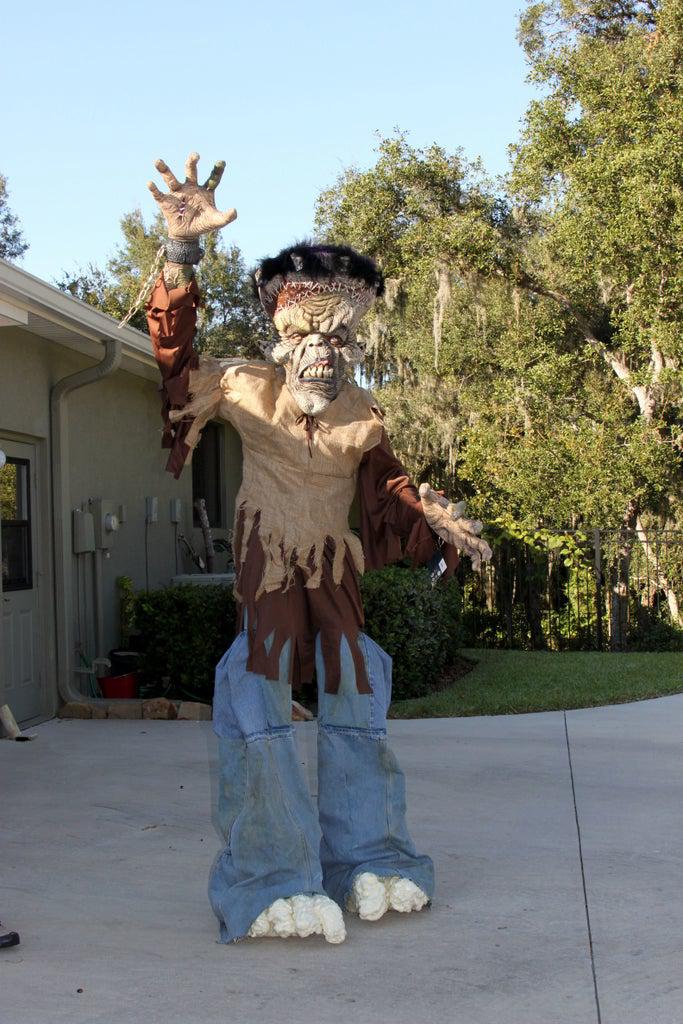 I do not intend to frighten anyone, but I'm sure most of us are crazy about the Halloween season. Apart from all the scary activities during this period, Halloween is a lot more fun, especially when you design your costume.
This DIY monster platform shoe is easy and requires a shoe with a small sole. The fun part is that you will end up frightening people and having fun as well! Get a pair of shoes, a short piece of wood, and screw and make the upcoming Halloween season a memorable one.
6. How To Make Platform Shoes That Glow
Platform shoes can be designed perfectly to any taste of your choice. You might not be a fan of glitters, but I bet you love shoes that glow in the dark. This is a bottom-lit platform shoe that uses a taller sole. For bottom-lit platform shoes, you need to use a shoe with a more elevated sole or instead use a creeper so that the electronics won't ruin your shoe. Follow the tutorials and learn more about making a platform for shoes with a taller sole that glows in the dark.
7. DIY Platform Shoes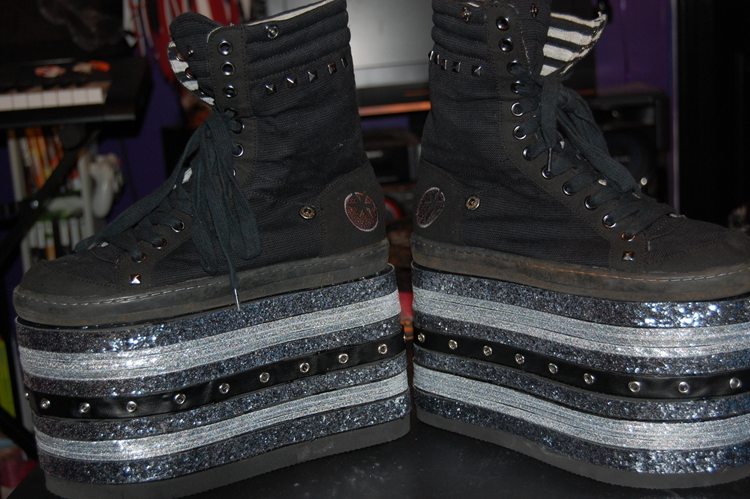 Platform shoes are very cool, but they are costly, and they can cost about a hundred dollars if purchased. DIY Platform comes in handy in cases like these. Using flip flops and glitters, you can finally make a platform shoe no matter the length. It is also recommended that you use about 6inches size to walk freely and gain balance. Gather up as many flip flops as you want, and let's fulfill that dream of owning a platform shoe.
8. How To Make Platform Shoes
Sometimes we look very cool not because our dresses make us extraordinary but because our shoes complement the beauty. Platform shoes are fantastic, especially when they're made of different sizes and colors. Creating a platform shoe is not so tasking, but shaping the flip flops and foams can be difficult. Learn how to shape oversized flip flops and foams into a perfect size for your shoe without having curves and imperfect shapes.
9. DIY Hell Boy Platform Shoes
Apart from creepers and trainers, you can also wear boots for your platform shoes! The comfort from the boot helps you move freely without feeling any weight. If you're short of duct tape or you think duct tape won't make your shoe look so well, you can also paint your flip flops before gluing them to the boots or any kind of shoes you would like to use.
Boots usually have a rough sole at the bottom. Following this simple guide, you will learn to attach flip-flops to your shoes without ruining your work.
10. Making Platform Shoes
The thought of altering your shoes, especially when it's still in use, can be challenging to accept. It may interest you to know that you are not converting it instead refining your shoes into a better look. This DIY platform tutorial displays other methods of gluing platforms to your shoes.
Through this easy tutorial, you will learn how to alter and make platform shoes out of ankle boots with colorful flip flops. Pick up that favorite ankle boots of yours and refine them into a super cool look for fun!
11. DIY Platform Sneakers
Platforms are mainly used on sneakers because they give comfort and make you feel balanced. This is another fantastic way of adding a platform to your sneakers. How well you design and tape your platform sneakers will make your platform sneakers different from others.
These DIY platform sneakers use a new method of design that leaves your admirers wondering where you got it from. Get those old sneakers you've abandoned and try this new method of designing and adding platforms to your shoe! I'm sure you'll love how creative you can be at the end.
12. DIY Platform Shoes
Here is another fantastic method of making a platform for your shoes. Platform shoes are worn for fun or hangouts, but you can make a platform for yourself and wear it anywhere you want. All you need to do is create a platform shoe with a lesser quantity of flip-flops, which makes it very comfortable to walk on and suitable for older people.
I recommend you use black foam and flip flops and polish to make your work neater for a black shoe platform. Follow this easy guide and see how flip flops can be lessened to make your walks and strolls more comfortable.
13. DIY Platform Boots
Do you still have old shoes lying around the house? Then this DIY is for you. This is another most straightforward way to revamp your boots into something far better than the older look. These DIY platform boots have brought a new and better way of reusing old shoes.
This fun craft is an exciting project and saves you from disposing of old shoes that can be revamped. Through this DIY step-by-step process, you will learn different ways of revamping old shoes into something fun and classy.
14. DIY Glitter Platform Shoes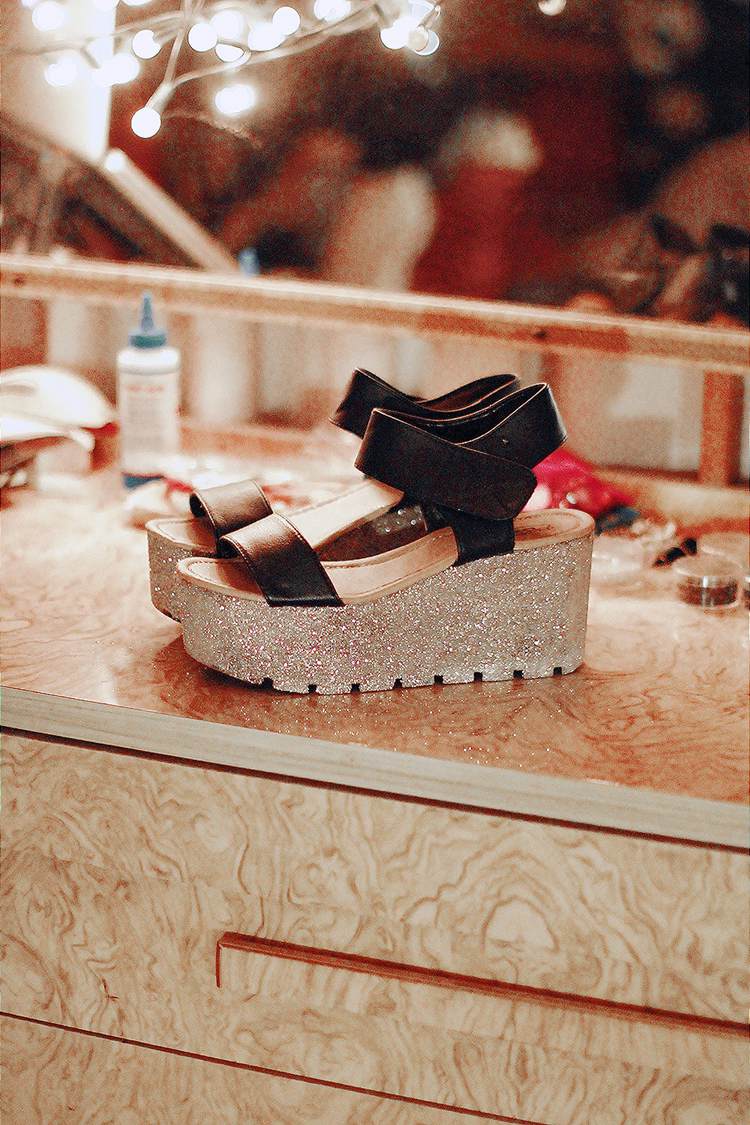 Sometimes, plain shoes have a way of making your outfit look boring. This simple DIY glitter platform shoe comes in handy in similar cases like this. For this tutorial, the creator makes good use of glitters.
Follow this tutorial and see how glitters can be glued to the shoe with ease. You would be surprised at how your abandoned and boring shoe finally turned into something classy and fun. Get that boring shoe that ruins your outfit and revamp it into something extraordinary through this fantastic DIY!
Conclusion
Learn the excellent and most straightforward methods of making platform shoes to rock that stage in a grand style. You don't need to get the expensive ones from the store; an old pair of shoes with extra finishing touches will do exceptionally well. Thanks for stopping by, feel free to leave us a comment down below.