Almost every person on this planet wears sandals right? Some of the sandals may not be expensive to purchase but they wear out very fast.
In this article, you will come across different tutorials that will help you learn and follow on how to make different sandals and customizing preexisting ones.
1. Leather Sandal DIY
You will require the following materials; leather, contact cement, leather awl, scissors, hammer, gel super glue, and leather lacing/cord.
Begin by choosing leather thickness.
Pattern the sandal, cut outsoles/straps then apply contact cement and do a mini lock-stitch. Do patterning again, cut holes on the sole, fit straps, and finish the bottom of the midsole.
Proceed to use contact cement again, sew the soles, contact cement last round, sand, and lastly, lace them.
2. DIY Sandals from Old Flip Flops and T-Shirt
The following materials are needed; an old t-shirt, flip flops, scissors, and super glue.
Firstly, cut out straps from the t-shirt, make fancy five-strand braids while measuring against your legs. Do 2 strand knotting and connect ankle braids.
Prepare the flip flops, stuff the braids to the foam, and lastly attach support straps.
3. Vibram Hiking Sandals
Performing this tutorial you require; a hammer, scissors, paper, cutting blade, straps, and sandal material.
Begin tracing feet on paper to determine sandal shape, and transferring the shape to sole material.
Then cut outsole and punch holes, smoothen the rough edges and lace the sandals.
4. Slip Sandals from Old Shoes DIY
You can do this with any canvas shoes. Materials needed are; old pair of old shoes with laces and a razor.
Begin to cut off the heel, toe, and lastly lace and wear them.
5. Fixing Velcro Sandals to Fit Wide Feet DIY
Do you have feet that are wide than average and can't easily get your size sandals? This DIY is for you.
You will require a Velcro Brand 1 Wrap, cutter, and unfitting sandals.
Begin by cutting the One Wrap to fit, and install the strap extensions on the sandals.
6. Petal Sandals DIY
Begin by gathering what you need i.e. old strappy sandals, polyester sheer, fabric remnant, double stick Velcro.
Design and make a petal-like strap using ribbon, cut out the leaves, measure and add Velcro, and then stick the petals on the sandal.
7. Wooden Sandals DIY
Begin by gathering the following materials; cloth line, floor mat, planer, sander, clamps, drill, Sand saw, and wood glue.
Cut out the wood into pieces and join them, plane wood and cut it out, cut the sole into pieces, and drill.
Proceed to cut the top, drill holes on the pieces and string the pieces together.
8. Constructing Para cord Sandals DIY
To come up with these sandals you need; hot glue gun, matches and candle, scissors, duct tape, Paracord with different colors, and a pair of sandals (old/new).
Begin by separating and scrubbing the sandal, and do a makeover on the top straps. Lastly, glue the innersole to the base.
9. Making Waraji Sandals DIY
Start by gathering the following materials; 10 D finishing nails, sisal/jute, and jute twine.
Draw out your foot and make a loom, wrap jute/sisal on the loom, and weave the sandal and heel.
Lastly, add sandal thongs wear them, and trim its ropes.
10. Summer Sandals DIY
The requirements for this DIY are a string of wraps, decorative flowers, soles, cloth, press buckram, scissors, needle and thread, bonding glue, ruby bands, and safety pins.
Begin by cutting soles from the cardboard and tracing them, mark strapping points and add string, cut the top sole cover from a t-shirt, and stitch.
Lastly, glue the flowers on the straps.
11. Barefoot Summer DIY sandals
This is the cheapest DIY it just requires a t-shirt and scissors.
Cut strips from the t-shirt, pull the cut strips to make the cords, fold the cord in half and attach it to a cushion with pins.
Begin making a centerpiece with an additional cord using square knots, make knots moving from the right side, and make a second knot.
Repeat the above knotting process. After you are done pull knots and cut the cords off. Lastly cut the excess string after tying it around your ankle.
12. Tire Sandal DIY
In this DIY you require an old tire, straps, and sharp cutter.
Firstly cut the tire and cut out sandal from it. Finish the sandal and attach the straps. Wear your sandals.
13. Making Scholl's Style Wooden Sandals DIY
These Sandals require wood plank, cutting tool, wood glue, an old leather belt to act as a strap, sandpaper, and a sole.
Trace the sole on the wood and cut it out, glue the riser, route the wood and do a final cut around the outline.
Smoothen the upper surface of the wood, fit in and glue the sole to the wood, and lastly attach the trap.
14. Cardboard Box Sandals DIY
You will require the following tools and materials a cardboard box, glue, sharp razor/ blade.
Begin by marking outlines on the box, cut out the pieces, and cut on a piece of sole for straps. Glue the pieces together, add a decorative hem from Kraft paper and make fasteners.
15. Bead Braided Barefoot Swim DIY Sandal
Materials needed are scissors, thread, beads, needle, and tape. Begin to strand the threat then make a knot. Braid the strands and passing through the beads.
16. Modern Huarache Sandals DIY
This DIY takes an hour, it requires scissors, a ballpoint pen, Vibram, a sharp knife, poster board, and a lighter.
Begin to try your foot and add room for movement, cut the pattern out and make holes, cut soles. Attach webs, rig the sandals and lastly make adjustments.
17. Five Minutes Poor Man Sandal DIY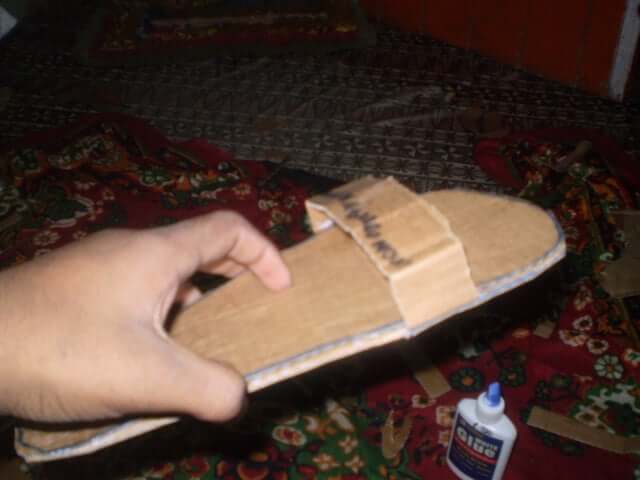 This DIY requires all-purpose glue, scissors, marker, and colors.
Begin by marking the foot size and cutting, cut out the straps, stick the straps, and add the base on using another piece of cardboard.
18. Raffia Sandals DIY
You require a needle, Renia Aquilim, veg tan leather, and soul, leather shears.
Start preparing braids, draw the sole pattern, shape the sole, sew the sole, cement, and stitch soles together.
Add heel wedge cement and sew together, make straps, prepare leather top sole and attach straps to it. Lastly, prepare an outsole.
19. Jeans Sandal DIY
You require jeans, cardboard, a sewing machine, scissors, thread, needle, and flip flops.
Make templates with flip flops, mark jeans, cut and sew around. Cut out the batting, place them together and sew around.
Cut the pockets, place all of them together and sew.
20. Plastic sandals DIY
This DIY mostly uses recyclable materials it requires scissors, soda bottles, Astroturf lining, duct tape, and cord.
Begin by cutting and creating cord holes, insert the cord, cut and position the lining then enjoy your sandals.
21. Comfy Tire Sandals DIY
You will need the following materials; tire, bicycle inner tube, shoe goo, heavy paper, saw, drill, chisel, knife, and ruler.
Begin by creating a pattern, choose your tire, and transfer the template.  Cut out the sole, cut slots with a chisel, cut tube straps, and install them.
22. Ribbon Sandals DIY
You require flip flops, ribbon, and scissors
Begin by cutting rubber straps, add loops, and put a strap on the sandal.
23. Fursuit Sandals DIY
The following materials are needed scissors, needle thread, anti-fatigue flooring, nylon straps, parachute buckles, lighter, and a rivet gun.
Begin by tracing the foot, mark strap slits, and add nylon straps with buckles. Lastly, burn strap ends to prevent fray.
24. DIY Sandal Flip Flops from Recycled Fabric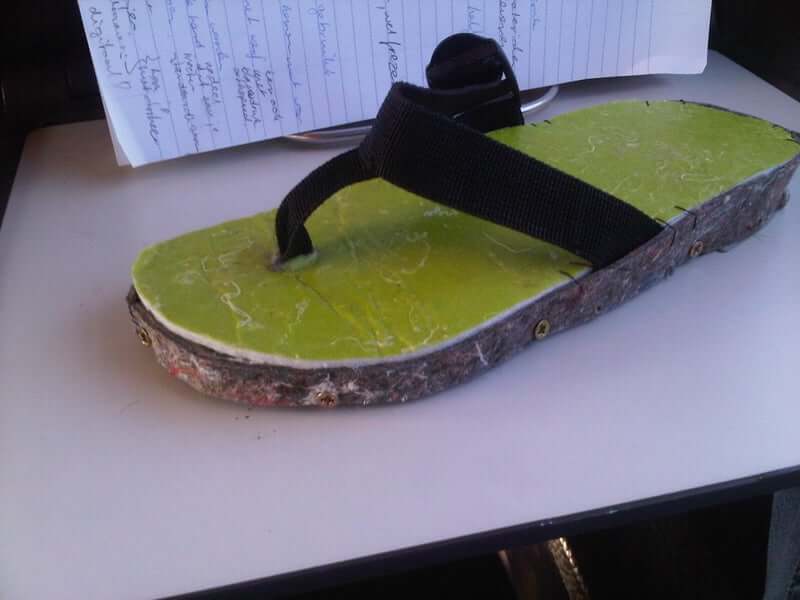 You will need a bottom sole from old sandals, straps, screws, and glue.
Trace and cut top sole from recycled fabric, make a side of flip flop, tape and stitch top sole and bottom sole together.
Proceed and attach straps, bottom sole and fill the flip flop. Screw the sole on the sides, place the toe strap, and attach it to previous straps.
25. DIY Geta Sandals
You require oak, dowel, glue, and nylon rope.
Start by taking feet measurements, cut teeth and sole, and attach teeth to the sole. Drill strap holes and put the straps.
26. Carpet Sandals DIY
You will require a carpet piece, duct tape, marker, and cutter.
Begin by tracing, cut out sandal base, tape kitchen skewers to the base. Lastly cut out straps and tape to sandals.
27. Mod Pod Comic Sandal DIY
You require a pair of sandals, mod podge, scissors, paint, and paintbrushes.
Search for your favorite comic, cut it up, start mod podging. Once done leave them to dry.
28. Duct Tape Sandals DIY
You require a cardboard box, cutter, and duct tape.
Start by tracing and cutting the sole. Make foot straps, wrap the sole with duct tape and attach the foot straps.
29. Glue Sandals DIY
You require cooking paper, a hot glue gun, cardboard, scissors, and a writing utensil.
Make stencil, create the base, measure, and create a band. Lastly, join the pieces together.
30. Bead Embedded Sandals DIY
You require the following; pair of flip flops, seed beads, buttons, beading thread, ribbon, and tacky glue.
Attach the ribbon around straps, sew the beads on the ribbon, cut, and attach buttons on the straps.
31. Soft SoledLeather Sun Sandals DIY
You require a permanent marker, pair of scissors, supple leather, a hammer, a wood tablet, and a leather punch.
First, choose the size and make your pattern, transfer pattern on leather and cut, punch holes and cut out lace. Lace the sandal and heel. Sole the lower part of the leather.
32. Tarahumara Inspired Sandal Huaraches DIY
To make these you require a tire, cutter, drill, paper, leather, and cotton rope.
Begin by obtaining rubber from the tire, measure your foot and cut it out on the rubber. Make rubber outline, drill holes, trace, and cut leather.
Punch holes on leather and glue the soles together. Measure the rope and thread your laces.
33. Harry Potter Golden Snitch Leather Sandal DIY
You will need leather, golden leather, scissors, glue, and rubber.
Begin by making a stencil, create leather soles, construct straps, and snitch sewing. Attach straps, slide on the snitch, and attach straps on the leather upper sole.
Attach upper sole to rubber sole.
34. Bohemian summer Sandals DIY
You require old sandals, threads of different colors, beaded necklace.
Start by making tassels, knot the band, and adding beads. Make a twist and braid.
35. LED Super Geek Sandal DIY
All you require is Styrofoam, cutter pincers, duct tape, and LEDs.
Begin by cutting sole, mark sections, cut and place LED. Shape the shoe, tape strips, and stick them together. Stick strip on sandal.
36. Show Me the Way Sandals DIY
You will require rubber from a tire, leather strips, nylon thread, LED strip, saw drill, and screwdriver.
Start by cutting, clean up, sticking the sole on them, and prep leather straps. Add first and second strap. Sew the back strap
Stick the LED light strip.
37. DIY High Wood Heel Sandals
You will require wood, clamps, leather, glue, screwdriver, and hammer.
Begin by doing heel anatomy, make heel, and attach heel pieces. Make heel sole, shape the platform, make bottom shank piece.
Attach the bottom shank piece, make the middle shank piece, assemble the skeleton and finish it.
Make the innersole, cut and sew leather on it, fit the leather, sew it together and close the back.
Add padding, make the middle strap, toe strings, and accessories then attach them all.
Conclusion
DIY sandals help you enhance your creativity, customize to your preference, and also recycle worn out sandals by modifying them.
Try the above tutorials and come up with your unique sandals and save cash.