Have you ever seen amazingly outstanding potion bottles in movies and wished you had one of those on your shelf? Worry no further, after days of research we have been able to come up with some amazing projects that you can DIY.
In this article, I have put together 25 DIY potion bottles that you can DIY from the comfort of your home, you will only need a few materials to customize the bottles. Are you ready to make something amazing? Let's begin.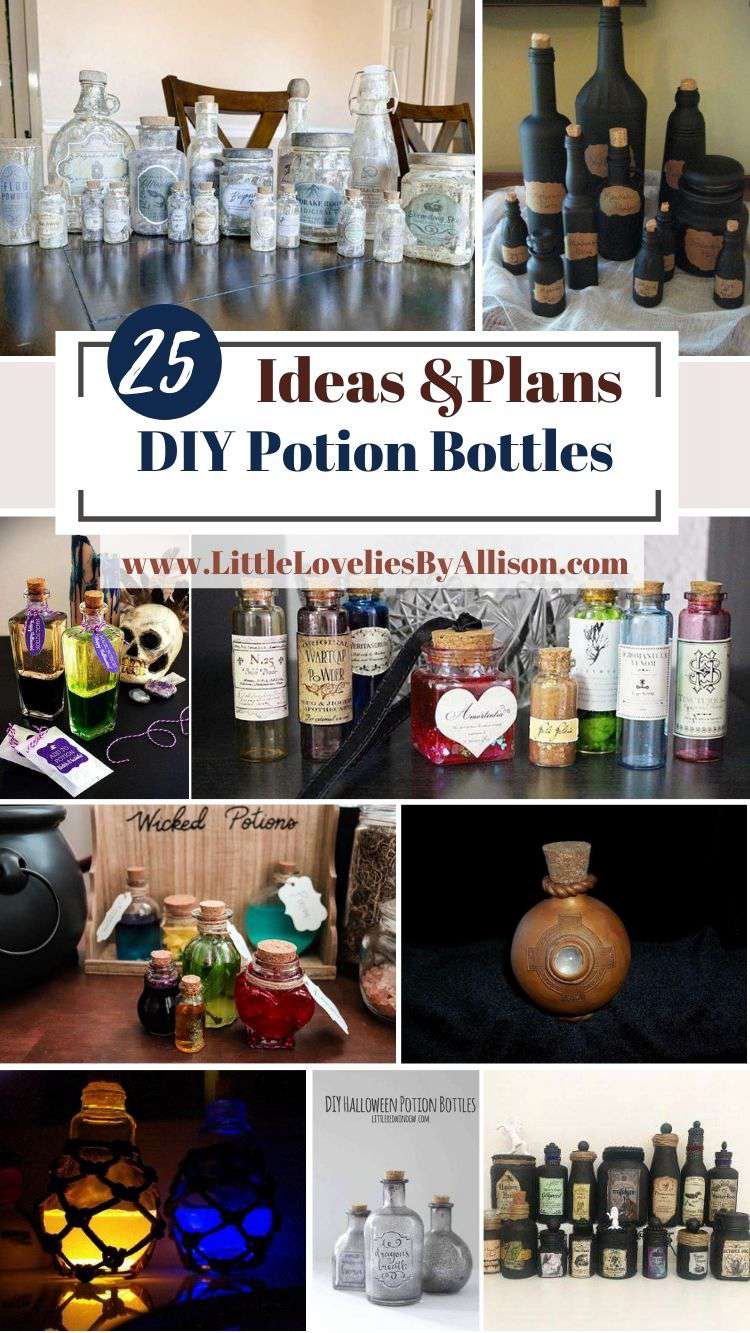 1. DIY Magic Potion Bottles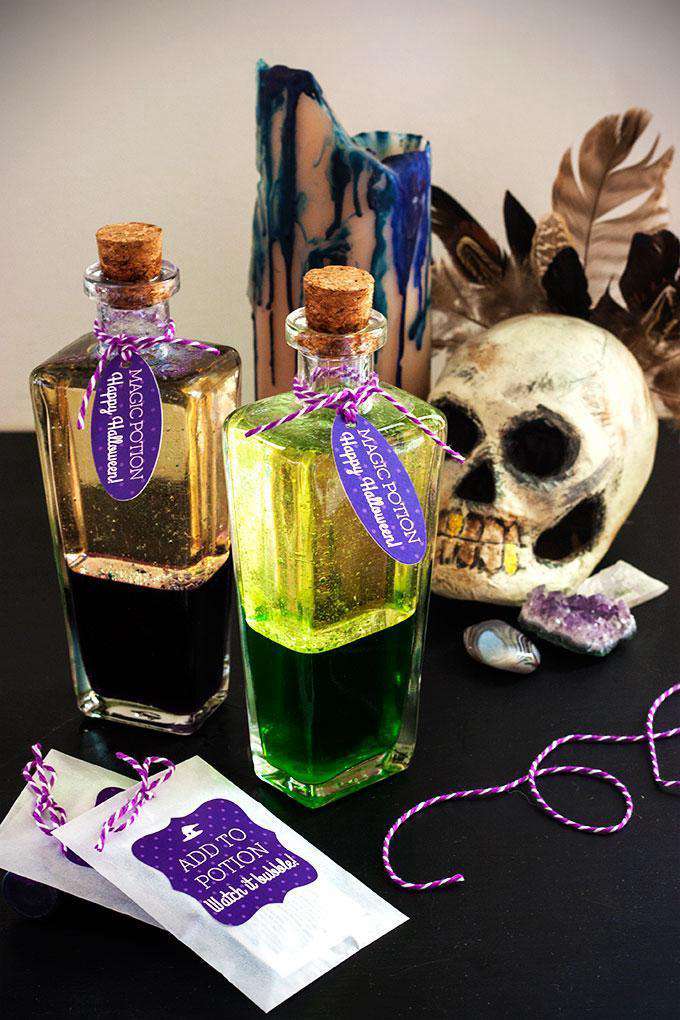 Since the majority of what you will be adding to the potion bottle is in liquid form, it is advisable to use a funnel to fill the bottle to avoid spilling. You need to be mindful of which food coloring you're using because this determines the color of the bottle.
2. DIY Potion Bottles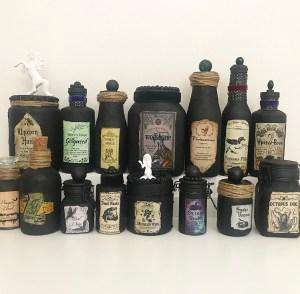 I am a big fan of Harry Potter and I recommend this Harry Potter potion bottle for you. It's relatively inexpensive and easy to make. To make the Harry Potter potion bottles, you have to get different sizes of bottles and remove all the labels. Then paint the bottles with mod podge and fix the potion label to them.
3. DIY Harry Potter Potion Bottles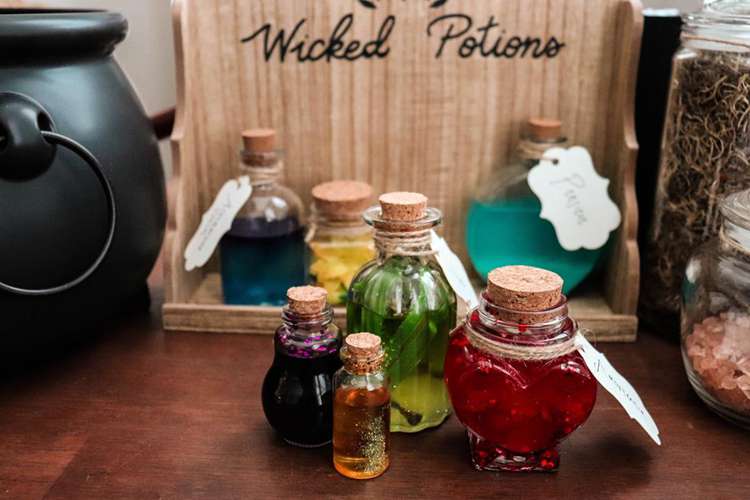 This is another harry potter inspired potion bottle made from glass bottles and jars. One thing about this potion bottle is that you need to plan; describe the kind of potion you want and gather all the supplies for the project.
4. DIY Spooky Halloween Potion Bottles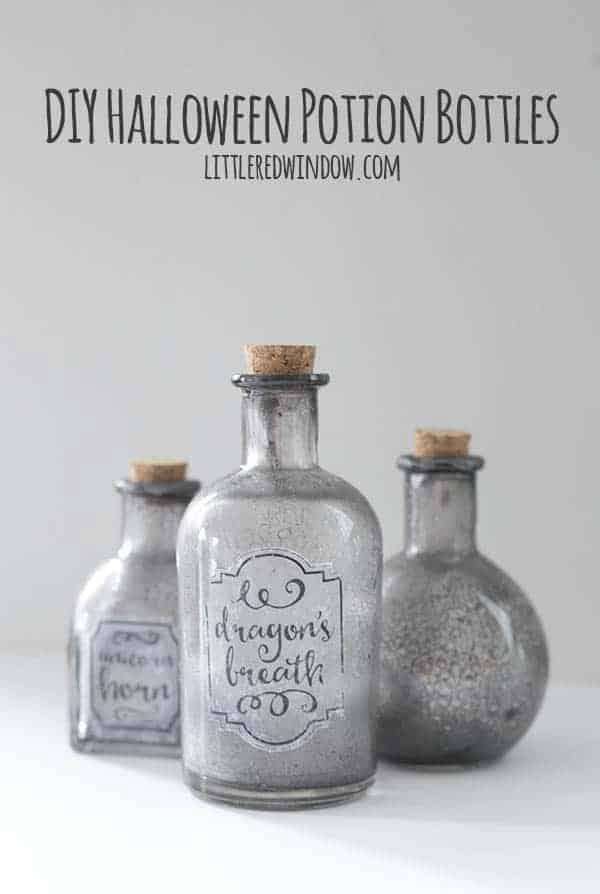 You will surely love to have these spooky bottles in your Halloween decor. It is easy to make and this guide makes it easy for you to work at your pace by downloading the free potion labels. The most important materials you must have are mercury bottles, every other material comes after this.
5. DIY Halloween Potion Bottles
The enthusiasm displayed by the creator of this potion bottle shows the level of excitement attached to Halloween and its decorations. She made the whole project funny from the moment she started pulling apart the cotton balls to the moment she corked the filled bottle.
6. DIY Prop Bottle
One thing that makes this very interesting is the fact that the potion changed color. The color-changing wiggenweld potion is poured in a decanter bottle with a glass cork.
7. DIY Potion Bottle Design
Basically, this potion bottle is inexpensive and easy to make. It is the last memory given to Harry Potter before he died, and you can customize it to anybody's memory. It is made from a glass bottle, glass stopper and rubbing alcohol.
8. DIY Harry Potter Potion Bottle
I think I need a calming draught! This potion bottle contains a potion that calms people down after a shock or something related to it. A long glass bottle with a rubber stopper is needed to allow the potion to flow. However, because the calming draught is blue, different shades of blue glitters are used in the potion.
9. DIY Potion Bottles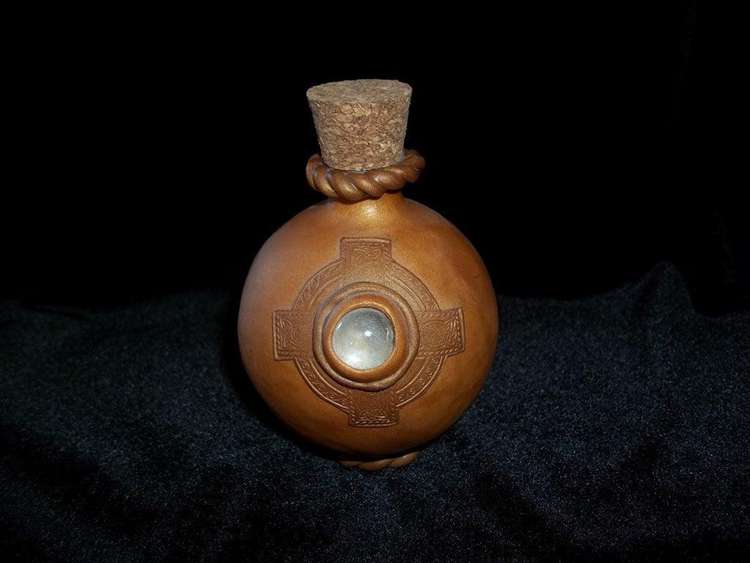 Have you worked with polymer clay before? I've not either, but I've got this rounded base bottle plastered with polymer clay all over.
Let's see how they make this happen;
What you need is a round gold bottle and a piece of clay. Then, gently spread the clay all over the bottle and bake it. After this, using liquid polymer clay to attach clay adornment to the baked bottle.
10. DIY Steampunk Potion Bottles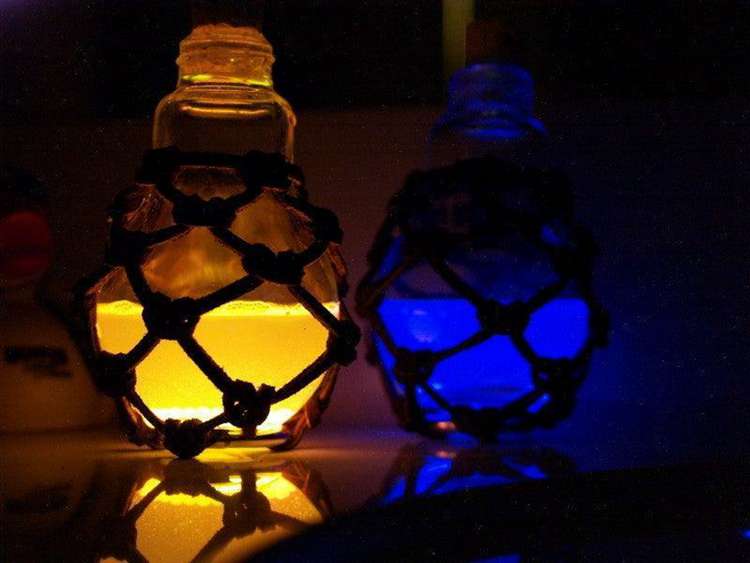 This steampunk potion bottle was inspired by the costumes and props worn at the con scene. Since he decided to make this, the creator made it so exceptional. To make this, you must know something about knot tying because that is the basics of this steampunk bottle.
11. DIY Witches Potion Bottles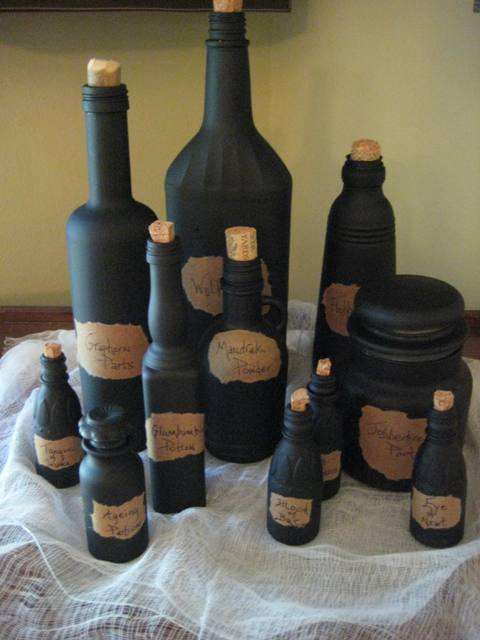 This is such a unique set of potion bottles. All you need are assorted glass bottles( you can get this easily around your house), black matte spray paint, a teabag, and wine cork.
12. DIY Potion Bottles From Old Jars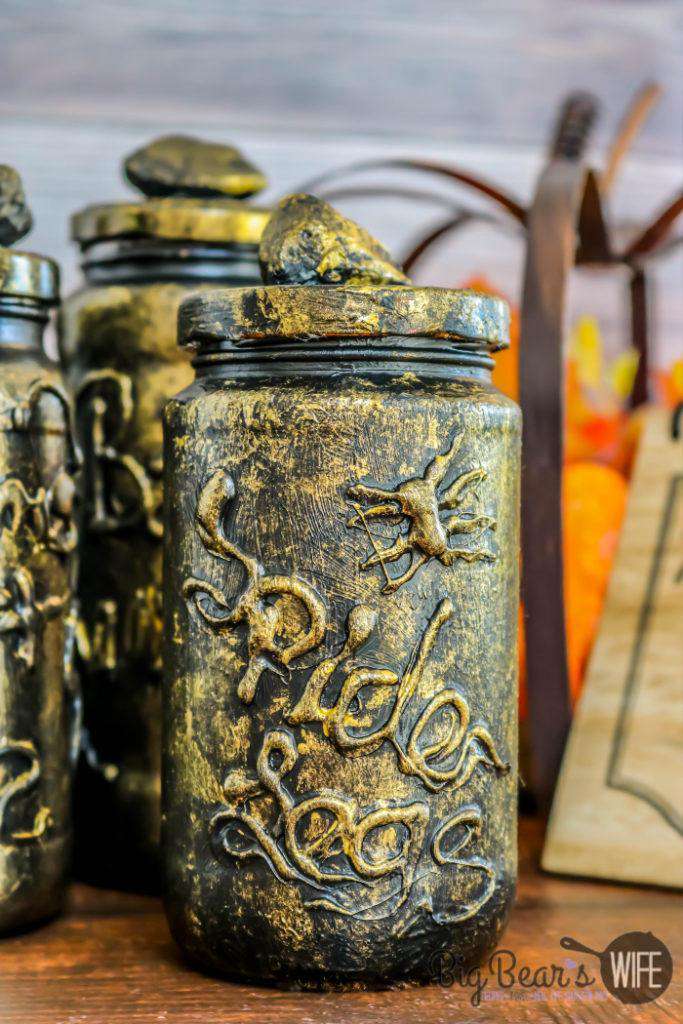 If you would like to try your hands on different materials and decorations for Halloween, then these potion bottles must be among your picks. All the materials needed can be gotten from the art and craft store and maybe around your house too.
13. DIY Happily Ever After Potion Bottle
Everybody wants to be happy ever after! All you need is a long neck boiling beaker, clear gel, mod podge, label (printed on sticker paper), and plastic piping bag.
14. DIY Potion Bottle Tutorial
This is a way to upcycle your old bottles to make entirely new things. In this video, you will learn how to make this apothecary potion bottle.
15. DIY Miniature Harry Potter Inspired Potion Bottle
Among the five methods of making a potion bottle inspired by Harry Potter, the method that makes use of transparent beads and skewers is the most simple and amazing.
All the beads already come in different colors, all you need to do is pass through a skewer through the holes in them and cut the excess off. You can paint some of the skewers, leave some like that or add another adornment to it.
16. DIY Potion Bottles For Halloween
This is not a lazy man's job. Unlike others where you have free printable labels. Here, you have to design the labels using adobe, then print out the design and prepare a dark tea. Pour all the tea into the label design and allow the paper to absorb it and dry up. Once it's dried, wrinkle the paper and rip each design apart. Fix each of the bottles with a mod podge.
17. How To Make Potion Bottles For Halloween
All you need to make this creepy potion bottle are glass bottles and labels. You can get a free printable potion label from the link below. It is always fun trying to make something for the season and this potion bottle is exceptional. It will surely look great on your mantle.
18. DIY Witch Potion Bottle
How do you feel once you set your eye on the content of this potion bottle label? Scared right! What vampire blood? You just smile sarcastically to yourself right?
Therefore, it has the effect it is supposed to have. Your Halloween decor is not complete until you have more witchy potion bottles in there. You don't need much to make this, you need bottles, matte brown spray paint, and labels.
19. Easy DIY Potion Bottles
This was made from Tombow blending palette that has been used over and over. The creator follows the technique of Mason Jar Queen and he indeed adds a potion of his creativity to it as well.
The first step is to smudge the bottle with Tombow Mono Aquatic Liquid glue and you can add texture by patting some area with paper towels.
20. Leather Potion Bottle DIY
What other way can you best decorate your potion bottle if not with leather straps? The unique feature of this potion bottle is that you don't need a potion bottle label for it, all you need is a leather strap and snaps. Cut the leather according to size and fastened it to the bottle with snaps.
21. DIY Halloween Potion Bottles
Let me take 15 minutes of your time and let's make this together. We will need bottles, paint, paintbrushes, air dry clay, and glue. We need to paint each of the bottles in our chosen color then mold the clay into different patterns to give the labels more highlight.
22. Harry Potter Acromantula Eggs Potion Bottle
This potion bottle is a very simple and inexpensive DIY. It is made from glass bottles, egg potions, mod podge, brushes, and twine. You can use a cup with a small beak to pour the egg potion in order not to waste time by using freehand.
23. DIY Love Potion Bottle
For me, it's the pink outcome of the bottle that captivates me. Even before the content of the bottle works, the bottle already wins the heart over. The beads inside the potion give it an icy look. It's really beautiful and captivating.
24. DIY Potion Bottle Tutorial
Here is a video tutorial on how to make a potion bottle using jewelry and some bead accessories. The highlight of the bottle is the chain around its neck. It gives it a more fun look.
25. DIY Harry Potter Potion Bottles
Can you get bored of Harry potter? If not then you've got to have this wonderful potion bottle around you while watching the movie this season. All you need is a different size and style of glass bottles and labels.
Conclusion
That's a wrap on how to make a DIY potion bottle, feel free to share this article with friends and family if it has been helpful to you, also if you have any questions or contributions, the comments section is opened for that. Thanks for stopping by!