Every parent knows just how important your child's comfort is. It is vital to not only their sleep but also their development and general well-being. Their bed is vital for them to get the most of their sleep.
There are mass-produced beds any parent can just buy, but like most things in your home, it can be an item of self-expression. By making it yourself, you can craft one to be as comfortable as you need it to be.
Here are some ways, you can craft a bed for your kid.
1. ClubHouse bed
Get an affordable bed from your favorite superstore, board the side and create a roof. Have the front boarded up but leave an opening for the door. Paint it with green and brown paint, whichever will give it a natural feel.
You kids will love how connected it makes them feel with nature. Having it high allows you to have a hammock at the bottom for added flair.
2. Closet Bed
Remove the shelves and bars from the closet. Install some plywood and have it firmly attached to the closet with sufficiently sound brackets and screws.
You can choose to have it low or high enough to climb with a ladder.  You can also decide to make a twin bed by adding an extra layer of plywood.
Lastly, put on a mattress and some blankets and the kids will love the miniature room you have created for them.
3. The treehouse
Just as much as your kid loves the treehouse in the back yard, they will be even more excited when they get to sleep in a treehouse bed every night.
Get a regular bed for cheap, or if you can make your own. Extend the stands, such that it is elevated to a height it would be accessed through a ladder. With wood, add the walls and a roof. The front wall should have an opening from where the ladder starts as an entrance.
You can choose to paint it or leave it as is. Ensure the stands are fastened with high-quality brackets and screws.
4. Sliding Barn Door Loft
You kid will appreciate their miniature loft with a sliding door. The style that comes with the bed easily makes it, the centerpiece for the kid's bedroom.
With lumber and the appropriate tools, you can fashion the walls, roof, and ladder. The doors are where this bed shines, you will need hangers to attach to the doors, to allow them to slide. Make sure the bed is a secure as can be.
5. Toddle Beds
Almost everything made for kids is made that much adorable but the small size of them. You do not have to lose personality from mass-produced furniture. You can make it yourself.
With lumber, the necessary tools and upholstery, you will make the beds to the dimension you need them, for example, you might want to host more than one toddler. Make sure the size accounts for the growth and upholstery good enough to be comfortable.
6. Pirate Bed
Kids love pirates, the idea of having their own pirate ship in their bedroom will be a source of many smiles. You can make your rustic ship as opposed to a plastic lifeless alternative.
The beauty of this bed is that it can be made with recycled wood and still be on theme. With a hammer, screws, and upholstery, you can fashion one yourself. You even have the option of adding your own jolly roger.
7. Bed with storage
This bed has space to keep all the kid's shoes and toys, eliminating the hassle of untidy toys.
The key here is to have as many compartments as you need. This helps prevent the mixing of stuff, the books, shoes, and toys can all be kept in different compartments.
8. Loft Bed with ladder
Loft beds are so stylish in what they add to the room. Space underneath can be used for a desk.
The key to this bed is to make sure the ladder is robust enough for safety. Ensure the bed is well secured to the wall.
9. Kids bunk beds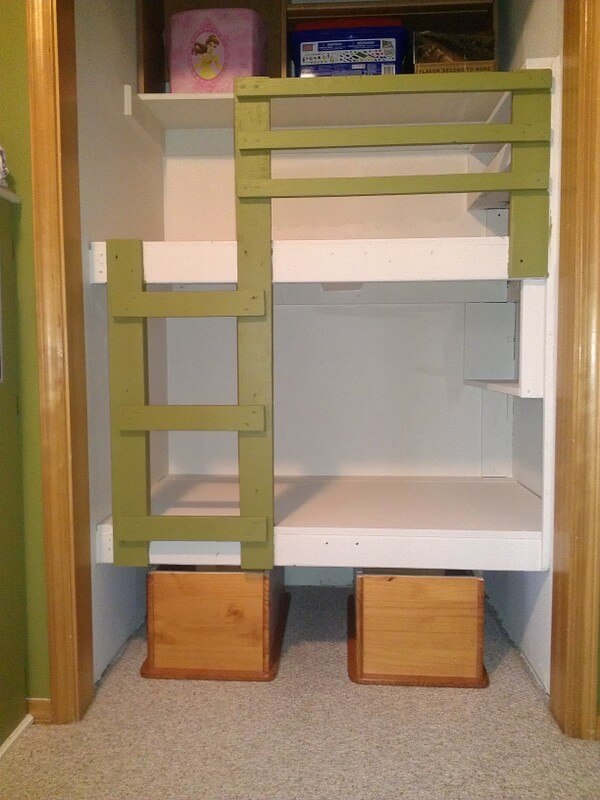 These are great beds for people in a metropolis, where they have smaller bedrooms. With the space of one bed, you can easily fit two kids' beds into the same space.
This can be even better when utilizing otherwise useless wall space. To save even more space.
10. Loft with stairs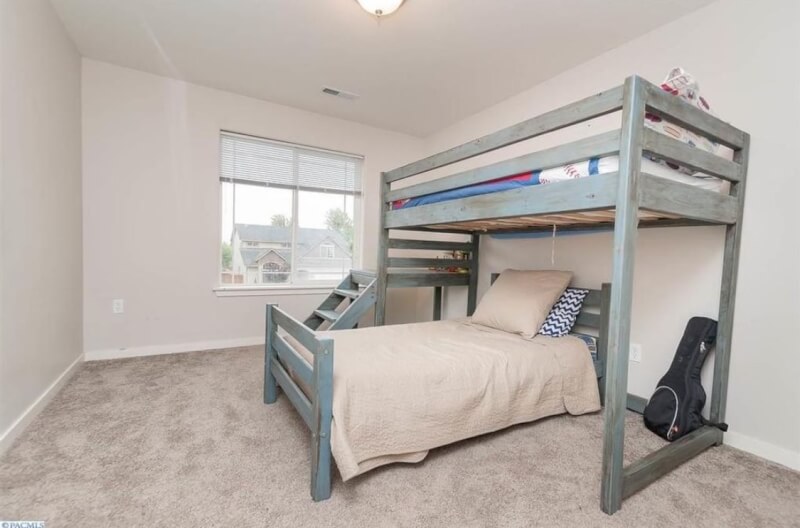 This design offers the same sense of style that comes from a loft bed, with the added safety of having stairs as opposed to ladders.
With this bed it's important to have sturdy safety railings of the stairs. The space under the bed and the stairs can both be used as storage.
11. Kids Cabin Bed
This is perfect for scouts and kids that love camping. It also adds so much style to the kid's room.
Being off the ground, makes sure the stands and support beams are made of heavy-duty materials.
12. MicroBus Playhouse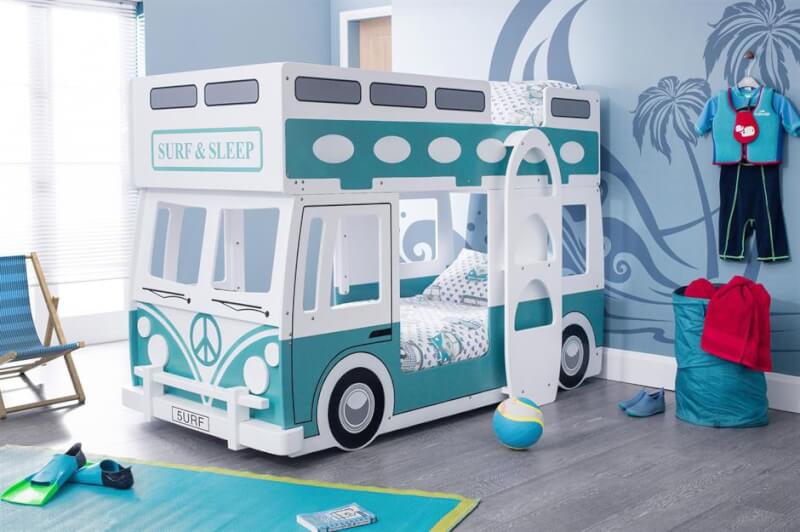 Right about any child can be excited by the idea of having a bus in their bedroom. Even more so having to sleep in the bus bed every night.
With this, you have the option of either having the bed inside the bus or on the roof. You also have the option of making it a bunk bed with a bed in and on the roof.
13. Teepee bed for kids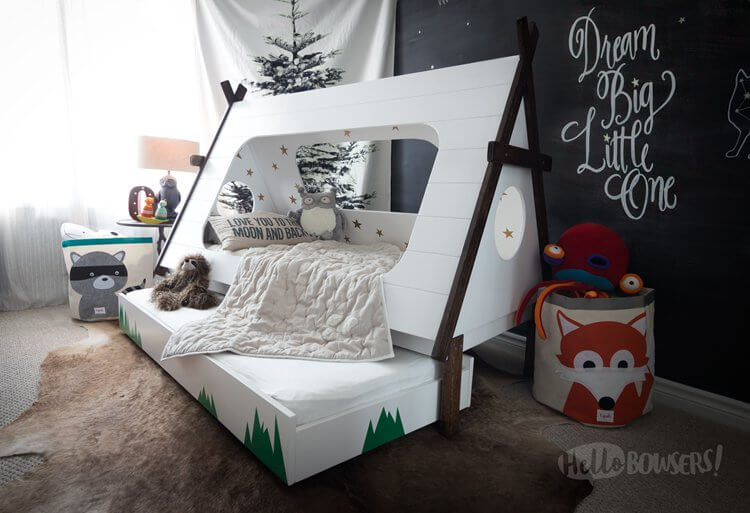 Kids with that like being around nature will love this bed. When well done, it is a sight even your child will appreciate.
This bed has versatility in how it can be painted or left as is. The bed can be made of cloth or solid wood.
14. Hanging kid's beds
Like bunk beds, these beds are great for rooms without tons of space. They suspended in the air with heavy-duty chains.
You have to ensure the bed is well fastened to the wall and the ceiling with the chains.
15. Triple Bunks kids bed
These beds are great for people without much space. The space that can hold one bed, can be maximized hold beds for three beds.
With the same materials, you can make bunk beds, which you can use to make this bed. All you need is a different design.
16. Fire Truck Kid's Bed
Kids love the idea of fire trucks and the heroism of those that drive them. Having to sleep in out would mean the world to most of them.
With the same materials used to make the bus bed; lumber, screws, cardboard, and paint,  you can adapt them to make the fire trunk.
17. Super Hero themed bed
Superheroes have never been more popular. Most kids have a superhero of their choice, which makes this design so much versatile.
With the standard materials and some paint, you can get the design of your choice for your kid. Their room can make a statement on their likes.
18. Lumberjack themed bed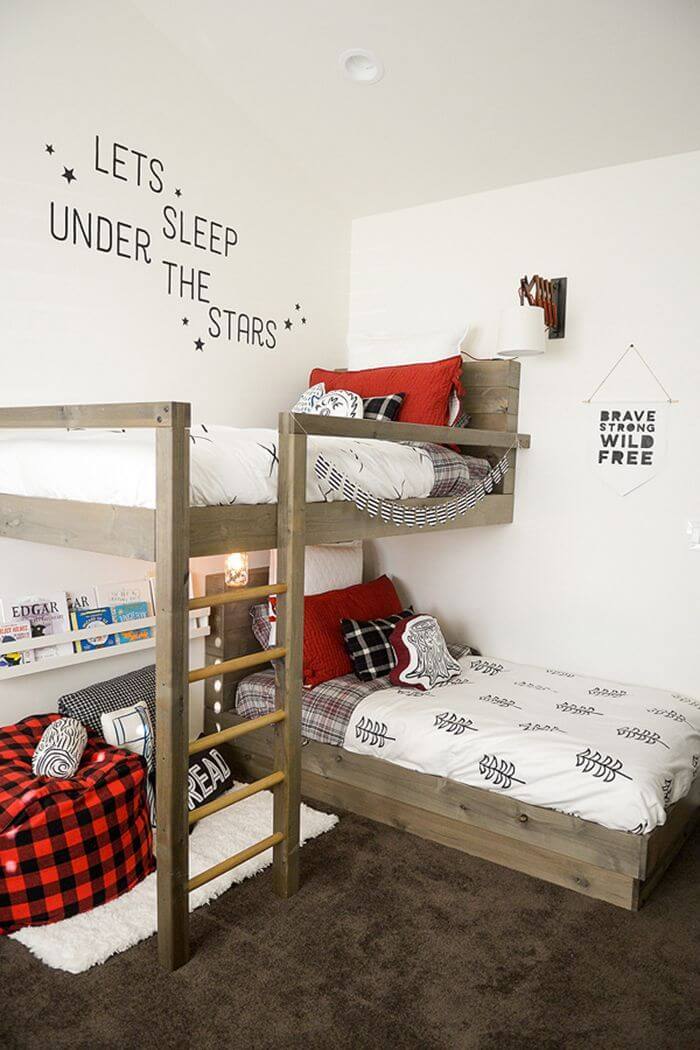 Kids that love nature will love this bed. As kids are inspired by lumberjacks, they will love the idea of sleeping in a bed they think was made for them or buy them.
Using lumber that has been chemically stained to give an even darker texture makes the bed really pop, adding to how stylish it is.
19. A house bunk bed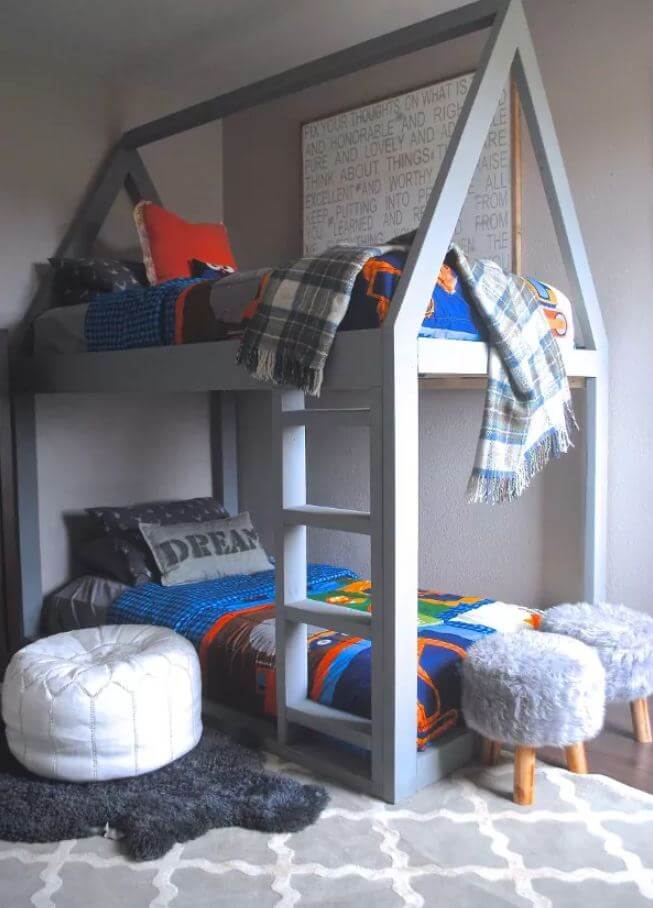 Kids will like the idea of privacy this bed affords them.
With a few pieces of lumber and slats, you can have a make-shift roof shape, which is not just stylish but the kid's imagination can fill with all types of ideas.
20. Pottery Barn Inspired Bed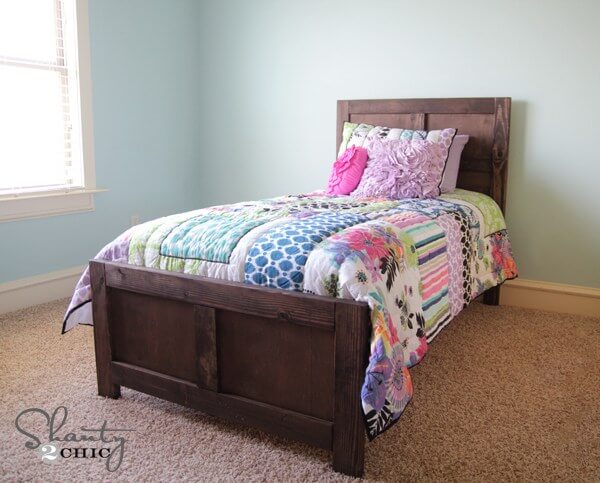 For those who want the pottery barn aesthetic but the price tag makes them hesitant to get one. Making one for your kids is a great alternative,
With reclaimed wood, you can get that rustic look you may be going for. This will also help down the cost of building it considerably.
21. Twin bed for kids
For people who want kids to have own beds, twin beds are a good choice. They can give privacy to the kids should they want it.
You can have them use the beds as a single bed when they are younger and split them out as the kids grow up. The painting can be different to represent their interests.
22. Toddler bed
This design is made even more interesting by the lighting. Rather than use, overhead or beside the bed lighting. The bed is covered in tiny lights for illumination.
Make sure to use LED lights, as they do not produce heat and therefore a lot safer to use in a kids' bed.
23. A riser bed bunk
This bunk bed is great for two kids but has the bottom start directly on the floor as opposed to it have stands.
You can make the upper bunk stand even lower. This can be comforting for parents afraid of their kids falling off the top bunk.
24. Bed with an Ikea Styled bed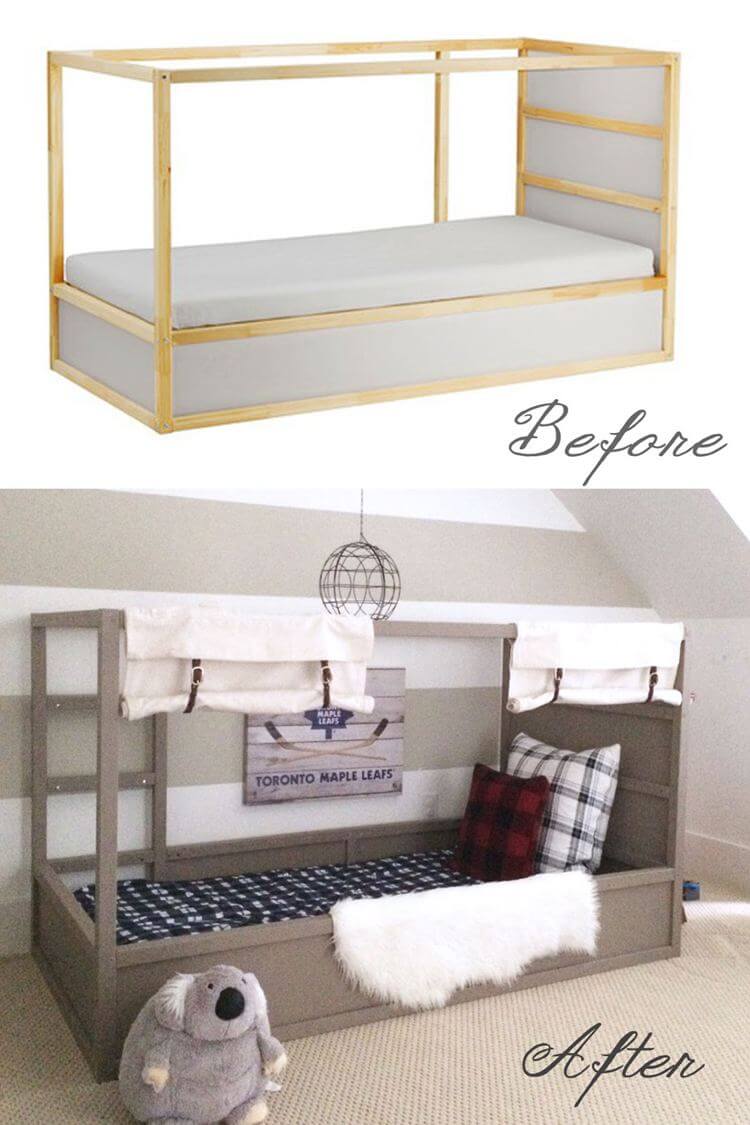 This is one of those products the parents like for the catalogs butt put off by the prices. However, you can save money by making it yourself.
The beautiful design of the bed can be put together with salvaged materials to lower the price even further. You can seal together two half of a basket to create a ball that would hang on the sealing for added style.
25. Rock climbing bed
Nature lovers will love this bed. As opposed to having a ladder or stairs leading to the loft bed, you have a wall climbing segment.
The key to this is to make sure that the wall climbing fixtures are safely mounted on the walls. You should also ensure it's not too high as to hurt the child.
Conclusion
A lot of parents understand the importance of ensuring their children get enough rest. Having a DIY bed that excites them to get to bed is one of the solutions, they can apply in this endeavor.
It also helps give the kid's room some personality as opposed to getting mass-produced furniture that most of the other kids already have. By working on the bed with your kids, it allows you to connect more with them.3