Do you fancy the idea of using crates? The convenience provided by the crates is amazing. And what is better than using this crate is being able to assemble the crate on your own.
Don't know how? Well, this DIY crate creation article is for you. What's more, is that DIY projects tend to be quickly achieved and also cost-effective. The crates may be customized to fit your particular design style be it shabby chic, modern, vintage, or rustic.
You do not have to give up on your quest for the industrial design living room table. Just a couple of tools necessary and you can come up with this DIY rustic coffee table. The table has an excellent farmhouse flair.
The castor wheels provide the industrial look popular among Pottery Barn and Arhaus stores. Dark stain conceals these affordable storage boxes and gives them the fabulous patina.
2. Functional Furniture: Crate Bench Project
Ideal for the storage of shoes, boots, bags, and boots, the bench can be used to serve a lot of purposes. The storage crates' red wash can be applied easily, and greatly increases the farmhouse appeal of the bench.
The few additional boards and the industrial-like bolts combine magnificently. Execution of the design of this project is quite simple. The creativity and appearance however rate higher.
3. Simple and Versatile DIY Wood Crate Bookcase
This crate idea is ideal to assist children and teenagers in keeping tidy books, backpacks, and treasured projects. It is quite versatile as you can assemble the storage boxes in any shape you deem the best fitting for your furniture.
No plywood is required. All that is required is a collection of screws, wooden crates, a drill, and your preferred finish.
4. DIY Shabby Chic Side Table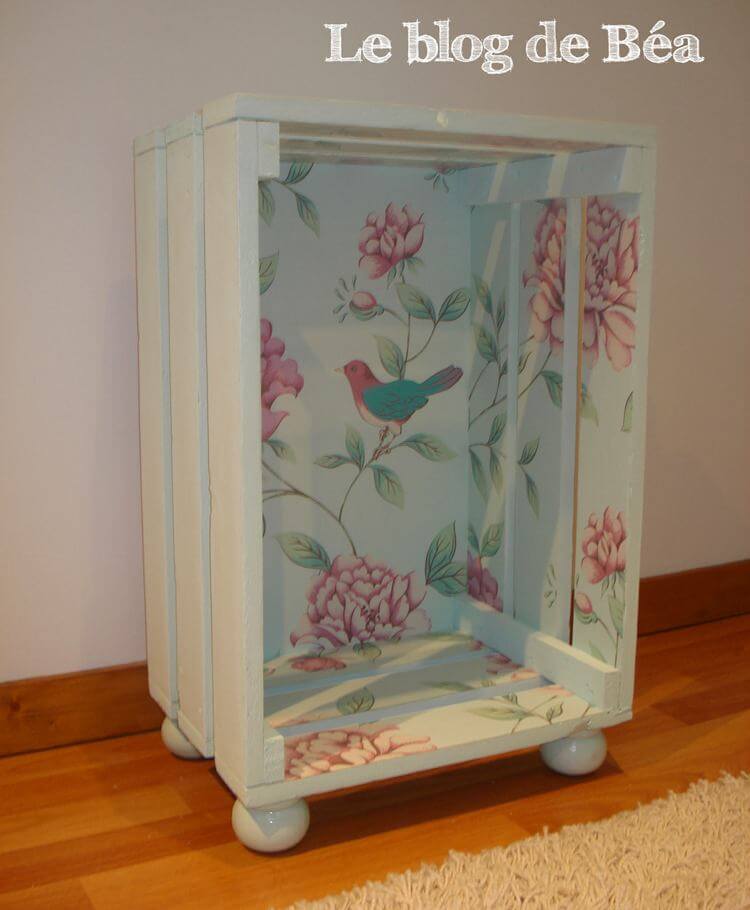 The table is crafted beautifully using a scratch wooden crate and its interior is decoupage. If French country deco is more of your taste, the table is an excellent use of the beautiful scraps of floral wallpaper that are not big enough to be used, but too gorgeous to be discarded.
5. The Ultimate Upcycle: Wood Crate Desk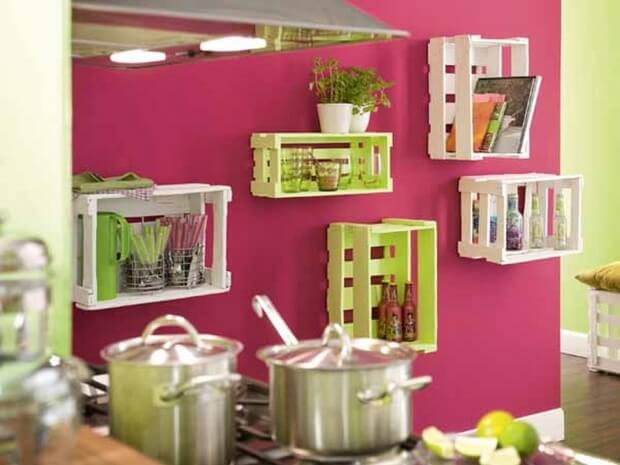 Featured in this simple yet sturdy desk are metal brackets that give it a decorative touch. The ideal crates for the project can be found at architectural salvage fields, flea markets, and antique shops. More worn crates provide greater uniqueness and distinctiveness to the project.
6. From Crates to Console Table
The rolling shelf is the perfect modern practicality and cottage charm combination. Designed with caster wheels, the organizational table may be moved from place to place easily. It may be used in your foyer for hats, snow boots, mittens, and scarves storage over the chilly winter months.
It may then be switched to a summer playroom for beach towels and sand toys.
7. Stool having a Storage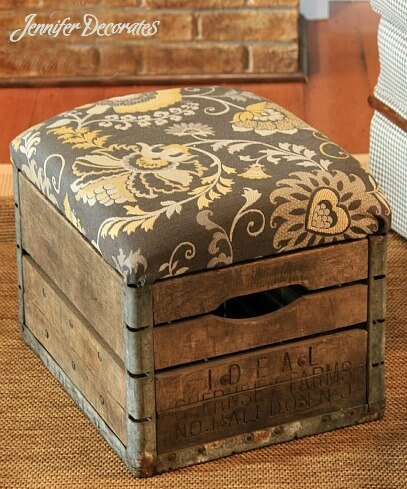 This specific project requires a particular crate. You might need to spend some time searching for the particular, genuine wooden box at the yard sale or flea market. The box should have a small patina.
The complete upholstered ottoman however is a piece-wise cake to assemble. With step-by-step instructions, you can have the stool ready quickly. Only square plywood is required for the stool base, batting, and an upholstery fabric remnant.
8. DIY Colorful Mud Room Cubbies
The decorative wooden stacked storage boxes give the ideal, space-efficient organization method for high traffic rooms and cramped quarters. The color scheme is important in that the wooden crates tie the room palette together and also provide functionality. Your loved throw rug, your home's predominant palette, or photo frames can be used in coordinating your shelves.
9. Creative Kid's Car Collection Storage
This idea for a wooden crate is clever and the ideal way of putting them to good use as your jewelry, keys, or other hanging things get organized. The crate hack can be styled using your discerning eye for the antique pieces of metal.
10. Inexpensive and Stylish Side Table
The copper legs appearance may fool you which provides the design with an industrial look complementing décor from frilly French country to modern minimalist midcentury. Instead, the table is however constructed using dowels stained using a faux finish. The unique table can be put easily beside a velvet accent seat, or a masculine leather-made sofa.
11. DIY Toy Box on Casters
The rolling box is ideal for equipment, toys, and supplies and may be customized with your preferred choice of stencil style. There are many ways of making the practical piece seem even more creative ranging from stars, scrollwork, or even flowers. The wooden handmade crate is ultra-sturdy and the pulls and wheels finish makes it easily portable.
12. Durable DIY Pet Bed
Only vinegar and steel wool are necessary to create new boards an antiqued, vintage look rivaling any furniture from Pottery Barn. The lettering of the freezer paper hack can be followed to provide the bed with an authentic look of a packing crate.
13. Wood Crate Stacked Entryway Shelves
The trick of this concept is the harmony created through the use of one calming white for every piece. All neutral colors can accomplish a harmonious look similar to any you would imagine in a pale blue, distressed greige, or dove gray.
This storage box combination is so easy to assemble from finds from thrift shops. A couple of metal brackets and spray paint is all that it takes to have that messy corner renovated and bring tranquility to the doorway.
14. DIY Cabinet with Sliding Crate Drawers
Come up with your sliding cabinet from the crate by following the procedure. Your wooden country storage boxes' smooth sliding is maintained by the metal grooves. Use a stain or antiquing medium, or maintain a natural finish to reveal the natural charm and wood grain.
15. Use Crates to Expand Your Bathroom Shelves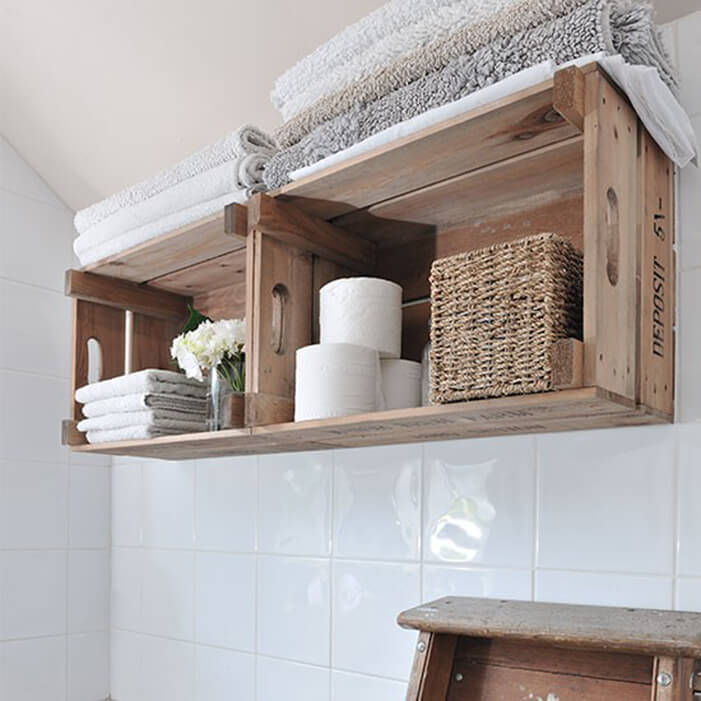 Interest and warmth are brought to a dull looking bathroom using this floating crate made of wood. They also maintain the organization of your rugs and towels. A drill, screws, and stud finder are all you need to upscale the cleaning areas to shabby chic from boring.
16. Tabletop DIY Wood Crate Projects
This tutorial helps you build a wooden storage box using free pallets, designing them into wooden crates, and offering them a vintage, and authentic look. The boxes can be finished off by simply rubbing wax from aromatic beeswax. Stains from noxious chemicals are avoided in this project.
17. Customized and Functional Crate
Dress up a crate the same size as an oddball using a custom stencil and fix it hanging along the pathway as a key rack. The creation could also be adorned with the family motto, your monogram, or a pet. Vintage hardware that is mismatched could also be used to dress it giving it a shabby chic look.
18. From Wood crate to Rustic Nightstand
The nightstand is unpretentious and ideal for complementing your guest bedroom. The project is ultra-thrifty and takes only one hour to assemble and stain. Guests will also be provided with a large storage room.
19. Easy DIY personalized Toy Crates
This toy crate rolls and has been personalized to provide toddlers with fun means of going cruising with the toys they enjoy playing with. Perfection is not necessary here. The happy and smiley face together with the polka dots makes it look adorable in a nursery set up.
20. Repurposing Crates into Wine Racks
The simple wine rack created from some leftover boards and the wooden crate gives your kitchen a European flair. With a classic gray finish of stained Minwax, you will realize the project only takes a couple of minutes to create. Carpentry work only involves making a couple of crossover board cuts.
21. Re-imagine Bedroom Storage with Crates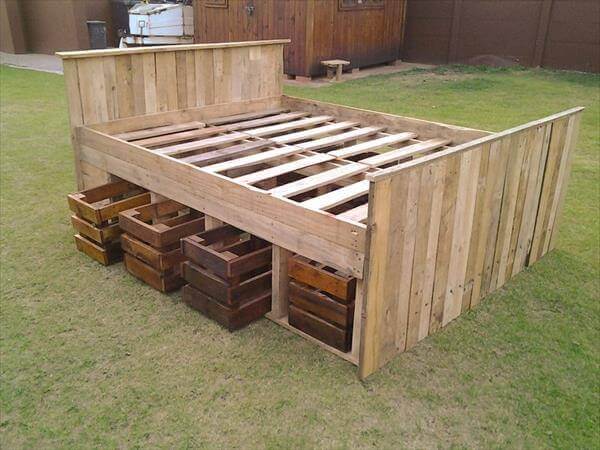 Simply designed from a headboard of bead board and rough sawn boards, this bed exhibits the ultimate wooden storage boxes and salvaged wood creative use. The simple look can be completed by selecting natural fabrics such as cotton and linen.
22. Decorative Storage for a Child's Room
These storage compartments are kid-friendly and color-coded to ensure even little children can recognize their space. The shelving unit is simple since paint is only required by the insides. A small painter's tape ensures your project gets the professional-looking crisp lines.
23. DIY Side Table on Casters
To provide the correct scale for the table, you will be required to have the architectural salvage spots scoured for larger crates. Just simple cleaning could bring the rustic antique crate character back to life. Castors ensure changing out the little side table is easy. It matches well with either country or modern sofa giving your home the rustic charm.
24. Simple and Unexpected Book Storage
The floating bookshelf is ideal for little children that love books but are unable to have them lined up on the shelf. What you need to do is cut in half a wooden crate proportioning it perfectly for the thin books. A matching plywood piece at the bottom ensures nothing falls through and retains the milk crate cutesy look.
25. Built-ins Re-envisioned
One will be required to invest in a painting rig or spray paint for the finished look. A couple of nails fix the stacked crates to your walls. This means there is close to zero construction skills needed to finish the awesome bedroom makeover. This look can be finished to fit your particular decorating theme, be it cottage style or nautical.
Conclusion
Are you prepared to get started and experiment with wooden crates? You will realize rustic, unfinished wood features prominently among the hottest trends in décor at the moment. Regardless of your preference, be it French country, transitional, or styles of industrial decoration, this above list is comprehensive.
The projects make use of wooden crates offering you excellent accessories and furniture. Recycling of discarded materials and up-cycling is also environmentally friendly and cost-efficient. Give it a try.