A changing table or changing pad is an elevated platform that allows for easy changing of a baby's diapers. The right kind of changing table should put you at a comfortable height for all things diaper related, whilst also having compartments to hold the necessary supplies at close reach to you and in an organized manner.
While some may argue that a changing table is not an absolute necessity, it makes the chore of diaper changes less cumbersome, also reducing the chances of issues due to poor posture from changing diapers in awkward positions.
Whatever your reason for wanting a changing table, you can be sure that this list of DIY changing tables will meet your needs. These DIY changing tables are not just creative and user friendly, they are cheap and easy to put together.
A DIY changing table is also a great idea as you won't have to worry about how much storage space it has or if the platform has the appropriate barriers, since it's you making it to your taste.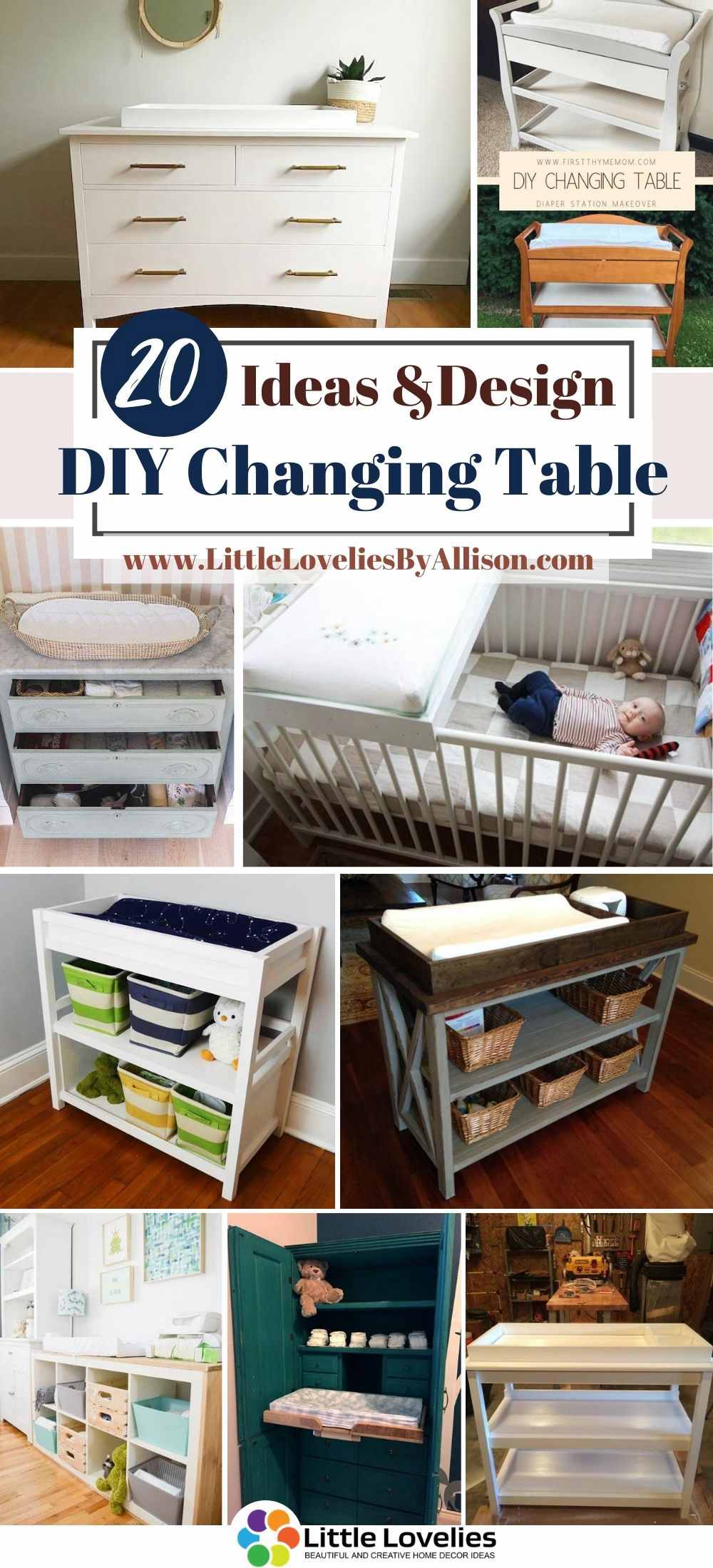 1. DIY Baby Changing Table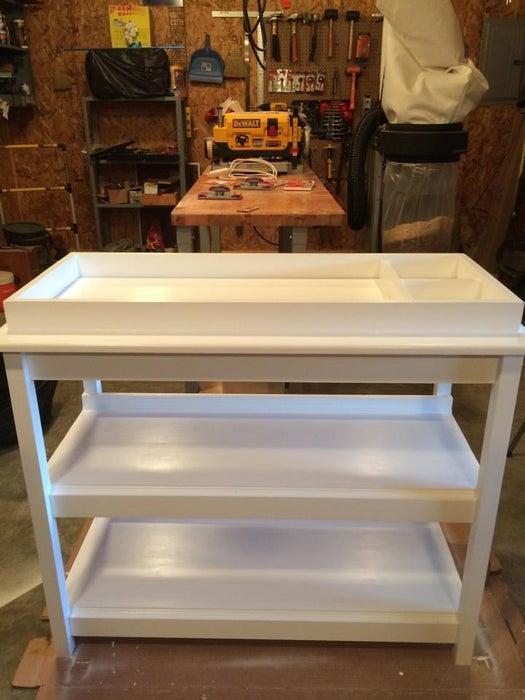 Built to house a standard sized changing pad, this DIY baby changing table is made to have a removable top that can be replaced with a solid top to act as a shelf when the little one's finally seating on a toilet seat. Your choice of lumber will depend on the size of the table you want to make and once that is out of the way, 4 easy steps will get you to your finished work.
2. Hideaway Baby Changing Table DIY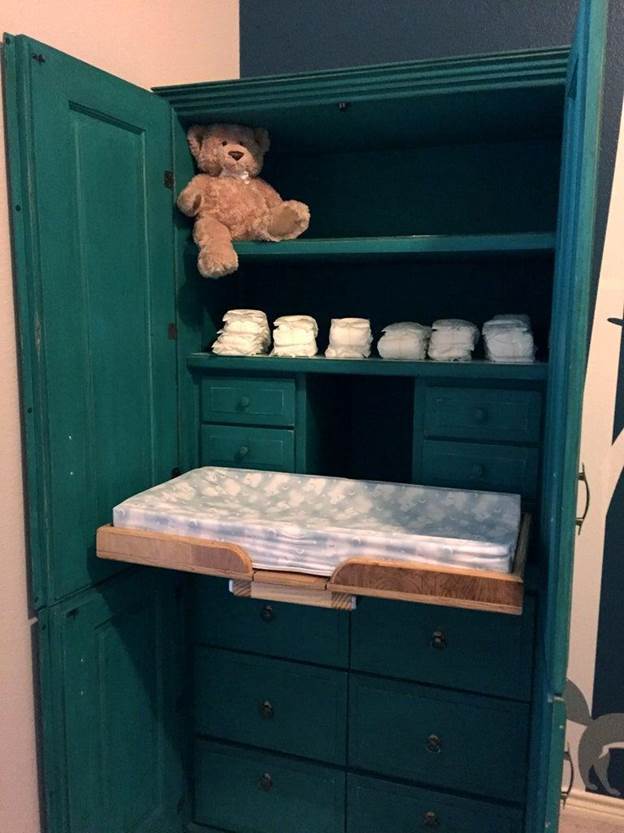 This hideaway baby changing table DIY is drawn out to be removable, and while it may not be immediately necessary, it is a nice option to have. Draw it out on your paper before you start. The making process of this DIY changing table will take some time to complete, but it would be worth it in the end.
3. Rustic X Changing Table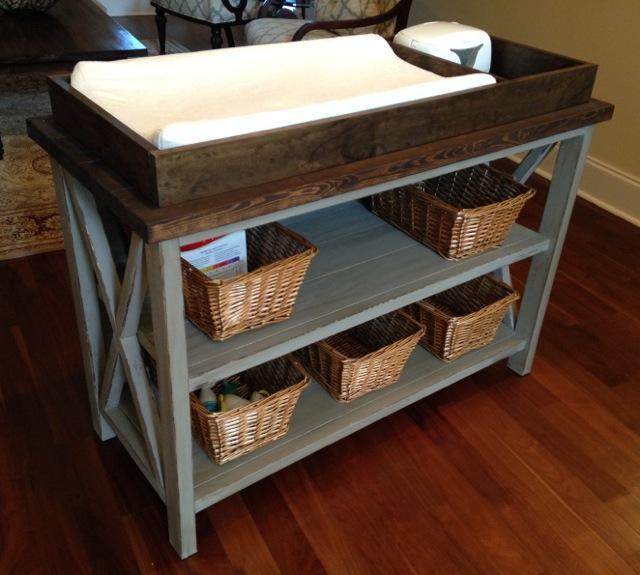 This beautiful DIY changing table spots a lovely X-shaped addition on the frames; truly a rustic X DIY changing table. It can double as a bunk bed for the little ones. The tools you'll be needing include a measuring tape, safety glasses, and gloves, plywood, circular saw, drill, Kreg jig, pencils, etc.
4. DIY Changing Table With Storage
Learn how to make a DIY table with storage through this tutorial. The first thing to build here is the frame which holds everything together; you must have decided on the number of drawers to install before time. The finished changing table is a rustic farmhouse design that can serve as a console table when your babies are past the diaper changing stage; cool right?
5. DIY Modern Changing Table
This DIY modern changing table is minimalistic in nature, one of the times when less is definitely more! It doubles as a console table, with compartments that can easily be utilized to give aesthetic value. Be sure to have all your wood work tools in good condition, choose the best lumber for your work and follow the tutorial video till the end.
6. DIY Dresser Table Build
An absolute favourite on this list of DIYs, this dresser table comes with a removable tray/platform which makes it easier for multipurpose use. It is also a beauty that rivals many store-bought dresser tables, you can simply customize the colour and drawer knobs to suit your interior decor and personal taste. Building this DIY dresser table requires a lot of steps and materials but you'll be glad you did it in the end.
7. Modern Nursery Changing Table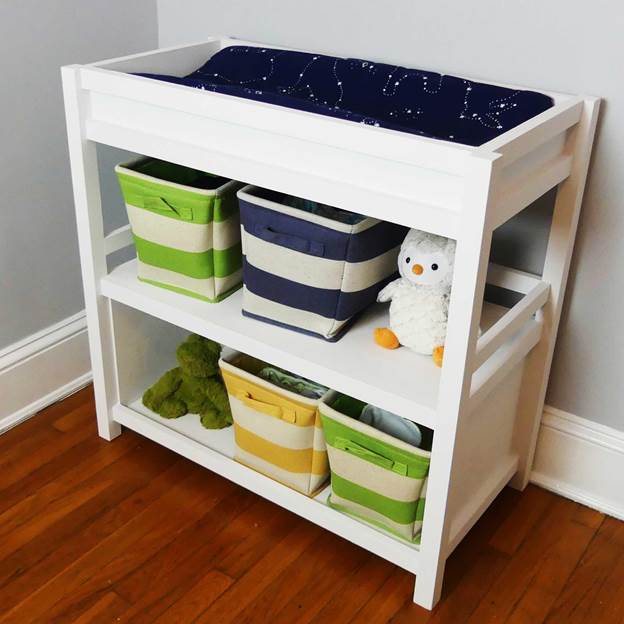 A modern nursery changing table that fits perfectly into any nursery at all, regardless of the style or time. This DIY changing table is easy to build and straightforward, requiring just a few tools to work the wood. The tools you'll need are an 18 gauge brad nailer, drill or driver kit, miter saw, table saw, and a random orbit sander or sandpaper.
It isn't a time-consuming build and will take less than 24hours if you have all your materials on the ground before you begin. Take note in your finishing, that whatever products you are using (whether paint or stain) is safe for a baby and toddlers who are bound to put their mouths on anything and everything!
8. DIY Repurposed Changing Table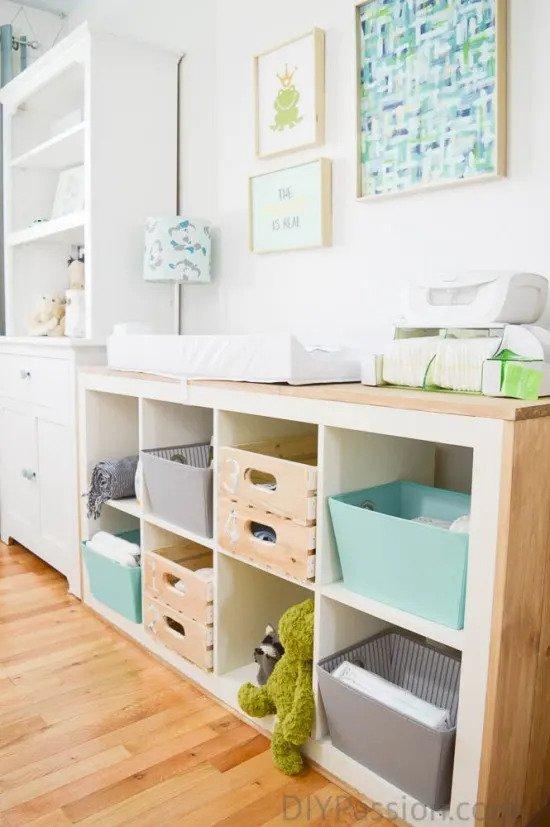 This DIY repurposed changing table upgrades an IKEA bookshelf to a changing table. You can use this to repurpose any pieces around your house that would fit. It requires a bit of woodwork but nothing you can't handle & the result is a perfectly cheap and effective DIY changing table.
9. DIY Dresser To Changing Table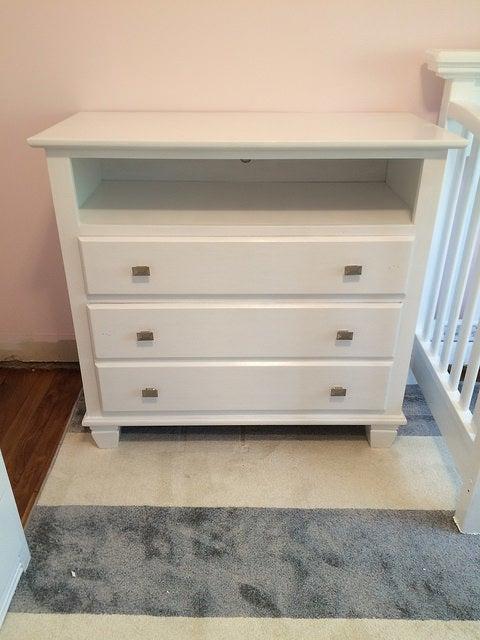 Got an old dresser lying around and a baby on the way? Upgrade your dresser to a changing table using this DIY and save yourself some money on the baby spending. The dresser used in this tutorial is one that has a media stand and dresser with two shelves, you can work around the instructions used in the DIY to fit your own dresser if it's not exactly the same.
10. IKEA Changing Table Hack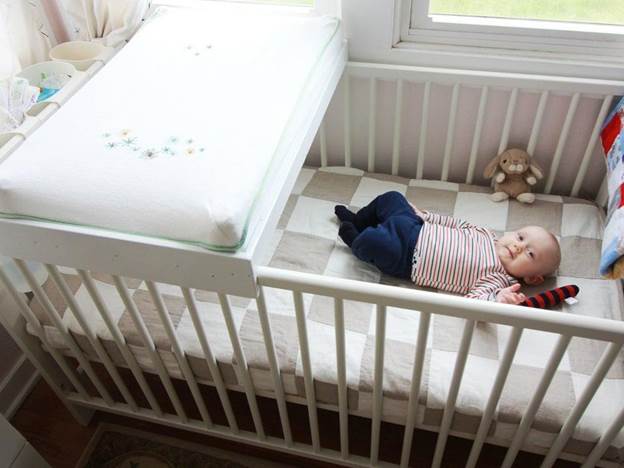 Do you need a perfect solution to changing your little one's diapers but do not have the space for a changing table? This IKEA changing table hack provides a perfect DIY changing pad or little box that fits perfectly on top of a crib. Of course, you will have to customize your dimensions to fit the size of your crib and the rest is history.
11. DIY Changing Table
A short video on how to make a DIY changing table that is easy to follow and understand; more of a behind the scenes than a n instructional video. It's a good way to get familiar with what the project may entail before you start.
12. Easiest Changing Table DIY
Truly the easiest changing table DIY, this DIY changing table combines the idea of dresser and changing table into one, saving space and serving efficiently. The setup includes a nappy bin to ease diaper disposal and you can find tips on how to maintain it in the description section.
13. DIY Changing Table Makeover
This DIY changing table makeover is perfect for revamping old or yard sales changing tables into something spectacular. All you need for this is your paint or stain of choice, sandpaper, and drawer handles if you intend to change the existing ones and tons of creativity.
14. How To Make A Changing Table
A DIY changing table made from a preexisting one. Suitable for old changing tables that need a face lift or just to change your decor if you're bored with what you have. The tutor in this video works with a $15 changing table she got from Craigslist and does over with some paint!
15. DIY Changing Table Dresser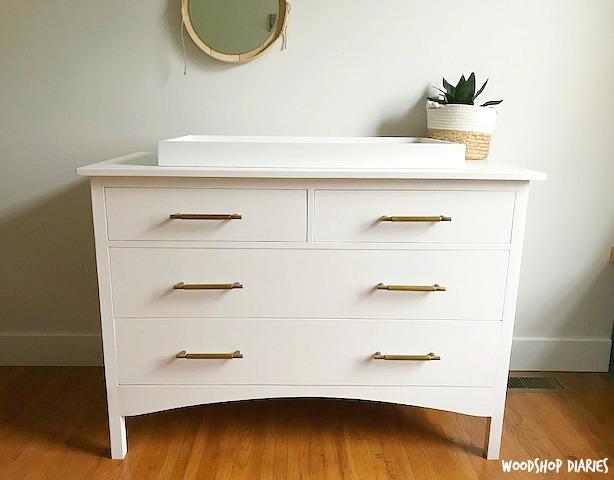 Cheap, simple to make, and beautiful addition to any household, make this DIY changing table dresser and have it function for you in more than one way. It is made from a preexisting one which is primed and painted with any color of your choice.
16. DIY Nursery Changing Table Station
This magnificent DIY nursery changing table station comes with the extra thrill of hidden storage. This is ideal if you have a changing table already but do not want to build shelves above it to hold diaper emergency supplies. You need your woodwork tools and some pine board to work on this one.
17. How To Make A Modern Dresser
Tools required for this DIY modern dresser and changing table include a nailer, bandsaw, random orbit sander, parallel clamps, dill press, drawer slide jig, block plane and a couple more. Experience with wood work will go a long way in learning how to make this modern dresser.
18. DIY Baby Changing Station
A DIY baby changing station is more than just a place for changing soiled diapers, the right changing station enhances the aesthetics of the space it's in, which is exactly what you get with this DIY changing table.
19. How To Build A Baby Changing Table
This DIY baby changing table is built in a mid-century modern style to match the theme for the nursery it was going to be used in. it is magnificent enough to fit anywhere, regardless of if your nursery is mid-century themed or not.
20. DIY Changing Table Makeover
A DIY changing table makeover tutorial to turn the old into something better than brand new! You can turn around any hand-me-down changing tables or dresser with this process in just a few steps, and even apply the knowledge gained to other household furniture that may need a makeover. It's also perfect if you got a changing table whose color scheme doesn't match with your décor and needs a little bit of work.