A baby gate is a protective barrier that stops toddlers and babies from accessing specific areas in your home where they might be in danger. You can save yourself the whole stress by asking a professional to make a DIY baby gate for you. However, it feels better when you make one yourself.
In this article, I have put together a list of 20 DIY baby gate projects for you to choose from. All you have to do is pick one that would fit well in your home and start building.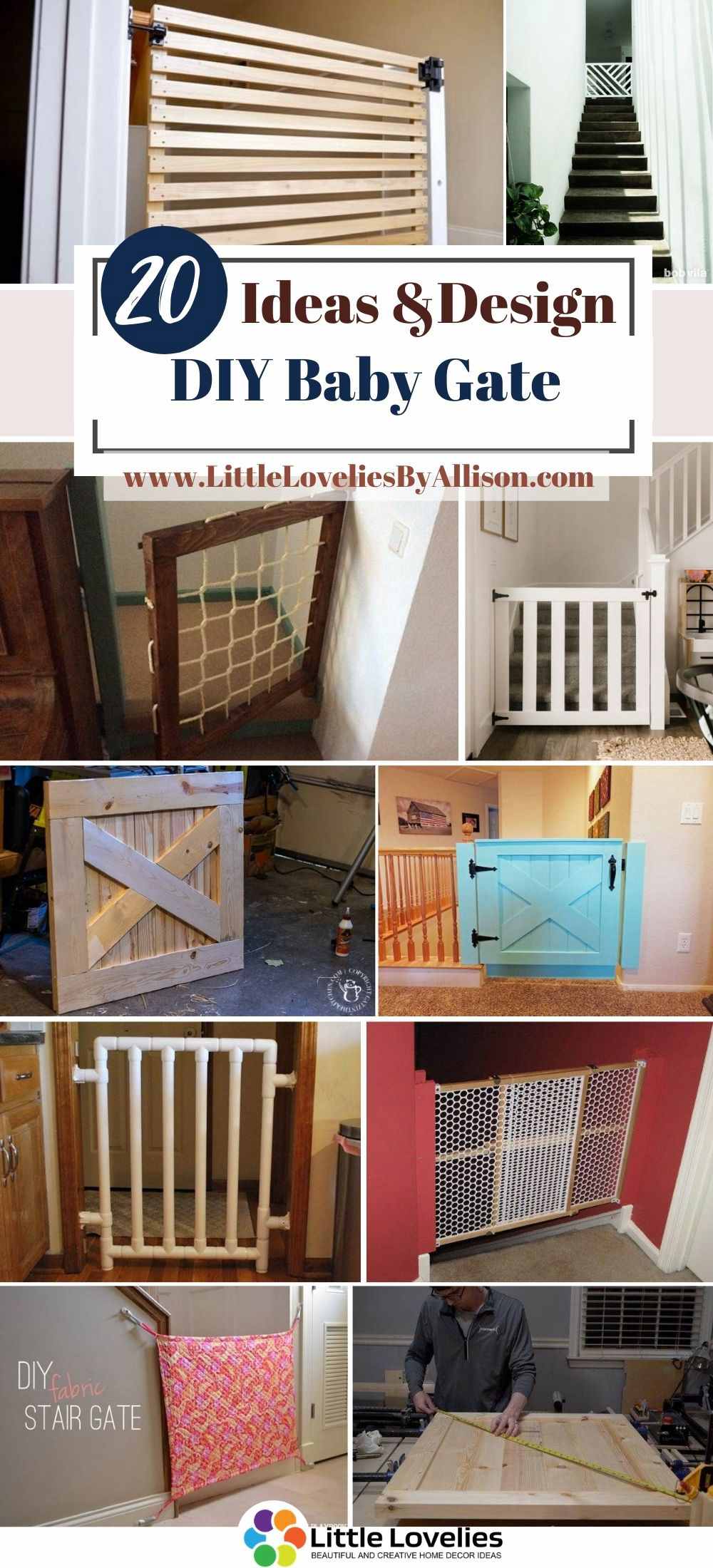 1. DIY Baby Gate
The first thing you need to do is to determine how big you want the gate to be. You also need to consider which way you want the gate to swing, the height, and the length. After you have penned down your dimensions get to work by cutting the top and bottom parts of the gate.
You need a tape measure, a table saw, a pencil to make markings, wood, and a few other materials. To get a good finish, use Minwax dark walnut stain on the wooden gate. This project is super easy and quick to build.
2. How To Build A Modern Baby Gate
The creator first made a mounting block to the stair railing with hinges. This was to make the gate in such a way that it won't interfere with the stair railing. The materials you'll need for this project are some screws, wood glue, drywall anchor, clear and white spray lacquer, latch, and a few other items.
The price is great, and it's effective and durable. It is also one of the best modern simple baby gates you could ever make by yourself.
3. DIY Baby Gate Without Drilling Wall
This can fit anywhere in your home, and it doesn't require you drilling any holes into your wall. This is an ideal baby gate if you want to restrict your baby movement into certain places in your home.
A few materials to start with are PVC poor coupling, PVC cement solution, height-adjustable furniture legs, T-joints, and a few more other items. You're going to need a lot of PVC pipe to get the length of the gate you want.
4. DIY Strong Baby Gate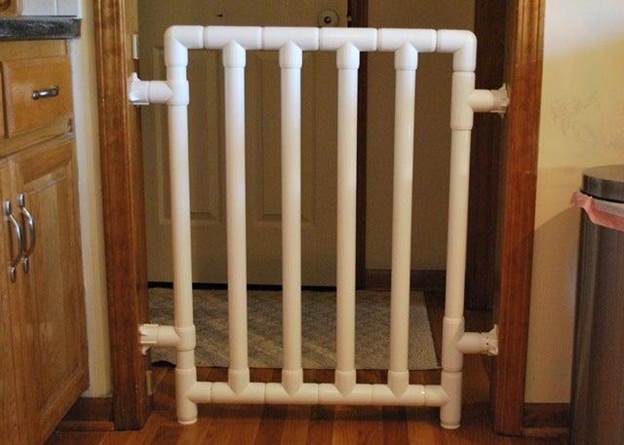 Here's a super-strong baby gate that you can build with ease in your spare time. All you need are a few essential materials. These are long hitch pins, PVC cement, wood screws, PVC pipes elbow, PVC Tee sockets, and much more.
The next step after getting your materials ready is to design the gate, you can do this with software (Google SketchUp), or draw something on paper. Then, cut your PVC pipes into the required size and assemble all the pieces to form your strong baby gate.
5. DIY Barn Door Baby Gate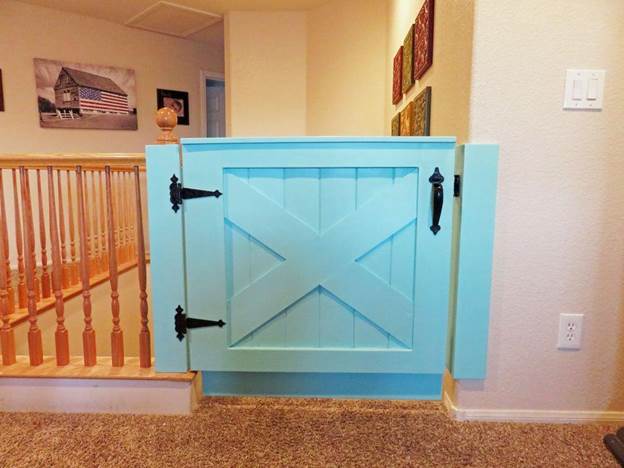 To start this project, you need to measure the frame using a tape measure, use floating mortise, and tenon joints to join the frame. You will use a router table to cut the mortise to make the job a lot easier. The entire project is seamlessly quick and easy. After the creation is done, you can paint it with any wood paint of your choice to add beauty to your home. Check the link to see a few other things that you need to get this job done correctly.
6. DIY Baby Gate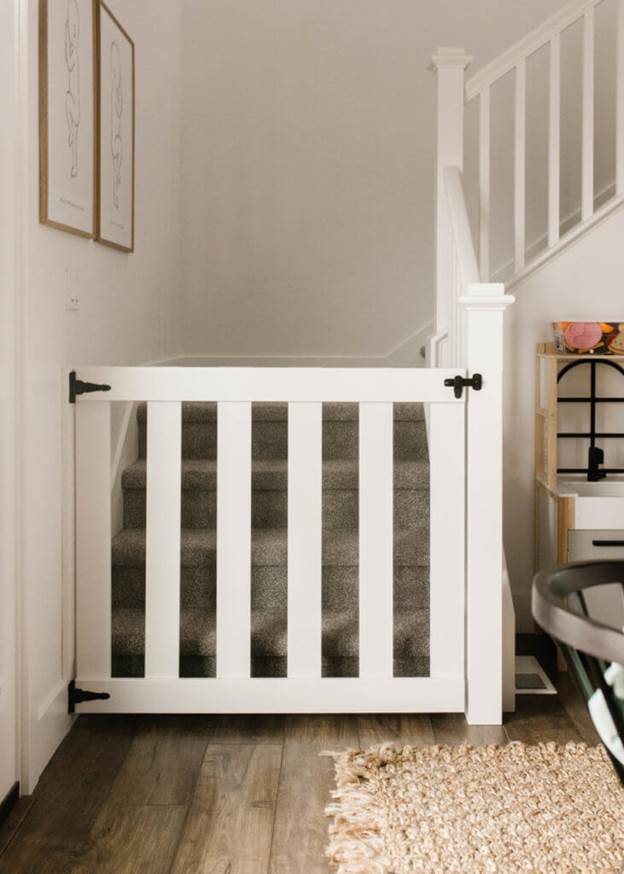 With just $40 you can make this with ease. It's cheap, durable, and doable. Here are a few things you're going to need for this project. 1x4 inch wood, latch, hinges, wood glue, drywall anchors, paint, screws, and many more essential items.
With just 7 basic simple steps you will make an elegant and simple baby gate.
7. Modern Baby Gate Build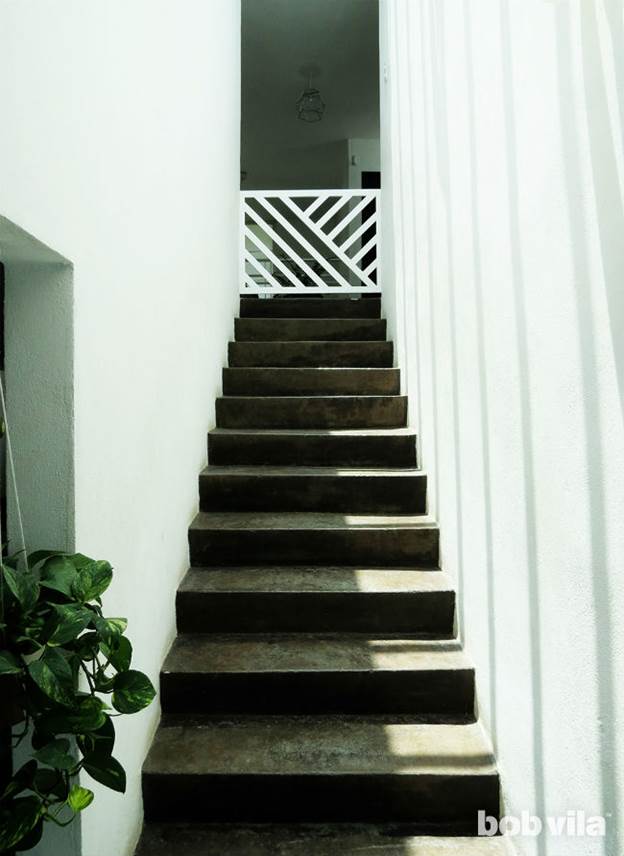 This baby gate is very necessary if you have stairs as long as the one in the image. The store is easy and simple to follow. All you need are the right tools and materials to work with. You will need five 8' long pieces of 1x2 lumber wood, handsaw, sandpaper, wood glue, wood filler, non-toxic acrylic paint, and much more.
The concept is classy and simple, the entire making process Is easy to build for someone with less woodworking skills.
8. How To Build A Baby Gate
Getting a baby gate from your favorite online store might be too expensive, so building one at home by yourself becomes the next best thing to do. First, you need to measure, this will allow you to have a mental and accurate picture of how your baby gate will fit into the space you want.
This baby gate guide works for normal passage or hallways, not stairs. You can build this to stop your baby from entering the kitchen without you noticing. The rest of the steps are easy to follow. Check the guide to know the supplies needed.
9. DIY Cheap Baby Gate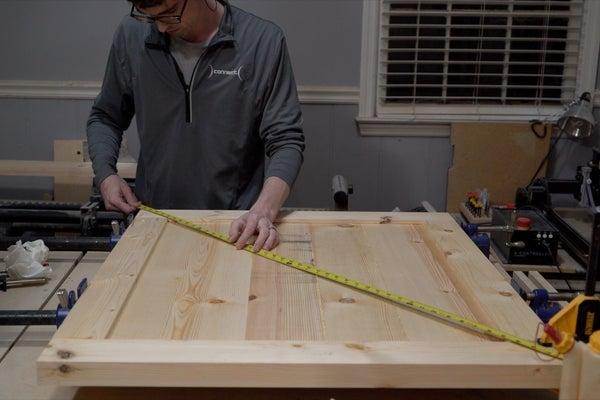 Getting the right dimensions goes a long way to building this baby gate at home. Although you won't have to spend much money, this project is super cheap and easy. Just 8 simple steps and the entire baby gate is ready. The materials are cheap and easy to get at your favorite hardware store.
10. DIY Fabric Baby Gate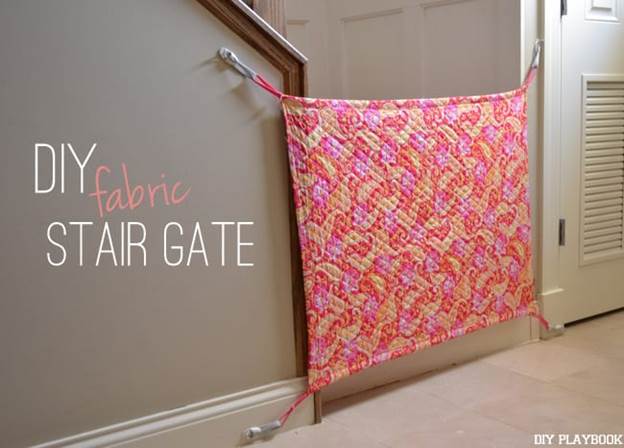 Here is an amazing baby gate made of fabric. If you don't want to bother yourself with cutting wood or joining pipes, you can easily get fabric and make a simple and beautiful baby gate. You don't have to be a seamstress to make this. The materials you will use are easy to find and quite cheap to purchase. The entire process is effortlessly easy.
11. DIY Sliding Baby Gate
Use a table saw to cut and trim the wood you will use for the baby gate. This is a simple baby gate that slides open and closes which makes it easy for you and hard for your baby to pass through. After building the gate, screw the frame-block to the wall and attach the baby gate.
12. How To Build A Cheap Baby Gate
To build this baby gate to be formidable, you need standard woodworking equipment. Although, you can get this material for a cheap price, check the video tutorial to see where you can get it cheaper. First off, you need to cut the lumber wood with a table saw into the required shape. The door will be like a board, with no gap where you can see through. The rear of the steps is
easy to follow.
13. DIY Magnetic Baby Gate
Here's an elegant magnetic baby gate that you can build from scratch. Your kid might hate this one, every time he/she tries to open it, it'll close back. The making process is very easy to follow.
14. $25 Baby Gate
With just $25 you can make this baby gate at home to restrict your baby's movements drastically. It's cheap and super easy to build. The first best step to take is to push the design on paper, write down all the dimensions and tools needed to build this baby gate. You need wood glue, a drill, a nail gun, and a few other items.
15. DIY Baby Gate With Great Design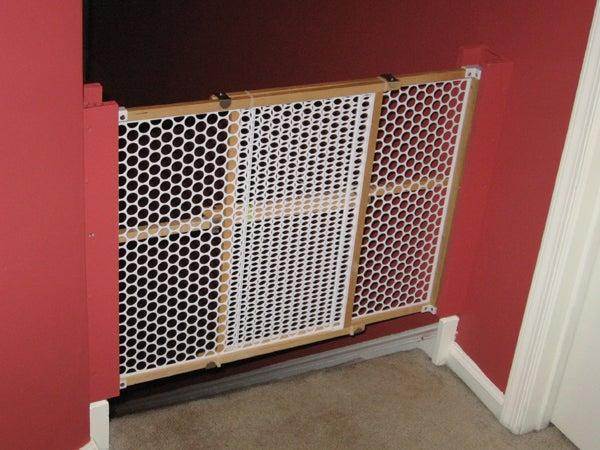 You need to have a standard wooden or plastic baby gate at hand then, wood screws, and other essentials items to make your baby gate with a great design to add beauty to your home. The tools you need are wire cutters, screwdriver, tape measure, saw, drill, and a few others.
16. DIY Farmhouse Baby Gate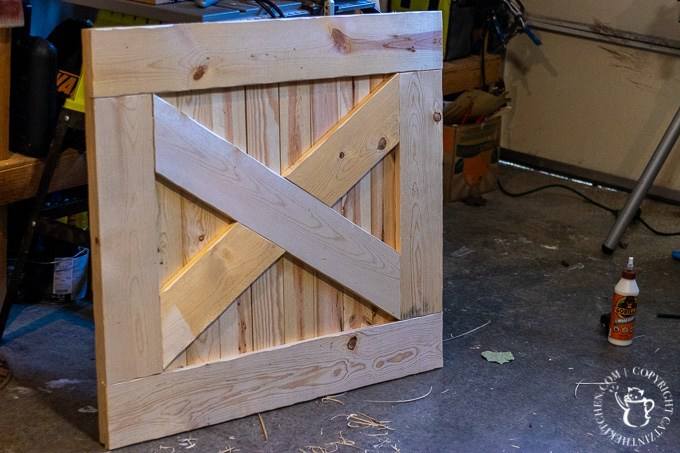 If you live in a farmhouse and you need a strong, durable, and quality baby gate, then this guide will teach you how to make one from scratch. The creator made it look seamlessly easy and you can build it with just a few materials at your disposal.
17. How To Build A Modern Baby Gate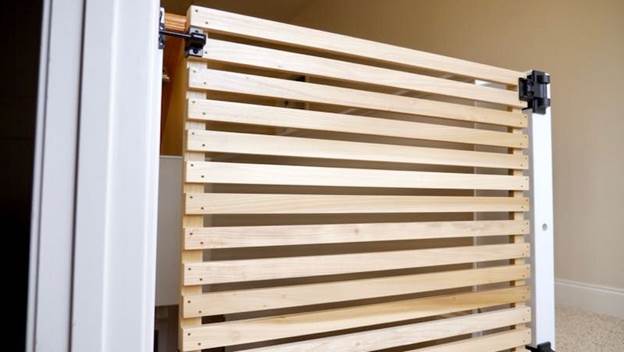 The start-up is quick and easy, you first need to measure to confirm the size of the gate and then start working in the gate immediately. The baby gate is made up of wood. After you're done with the gate. You then need to attach it to the railing of the stairs using gate hinges. The one used in them is quite strong and thick. Check the guide to get the precise dimensions for the baby gate.
18. DIY PVC Baby Gate
Make a safety gate with PVC pipe, the pipes are easy to find and also quite cheap. You need PVC pipes, PVC pipe cement, PVC elbow, PVC tee, two hinges, a lock, a saw, and a few other essential tools for making this PVC baby gate.
19. Parallelogram Baby Gate From Old Crib
Here is a simple foldable baby gate that is made from wood and can be easily folded to fit into the wall of the other side of the stairs and add beauty to the staircase. If you have an old baby crib, you can take out one part of it to make your baby gate. The one used by the creator has a parallelogram shape and is very strong, durable, and easy to convert into a baby gate.
20. DIY Ship Style Baby Gate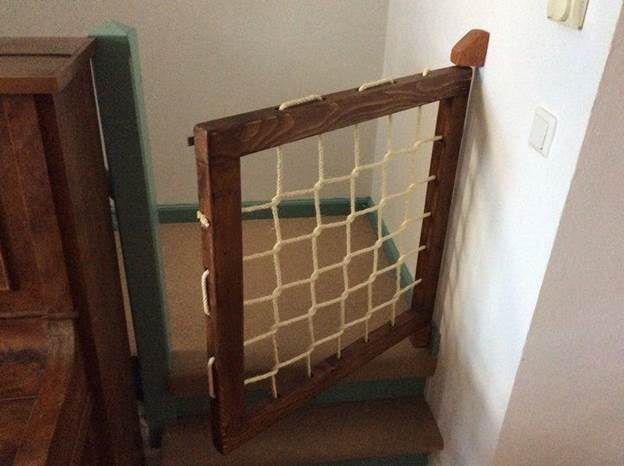 This can work in areas of your house that you want your baby to stay away from, not necessarily a staircase. There are no photos to give a detailed explanation of the making process, this is because the entire project is super easy to build. The tools and materials you need are easy to find at any hardware store near you.