A kids' desk while important for homeschooling has become a must-have for every household with kids thanks to the COVID-19 pandemic and all the remote learning that has come to play. Having a kid's desk helps provide a more school-like environment and aids concentration. It also provides a space for the little one's playtime without crowding into your own workspace.
As far as DIYs go, this list of DIY kids desk provides you with resources and guidance on how to make your own kids' desk from home. You can make it even more fun by involving the kids in sourcing for materials, creating an avenue to not just make the perfect DIY kids desk, but also a bonding moment between you and the kids.
To get started, go through the list, find the simple DIY kids desk of your choice and follow the instructions!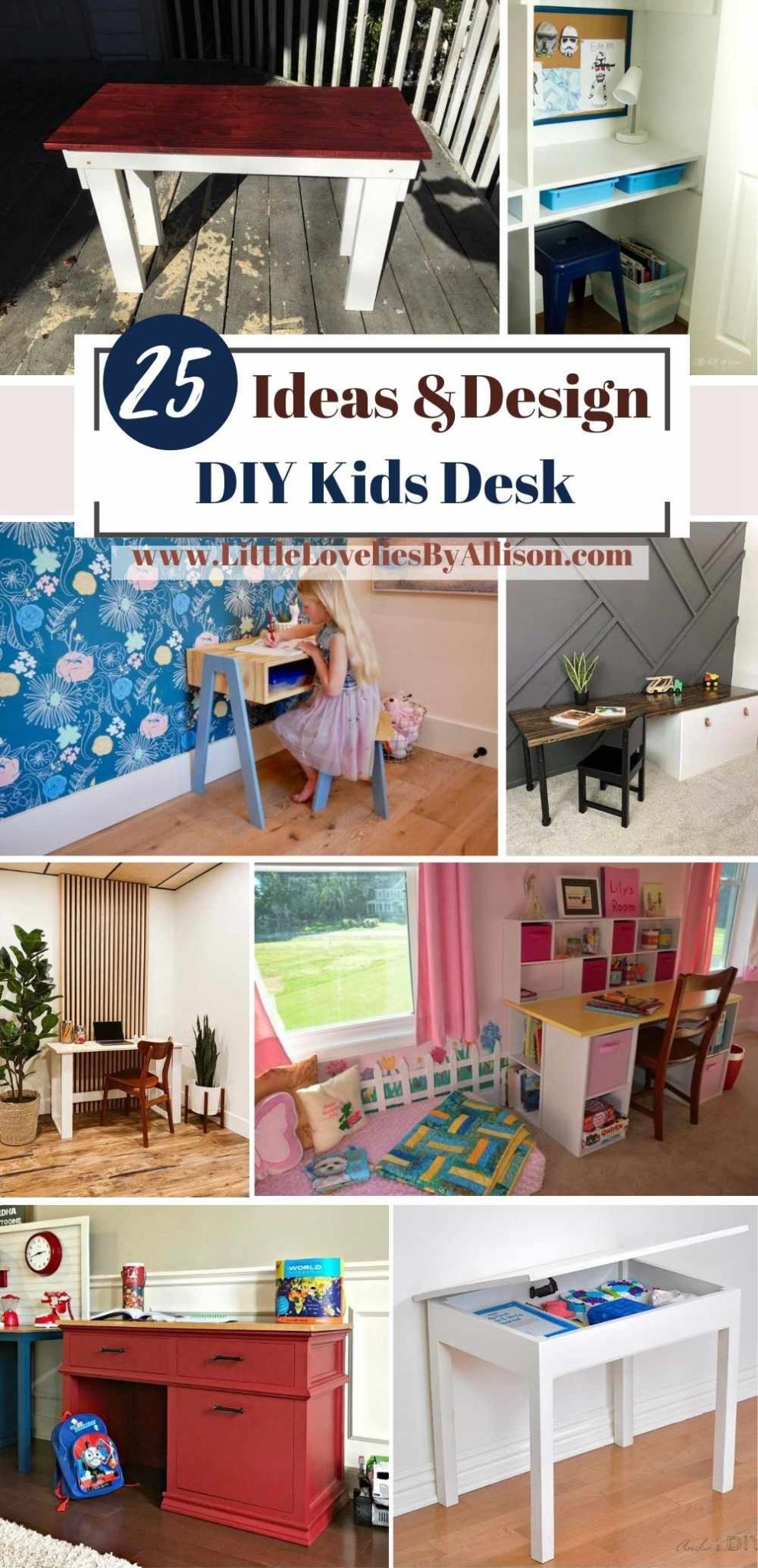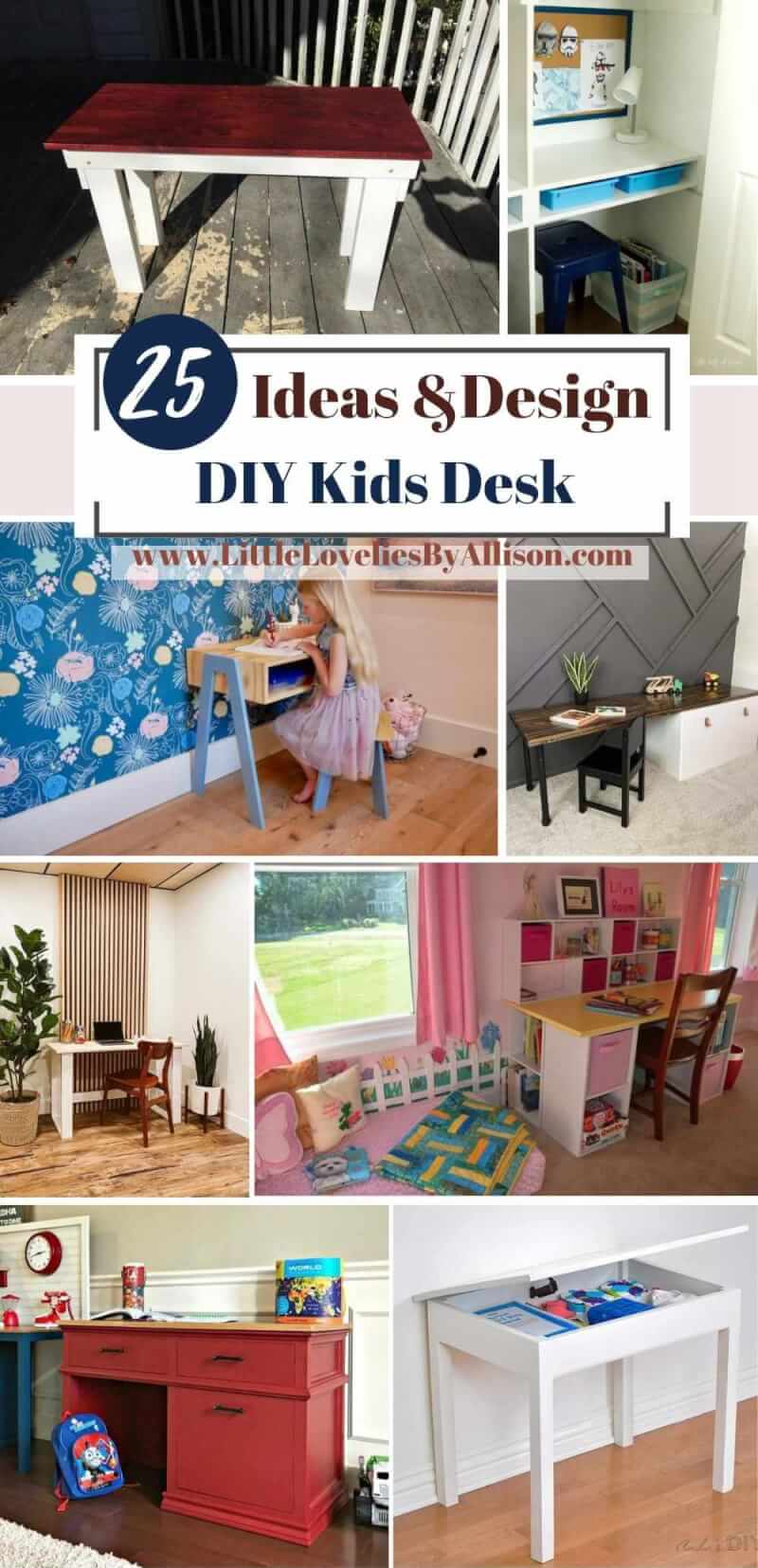 1. DIY Kids School Desk
This simple DIY kids school desk is simple, cheap, and effective to say the least. It is crafted out of ¼ sheet of ½ inch plywood, as well as a single piece of 2x4. This tutorial is a favorite as it shows how to make two different versions of a kid's desk from the aforementioned materials. The first version is a basic model using just screws and glue, then there is the more aesthetically pleasing joinery version which makes use of half-laps and notches.
2. DIY Kids Desk
A DIY kids desk tutorial for those with woodwork experience, you'll be doing a lot of sawing and the like so be sure to have all your tools in place and proper working condition. Some of what you'll need include a track saw, the metal chop saw, table saw, drill & driver, chisels, ear protection, nailer, welder, etc. All the dimensions for the desk are made available via a link in the description section underneath the tutorial video.
3. How To Make A Kids Desk
Pocket holes and a Kreg jig are used in this tutorial on how to make a kids desk that has a width of 50", depth of 20" and height of 30" (find the dimensions for the desk listed in the description box) with two (2) side storage compartments. Plywood is the wood of choice and in choosing your primer and paint, whether water or oil base, be sure to use the same base paint to avoid bleed through.
4. DIY Kids Table With Storage
Perfect for conserving space yet getting the job done, this DIY kid's table with storage space comes with a hidden storage compartment beneath the tabletop! This design is a smart way to declutter the tabletop without sacrificing space for a bigger desk with side storage. All you need are your woodwork tools, lumber, and resolve to get the job done!
5. DIY Kids Desk
This DIY kids desk suitable for a child of about 5-10 years of age costs between $25-$50 to make, depending on how much of the required materials you already have on the ground. Well-detailed plans with diagrams are given by the tutor, making it easy for even a beginner to follow even though the task is listed as requiring an intermediate woodwork skill level.
6. DIY Desk For Kids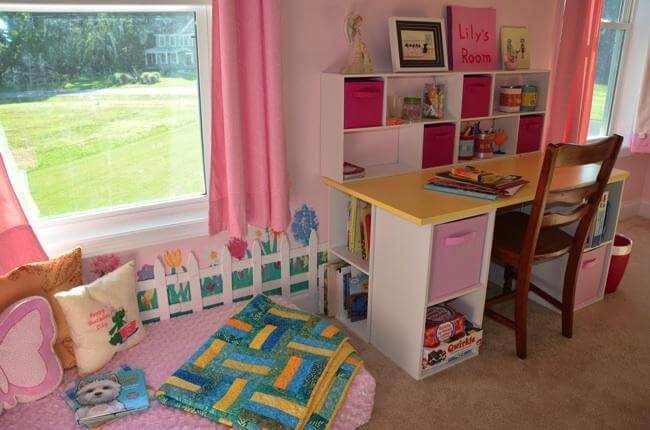 One free weekend and you can make this DIY desk for kids that provides ample storage space for the kid with lots of toys and other supplies that might need to be kept close at hand. It requires little skill to set up, using pre-made storage cubes/boxes and setting them up with a board attached to the top for a tabletop. Pretty easy right?
7. DIY $20 Students Desk
A $20 DIY students' desk sounds like a dream but this DIY students desk for kids tutorial shows you just how to make it happen. The whole assembling process should take about an hour and the materials required to include your lumber of choice (preferably plywood), screws, wood glue, paint of your choice, and stickers if you're feeling extra creative!
8. DIY Quick Table For Kids
This DIY quick table for kids was made from scraps of wood and with lots of time to spare. You can choose to use scraps you have lying around or purchase new wood for the project. Whatever your choice, this DIY quick table for kids tutorial is perfect for those who need to make a table urgently.
9. How To Make A Kids Desk
Learn how to make a kids' desk with 3 drawers having full extension drawer slides and a hutch with extra storage. For this project, ½ inch birch plywood and 1x2 pine were used and although it was crafted for a 6-year-old's art desk, it fits into any niche including plain old homework.
10. No Cost Build Kids Desk DIY

When it comes to DIYs, cheap cannot be overemphasized! This no-cost build kids desk DIY instructable settles the problem of study space for your kid at no cost to you. It utilizes an already partitioned closet in the kid's room, clearing out the bottom shelf and decorating it into a study space.
11. DIY Simple Kids Desk
DIY simple kids desk using two premade 16"x36" wood boards for the desk's top, three 1"x8"x8" boards for the side/rear panel, and four 2"x4"x8" boards for the legs and front panel. The contrast between the white body and the red barn-colored top adds to its simple elegance, so choose your colors wisely.
12. DIY Low Budget Kids Desk
Easy DIY low-budget kids desk suitable for everyone. This DIY tutorial can be used to custom fit a desk into whatever space you have available in your home. You'll need the right size of at least 1" thick wood that fits your space, adjustable pre-made table legs, drill, and paint of your choice!
13. DIY Kids Desk With Storage
These DIY kids' desks with storage look so good you'll have a hard time convincing anyone that they aren't store-bought. The build plans are available via a link in the description section below the video and are super easy for even beginner woodworkers to follow.
14. DIY Kids Desk From Scrap
Made entirely from scraps lying around, build your own DIY kids desk from scrap following this simple tutorial. Feel free to substitute materials where you do not have the exact item but have something else which works just fine.
15. DIY Adjustable Kids Desk
A DIY adjustable kids desk is a must-have if you're looking to address the issue of your kids outgrowing their desks. If you have at least an intermediate woodworking skill level, this tutorial video is for you.
16. DIY kids Fold Up Desk
Say yes to utilizing space in your home by opting for this DIY kids fold-up desk. This is an in-wall desk with a board that you can fold up when not in use to preserve space. Consider painting or using stickers on the outer part when it's folded up to increase its aesthetic value.
17. DIY Kids Desk With Removable Seat
This DIY kids desk with a removable seat is small and sturdy, getting the job done and perfect for the little one's study time. You can further customize your own design with storage space beneath the seat.
18. DIY Wooden Kids Desk With Drawers
Sure to become your kid's favorite space, this DIY wooden kids desk with drawers is durable and classy enough to become a family heirloom. Download the build plans from the tutorial and get started.
19. DIY kids Desk
These DIY kid's desks are made from plywood and construction grade lumber and are easy to make. The instructor talks you through the process, making it easy to follow.
20. DIY Modern Kids Desk And Chair
Beautiful and classy, this DIY modern kids desk and chair is a Montessori style with the table made out of one sheet of plywood and having angled legs. Believe me, you want this!
21. DIY Desk With Drawers
Tabled legs and molding give this DIY desk with drawers a more elegant and store-bought look. All you need is your wood and woodwork tools and supplies.
22. DIY Children's Desk Plans With Storage
This DIY Wooden Kids Desk With Drawers involves a lot of steps to make but is straightforward and easy to follow. Plus, the end product makes everything worth your while!
23. DIY Kids Desk Build For Homeschooling
Learn a DIY kids desk built for homeschooling following this tutorial and make a simple study table that can transition from a kid's desk to an adult's workspace with ease.
24. How To Build A DIY Kids Desk
This tutorial teaches you how to build a DIY kids desk using a toy box, adjustable pre-made table legs, and a wooden board. You can also make a standalone table by eliminating the toy box and adding more legs.
25. DIY House Frame Kids Desk
Unique in every way, this DIY house frame kids desk is a unique kid's desk that is perfect for study as well as aesthetics. Get the plans from the description section below the tutorial video and upgrade your kid's study space.
Conclusion
That's a wrap! Make your decision on which DIY kids desk you want to build and get on with the making process. Feel free to ask any questions or leave contributions regarding this article. Thanks for stopping by.