Here is a simple DIY that contains steps on how to build a hammock chair with ease. It's not just about building the hammock chairs but building them effortlessly and still maintaining the strength and durability that the chair is meant to have.
This article will show you 24 DIY hammock chair projects that you can make for outdoor or indoor use. Sit back, relax and enjoy your read.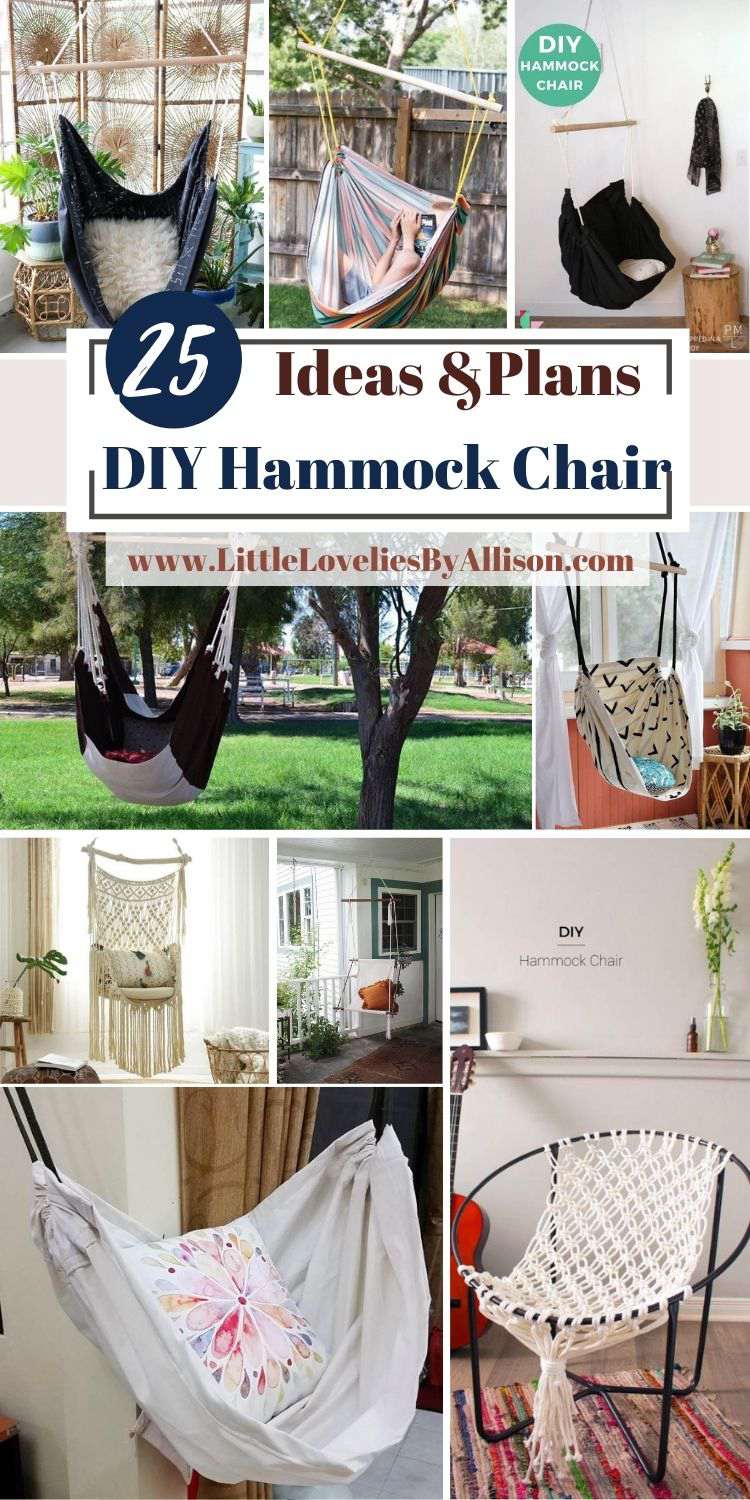 1. How To Make A Hanging Chair
This video tutorial guide is going to teach you the easiest and coolest way to make a hanging chair using 16feet of strong rope, a wood dowel, a metal clip that holds about 200 pounds, a fabric, and a few other tools and materials. The rest of the steps are easy to follow.
2. DIY Macrame Hanging Chair
With this video guide, you will learn how to use some metal rings to make a Macrame hanging chair. The rings will be connected with ropes with beautiful patterns created as you go. The mining process requires a lot of time and patience.
3. DIY Hammock Chair
This hammock chair is super easy to make. You just need 2 wood dowels, fabric or canvas, rope, a drill, and a few other materials. This chair is perfect for outdoor events and must hang from an elevated platform or a tree branch or anything available.
Also See: 15 DIY Rocking Chairs
4. DIY Hanging Outdoor Chairs
So, for this guide, you will need a sewing machine, very important unless you have another option, oak dowels, nylon rope, brass screws, drill, scissors, masking tape, measuring tape, and lots more. The making process is super easy to follow.
5. Hammock Chair DIY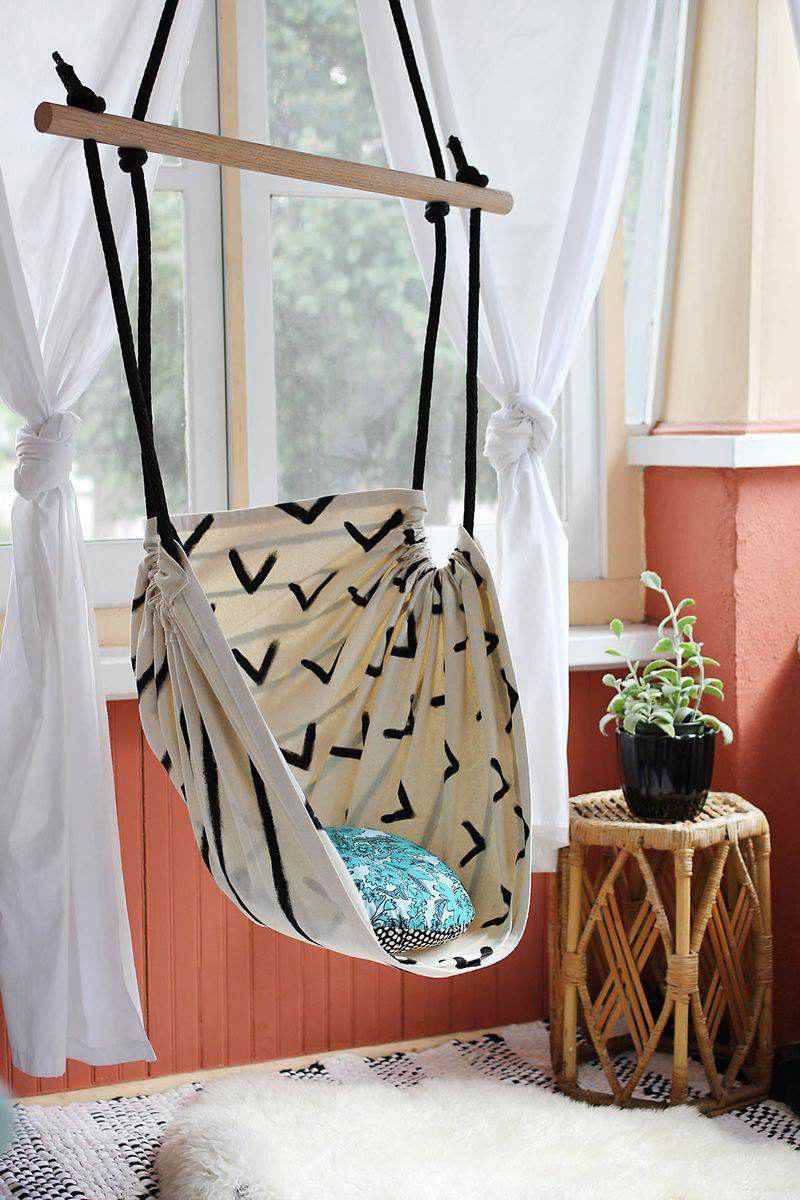 Here are the few supplies you need, some wood dowels, braided polypropylene, stainless steel links, fabric, and a few tools to work with like shears, lighter, ironing board, and much more.
6. DIY Hammock Chair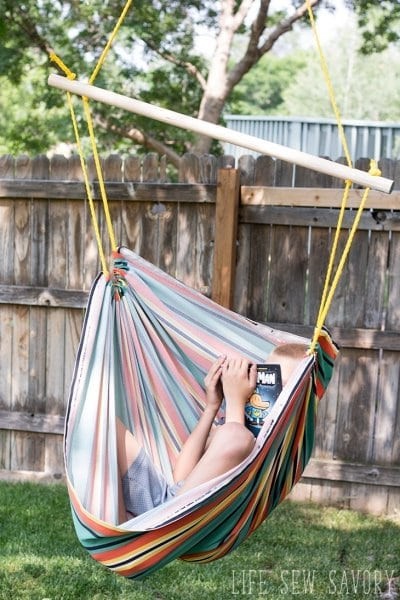 If you have a sewing machine it will make your job a whole lot easier with this guide. You need some wood dowels, a drill to drill holes on the wood dowels, fabric, role, and some stainless steel links.
7. DIY Mud-cloth Hammock Chair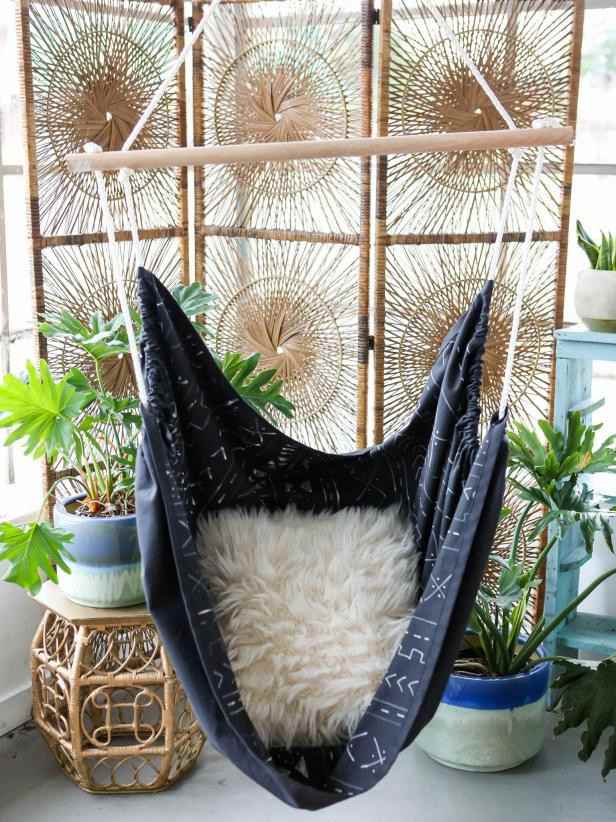 Building a hammock chair with a mud-cloth is an amazing concern and pattern you can use to style and decorate your hammock chair. This guide will show you how to build this hammock chair from scratch with ease.
8. DIY Hanging Chair For $37
You need only four basic materials for this project, eye bolts that can take up to 190 pounds, 2 yards of duck canvas, braided nylon poly rope, oak dowel, and a spring link. The making process is simple and fun. This project is also. super cheap and you'll end up spending less than $37.
9. DIY Hanging Chair
Here is a simple to use to build a simple boo macrame hanging chair. For the hanging chair kit, check the link in the description below the video to get more information on how to buy it. The entire process is super easy to follow.
10. DIY Hammock Chair
Here is a hammock chair that is made with simple materials like fabric, wood dowels, a strong rope, and other items. This hammock chair swings and can last for a long time depending on the quality of the wood you got.
11. DIY Wooden Outdoor Swing Chair
Here is one hammock chair made of wood. It's meant for outdoor use, and it's. Swing chair. It's easy to make and durable. You need lots of wood pieces and some other power tools to smoother the wood and finish the job.
12. DIY Macrame Hammock Chair
There are so many patterns to macrame, this guide has a sweet one that you can use for a hammock chair. It's easy to make and with the technique applied you won't spend so much time on it.
13. Homemade Hammock Chair
You'll need a strong resistant fabric, a spring snap, 40 yards of rope, a resistant stick, anything that will carry your weight and not break in the process, preferably a wood dowel. This hammock chair is meant for outdoor use.
14. Hammock Chair From Old Swing Frame DIY
The first step in this project is to start dismantling the old frame you wish to reuse for your hammock chair, then start creating the new structure. You might need a drawn-out plan to work with, weld the necessary places, and then hang the new chair. This guide won't show you how to build a new hammock chair from scratch, but only how to rebuild the swing frame for the hammock chair.
15. DIY Hammock Desk
Do you need a hammock chair that serves as a relaxing chair, reading chair, and a work chair as well? The kit for the chair is available at a link in this guide. You'll need a lot of angle joints, end joints, swivel caps, foot caps, and lots more.
16. DIY Hammock Chair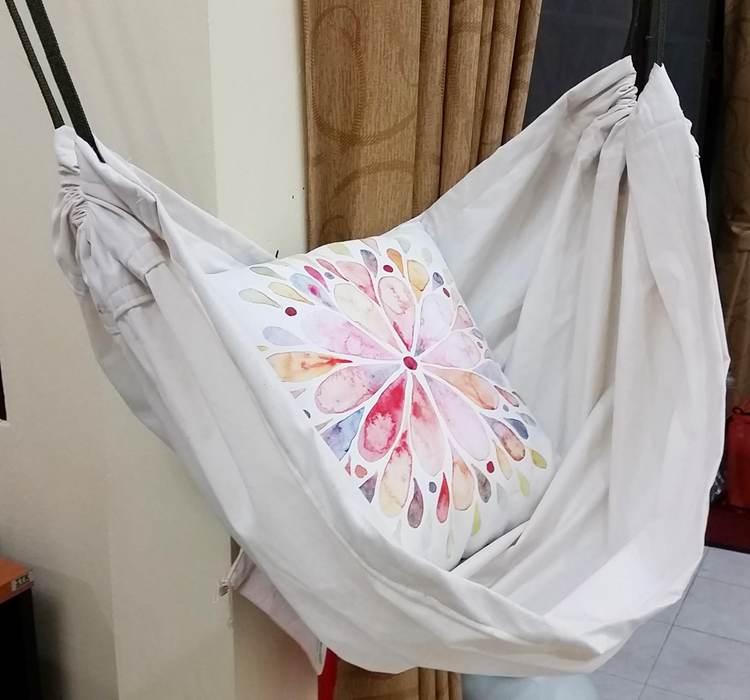 So, here's a simple guide that will require some sewing, drilling, and hanging. First, get your fabric and cut and align it won't desire shape and size, then sew all around. Then, drill holes on the wood dowels, put your rope in the drilled holes and tie it strong, place a pillow, and your hammock chair is nearly ready. You just need to install it. some hanging accessories and you're good to go.
17. DIY Aesthetic Hammock Chair
It's also great to make a hammock chair that is not just functional but aesthetically pleasing. Here is a guide that has got you covered in that area. You need things like a nylon rope, soft pillows, and a fabric to match your room. Check the link to know more and make this crochet hanging chair with ease.
18. How To Make A Hanging Chair
This is the simplest DIY when it comes to making hanging chairs, the idea is simple and easy for anyone to make without spending much. The chair will be better used if hanging from a tree, so if you have a tree close to your house, you're in luck. This also means it's meant for outdoor use only.
19. DIY Hanging Chair
This is an amazing hanging chair that can take the weight of two people at the same time. You and your spouse can fit into this hanging chair when you're done building it and have a good time together. It's comfortable and durable provided you follow the steps and get the necessary materials needed.
Also see: 9 DIY Gaming Chairs
20. DIY Hanging Computer Chair
Here's a computer chair, which doesn't mean it's made from hardware computer components, but it's meant for table or desk use. You can easily work from home through your computer with this easy-to-build computer chair with a few easy-going materials. Although, you can also use it for other purposes like sleeping in it. It's quite inexpensive and durable.
21. DIY Hanging Lounge Chair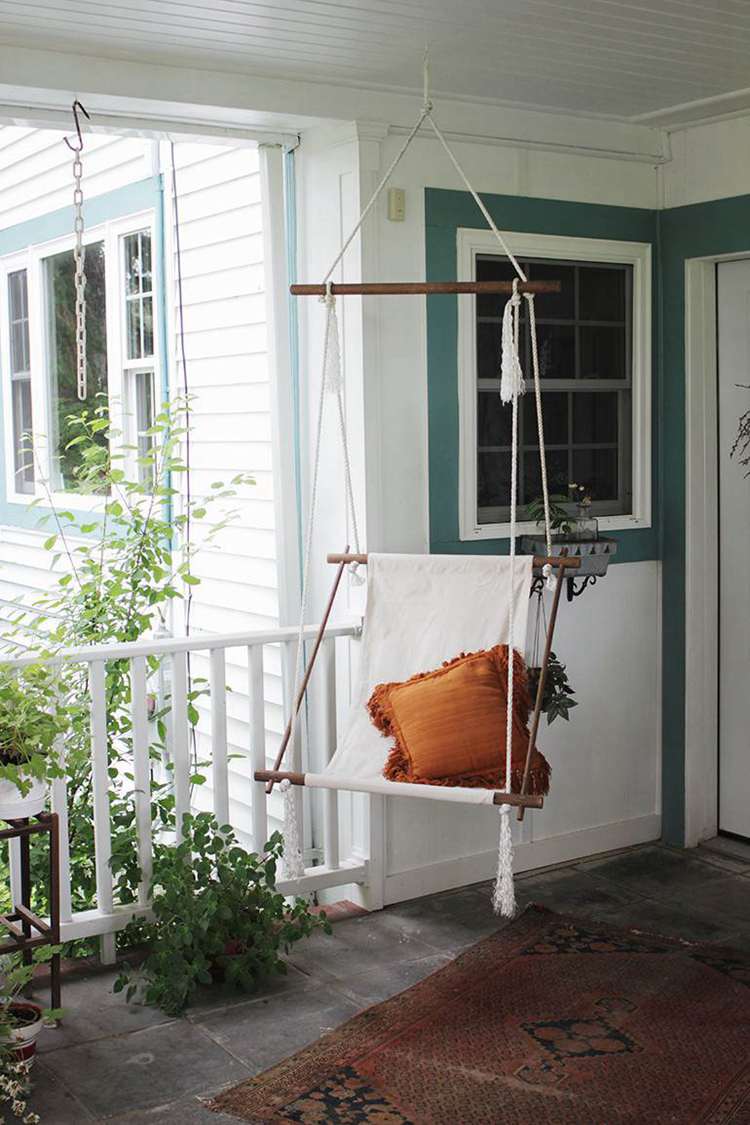 Here is what you'll need to get started, a canvas or fabric, a strong rope, 3 oak dowels, a sewing machine, a drill, scissors, and a tape measure. With all these materials and tools at your disposal, your hanging lounge chair will be ready in no time. The creator gave details on how to make it with images to support and assist you understand the making process easier.
22. DIY Macrame Hammock Chair Swing
This guide came with a video, so you can learn more about the materials ms tools you'll need and watch the video to see the step-by-step process that was taken to make this macrame hammock chair. It's super easy and inexpensive.
23. DIY Macrame Hanging Chair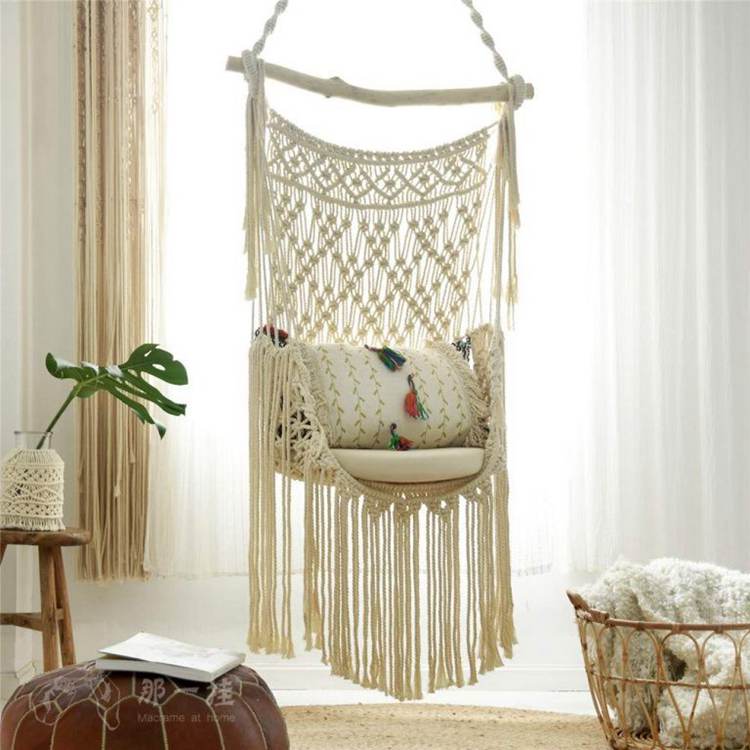 This is an elegant macrame hanging chair, best for indoor use because It also adds beauty to the room or area it's kept. This guide will teach you how to make this hanging chair exactly the way it is, tieing all the knots to get the pattern you see in the image above. You need a 6mm cord material, wooden dowel, which is optional, heavy-duty rings.
24. DIY Hanging Hammock Chair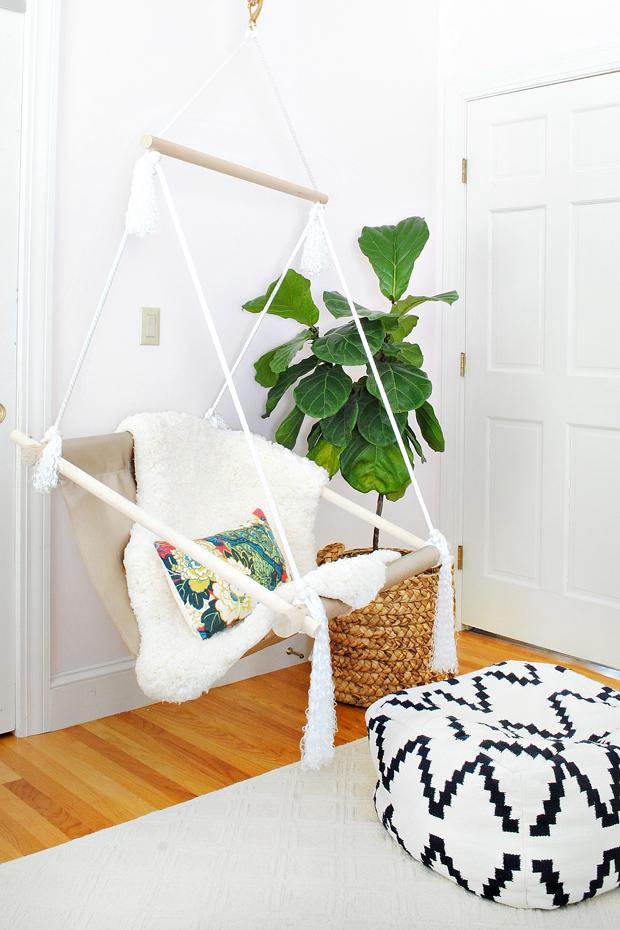 This hanging hammock chair looks simple to make, but it's quite expensive, to get the vinyl fabric cost about $35, which is the cost to build another kind of hammock chair. The entire project cost $100 which is quite a fair price but a little too much compared to some guides on this list. Although, it's easy to make and very reliable.
Conclusion
So that's all we have for you today, a list of all the amazing DIY hammock chairs ever made. You can never run out of ideas to use to make a hammock chair with a DIY guide like this by your side. Thanks for stopping by, bye.