One of the most comfortable chairs to use are ones that rock, especially when you are carrying a baby, it puts the baby to sleep immediately. Using a rocking chair is easy, however, making one isn't going to be like a walk in the park.
In this article, we have compiled a list of DIY rocking chairs that you can make. You might need some prior knowledge in woodworking to build any of the chairs listed below. Are you ready for some hard work? Let's begin!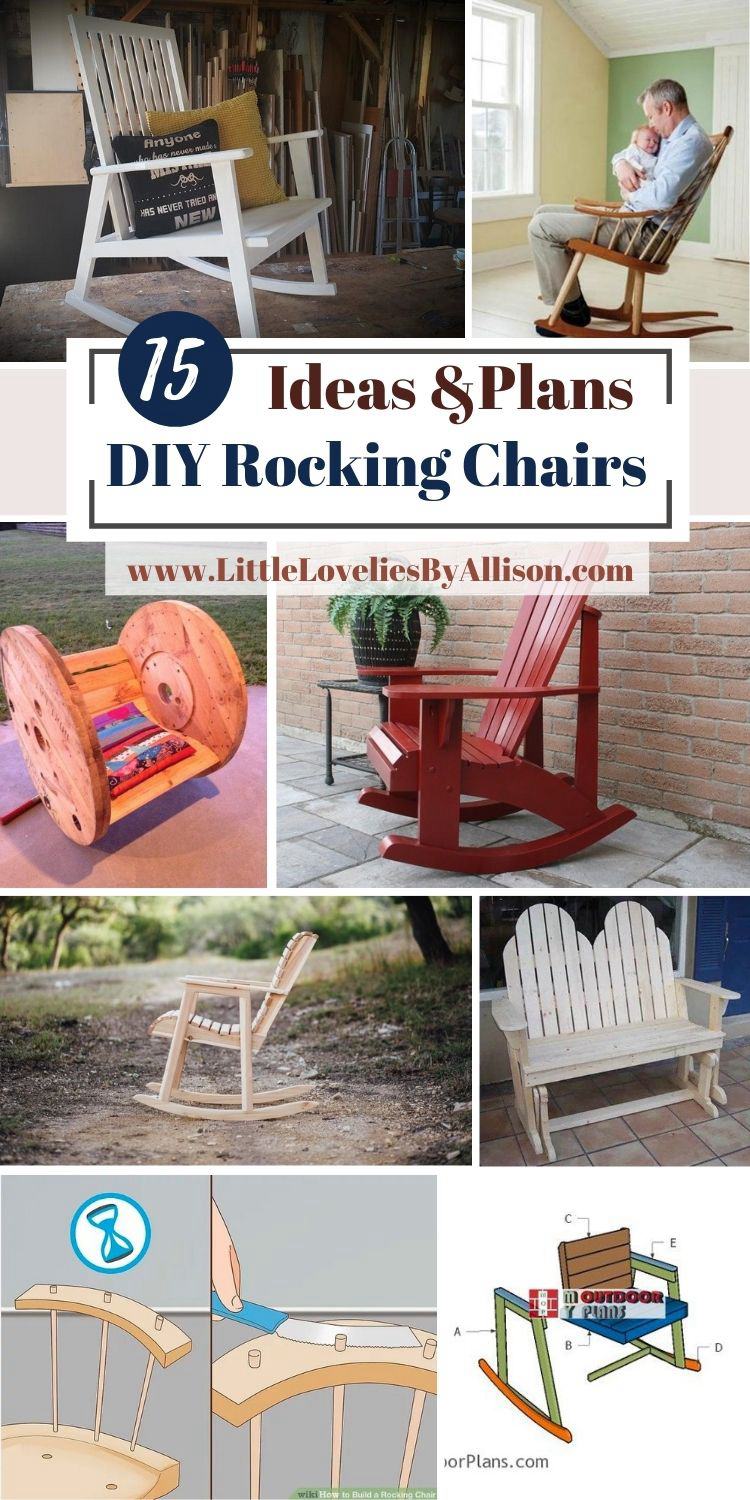 1. DIY Wooden Rocking Chair
This is a pretty amazing wooden rocking chair that you can make with a few essential materials. The creator made this one for the first time and he got it right, so it's a super easy project that you can do with or without any advanced woodworking skills. Here are a few things you need to get started, a router, planner and hand plane, chisels, band saw, clamps, rasp, and a few other supplies. You can freely use any species of wood to build this. The first step is making the rocker, this is the hardest part of the job, so once you must have overcome this little challenge the rest of the steps will be easy as pie.
2. Rocking Chair Plans
This is a great step-by-step guide on how to build a rocking chair from scratch. Anyone can build this with just a few simple materials over a few days. You can also adjust the rocking chair after using the guide to make it. First, you need to draft out a plan that you will use to build the chair, you can get this plan from making a quick sketch or using the software. You also need lumber wood, wood screws, wood glue, wood filler, stain/paint, and a few more materials. The making process is seamlessly easy and fun to build.
3. How To Build A Rocking Chair
This is a cool rocking chair with a simple design. It steers well and is super comfortable. You can build this with ease, it's possible and fun to build, all you need is wood, a router table, titebond III, a mobile planet stand, and other essential tools that are quite challenging to come by. If you're not an advanced skilled woodworker with experience in and knowledge in using some tools mentioned in this video tutorial, you might not be able to build this simple rocking chair.
4. How To Build A Modern Rocking Chair
In this amazing guide today, you'll be building a rocking chair made out of beech hardwood. The video tutorial has a section that you can access and get the plans for the rocking chair build. The design is a modern, classy, and stylish design that hasn't been seen before. The creator started this video by measuring and cutting the wood into its desired size. The rocking chair was built from scratch. This guide will help you build yours from scratch with an amazing ending.
5. How To Build A Rocking Chair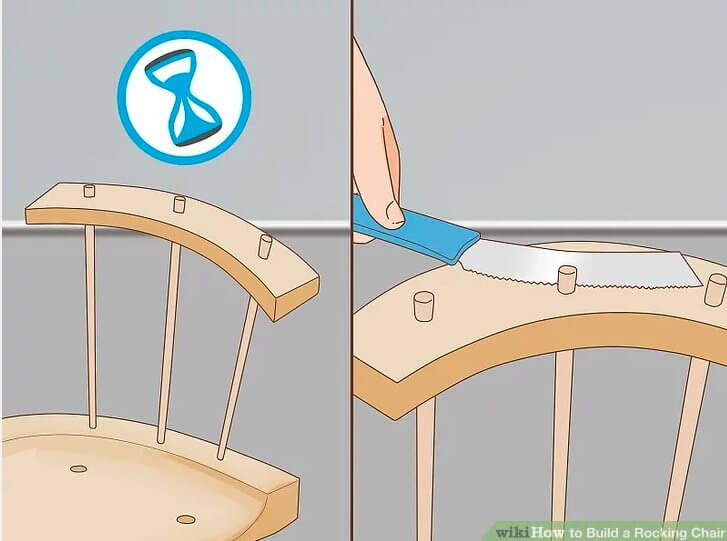 A rocking chair can be one of the most difficult and challenging things to build, even for an expert woodworker, not to talk of a beginner. So, if you do not have any woodworking skills and tools to perform this project, you should try another guide to make it easier for you. There is a lot of measuring and a lot of cutting and assembling of one wood to the other in this guide. The tools used to make this rocking chair are too sophisticated for just anyone without experience to build.
6. DIY Rocking Chair
Here is an exceptional rocking chair that you can effortlessly make from the comfort of your home. To buy a brand new rocking chair will cost thousands, so with a few bucks, you can make this with cedar boards and other essential materials. This chair Is sturdy and lightweight as well. Your first step will be to prep the wood used, this will help reduce your sanding time later. After, build the frame, then cut the slats, assemble the seat, form your legs, and finally the rocker. These are the challenging parts of making this chair. The remaining steps like attaching the arms are a walk in the park.
7. DIY Wooden Rocking Chair
All the rocking chairs perform the same task, but the technique used in making them are not all the same. These techniques affect the overall result of the chair when it's made. To make this particular wooden rocking chair, you will need to use beech wood, it's a great wood for bending. You will also be taught how to bend wood without the help of a steam box, and you can apply the idea you'll learn for other things that you'll make in the future. You'll also be taught how to fasten the wood with dowels and paint It with natural oil to preserve and protect the wood.
8. How To Build A Rocking Chair Base
For this video tutorial guide, you won't be making a full rocking chair, just the base. You'll learn how to make the base for an upholstered chair. It's cheap, fast, and easy to build. If you have an upholstered chair at home, why not save time and money and just replace the legs of the upholstered chair with rockers. This way, the chair immediately turns into a rocking chair and you're done for the day. First, you'll build a frame before you make the rockers and attach it to the frame underneath. It looks so elegant and it's super functional.
9. How to Build Your Own Adirondack Rocking Chair
Here is another amazing rocking chair to build, this is an Adirondack rocking chair. This chair can accommodate up to two people at a time which is perfect for couples and lovers and even best friends that want to have an Adirondack rocking chair together. This will take you 2 days, 22 hours to build, and you don't need an advanced skill level to work on this, even a beginner can try out this guide. You need wood, hardwood, 1 set of 8 glider rocker bearings, wood glue, deck screws, random orbital sander, cordless drill, a wrench or socket set, and a few more supplies.
10. How To Craft A Timeless Rocking Chair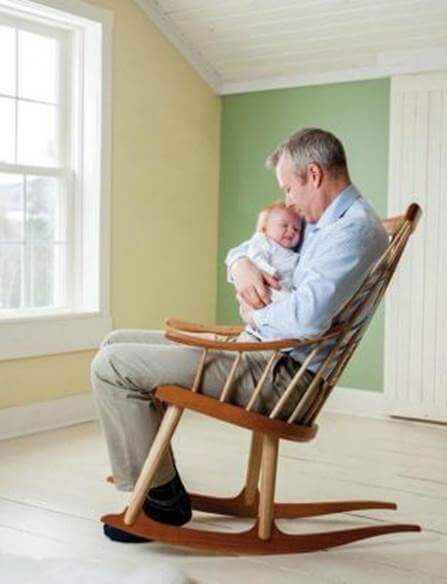 Every Woodworker dreams of making a rocking chair, but this might be a necessity for you, so you can easily build this in the comfort of your home. It's a comfortable rocking chair that you should build. Here are a few things you need to get started, a back crest, front legs, back legs, arm spindles for the front back and center, back spindles, the seat, arms, and finally the rocker. The making process is super easy.
11. DIY Outdoor Rocking Furniture
This is a simple building project with easy to get materials and tools. First, you need an outdoor Sofa. This sofa will then be transformed into an outdoor rocking chair. This is a beginner's friendly project, it will take you only a day or build because it took the creator just 4 hours and the chair came out amazingly outstanding. Here are the things you'll need for this project, a drill, cushions, planner, propane torch, speed square, Kreg jig, glue, sanding blocks and sanding pad, and a few other important items. Don't forget to stain the wood after the building.
12. Building A Modern Plywood Rocking Chair
If you have plywood or MDF template board, you don't need to go buy extra wood to build a sturdy, long-lasting rocking chair. You can easily use the materials you have at home to build this wooden rocking chair and it will last for as long as possible. Although the tools used in this video tutorial are expensive, and not so easy to come by, you may substitute for anything else that can get the job done, but this might affect the overall finishing of the rocking chair. The tools you'll need are a Dewalt random orbital sander, Titebond III wood glue, Makita 18V LXT sub-compact drill, and driver, Festool track saw Festool domino joiner, and a few others.
13. DIY Cable Drum Rocking Chair
This is a cheap and stylish rocking chair that has ever been made. The creator used something as simple as a wooden cable drum. You can find this around your house if you're into sound or lightning that might require you to have this cable drum at home or go to any junkyard around you, you should see several wooden cable drums just lying down there doing nothing. Get one and start building an amazing rocking chair design out of it. The steps are easy and fun to follow. First, you have to create the seat, then dismantle the cable drum, reinforce it and attach the seat to it, it's a simple process.
14. DIY Adirondack Rocking Chair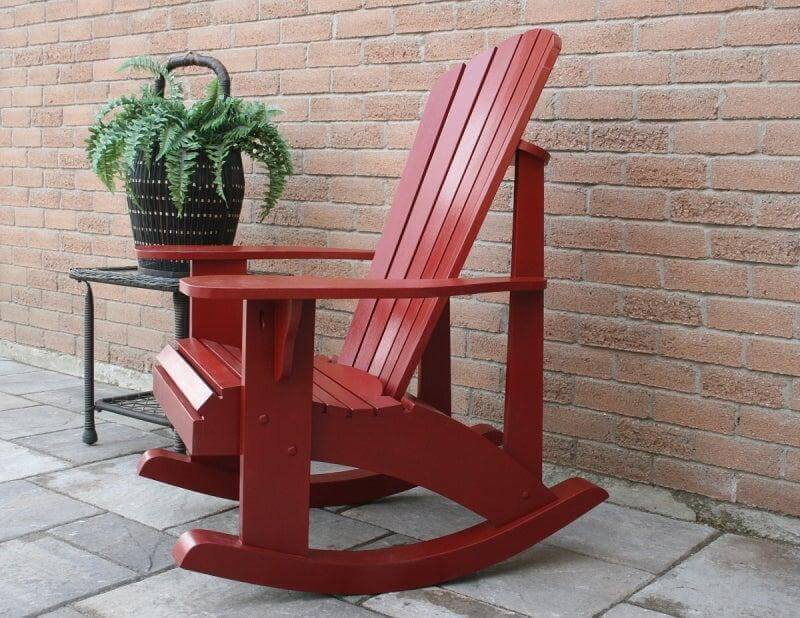 This is yet another sweet Adirondack rocking chair that was made by the creator for your benefit. This guide does not feature any picture or instructional image on how to build the chair, not even a step-by-step guide, just a long list of written instructions that should guide you properly, to make this chair for your home. You will need a wood paint of any color and probably a wood stain as well. There is a Pdf file that is available for download in the link to guide you in how to build the rocking chair from scratch. That Pdf is a better option when you visit the link.
15. DIY Rocking Lounge Chair
Are you looking for a relaxing rocking lounge chair that you can easily make for comfort and outdoor relaxation any time of the day? It's super easy to build this, you need materials like 2x4 wood, trim boards, pipes with flanges, belt sand, cordless drill, and a jigsaw. You can download amazing templates for this project from the creator's website via the video link. Once you have this template, print it out, glue it to the 2x4 wood, and cut along the lines to form your base and other parts of the rocking chair. This is a modern, stylish rocking lounge chair that is super easy to make.
Conclusion
A rocking chair is a must-have especially if you have a baby at home. All the DIY rocking chairs listed in this article are woodworking projects made by the best craftsmen. If you do not have the skill, feel free to seek help from a professional.
Thanks for stopping by, I hope this article has been helpful to you.