Here is an amazing guide that will help you build a DIY swing frame with ease. The steps that are outlined in the guides below make your job a lot easier, and after you go through this DIY you will never buy a swing frame ever again.
It's quite inexpensive to make a swing frame and also pretty easy to build from scratch and install a ready-made one effortlessly. So, without further ado, let's dive in and see the simple ways you can build a swing frame with a few easy-going materials and tools.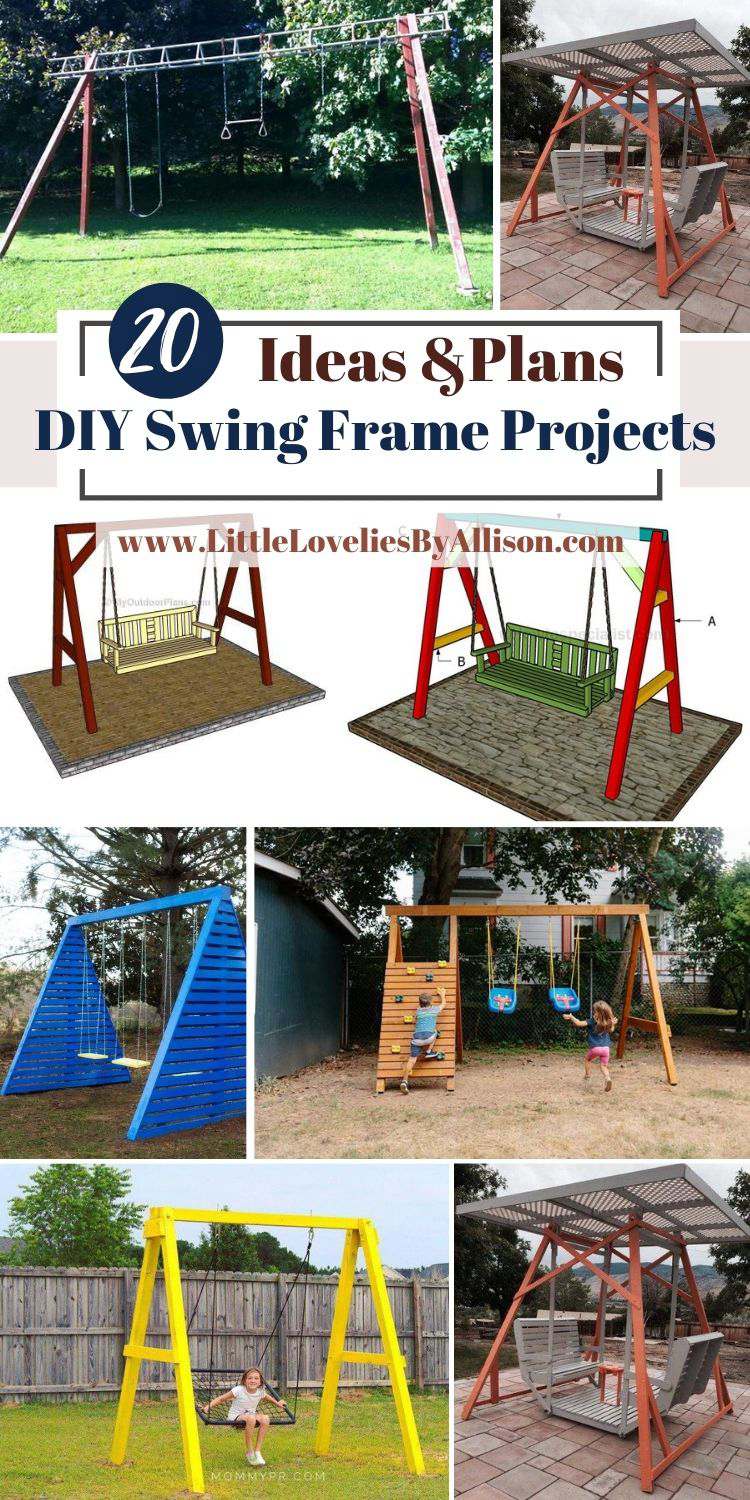 1. How To Build An A-Swing Frame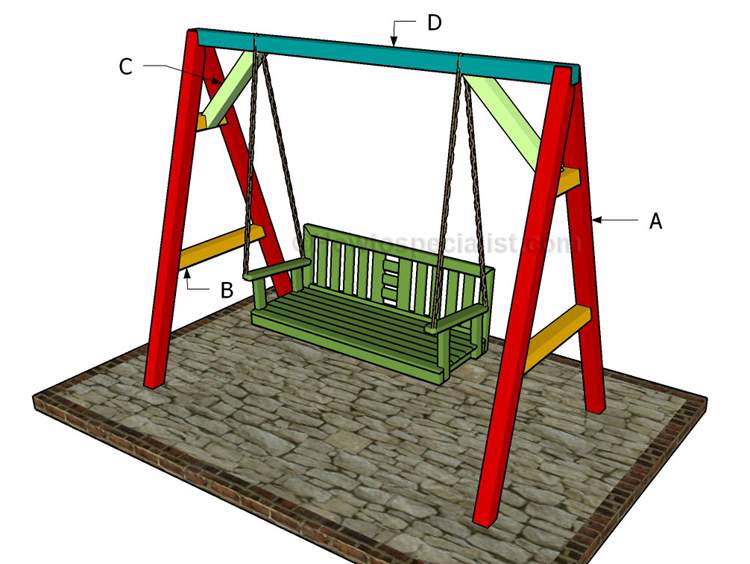 This guide offers the ability to learn and be able to build an a-frame swing by yourself. You might need an extra hand to build it from scratch but the making process is super easy and simple to follow. The creator had a diagram that he used as a model, you can have a quick sketch like this and make the job faster.
2. A-Frame Swing Plans DIY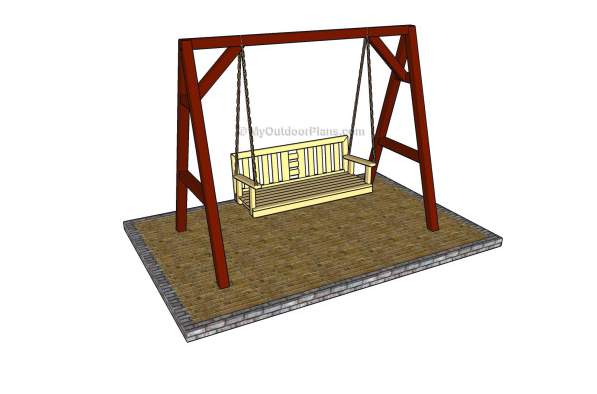 The first step in making an a-frame like this is to have a building plan. This will enable you to have a clear picture of your project in your mind and you can never make mistakes as you proceed. There is a plan in the guide that will get the job done for you. You'll need lots of lumber wood, wood filler, wood glue, wood screws, and a few other supplies.
3. DIY Porch Swing Frame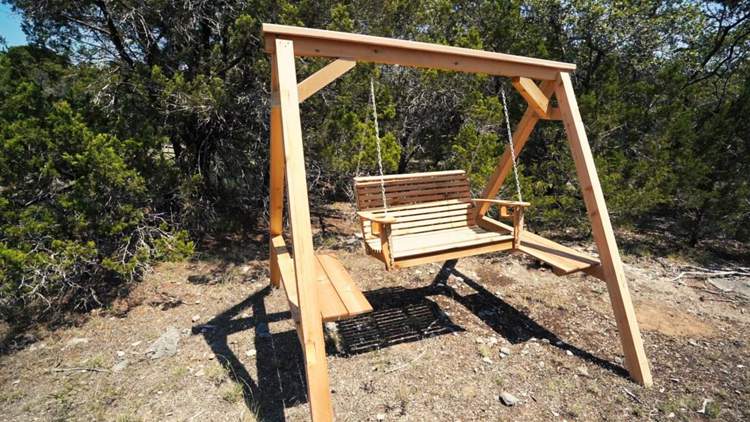 Here is another amazing swing frame that you can make with a mallet, wood glue, miter saw, and a few other items, you can also check the guide to see where you can buy these items at a cheaper rate. The making process is quite simple and easy to follow although it will take a woodworker with an intermediate skill level to be able to perform this task.
4. Free-Standing A-Frame Swing Set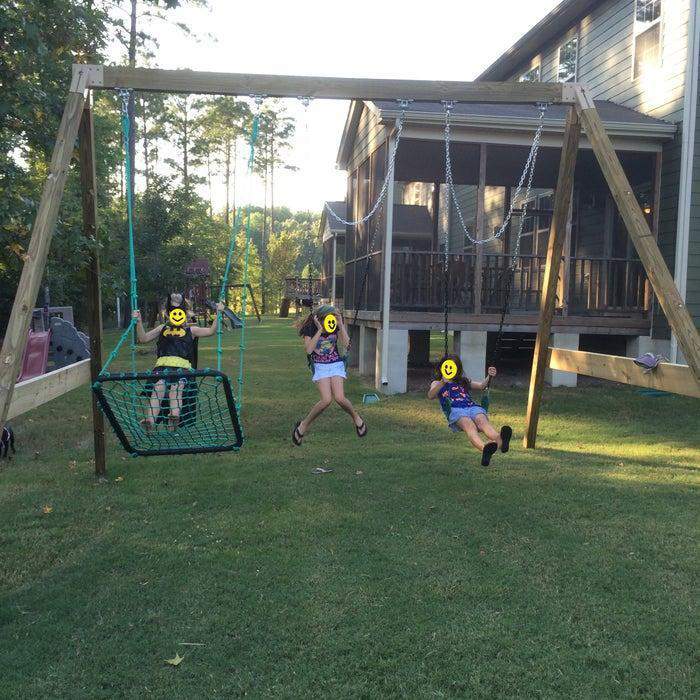 This is a pretty big free-standing a-frame swing. The top beam is 11 feet above the ground level, while the footprint is 13ft x 13ft. This project took the creator about 2 days to build and it's quite a sturdy swing set if you ask me. This frame swing is also quite expensive, the cost is under $600, and you will need an extra hand or two for some of the steps.
5. DIY Swing Frame
This video guide will show you how you can build an affordable, simple a-frame swing with ease. It just takes a few basic tools and materials to get going. You'll need some pressure-treated lumber wood, wood screws, lag screws, and more. You don't need any expert woodworking knowledge to be able to complete your task.
6. Easy DIY Swing Set
The creator of this guide used some larger board size to make this project work better for him, he wanted something sturdy and it turns out great. You can use this for your swing frame set and it might work perfectly for you too.
7. DIY Porch Swing Frame
The creator used a 2x4 wood board and some large 140mm coach bolts that are super strong and make the woos frame sturdy and durable. It is a simple building woodwork project that doesn't require a high woodworking skill level.
8. How To Build A Porch Swing Frame
Here is another amazing swing frame idea that you can use to make a simple porch swing frame that is super sturdy. A few simple tools were used as well, things like a circular saw, miter saw, a drill, and lots more.
9. How To Build A Swing A-Frame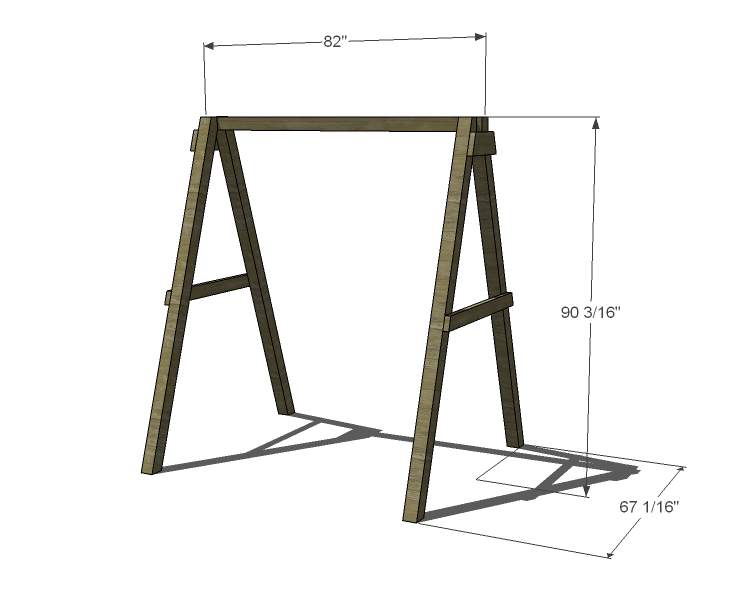 Here in this guide, you will learn how to build an a-frame swing with a few lumber wood and swing hardware kits. You will need to buy the hardware kit but the swing frame will be built by you. The creator used pressure-treated pine wood, and it's pretty good so far. With just 9 simple steps you should have succeeded in building an amazing a-frame swing.
10. DIY Wooden Swing Set Frame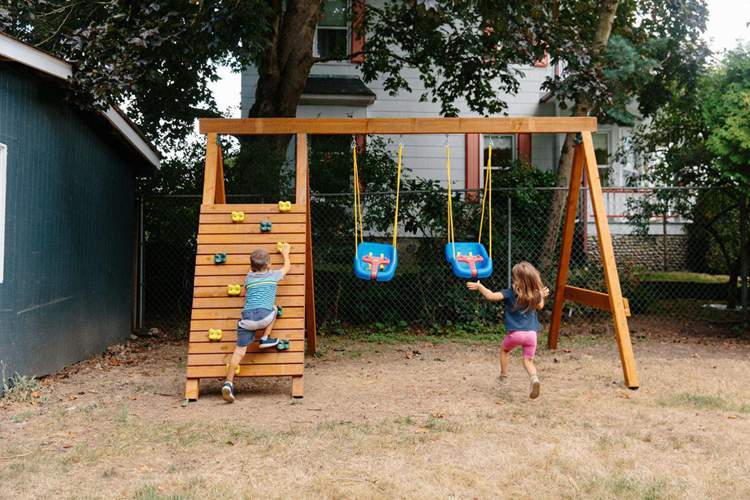 Here is a guide that will show you how you can make a modern swing frame. It's quite different from the normal swing frame that you might be used to, it's just perfect for kids. It's also quite a difficult task and it will take up to 5 hours before the swing set frame is ready for use.
11. DIY A-Frame Swing Set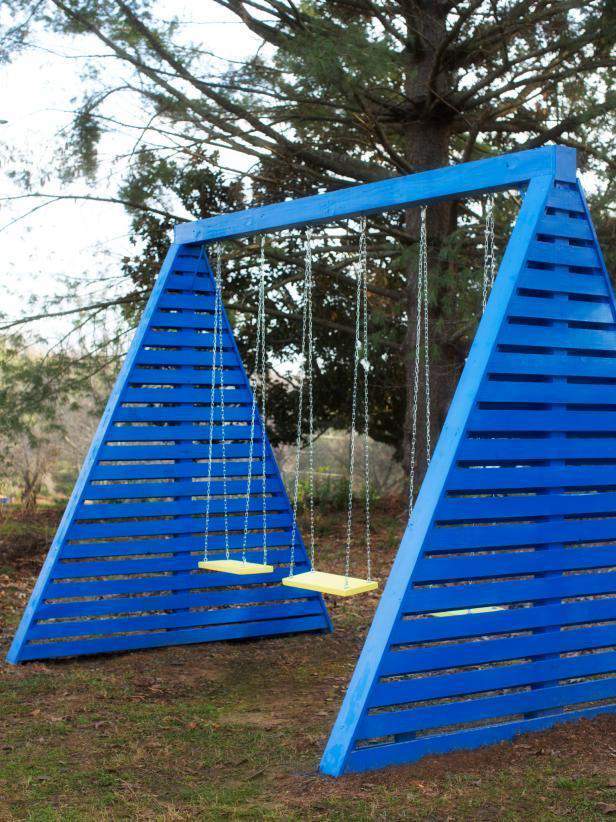 This is another big swing frame idea that comes with a unique design. The first two things you need to prepare for this project are the perfect location and the right materials and tools to work with. Here a few materials you should have in mind, steel L-brackets, posthole diggers, carabiners, exterior wood screws, eye hooks, lock washers, and a few other supplies. This is a woodwork project and it's seamlessly simple to build, as long as you follow the steps properly.
12. DIY Swing Set A-Frame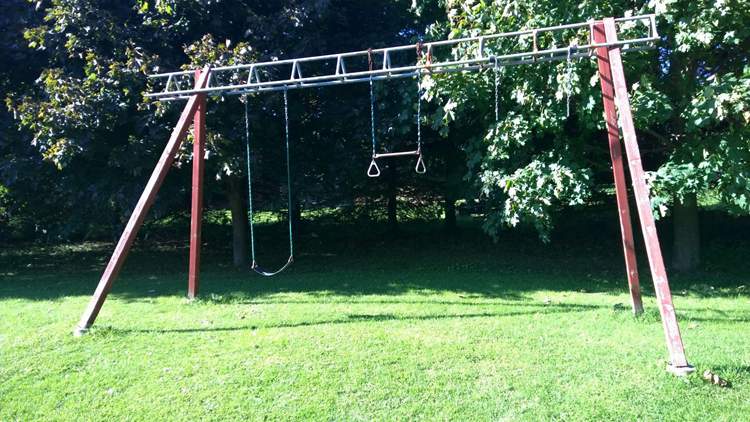 The first things to consider for this project are the location materials and the construction. You need concrete to reinforce the ground for the wood, some studs, screws, deck anchors, conduit clamps, and much more. The making process is quick, effortless, and simple to build but you can't do it all alone.
13. DIY Swing Frame
If you are looking to build a strong swing frame set, then you should probably try out this video guide. It's easy to build and also quite simple in the making process.
14. DIY Swing Frame Under $200
This is another amazing guide that is super easy to build, it's not an a-frame swing, it's a simple square swing frame that might not be as sturdy as you may want. It is also quite cheap, as it cost about $200 for the materials.
15. DIY Swing Metal Frame
If you are looking for something sturdy, look no further, this is one of the most sturdy swing frames that is quite tasking to build but quite simple to build if you follow the steps carefully. The creator used metal pipes and wood for the swing bench. It's an a-frame swing set and it's super durable.
16. Timber Frame Swing Set Plan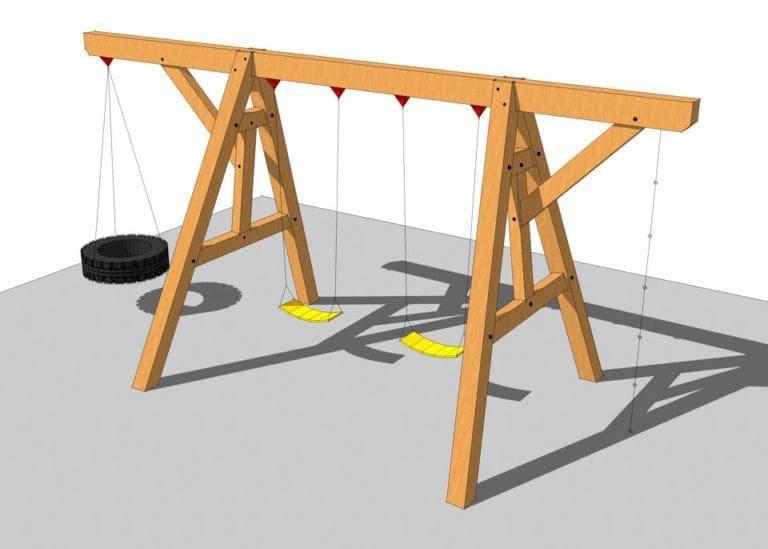 This is a great swing set frame plan that comes with a variety of swing sets. It's a great beginner's project for those trying it out for the first time. It's also quite inexpensive and easy to build. There is a link in the guide to where you can download the building plan.
17. DIY Dog Swing Frame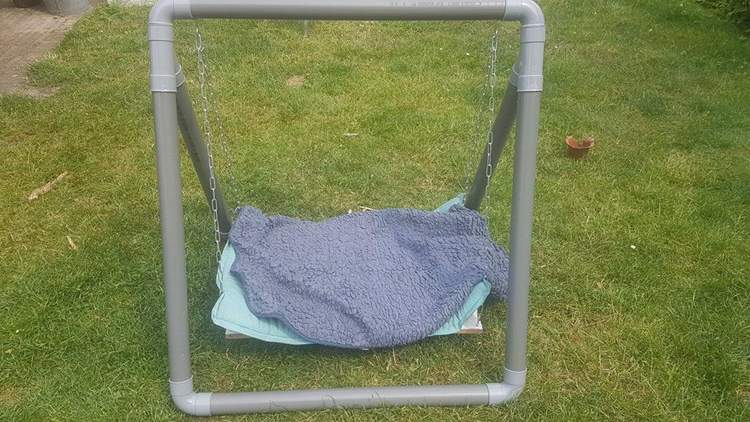 This is a simple and straightforward, one-man swing set frame or you can say One-dog swing set. It's not so sturdy because the creator used PVC piping to build it although it is meant for a dog that might not weigh so much and might sit well on the swing without it breaking, it's still not so sturdy, although quite easy to make in just 4 simple steps.
18. DIY Swing Frame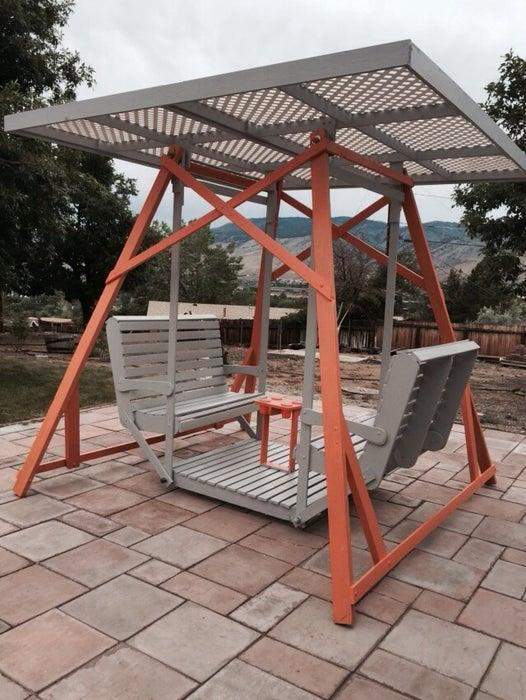 This is a super amazing swing frame idea. The first step is to get the right plans for this project. You can use the one available on the guide, via the link. The next step is getting your wood and other materials ready, and you are going to need a lot of wood for this project. The cost for the materials is about $400 max.
19. How To Build An A-Frame Swing Set
Here is another simple a-frame swing set that is super easy to build. It can take up to two people in the swing at once and also holds up to 250 pounds which is pretty strong and durable. To procure the materials for this project cost about $150, and that's quite cheap. It's also a large swing, so if you have enough land space to set up the swing frame, good for you.
20. DIY Steel Garden Swing Frame
Metal swing frames are sturdy than wooden ones, however, you will need experience and a couple of tools for the making process. This guide shows the basic building processes of making the steel garden swing frame, from the tools to the materials and tips, everything can be found in the video tutorial above.
Conclusion
Here we are, after over 15 guides on how to make a swing frame, I believe you have gotten one that fits into your space and can work perfectly for you. No time to dilly dally, get to work and that swinging away. Thanks for stopping by, hope you got what you were looking for, till next time bye.