Here is a nice guide that will help you enhance your living space and help you make a DIY basement bar that will suit your underground lair. It might likely look like every other bar, but this is a special bar for a specific purpose. It works better in a basement with only artificial light sources and a lot of corners.
It's seamlessly easy to make no matter the materials used, the only thing that will vary is the money and time spent, but they are budget-friendly guides in this list below that should suit your needs. Let's dive in.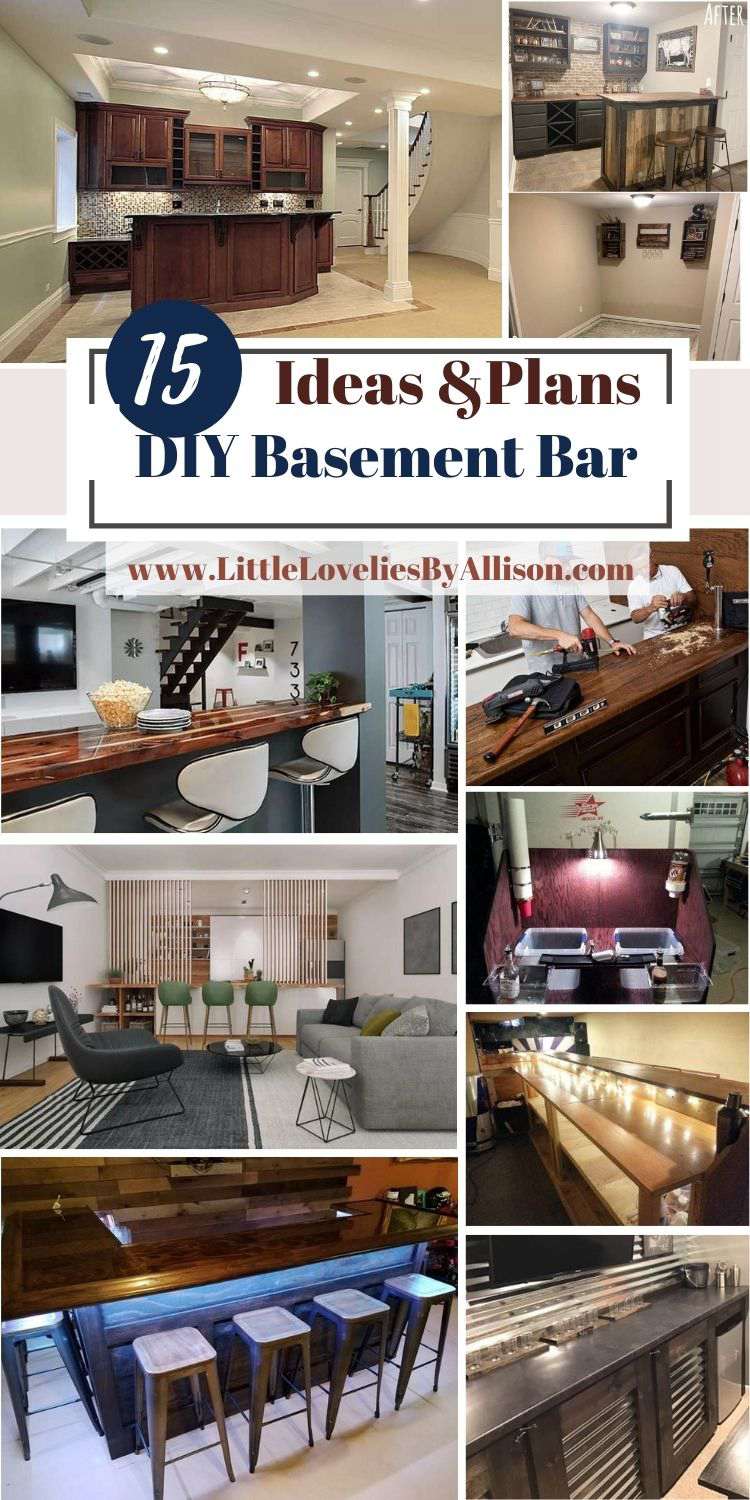 1. How To Build A Homemade Bar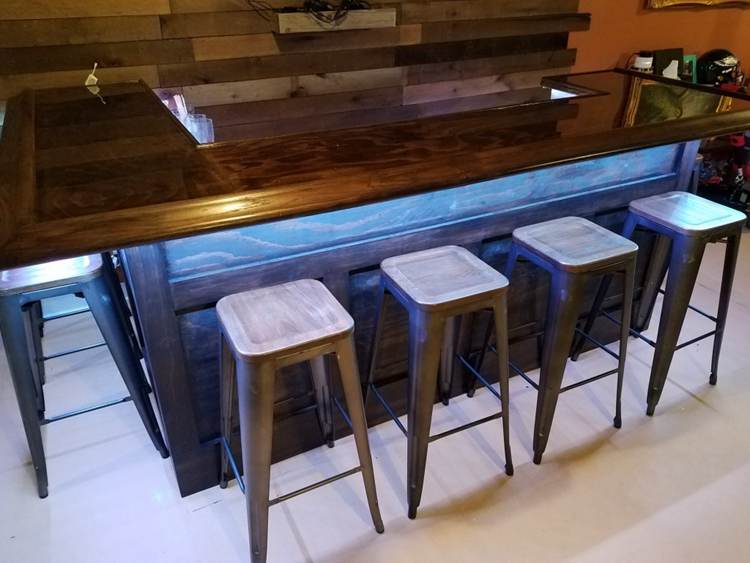 It's going to be too much weight on your shoulders for you to get someone to build this bar for you, rather you can do it yourself with a few simple tools and materials like a nail gun, wood, hand sander, level, tape measure, glue, caulk gun for wood and more. The creator made a quick plan to work with, a simple diagram that you can use to begin your building process. It's a simple and easy build.
2. How To Build A Basement Bar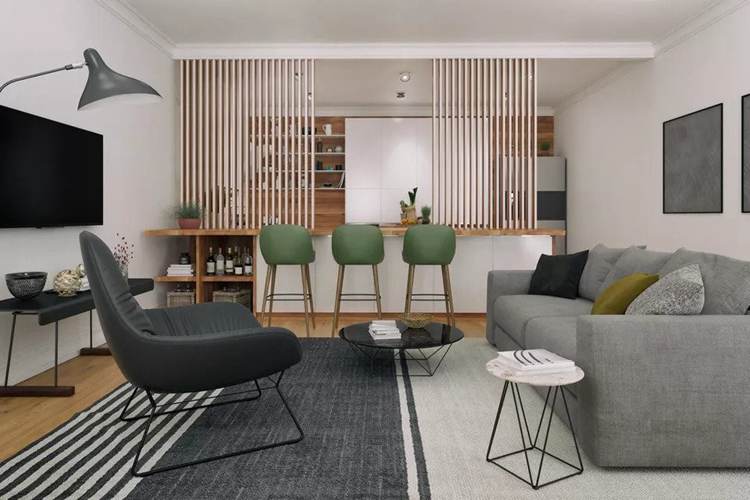 In this guide, you're going to be looking at features like the bar elements, style and design of the bar, wet bars versus dry bars, and finally building the bar from scratch. It's not going to be an easy process all through, but the making process is quite simple to follow. All these features talk about how the bar will look and how modern it will be once it's made.
3. DIY Basement Bar Tips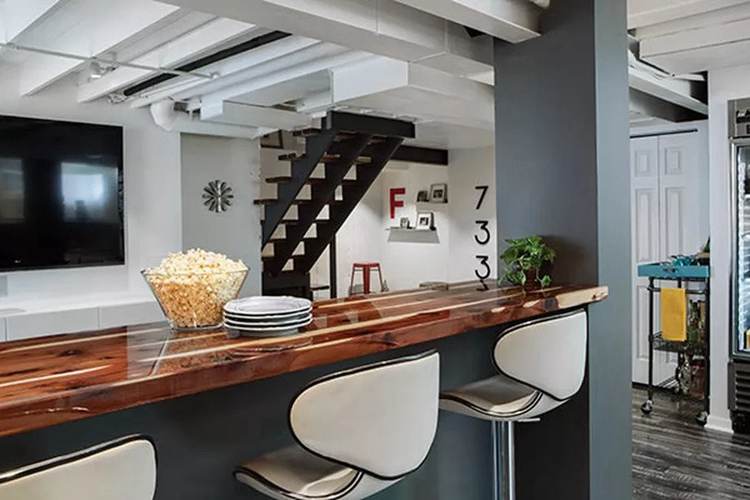 There are a lot of features and components for a basement bar like the stools, countertop, bar molding, foot rail, taps, a keg tap kit, and much more. A keg tap kit alone goes for about $200 - $300, which makes this guide pretty expensive. So if you don't have that much on your budget, better try another budget-friendly guide. Although, the making process is simple and easy with the right materials and tools at your disposal.
4. DIY Budget Bar Build For Basement
Here is an amazing budget-friendly basement bar that you can make with just $100. That's super cheap and way cheaper than the previous guide. Although, this one features some lumber woods and a simple build. If you don't have the necessary tools to perform a woodwork project, this guide will still be expensive because you need to get a table saw, miter saw sander and a few other power tools.
5. How To Build A Bar For Basement
This time-lapse video shows how everything was made from the beginning to the end, but since it's in time-lapse, it's hard to catch important parts of the build. Although, you can check the link in the video description and learn more about the plans used to build this basement bar. Also, if you're not a good word worker this project might seem quite difficult for you.
6. DIY Custom Bar Build For Basement
This time-lapse video. The tutorial guide started with the creator laying some wood planks, measuring and cutting them into the desired size he intends to use to make the bar frame and legs. He also arranged some wood boards for the bar countertop. Then he creates pocket holes on all the wood planks and screws each cut-out piece to the others to form the frame. He then repeated the process for the wood legs and mounted the entire thing. What's left is the top, that's simple to build.
7. How To Build A Basement Bar - Tips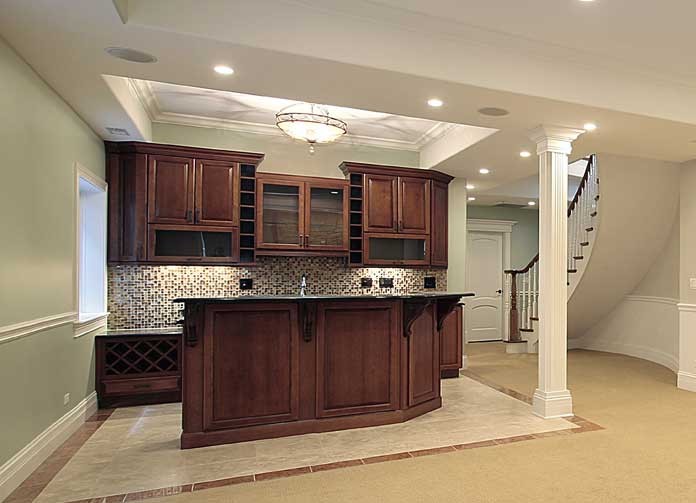 Do you have a lovely space at home that never gets used for anything at all, it's time to set up a bar over there. The items you need to get this bar ready are many, you need a fridge, stools, bar cabinet, you can build Ine or buy one, and a few other supplies. This guide is going to be the most expensive on my list. It will cost up to $10,000 to complete, but giving the nature and design of the basement bar you're going to build if you choose this guide, it's a fair price.
8. DIY Fraternity Basement Bar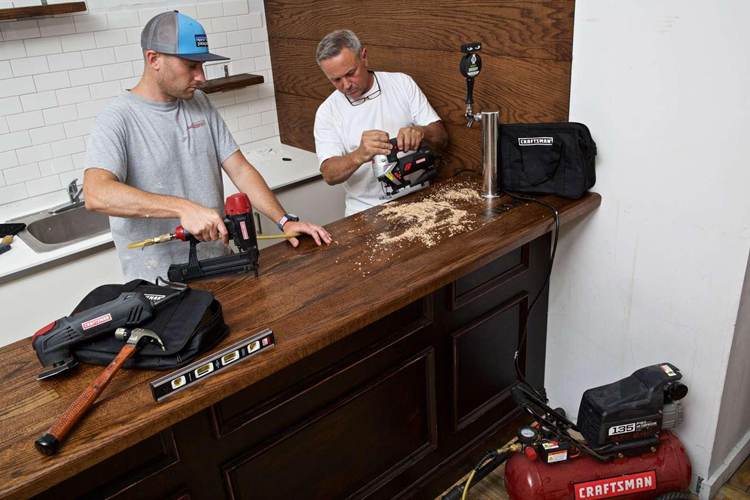 Here is a simple basement bar you can build for your fraternity. You need to gather the wood you'll be using for this building project, the creator spent only $25 on gathering the woods needed. You also need a hammer, a saw, a drill, some clamps, a Forstner bit, safety goggles, and much more. The making process is easy and simple to follow. It's seamlessly easy and fun to build.
9. How To Build A Home Bar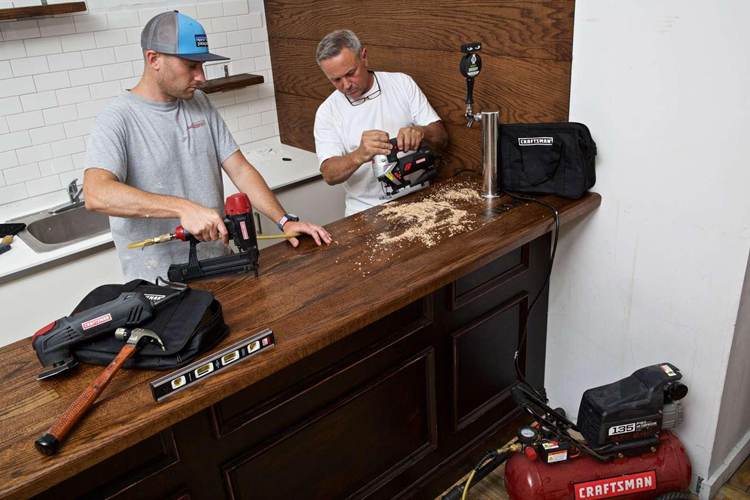 This tutorial guide will give you a step-by-step guide on how to build this home bar with ease. The making process is seamlessly easy and you can build it using a nice building plan provided by the creator in the link of the guide. Here are the few things you'll need to get started, cabinet-grade plywood, drywall screws, construction adhesive, and a few more supplies. You'll need 1 quart of a satin finish, interior eggshell water-based paints, and few others for finishing.
10. Basement Dry Bar DIY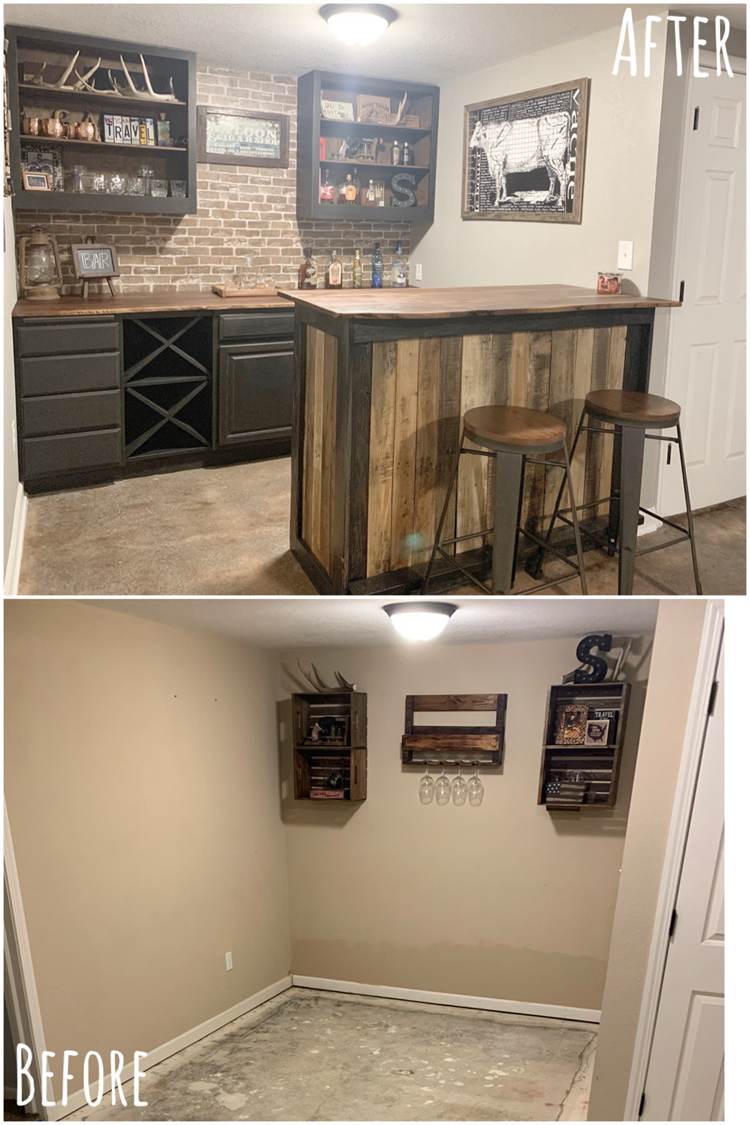 This is a project you'll want to do with an extra hand or help, you can't do it all by yourself. You'll be building several sections of the bar and cabinet separate from each other. So you'll start with the cabinets, the lower and upper parts of the cabinet. Then move on to the bar in front of the cabinet, attaching the fridge to the lower parts of the bar, and adding other components to make up the bar.
11. DIY Basement Bar
This is a unique basement bar made under $100. It's seamlessly easy to make and the woodworking process is super easy for even a beginner to work with. The creator even made a wooden floor for the basement to match the bar. This basement bar is by far the easiest to build, with simple working tools.
12. DIY Pallet Basement Bar
Have you ever thought of using a pallet for a bar build? It's going to be unique and amazing. The creator of this guide decided to give it a try and it worked perfectly, you can try it too. First, gather as many pallets as you want, having in mind the size and height of the bar you're building. Lay the pallet on the ground and attach every piece to form a standing piece. Then work on your countertop and use the video tutorial guide to build it to perfection.
13. How To Build Bar For Basement In 3 Minutes
So, you don't have time on your side, you need a base for your basement A.S.A.P, and the only way to get one into buying a small ready-made bar, but you can build a small bar on a budget in just 3 minutes. You might spend more than you might have budgeted, but you'll still build the bar in 3 minutes. It's a simple build and you'll make it faster if you do it with the help of a friend or anyone around you who wants to assist you.
14. DIY Basement Bar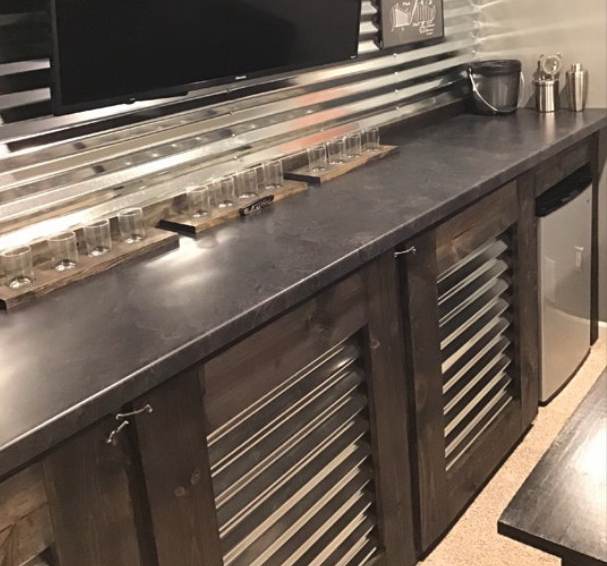 This is a simple basement bar to build. Here are a few materials and tools you'll need, a galvanized steel piping, drywall screws, caster wheels, wood stain, TV wall mount, corrugated galvanized steel sheets, sheet metal screws, and lots more. The rest of the process to follow is effortless. This is a bar that will practically be a permanent basement bar due to the materials used and the design as well.
15. DIY Basement Bar
A lot of items were needed to build this basement bar, like a thick oak hardwood, cherry oak wood stain, epoxy, PVC piping, and others. The project started by cutting the wood pieces, staining, and applying the epoxy. Then, start attaching the bottom shelf and the sides. The making process is pretty effortlessly easy and fun to build.
Conclusion
That's a wrap! Having gone through the list above and seen all the kinds of basement bars you can build, I'm sure you now know what you want to build and get it done in a budget-friendly way or go all out for an amazing build. Thanks for viewing. Before you leave, kindly share this content with your loved ones.