A pantry cabinet is an important part of the home whether you like it or not, some people get professionals to build one for them and spend a lot, but you can build one from the comfort of your home at a cheap and fair rate and it will still be as durable and functional as the one done by a professional or even better.
Let's get started and see how these DIY projects can assist you today. We have listed a total number of 22 DIY pantry cabinet plans that you can DIY. There's also a makeover tutorial that shows you how to transform your already existing DIY pantry cabinet.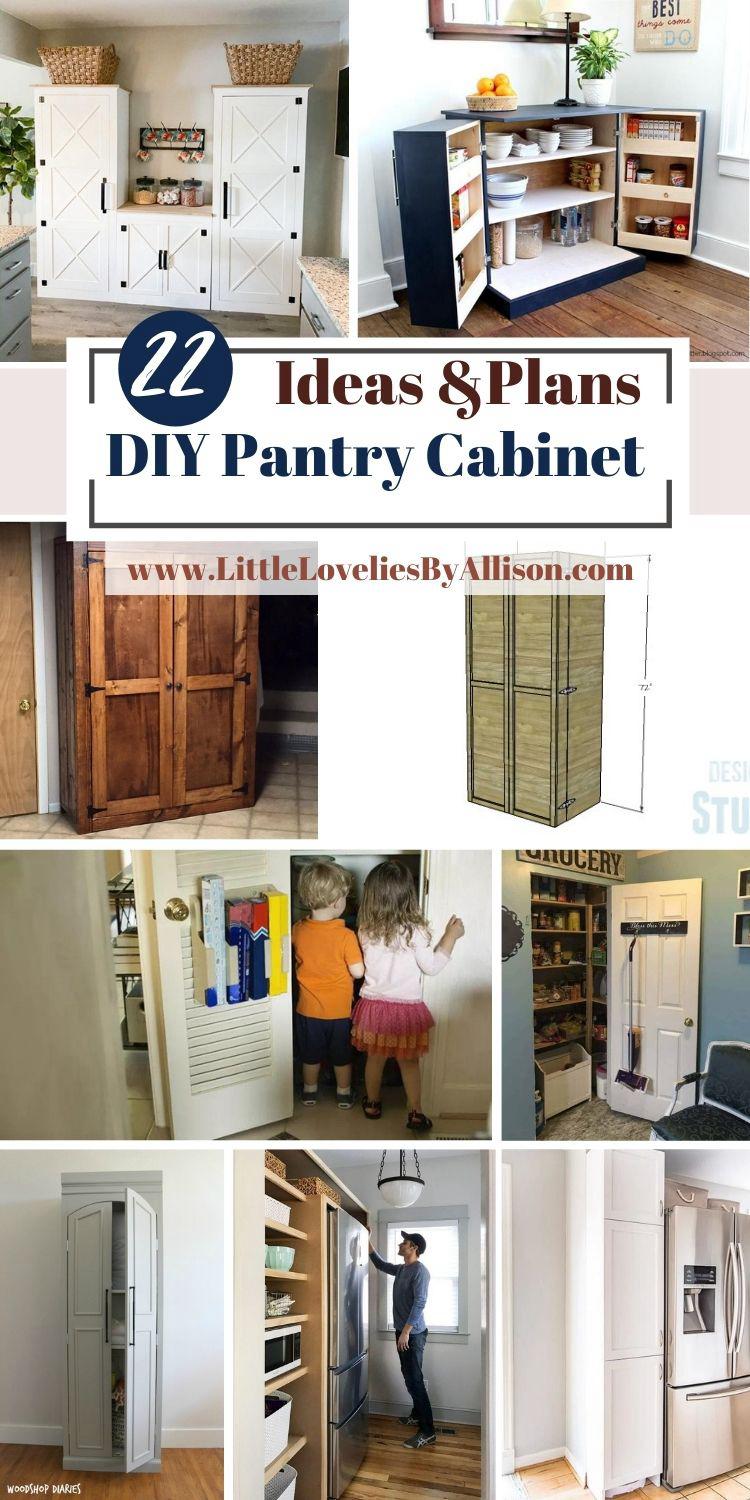 1. DIY Pantry Cabinet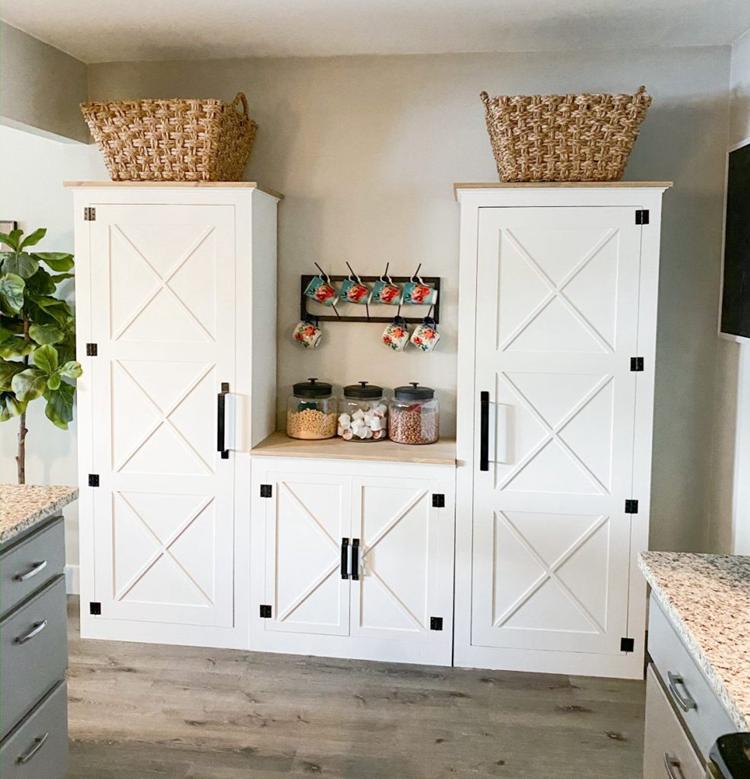 To get started with this amazing pantry cabinet, you need a few things first, a ¾" plywood, hardwood plywood, wood glue, nails, pocket hole jig, and a few others. This making process is super complicated, but don't worry, there is a building plan that you can download for free in this guide that will help you through the process with ease. The only good thing is that the creator had every step documented which will help you through the process as well.
2. How To Build A Pantry Cabinet
Here is an amazing pantry cabinet with a 9-inch depth. It's super easy to build and you can do it with a few materials like a cabinet grade plywood, sander, drill, edge banding trimmer, corner clamps, and a lot more. When you want to build something like a pantry cabinet of this sort, keep the proportion of the rest of the kitchen space in mind, and also the dimensions of the door handle and the sides. It's a simple building project that can be done by even a beginner.
See also: DIY Medicine Cabinet Plans
3. Instant DIY Pantry Cabinet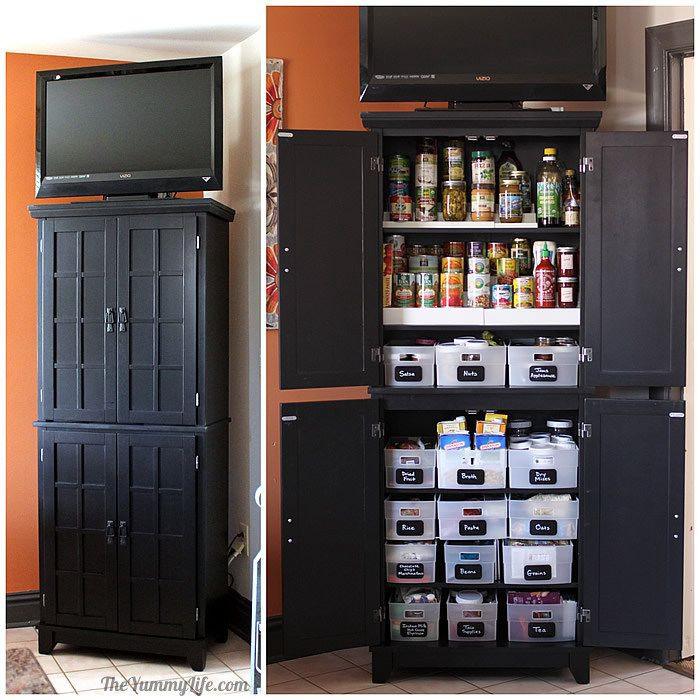 This is called an instant pantry cabinet, yes! You can build a pantry cabinet real quick if you don't have one already. First, you need to find the right space, the pantry cabinet in this guide is quite small but it should be functional and effective, and based on how this was built by the creator it can also. serve as a TV stand. It's also. has a top and bottom storage which will help you organize your stuff.
4. DIY Kitchen Pantry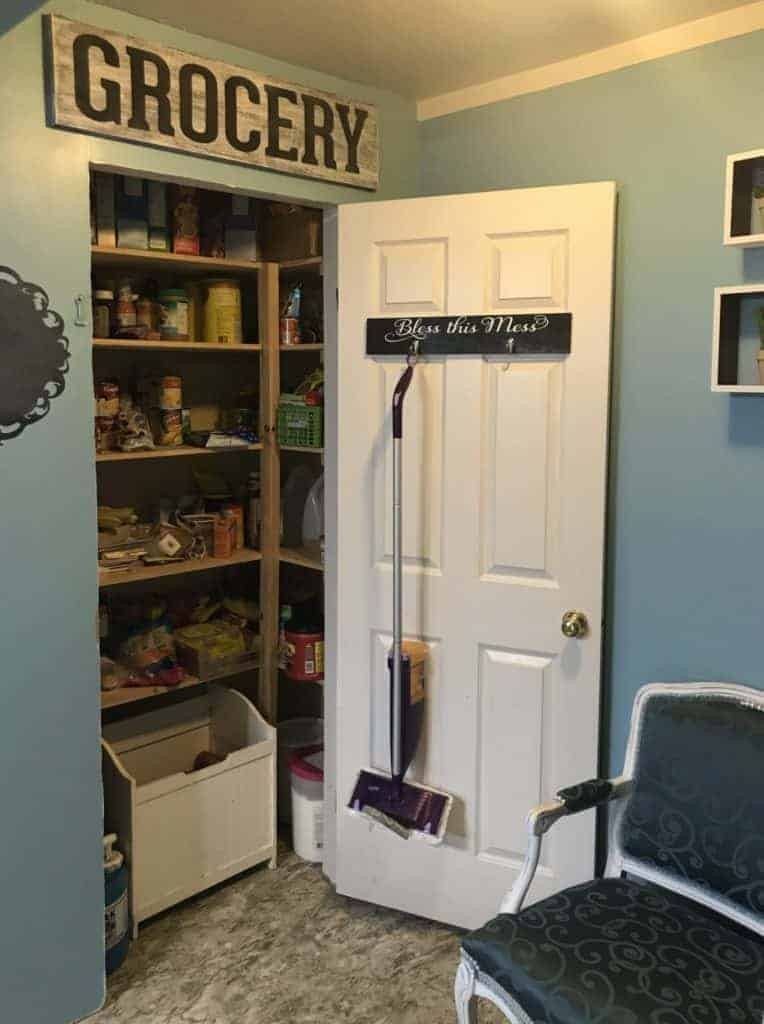 This guide is a great guide to use and learn the easiest way to build a kitchen pantry, especially for beginners. Here are the few things you'll need: 2x4 wood studs, drywall screws, a sheet of drywall, sanding block, roller and tray, paint, door, doorknob, and lots more. The creator started by framing the kitchen pantry, too. him or was a great idea and it worked perfectly.
5. DIY Kitchen Pantry Cabinet
In today's video tutorial guide, you'll be shown how to make a kitchen pantry cabinet that is not just deep, but also quite wide. If you are a beginner, here are the tools you need, a power tool kit that you can buy from Amazon, a miter saw, a table saw, and a palm router. If you are an experienced woodworker, then you need a different set of tools. Check the link to learn more about the tools you need.
6. How To Make A Pantry
This time-lapse video guide started with the creator cutting some 1x2 into the desired length. The pantry made here is deep and wide, but short. Although, it's portable and also perfect for any space you put it.
7. How To Build A Pantry
For any pantry cabinet that you'll build, you need to find the right space to lay it, because of opening and closing the door of the pantry and in a case when it's not a built-in pantry. You don't have to worry about that with this guide, the doors are slide doors which means you don't have to open wide to reach for the insides of the pantry. It's super easy to build.
8. How To Build A Pantry Cabinet
Here is an amazing video. a guide on how to build a pantry cabinet with plywood sheets, and other hardwood boards and planks. The making process is super easy and simple for anyone without any skills to build.
9. DIY Pantry Cabinet
Here are the materials you'll need to build a pantry cabinet, sanded cabinet plywood, wood screws, wood glue, screen molding, some pieces of plywood for the back panel, and other supplies. The tools used are a drill driver, table saw, circular saw, a jigsaw, clamps, level, brush applicator, finish nailer, and a combination square.
See also: DIY Liquor Cabinet Plans
10. DIY 2x4 Pantry
For this guide you don't need a high-level skill level, you just need a few materials like a 2x4 sturdy lumber, a good finish like Minwax English chestnut, and an open mind that this project might last up to a week to finish. The total cost is under $200.
11. DIY Pantry Cabinet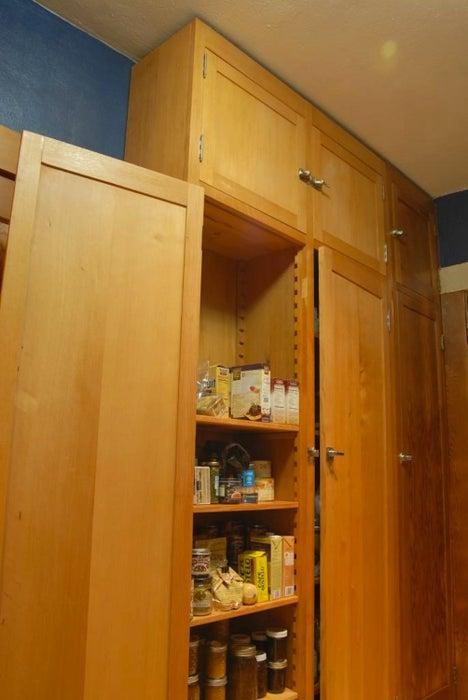 The best thing to do is to check the guide and download the building plans in pdf format for free. That way you can see the entire project before your eyes and know how to go about it and where to get certain materials that you might not see in your local area. Although, in this guide, they are over 16 steps to pass through before you talk about finishing.
12. DIY Pantry Cabinet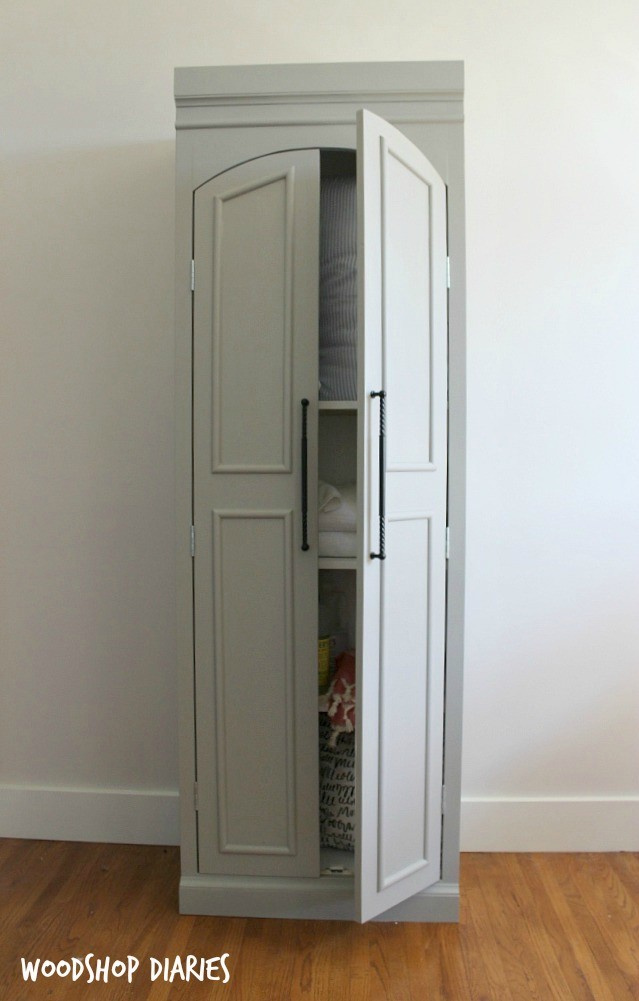 Having a simple Ballard design pantry cabinet is a great way to save space and save money. The pantry is 12 ½" deep, 73" tall, and 24 ½" wide, and you will end up spending only $100 to build this pantry. It might be small but it's functional. and durable, but if you had your sights set on something bigger, then you could try another guide to see what suits your needs.
13. DIY Free Standing Pantry
The creator made a free-standing pantry cabinet with pull-out drawers. It's effortlessly easy and simple to build. A lot.of.power tools were used to build this, which isn't a good thing for some beginners, but an expert won't have any problem at all. This pantry cabinet is deep, wide, and tall, it's a huge pantry cabinet to store virtually anything you want.
14. How To Build A Pantry
If you see a perfect hollow space in your house that can take a pantry cabinet, you should consider giving this time-lapse video guide a try. The size of the pantry will therefore depend on the space you have available. The steps are simple to follow.
15. DIY Pantry Cabinet Makeover
The creator took an ideal cabinet and turned it into a free-standing pantry cabinet. It was an amazing makeover, although the creator spent quite a lot, this is a pretty expensive project but the pantry cabinet built from it is worth every penny.
16. DIY Pantry Cabinet
So, here is a time-lapse video to show you how to build this pantry cabinet. It was quite a complicated build because the size of the pantry goes from floor to ceiling which makes it super big and quite complicated to make, but if you're up for the challenge, you can give this project a try.
17. DIY Rustic Pantry Cabinet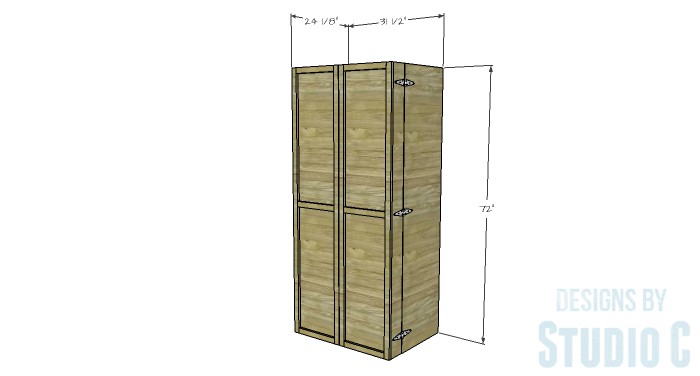 Alright, so here is a large rustic pantry cabinet that has large storage and it's perfect for dry food. You'll need some card nails, wood, edge banding, sandpaper, wood glue, stain, paint or sealer, some heavy-duty strap hinges, and a lot more. There is a cut list, check the link to learn more and. get the accurate cuts to your plywood boards.
18. DIY Kitchen Pantry Cabinet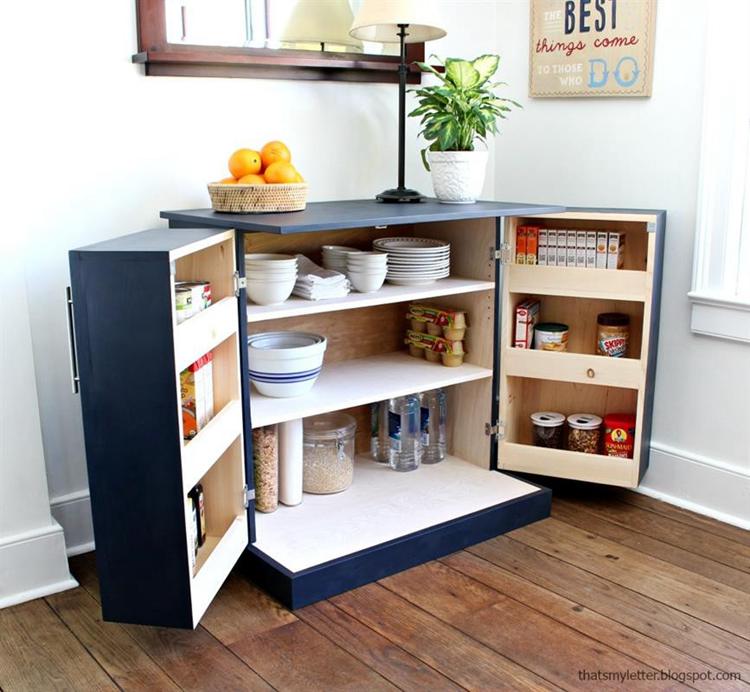 This is a great kitchen pantry cabinet, it doesn't take up much space, it's not too tall and at the same time has a large space and depth to store up lots of food items. There is a link in the guide's link, to download the plan in pdf format.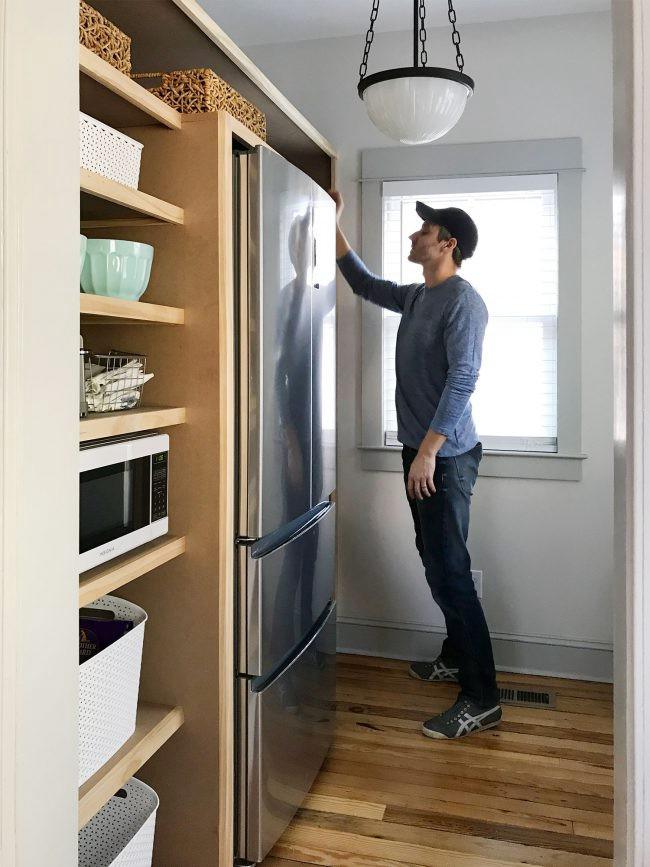 So if you have limited space in your kitchen, it would be a great idea to have a built-in pantry shelf like this one on my list of DIY pantry cabinets. Don't be scared, it's super easy to build, it's just going to take a lot of hard work and materials.
20. DIY Pantry Makeover
This should be the biggest pantry cabinet yet. It's so big it looks like a small room. It has lights inside because of how deep it is. It was built on a corner, but it closes with one door. The making prices took about 16 steps to finish.
21. DIY Space-Saving Pantry
Here is a super space-saving pantry, built with just one sheet of plywood. It's possible and it was done, check the link to the video description to see the plans the creator used to make it possible.
22. Simple DIY Pantry Cabinet
The pantry cabinet built by the creator of this video guide is pretty simple, perfect for a beginner in woodworking. Just a few wood planks and hardwood plywood were used to make the pantry. And the reason painted it to give it a great look and a simple finish.
Conclusion
So that's all that went down on how to make a pantry cabinet. The space you have at home will determine which pantry cabinet idea you'll go for, and that will determine how much you'll spend to make it happen. Nevertheless, all the guides above are easy to build. Thanks for viewing this DIY, I believe it was helpful, bye.