Are you tired of walking into your kitchen and come across with the usual light or dark brown colours? These unique Kitchen Bars for any budget can offer from a quick breakfast before you go to work, to a gathering with friends to chat, eat and drink. Moreover, an extra storage space is usually incorporated in these islands.. Fascinating designs, lively colours and fun textures will brighten your day!
Colourful and Unique Kitchen Bar Ideas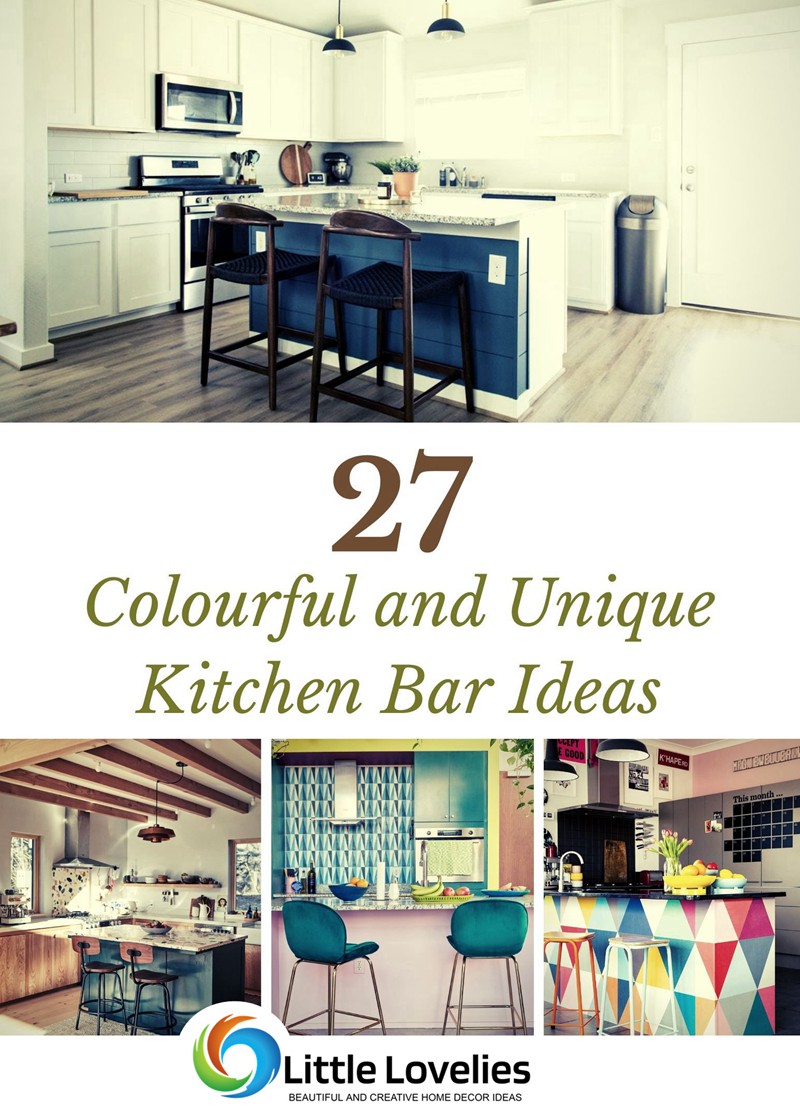 1. A Cosy Place to Eat
This incredibly unusual kitchen bar is a great low-budget but stylish choice. You can construct it from bricks, wooden old crates and white, or any other colour you prefer tiles. A structure like this contributes to a cosier look of your kitchen and is easily created.
2. Every Cloud has a Navy Blue Lining
If you already own a kitchen bar but you wish for a playful twist on it, then a solution for you is the shiplap project. It comes in white, but you can paint it any colour you like. A navy blue in a white kitchen could be the perfect solution for your space to look more complete.
3. Back To School
Put not just one, but many colours in your life (and kitchen), using a geometric wallpaper on your kitchen island. A quite easy and affordable idea which will make the difference in a small space!
4. Simple Is Always In Fashion
Navy blue works well in white spaces and this DIY project will make your kitchen bar stand out. Simple but elegant is the right expression to use for this island, which you can create from scratch.
5. Multifunction Kitchen Bar
This customizable island works not only as a dining table but also as a bookcase or even a place to incorporate a microwave. The light blue colour is smooth for the eyes and fits gently in your kitchen.
6. Teal Green Is The Cue
This kitchen bar combines elegance with marvelous colours and comfort with the soft fabric teal green chairs. It is proof that your imagination can lead you to beautiful results, and that golden details always add a unique element in decoration.
7.Poetry of Earth
If you are looking for a more earthly atmosphere, this dark green kitchen island with wooden stools is one of the best choices you have. The marmoreal material detail on top from italian marbles is a delightful addition.
8. Back In Black
Marcus Neiman quoted that "Women who wear black lead colourful lives", and he has a point. This kitchen bar combines the classic with the modern element, while the colour itself has intertemporal value.
9. Reduce - Reuse - Recycle
Go green and instead of buying new materials for your kitchen island, reuse old ones. This marvellous creation from reclaimed wooden planks, playing with the grey and white palette, is the absolute environmental-friendly but also stylistic proposal for your home.
10. Big Happy Family time
What is better than a large kitchen bar? The answer is a yellow large kitchen bar! Yellow might be considered as and eccentric colour, but using the proper quantity, like this example, might bring a refreshing breeze in your house decor.
11. Colourful Stripes Go With Everything
Another way of DIY renewal for your island is a wallpaper with colourful stripes. To avoid exaggeration and make this decor stand out, it can be combined with a wooden surface and plastic transparent stools.
12. Outdoors Barbeque Time: Check!
Owning a house with a backyard is definitely a must for the summer, especially when it comes with an outdoor kitchen. A large stone-wood-metal type kitchen bar is all you need for your family and friends to host an amazing barbeque party!
13. Put a dime in the Jukebox
Who says that modern cannot be combined with old-fashioned? A kitchen bar with light blue colour is something we' ve seen before, but when you add retro style red stools, you create a whole different atmosphere.
14. A Smooth Variety Of Shades
When you wish to transform a white kitchen island into something unique, you can use the pioneer idea to put stools which are not the same with each other. Even though they differ in colour and texture, they appear to match through the softness of the paint, and the result is a sore for the eyes.
15. A Study In Pink
For anyone who desire a chic but comfortable place to eat, this kitchen island with its pink stools is a proper choice. It can be incorporated in a big kitchen and its style is simple but unique.
16. Up To The Mountains
If you seek a fancy decoration for your kitchen, consider using these traditional but at the same time modern cowhide bar stools. This material will elevate your island to a high position and at the same time it will travel your thoughts to a warm chalet in the mountains!
17. Dots Everywhere!
Saving space is important and this round island assists in that. It can easily replace the dining table, and the colour contrast between the black-grey table and the pink-white dotted chairs is a beautiful picture.
18.Where Flowers Bloom, So Does Decor
Make sure to attract the attention of any quest with these colourful flower printed chairs. They fit pretty well with the black island, and their schematic floral nature render them quite modern.
19. Time Travel
This futuristic kitchen bar will take your space to another level. The whole room is three-coloured while the island sticks with white and light blue. When you add these amazing red diamond-shaped stools, your kitchen will definitely remind you of the movie "Fifth Element"!
20. Summer Breeze Elegance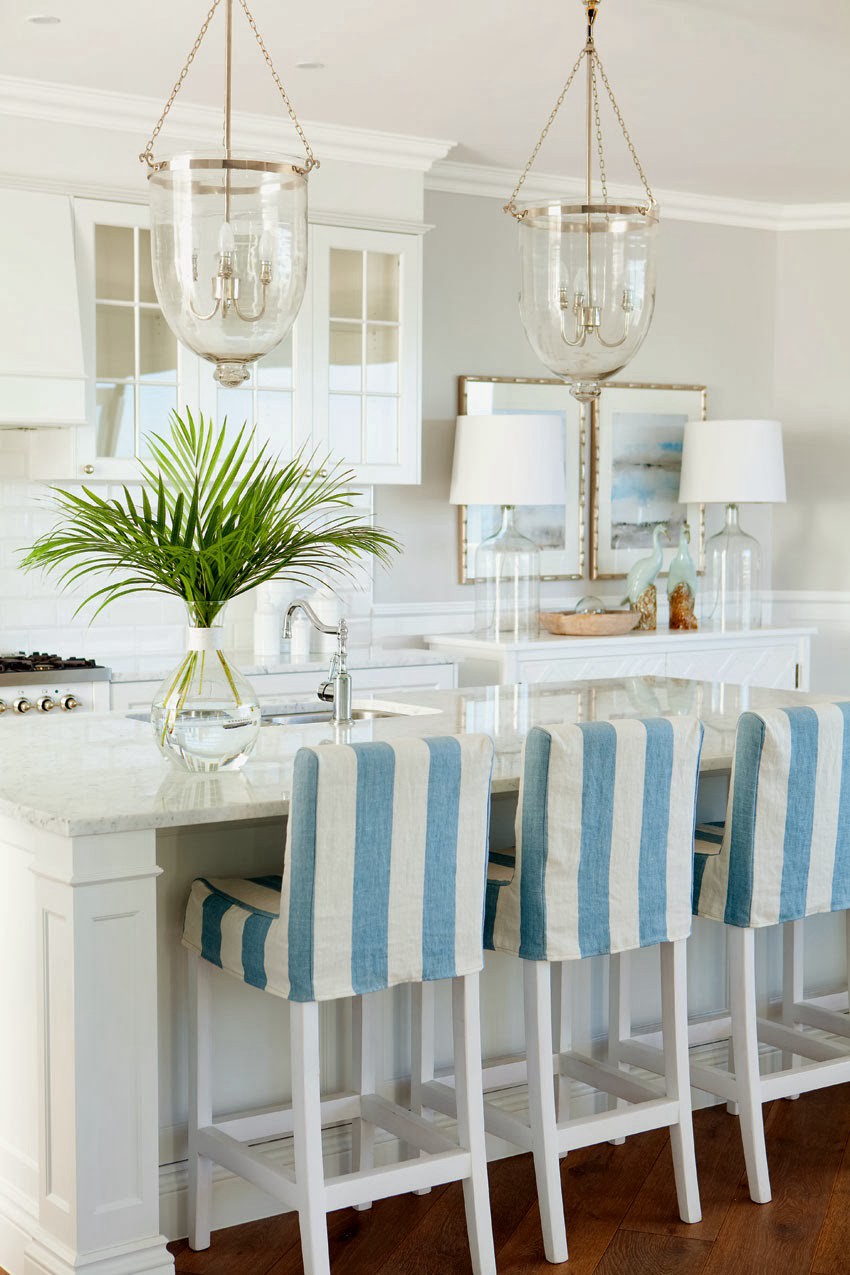 This list couldn't exclude a classic white type marble and wood kitchen bar. The twist here comes with the white and blue striped chairs, with linen fabric. I can imagine drinking my coffee on this island, at my seaside house, while enjoying the view from an open window.
21. Eastern Inspiration
An aristocratic feeling can be achieved when you choose the right furniture. A large kitchen island with a lot of storage space and stools covered with elegant Persepolis fabric may surely contribute to this image.
22. Eastern Inspiration Vol. 2
If you prefer a more light version of decor with eastern type fabrics, this kitchen bar might inspire you. You will be satisfied with the smooth wooden blue surfaces of the island and the green Sigourney fabric on the chairs. A simple, yet pleasing result.
23.The Famous Colour Combination on Bigger Scale
Another cozy kitchen bar for big families which serves for a dining table. It includes a huge blue island and white-red chairs. You may put check marks on the following squares: size, comfort, style.
24.No Limit Creativity
Here lies the chance for you to express yourself and make an impression. A kitchen bar which can be called eccentric due to the colour and material of its stools, but still marvellous to the eyes. A good choice to take advantage of a small space!
25. Less Is The New More
An extended island may create a nice table to use, especially when it follows the design rules. These wonderful green stools can be stored under the wooden bar, while the small red handles on the white cabinets present an almost minimalistic style.
26. Green, Green And Green!
Use all shades of green to create a captivating atmosphere in your kitchen. It reminds me of a restaurant where the quests are waiting for they dishes to arrive. It is an excellent example of using the existing wall to add a convenient element.
27. Fairytale Delight
When I look at this picture, I imagine that I am in a fairy's house. From the beautiful bar with the pink tiles, to the golden stools with the floral cushions, this structure comes close to perfection.
Conclusion
Making the right choice when it comes to a Kitchen bar is never easy. There is a huge variety of products to choose from, depending on your budget abilities and your current house decoration. The only certain factor is that when you introduce lively colours in your life, it will have a positive impact on your psychology as well. Be brave and let your inspiration guide you!