Barbeque season is in full swing and it's time to step up your grilling game. To do that, you're going to need a grill cart. There are dozens of fantastic ones out there but today, we're highlighting 25 DIY grill carts that you can build yourself.
When it comes to grilling, we all have one thing in common; the desire to do it right. And do it right, we must! Part of doing it right is constructing a grill cart. Summer is about to start and there's no better time for a BBQ than summer. You know there's gonna be plenty of grilled burgers and hot dogs in your near future. The only issue is, you don't have enough places to put all the food. If you're planning on hosting a barbecue at your place, a DIY grill cart might be something you can do to help increase convenience. Here are 25 DIY grill cart ideas you can build.
1. How To Build An Outdoor Grill Cart
Outdoor grills just get better with this fantastic grill cart! It is made from wood, pocket hole jig, pocket hole screws, wood glue, miter saw, table saw, casters wheel, and sandpaper. The pocket holes joinery helps keep the screw heads away from sight and makes the cart neat and fit. Once you put the cart together, you can paint the legs in any color you prefer.
2. Easy DIY Grill Cart
Check out this multipurpose grill cart! It is made from wood pieces and four casters, and the wheels allow easy movement of the sizable heavy-duty grill cart. It can be used as a prep table, serving table, or grill cart.
3. DIY Outdoor Grill Cart
Here is how to DIY an outdoor grill cart. The first step is to design the grill cart with SketchUp on your computer. If you don't know how to do this, you can find your way around after watching this video. After you have designed the grill cart, gather the materials and tools required for the project and get to work immediately.
4. DIY Grill Station
You can make this simple grill station with a couple of wood pieces and essential tools. The first thing you need to do is cut the wood into pieces and sand them thoroughly with an orbital sander (with 120 grit paper).
5. DIY Grill Cart
Do you want to learn how to build a simple  DIY grill cart that is mobile? Then, here is a guide that can help you with that! The cart's dimensions are 333 ⁄ 4 '' wide, 39½" long, and 34" tall. However, you can adjust the height by using different casters or lengths of the legs. angelamariemade
6. How To Make A DIY Grill Cart
Grilling is more fun when done outside where everyone is wining and dining. You won't get bored of the activity. All you need to do to have a fun-filled grilling exercise is an outdoor grill cart. This allows you to move your grilling to the open place where you'll have a gun with others.  harttools
7. How To Make A Rolling Grill Cart
Here is how to make a DIY rolling grill cart that can hold all your grilling equipment and ingredients simultaneously. This type of cart makes the activity more efficient and fun. It has four caster wheels attached to the base to allow easy movement in and out of your house. You won't want to leave your grill cart in the open all the time. thisoldhouse
8. Making A Rolling Grill Cart
If you would love to have grilled food all day long, you might consider grilling the food in an open space where the activity would be lively and fun. It is made from cedar wood and thick aluminum angles. Then, it is put together with galvanized or stainless decking screws, Panhead screws, circular saw, cordless drill, and driver. manmadediy
9. Grill Cart DIY
This axing grill cart can be used as a storage space to hold cooking utensils, seasonings, and other grill equipment. It can also be doubled as a serving table. The materials and tools required for the grill cart include a wooden board, 2×6,2×4, miter saw, screws, drill, and paint.
10. How To Build A BBQ Cart
You can start making this barbecue cart by sketching the design on paper. Thus, the processes become easy and fun. Here are some materials needed: wooden board, wood pieces, screws, wood glue, and paint.
11. DIY Weber Grill Cart BBQ Station
Do you need a cart for your Weber grill? Here is a great plan that shows you how to make a DIY Weber grill cart. It is super easy and inexpensive. Check out more details about the grill cart below.
12. DIY Barbecue Grill Cart
This barbecue grill cart is made such that it can accommodate two propane tanks at once. It is straightforward to put together once you have some wood pieces and essential tools.
13. Reclaimed Grill Cart Build
If you've been throwing away all your leftover wood, this might be the time you stop. Gather all the reclaimed lumber and make this portable grill cart. That's why it is called a reclaimed grill cart! One more thing about this is that It doesn't use caster wheels like any other cart; it uses reclaimed wheels gotten from an old cart. instructables
14. Patio Cooler & Grill Cart Combo
Grilling outside your kitchen can only get better with an excellent grill cart! With a grill cart, you don't need to be going up and down for ingredients or grilling equipment. You can have them all on your grill cart at once, and you start grilling without delay. instructables
15. DIY Weber Grill Cart Station
The design of this grill cart includes a sturdy base with a spot for a Weber grill on the tabletop. The design is straightforward, and the most fantastic thing about it is mobile. It has handles that help to protect it while moving. instructables
16. Easy Grill Cart Build
See here how to build a fast, easy, and strong grill cart! The grill cart is in the form of square boxes with three shelves and one tabletop. The three shelves provide adequate space for you to keep all the grilling materials, sauce/spicy, and equipment. instructables
17. How To Build A BBQ Cart
Learn how to make a barbecue cart for a 22" weber grill. The design has a spot for the Weber, a storage box, and an open shelf. Find out more on putting some basic materials together to have this.
18. BBQ Grilling Station Plans
Most of the grills available don't have enough space to keep all the grilling equipment and thus can be tiring. So, it would be best if you had a grill cart to provide more counter space where you can keep as many places as possible. A grill cart can also give you a space to store your cooler (depending on the design or plan).
19. DIY Outdoor Grill Cart
If you're looking forward to upgrading to an outdoor barbecue setup, this could be the best plan for your design. The grill cart is made from cedar, wood screws, and caster wheels. Find out more about the fantastic grill cart below.
20. Simple DIY BBQ Cart
You can build this barbecue cart for your Weber grill! It is multi-functional as it provides a space for you to keep your charcoal and grill equipment. It also provides storage space for keeping all the barbecue ingredients. Check this link to know more about this.
21. How To Make A Grill Station
Although this grill station is made from a long list of materials and hardware, all the materials are put together with three excellent tools; a power saw or hand saw, a combination square, and a power drill. These three tools are easy to use, even if you're a beginner. A little guide will do. diy.dunnlumber
22. DIY Grilling Cart
Do you want to make your outdoor grilling efficient? Then you should have this rolling grill cart. The grill cart is made from fir stock, metal rods, and casters. Since it is mobile, you can push it back into your house when not in use to prevent it from the weather (rain or sun). blackanddecker
23. How To Build A DIY Grilling Cart
What do you say about this multipurpose grill cart? Impressive right! The grill cart is straightforward to put together once you understand the concept behind it. Aside from the grilling tabletop, it has a cooler space that allows you to keep your drinks cool and chilled while serving them with the hot barbecue. creatingreallyawesomefunthings
24. Rolling Cart DIY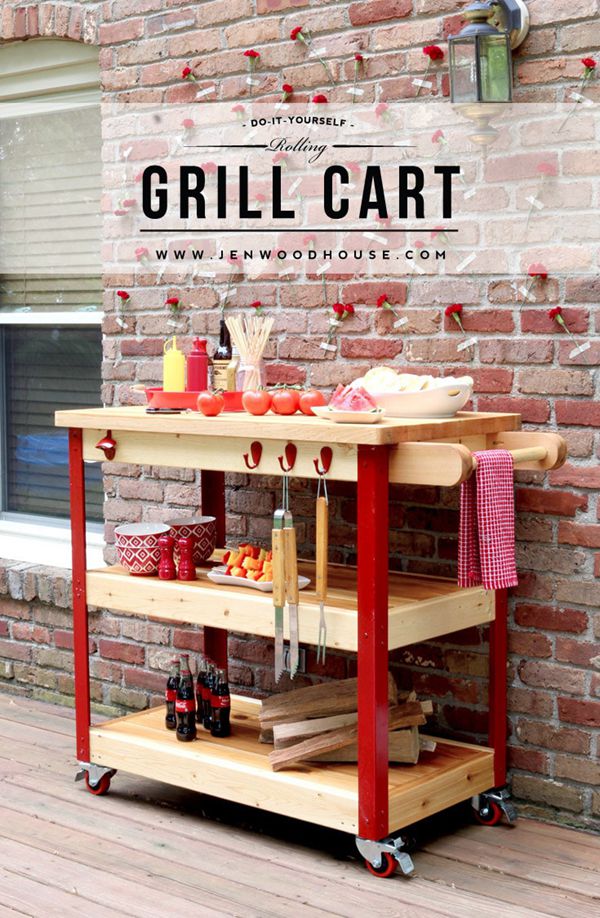 This fantastic DIY grill cart has six parts; the heavy tabletop, caster wheels, three frames, four metal bars holding the frames together, and a wooden handle to help protect the cart. This same handle can be used to hang towels. There are some small metal hangers attached to the front of the cart. jenwoodhouse
25. Grill Cart With Concrete Top
Do you have an old Weber grill? Do you need something more intriguing? If yes, you should follow this guide to learn how to build a grill station with a concrete tabletop. The legs are made from pieces of 4×4, while the rest of the cart is made from scraps of 2×6.
Conclusion
Would you agree with me that grilling gets more accessible and more fun when it is done outside? After reading these 25 excellent DIY guides on how to build different designs of grill carts, I know you would. One fantastic thing about all the carts is that they have casters or wheels that aid movement and a handle to propel the cart while moving.
Each guide explains the process of building the grill cart and gives a concise list of materials and tools required.