Independence Day is a day set aside to celebrate the birth of a nation. Every great nation has an independence day and 4th July is the independence day of The United States of America.
The citizens of America have a significant way of celebrating this special day and their dressing is always remarkable. If you are looking for some inspiration, I have put together a fantastic collection of DIY 4th of July Outfits.
1. DIY Patriotic Outfit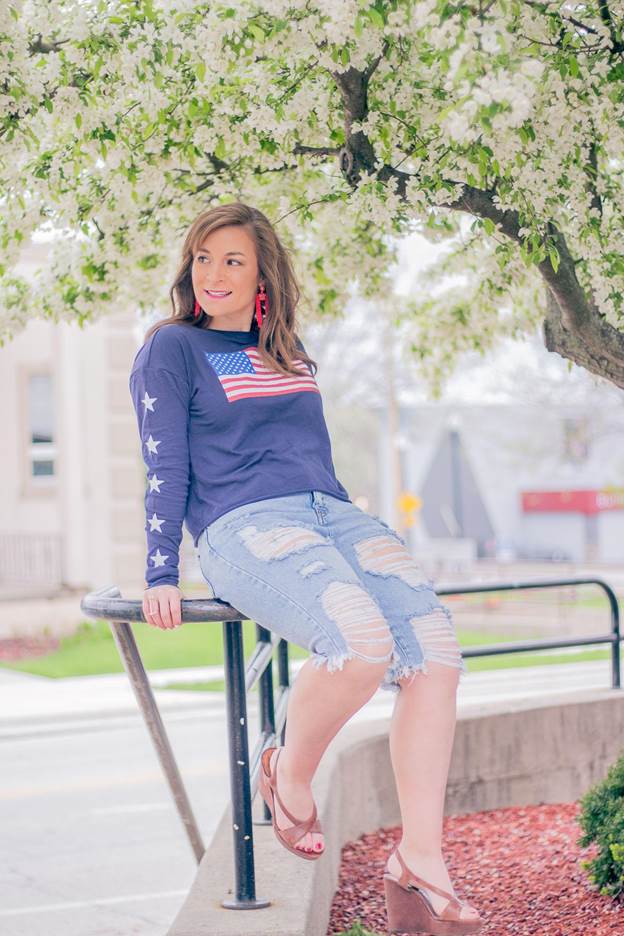 Easy and comfortable is not that hard especially when it comes to being creative. Red, white and blue can be a great combination for DIY 4th of July outfits. There are a couple of outfits to match the occasion. You can get a sweatshirt and destructed jean shorts. Get some fabulous décor ideas.
2. DIY 4th Of July Outfit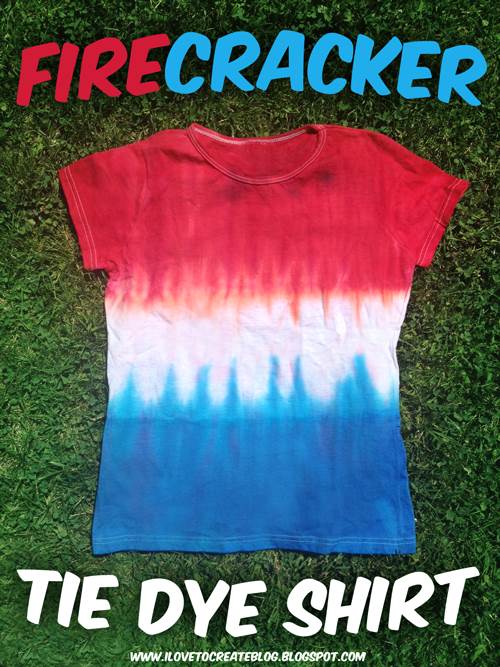 Creativity is the pathway to an excellent type of beauty, try those hands on something. This tie-dye design is great on a white cotton shirt. Lay the shirt on a surface and tie in sections. Apply dye, wash, and dry.
3. Dip Dyed American Flag Shorts
Think out of the box and check the result of your thoughts. You can use any color of short and deep dye it. Wear a pair of gloves to protect your skin then mix the bleach. Dip the shorts in the liquid and leave it for a while. Prepare your dye, wet the part you want to dye then dip it in. Don't forget to wash the short in water with detergent so it can set the dye.
4. DIY 4th Of July Hat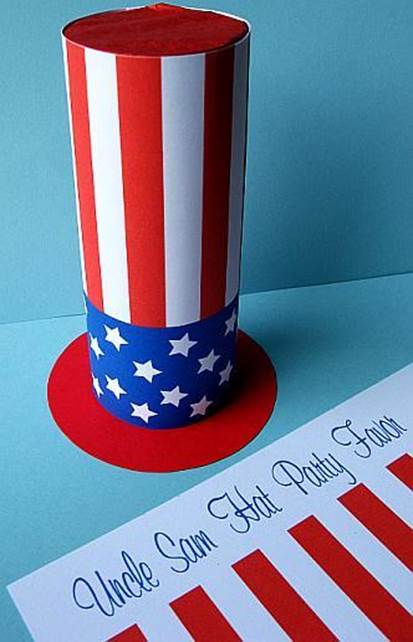 Come along let's drink, dance, party with our hearts full of joy. It won't take so much of your time to make a standard DIY 4th of July outfit for your party. This hat can be made using the top of a toilet paper roll. Print your design on card stock and glue.
5. DIY Patriotic Pillow Case Dress For Girls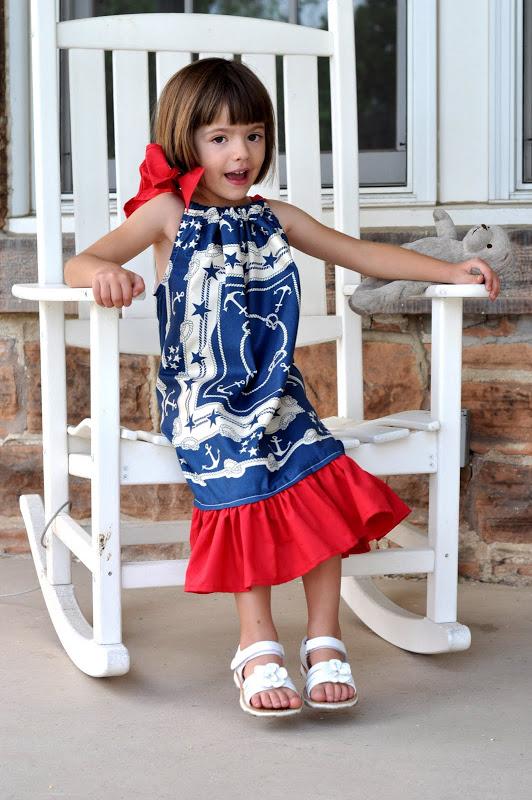 This costume is very easy to create and you can find the materials around the house. This pillowcase dress is made from a blue pillowcase fabric. If you have the basics of sewing then it will be easy for you. Design the halter neck and sew it then you add gathers to the base of the gown.
6. DIY Eraser-Stamped 4th of July Shirt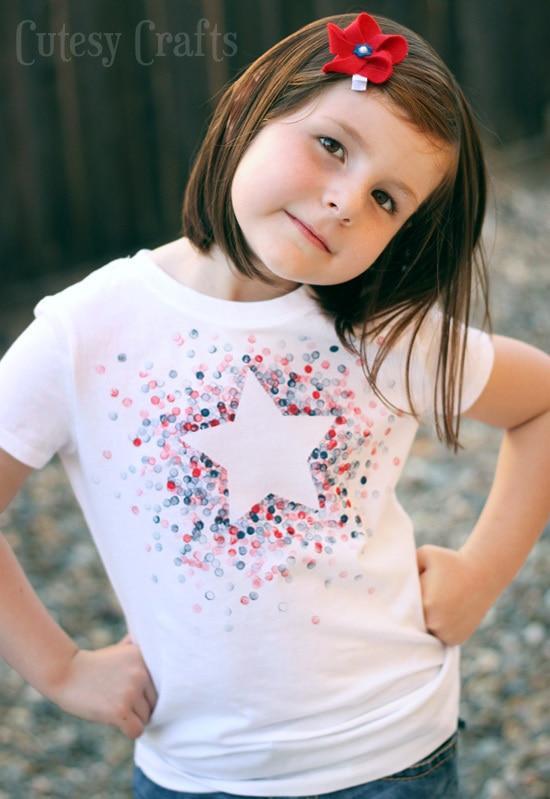 DIY 4th of July outfits are very easy and affordable. Get your kids white polo from the closet. First, trace a star shape on a piece of freezer paper then cut. Place it on your polo and iron it, it should stick. Make a shield inside the shirt, then dip the back of a pencil in paint and play around.
7. How To Make A Fourth Of July Tutu
With these lovely DIY 4th of July outfits, you will not need to break a bank. Your toddlers could also join in the celebration. Get strips of white, blue, and red tulle. Wrap the length of elastic on the round surface and put the tulle in layers behind the elastic till you get to the end.
8. DIY 4th Of July Shorts
These red, white, and blue dip dye shorts are amazing. You will need some white denim shorts, blue and red fabric dye, rubber gloves, and a few other materials to put this together. The making process is easy and can be done by anyone.
9. 4th Of July Shirt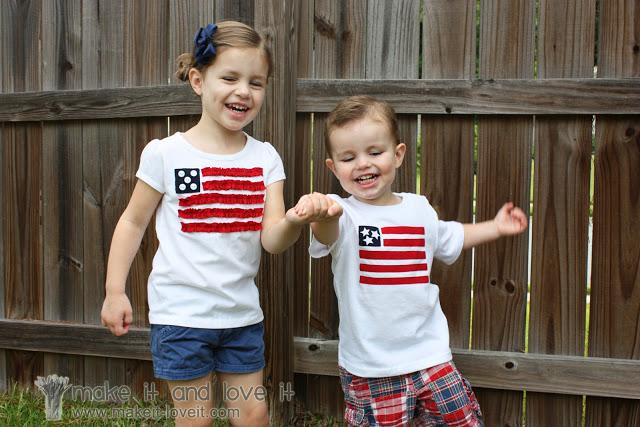 DIY 4th of July outfits is the best excuse for happiness because you will end up making it and loving it. One easy way to make this is to cut red strips off and attach in straight lines on the white polo. Make space for the blue square. You can either use stars or buttons.
10. 4th Of July Hat
Do it yourself. There's an inborn pride in taking responsibility for a job well done. Cut holes in your hat and insert your scarf. You can make a bow or let it drop.
11. Homemade 4th of July Shirt for Kids
Making this homemade shirt is pretty much easy. Carve your star shape off a pattern. Make as many as you want and attach to the front of the shirt. Tie pieces of ear board and use to dab on the shirt with the colors you choose. Try to avoid the enclosed spaces in the stars
12. DIY USA Flag Tie Dye Shirt
With this DIY 4th of July outfits, you could flag a cab and get a free ride. Instead of wrapping your shirt straight, you can do that sideways. Place it on a rack and pour your dye on different segments, allow it, wash and dry
13. Fourth Of July DIY Shorts
Life is short so seize your moment and have every chance at happiness. This DIY 4th of July short will surely leave you happy. Get old jean pants and transform it into a short by cutting the excess. Fold the edges and paint the pockets with stars or red strips.
14. 4th of July Shirt
DIY 4th of July outfits will keep the world staring and gazing amazingly. Get your white plain shirt and use a strong red and blue spray. Cut into a tank top.
14. DIY 4th Of July Outfit For Kids
There are no limitations when it comes to creativity. You can use different trims and ribbons. You can use lace, ricrac, curly, and straight on the singlet or you can make a simple flag shirt with strips sewn zigzag.
15. DIY 4th Of July Beach Bag
Be productive! It sets up whole new levels for you. Get a white canvas tote bag. Section your bag with a rope. Dye and wrap. The longer it sits, the more intense the colors. Wash and dry.
16. How To Make 4th Of July Shirts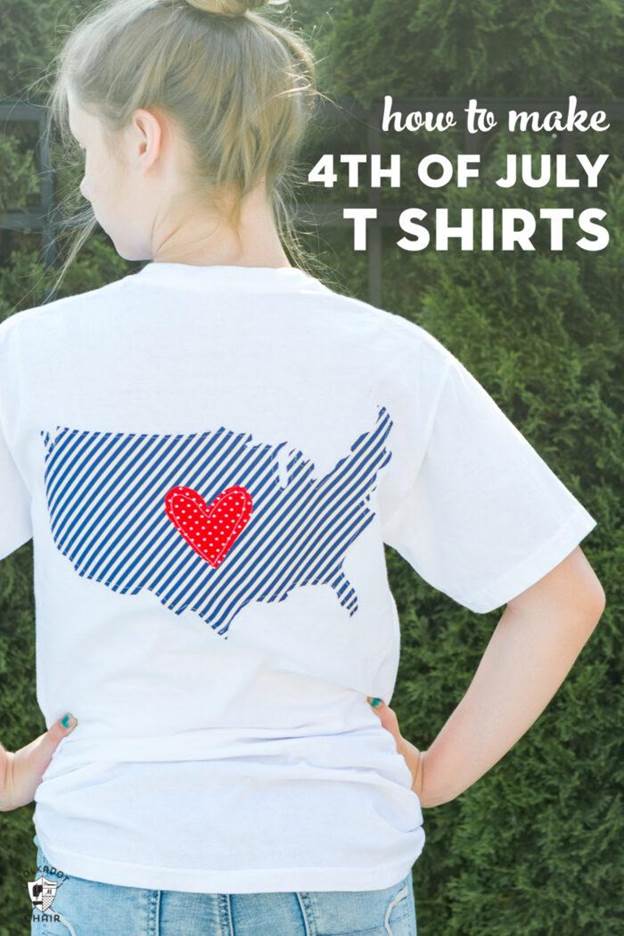 This is easy to do so you need your plain white shirt to print this on. This is a silhouette applique design. Print out the outlines of the US on a paper. Cut the pattern on the material than iron to your plain shirt. Do the same for the pocket in front.
17. 4th Of July Flag Shirt
Arts and crafts are what DIY 4th of July outfits depicts. This uses an easy sticker and a tape resist method. Use masking tape to section off the star portion. Dab on the stripes then fill the star section with star stickers and use blue paint. When it gets dried, remove the stickers.
18. DIY Fourth of July American Flag Crop Top
You can get a crop top to rock with your jeans and still represent Independence Day. Get some red and blue fabric dye and star stickers. Cut your shirt to the length you want. Mark the shirt and cut it. Make some triangular cuts so you can get ties too. Cover a tape before you print.
19. DIY 4th Of July Tank
This is pretty easy to do. Cut your shirt to the size of the tank top you want. Break into sections that look like the flag. Attach your star stickers then spray blue. Make your strips and spray red. Tie the back of the top with wraps to fit better.
20. DIY 4th Of July Outfit
American independence is a great time to have fun. This pair of shorts can be transformed into a DIY 4th of July outfit. Draw straight lines on one pocket and paint with a marker on the other. In the second pocket, you can use star stickers as a pattern. Do a tye-dye with the shirt.
21. DIY 4th Of July Outfits
These can be easily gotten at home. A pair of white shorts, a red shirt, white sneakers, white shades, and a fun strip fan made of the flag pattern.
22. 4th Of July Nails
This cute DIY 4th of July nail is fun to make. You can use Ziploc bags if you can't find a plastic bag. Fix the plastic somewhere and paint the design you want. Fix the stickers to your nails.
23. DIY 4th Of July Earings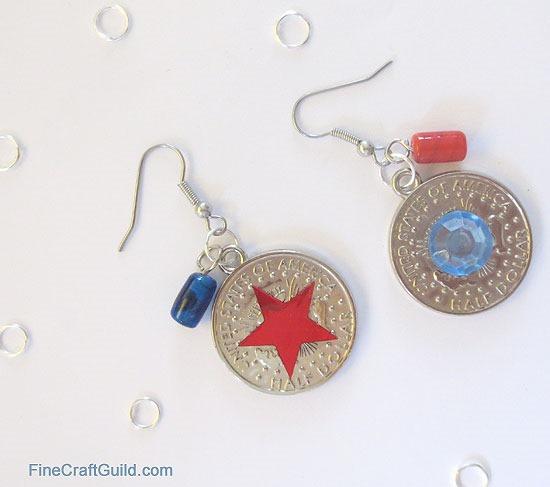 If you have access to an American coin then you are good to go. You will need earing wires and silver plated jump rings. String the red and blue beads on the pins and make a loop then attach a ring. Finally, attach the coin.
24. 4th Of July Bracelet DIY
The fireworks bracelet looks golden. Begin by arranging your beads on the headpins. Fit each to the chain of the bracelet. The number of pins will depend on the size of the bracelet.
25. DIY No-Sew Patriotic T-Shirt
Don't leave your baby left out of the celebration. Take out a pocket from an old gown and attach it to a redshirt. For the star, you can carve out from an old white tee.