I love parties and enjoy organizing them! If you have the same passion, you may need some new holiday party ideas to keep you trendy, modern, and unique. No matter how much your guests enjoy coming to your home, they might need a little change. One of the best options is to change the vibe in your home a little bit.
Your goal is to impress your friends and family members and create a few memorable moments in their lives. In fact, it will be more interesting if they don't know in advance what to expect, right? Make a surprise and give them something new and unpredictable in combination with your family tradition. I would love to see that!
1. Winter wonderland dance Holiday Party
You can organize this party anywhere, including your home, the school gym, dancing hall, and even the public library. The whole point of winter wonderland dance is to create a perfect scenography full of white and bright blue colors that resemble winter magic. Then, you can dance all night long.
The crucial things you need to provide are snowy Christmas tree, shimmering decorations, sparkling wine, tall crystal glasses, and imaginative food decor. Don't forget to add snowflakes hanging from the ceiling, because they can bring a special effect to your dancing floor.
2. Non-traditional tree contest Holiday Party
If you are keen on decorating, this type of party is the right choice for you. Therefore, you should organize a tree decorating contest. It's up to you which decorating style is appropriate for your home. The only rule is to bring all your creativity and goodwill into this project.
If you organize it as a company party, ask all the employees to bring their prior decorated trees and then compete for the tree of the year. However, it is not necessary to organize this party in the form of competition. If you like that way, you can enjoy your creativity and decorate one Christmas tree just for fun.
3. Pajama Holiday Party
Always popular pajama party will be the right choice among the all holiday party ideas if you are youngster or you wish to make all-girls or all-boys type of gathering. Besides being comfortably dressed in your pajamas, you will need an effective plan for that night.
Make sure to choose the right activities for this special event, such as playing video games, making scrapbooks, creating Christmas cards, or watching favorite movies. Always keep in mind that you will all crave some snacks at one point in the evening, even though you have already had dinner time. Prepare some yummy ones on time!
4. Gift wrapping Holiday Party

Why don't you make a wrapping time into a fun? The holiday atmosphere is contagious, and you should share festive holiday moments with your friends and family. Make a deal with your guests to bring all their presents to your wrapping party.
As a competent and organized host, you should prepare not just snacks and beverage, but also wrapping material. Purchase colorful wrapping papers, bows, ribbons, beads, scissors, glue, and balloons.
While wrapping gifts, you can sip a beverage and have a great time with your dearest. It can be a particularly suitable gathering for moms who always need to wrap gifts for children secretly.
5. Cocktail contest Holiday Party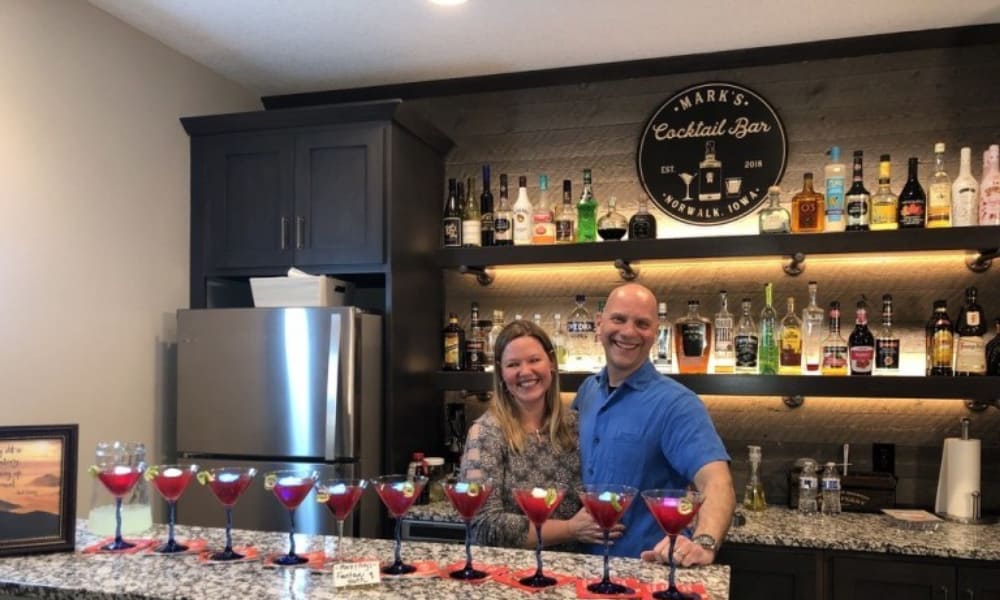 If you want to organize the ideal party for cocktail lovers, this is the one. All you need is adequate preparation. Don't forget to highlight to your guests that you expect them making cocktails during the gathering.
Inform yourself about various types of cocktails and purchase the proper liquor accordingly. Be aware that it will not be a cheap party as alcohol is pretty expensive. Therefore, make such a party for special occasions and celebrate with style.
6. Hawaiian holiday party
If you are one of the lucky people celebrating Christmas holidays somewhere where it is hot and sunny, you may miss the pine trees smell and snow. Don't be! Why wouldn't you try to organize the Hawaii Christmas party as an ideal holiday party idea?
Santa won't come to you in sleds, but he can dress up a red Hawaiian shirt and shorts, and come in a canoe. Ho! Ho! Ho! You can eat delicious Christmas luau and play Hula hoop till you drop. Instead of the Christmas tree, you can decorate Christmas palm, and the dolphins can pull the canoe. What a Christmas!
7. Cookies Holiday Party

All of you with a sweet tooth, behold the Cookies party, the party you will remember for a long time. Invite your pals to make cookies together. As a good host, you should do proper preparation and collect different recipes, materials, decorations, and enough baking and kitchen tools for everyone.
Also, be aware that you need to set a snack bar. Since Christmas time can be cold, you should choose to have a hot chocolate bar as an excellent holiday party idea. Plus, you will also need empty boxes to pack these precious products to your guests as takeaway gifts.
8. Pet holiday party
Are you a dog or a cat person? In any case, here is a beautiful holiday party idea that you shouldn't miss. Throw a party to your pet and pets of your friends. The whole idea is to spend time and share holiday activities with your furry friends.
Dress your and your guests' pets up and treat them scrumptiously. They will enjoy the attention you show them, and you will enjoy the photos you take of these little cuties. They are part of your daily life, and it is nice to include them in festive celebrations.
9. Holiday movie marathon Party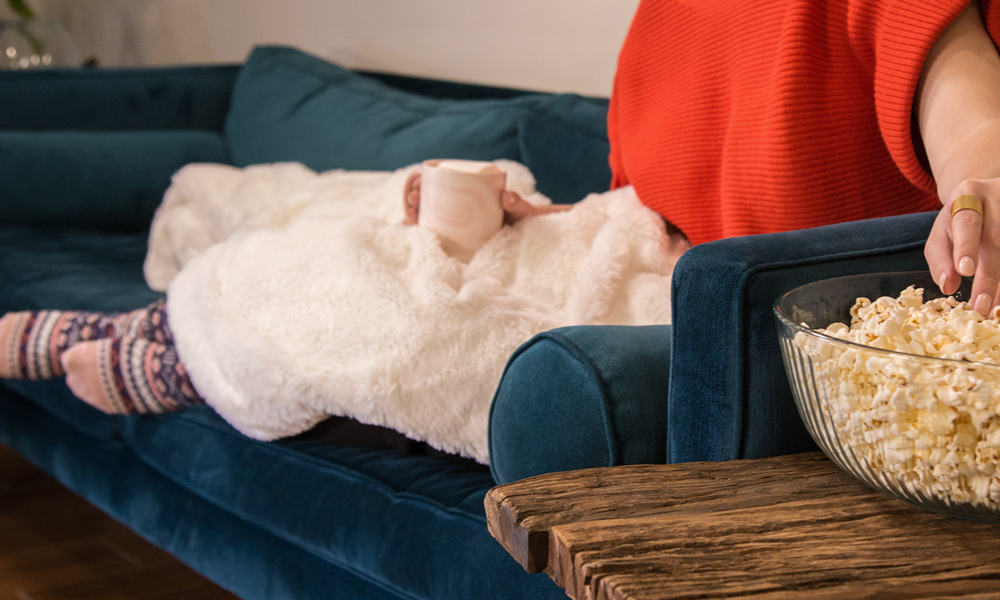 If you are often sick and tired of being in haste and usually have no time to watch movies you want, there is a perfect solution for you. You don't need to wear fancy clothes and to have flawless makeup. It will be enough to put on cozy pajamas and soft socks, scatter a lot of cushions around, and wrap into the favorite blanket just like Charlee Brown.
Prepare for the night by making the list of your favorite movies or those you haven't seen yet. Always put two to three extra films to the list, in case you don't feel like watching some of them. Appropriate holiday food and beverage will magnify the event. I can't wait for my next holiday movie marathon.
10. Holiday card decorating party
It is an excellent opportunity for you if you have always wanted to make original holiday cards without an idea of how to do that. Make a card decorating party and exchange the concepts with others while chatting, laughing, and having fun.
To bring this particular holiday party idea into life, you will need a lot of equipment and trinkets. Inform your guests to take their inspiration and skills to the party. Make sure you have enough room and tools for card crafting as well as suitable snacks and drinks. Making crafts is more rewarding when having company. Believe me, I have already tried.
11. Santa showdown Holiday Party

Different shades of red have been the inspiration for hundreds of years so far. The Santa Clause party can be an exciting holiday party idea. Everyone needs to dress like Santa, and you will proclaim the best costume at the end of the evening.
Take care to choose food and party decoration connected to the North Pole and Santa home. Also, make a Santa musical mix and include Santa sleigh ride to the party. Let it be red, reddish, and fun.
12. Ugly sweater party
Who has never got an ugly sweater as a present from their beloved ones? I know I have at least three of them that I refuse to wear anywhere. Let's give them a chance to shine during the party dedicated to forgotten and never worn clothes.
Take care to organize a party when it is cold outside. Only that way you can stay in your ugly sweaters all the time. There is no better time for this holiday party idea than at Christmas. Since everyone follows the adequate dress code, everything you need to prepare is proper music, drinks, and attractive sweater-matching food.
13. Make the masquerade Holiday Party
I suppose that all of us desire to be a part of the masquerade party. You just need a fantastic mask that you can create yourself. The simplicity of the preparation and the secrecy behind the masks distinguish the masquerade one of the most popular holiday party ideas.
All guests need to follow only one rule - to wear a masque. Otherwise, the spell will be broken. Try to provide the ambiance full of dimmed light, loud music, and tasty food catering choice. Be unique and provide long crystal glasses for your friends to add the tone of finesse and intrigue into your gathering.
14. Ladies-only wine night Holiday Party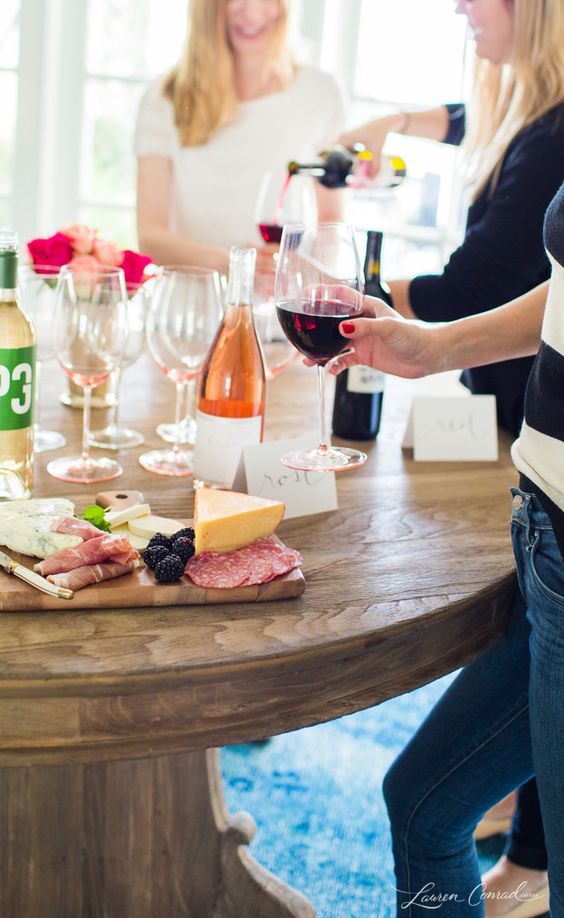 The most sophisticated and amazingly scrumptious party of all is the wine night out with girls. You needn't be a wine expert in throwing a party, but you should ask the connoisseur for an opinion before you order a specific wine.
Keep in mind that you will need different sorts of wine for degustation. Therefore, you can ask your guests to bring a bottle of wine to the party. Add different kinds of cheese and snacks, and enjoy the wine bucket with your girls.
15. Classic Holiday dinner party
Some parties need to be more official and conservative. Therefore, I suggest the classic dinner party, the oldest party of all. Even though the preparation is not that simple, I think it is essential to make one at least once in a lifetime.
You need to follow a certain table setting etiquette as well as table manners. The special rule is to make a three-course meal at least. The wine choice is crucial as well as decorations. Dare you do it and expect an excellent experience is rewarding.
16. Holiday movie costume party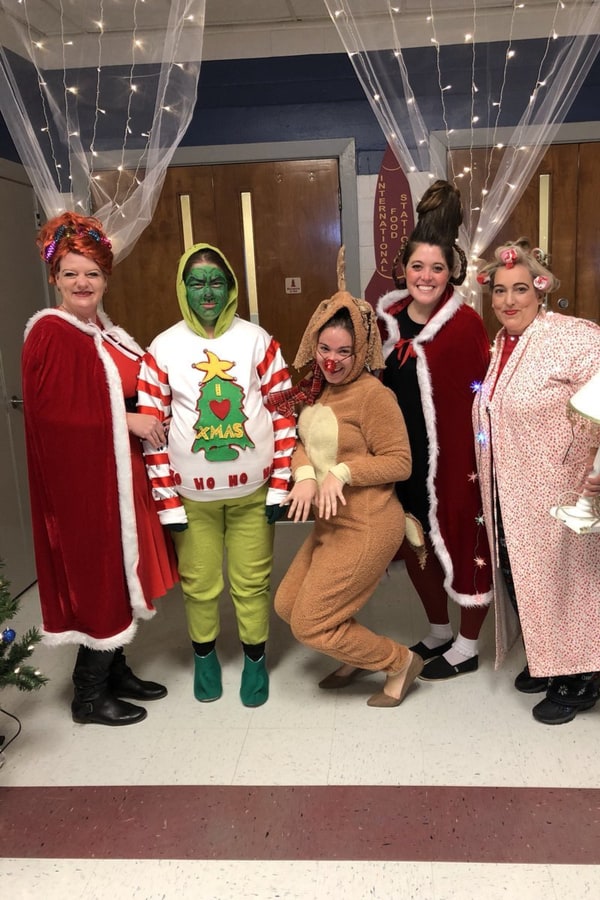 If you are crazy about movies, and always quoting or looking for an excuse to talk about films, there is an excellent holiday party idea for you. Organize a holiday movie costume party! You won't just act, but you can be a movie star for the entire night.
Include glamorous cocktails, beverages, and food connected to movies and Hollywood. Also, you can make the night unique by playing soundtracks from films. In case you have a projector, you can play music spots made for movies, too. It will be a night with stars!
17. Ski lodge holiday party
Whether you like to ski or not, you can have a ski lodge party. Organize it outside or make it look like you are out. Set the tone of after skiing relaxation and ask your guests to wear skiing clothes.
Prepare a lot of warm and hot drinks such as cooked red wine, tea, and hot chocolate. As for food, the best option is canapes or snacks. Put on some blinking lights, and don't forget the campfire or fireplace. Stay up late, sing, dance, and have fun.
18. Karaoke night Holiday Party
Since Christmas is one of the holidays when the whole family gets together, Carol karaoke night can be a real success. You probably have already had a decorated house and prepared food. Why wouldn't you make these days more special with an excellent holiday party idea such as karaoke?
You don't have to put too much effort into organizing this gathering. Download Christmas karaoke carols from any site and start singing with your family and friends. Karaoke competition can be your party pinnacle!
19. Holiday Ornament crafting Party
Let's make ornaments for a holiday together. It is a convenient occasion for the party and for having a good time while doing some crafts. Gather your friends interested in craftsmanship, and let's get this party started.
Everyone should bring their tools such as scissors, staplers, rulers, and a wish to express their talent and creativity. You, as a host, should provide materials, snacks, and beverages. Also, try to pick out proper soft music, good lighting, and a lot of space for cutting, gluing, hanging, and exhibiting the ornaments.
20. Holiday Hot chocolate party
Finally, the best holiday party idea ever is probably a hot chocolate one. That kind of party is suitable for everyone. Invite people from different areas of life, ages, and interests, and the party will be successful for sure. They just need to love chocolate because it connects!
Give the hot chocolate exotic taste by adding different toppings such as whipped cream, sprinkles, cherries, nuts, or some other flavor you like. Serve it in big colorful mugs and serve some chocolate snacks or chocolate bars you have made by yourself. Have a good time while sipping it, talking and mingling.