This article is a compilation of the best DIY Christmas wreath dollar tree ideas. Beautiful lights, the gifts shared, boughs of holly, and the anticipation in the air, are the things we smell in the air when Christmas is near. Spread a little cheer among your family and loved ones with crafting projects everyone can enjoy.
If you've been looking for new Christmas decor ideas that are functional, cheap, and yet very great looking too, then you should make a Christmas wreath tree. It's beautiful, simple to make, and costs almost nothing to craft. Even if you don't know how-to, I'll show you 20 DIY Christmas wreath projects you can do even if you don't want to break the bank.
1. How To Make A Christmas Wreath
Crafting is enjoyable for diverse reasons, especially when you're on a budget but still on the lookout for creative decor ideas. If this sounds like you, then this Christmas wreath DIY will rock your world! It's made from an evergreen base, poinsettia flowers, ribbon, and a few other basic supplies. If you'd love to learn how to make a double bow wreath pattern, then this guide is just right for you!
2. DIY Dollar Tree Christmas Wreath
A Christmas wreath is probably the easiest craft decor you can make during the yuletide season. All you'll need to replicate this project are a Christmas tree from the Dollar Tree, wire, wire cutters, and a glue gun. If you're aiming for a snowy look, then you should probably paint the branches of your tree with some foam paint as was done in this tutorial.
3. DIY Christmas Wreath
Christmas wreaths are so beautiful and add a subtle sparkle to your Christmas decor. If you would love to make one for yourself but don't know where to start, start here! This is a beginner-friendly project because it covers the process from start to finish and uses traditional Christmas colors.
4. DIY Deco Mesh Wreath
Variety is the spice of life and nothing reflects this better than a Deco Mesh Christmas wreath. The crafting process is as uncomplicated as possible and quick to complete too. If you've been looking for fun projects to try out during the holidays, let this be the top of the list!
5. Easy Dollar Store Christmas Wreath
If you would love to make many wreaths and not have to choose one, these DIY projects are for you. Some of the wreaths in this tutorial are the Bottle bottle wreath, Gumball wreaths, Glass ball great, and many more. All these wreath projects are gorgeous and don't have heart-stopping price tags attached to them. thecottagemarket
6. Peppermint Christmas Wreath DIY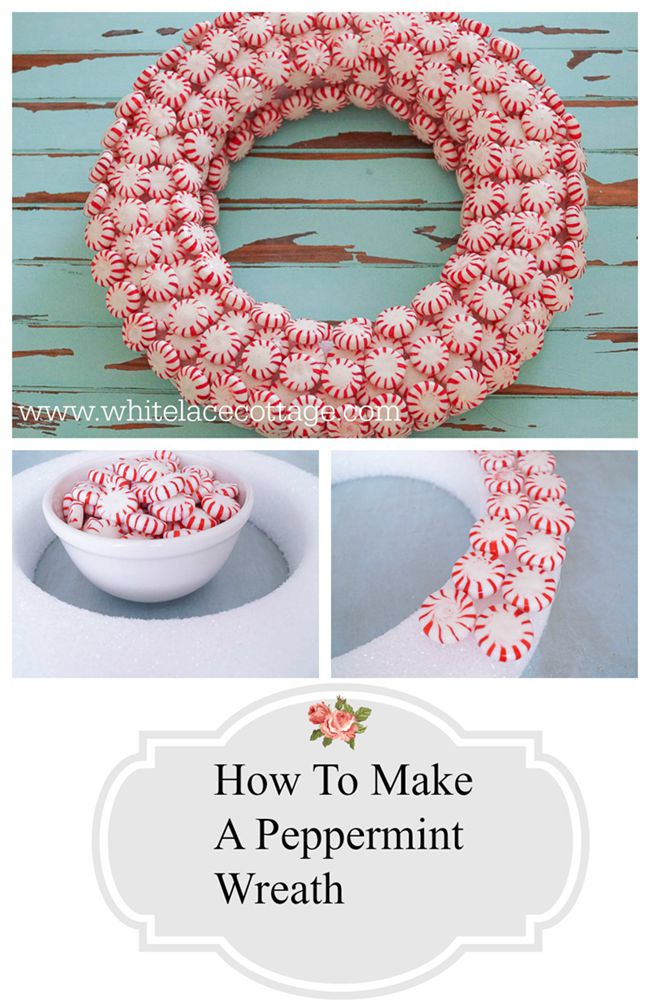 Whether you decide to place it on a table or hang it somewhere special, this peppermint wreath always looks good! To replicate this project, you need a styrofoam wreath, peppermint candy, and a high-temperature hot glue gun. It's quick, easy, and doesn't have to be perfect. whitelacecottage
7. Yarn Ball Wreath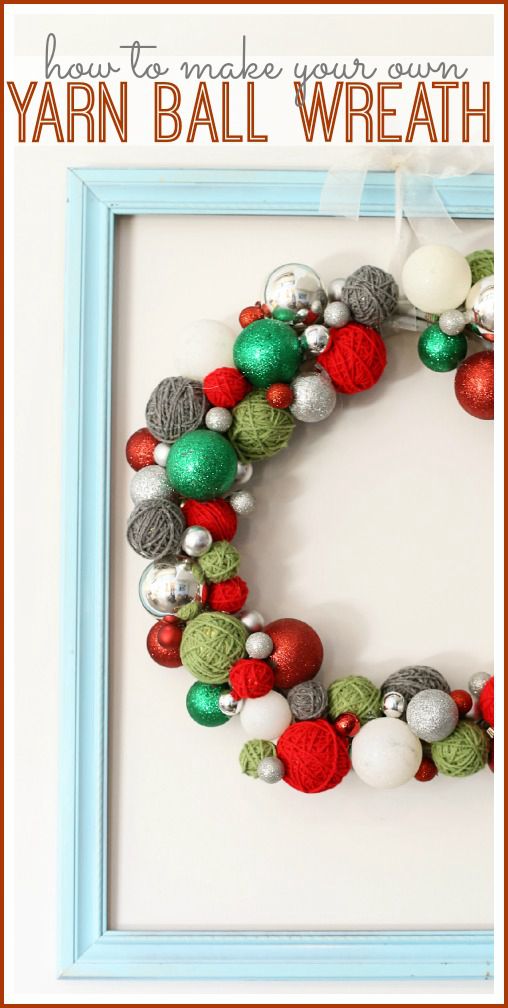 Yarn rolls or balls(Not solid yarn though as you should be using those for something else) can be used to make a beautiful wreath, especially when combined with ornaments. If you have some yarn laying around and old ornaments you are about to throw out, why not use them to make this beautiful wreath. You'll learn that it's quite easy to make. Sugarbeecrafts
8. Winter Twig Wreath
This DIY winter twig project is so awesome because it costs next to nothing to make and still makes your jaw drop at its beauty. To make this you need Burlap, Jute, twigs, and very few supplies. The tutorial has the right quantity you need for each material and also contains tips on navigating, trying the twig's branches together and so on. When you're done, you'll have something so enjoyable. tarynwhiteaker
9. Leaded Glass Crystal Christmas Wreath
Stained glass has a way of looking so elegant… What if you could achieve the same effect with this leaded glass wreath project. To make this, you'll need flower bushes, metal bells, sheer ribbons, crystal-cut platters, shoelaces, and a few other materials.
10. Rustic Large Christmas Wreath
Learn how to make your oversized rustic Christmas wreath by replicating this DIY. The process is easy to follow, the result is terrific and it costs about only 15 dollars! Store prices often range as high as 80 dollars or more, so it's an easy way to save some bucks this season and still have your house as glammed up as ever!
11. Dollar Tree Christmas Wreath
Are you looking for an easy way to learn how to make your permanent wreath that'll stay beautiful? Then you need to check out this Dollar tree Christmas wreath DIY project. It's easy and fun to make and will last for an extended period. It's also exciting to look at and a great addition to your Christmas décor.
12. How to Make Dollar Tree Wreaths
While Christmas wreaths are beautiful, we all know how overpriced they can be, plus what you find in the stores may not be the exact design or have the material you want. Learn how to make both a deco mesh and flower tree wreath with this DIY tutorial. It's straightforward, cost-effective and still looks magnificent when you hang it on the wall. So, grab your supplies and knock yourself out!
13. Making An Ornament Wreath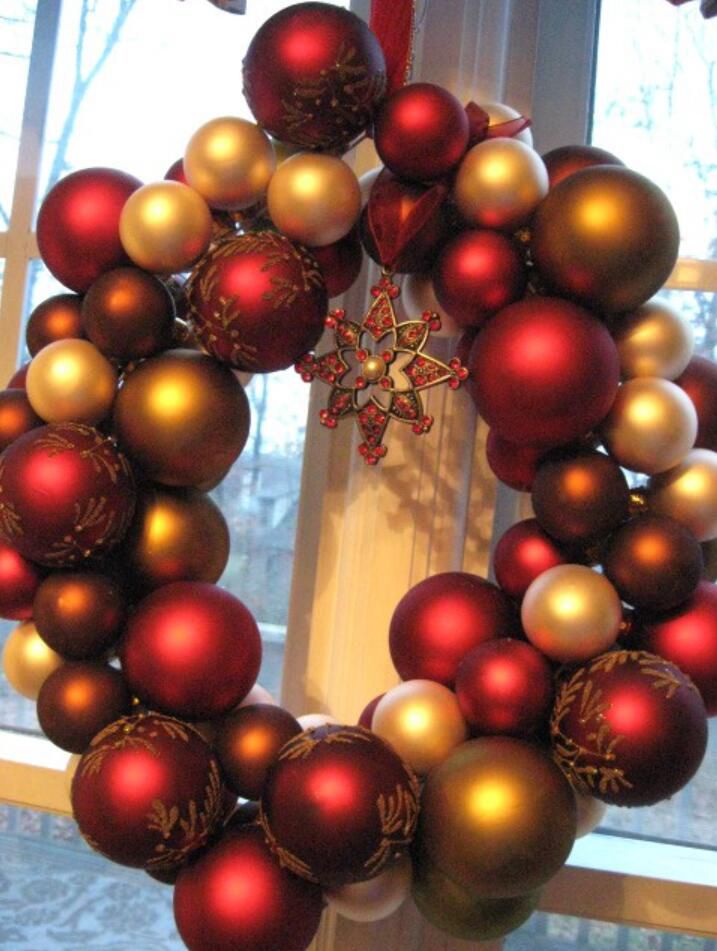 Before you throw those ornaments in the trash, take a look at this splendid DIY Ornament wreath project and see if you would love to make this as part of your Christmas decor. It's made from glass balls, wire hangers, and ribbons. This DIY will help you with tips on keeping your ornament balls glued together. This wreathy is great looking, unique, and adds color and warmth to your house. Plus, you could make it as a gift for your loved ones too. southernhospitalityblog
14. Vintage Styled Corsage Wreath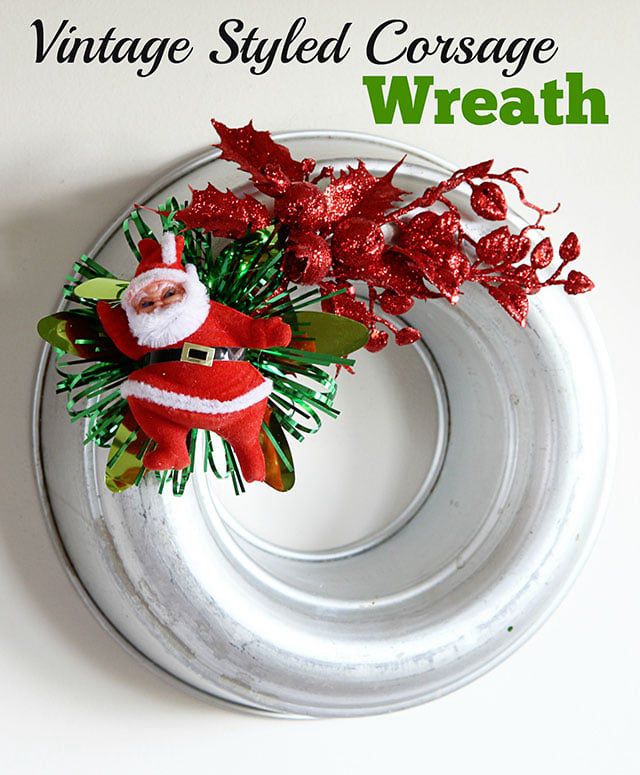 Vintage lovers would dig this one! If you love vintage-styled items, then don't pass up this opportunity to make your vintage-styled corsage wreath. This DIY is packed with interesting tidbits of information on the materials you need and how to style your corset from start to finish. If this looks exciting to you, then jump right in and begin to work! houseofhawthornes
15. Dollar Tree Wreath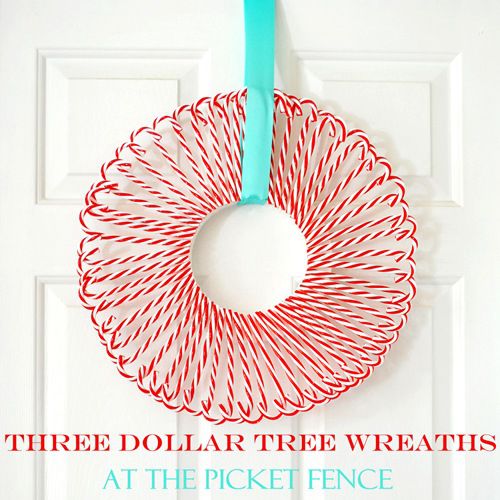 Are you tired of the regular traditional-looking wreaths? Here's a chance to spice things up with this candy cane wreath DIY. All you need are a Styrofoam wreath base, hot glue gun, white craft glue, candy canes, and a few other crafting supplies. This DIY can be completed in a short time and is pretty straightforward too. The results are awesome when it's finished whether or not you did it perfectly. atthepicketfence
16. DIY Dollar Tree Christmas Wreath
Brighten your season with this Christmas wreath DIY project. The best part? Almost everything you want can be found at the Dollar store for pretty low prices. This wreath is perfect if you're going for the rustic and neutral outlook. thelatinanextdoor
17. DIY Christmas Wreath Dollar Tree
Are you bored with all the complicated-looking Christmas wreaths? Have you tried to make a wreath for yourself but just couldn't get the hang of it? This is an easy, beginner-friendly project you can try. It can be completed in a short time too.
18. How To Make A Christmas Wreath
Am I the only one that finds it hard to believe that this stunning snowflake wreath costs only $7 to make? And you need just seven ornaments from the Dollar Tree to make this. If you've run out of holiday gift ideas, this is a good option. It's elegant and looks expensive but it isn't! singlegirlsdiy
19. Cheap Dollar Store Christmas Wreath
Wreaths are a great way to decorate your doors, walls, and tables and this ribbon bow wreath is no exception. If you've been looking to learn how to make a bow pattern wreath, then this DIY is just for you. It's simple to make and doesn't require expert crafting skills. With little patience and some craft materials, you're good to go.
20. How To Make A Mesh Wreath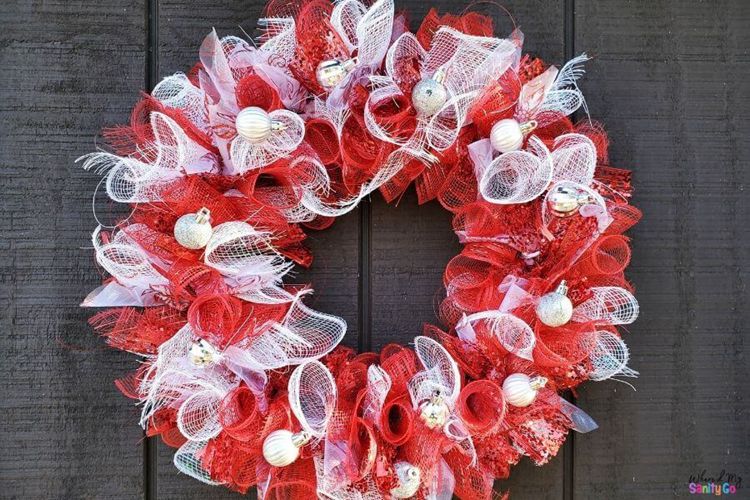 A Mesh Wreath is an inexpensive way to glam up your Christmas decor. If you like to know how to replicate this DIY, then you should check out this project. It contains a step-by-step guide on making a Mesh Wreath.
Amazingly, most materials needed are available at the Dollar Tree store. A few supplies you'd need are sequin ribbons, Mesh, Glue gun, chenille stems, and a few other craft supplies. wheredmysanitygo
Conclusion
This project comes in different sizes, shapes and can be made from different materials so, pick anyone and craft away!  Christmas is just around the corner and we are all hoping for a white Christmas. It will be a time for family, friends, joy, and happiness. Christmas wreaths are the best way to carry the holiday's theme. No matter if you have a simple or fancy taste you can find a beautiful wreath design that you like.