Have you ever seen a balloon garland and wondered "how on earth was that made?" If you've had that thought then you must stay on this page. This article will teach you how to make a balloon garland with ease.
We have put together 24 amazingly outstanding DIY balloon garland plans that you can make from the comfort of your home without having to spend too much. Are you ready to make your first balloon garland like a pro? Let's begin!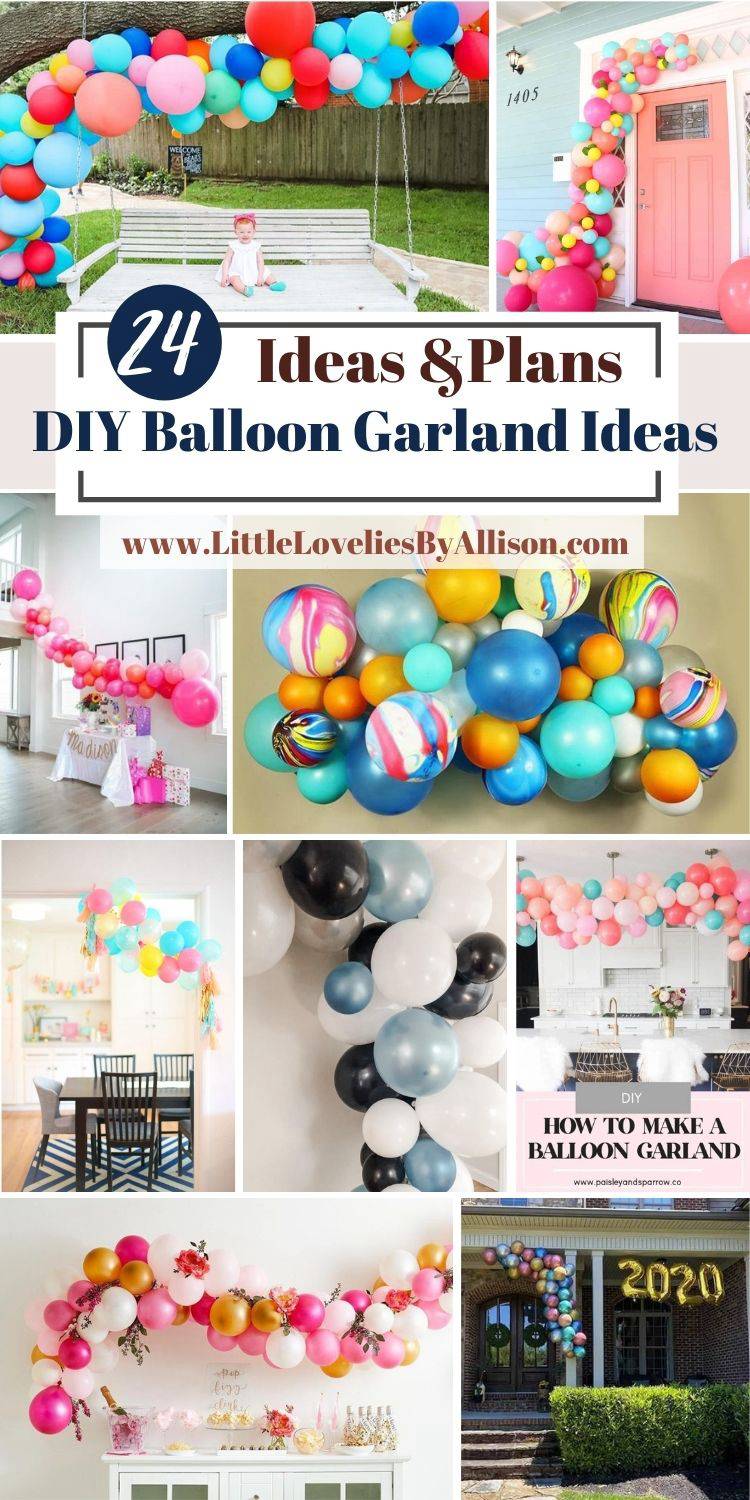 1. Easy Balloon Garland DIY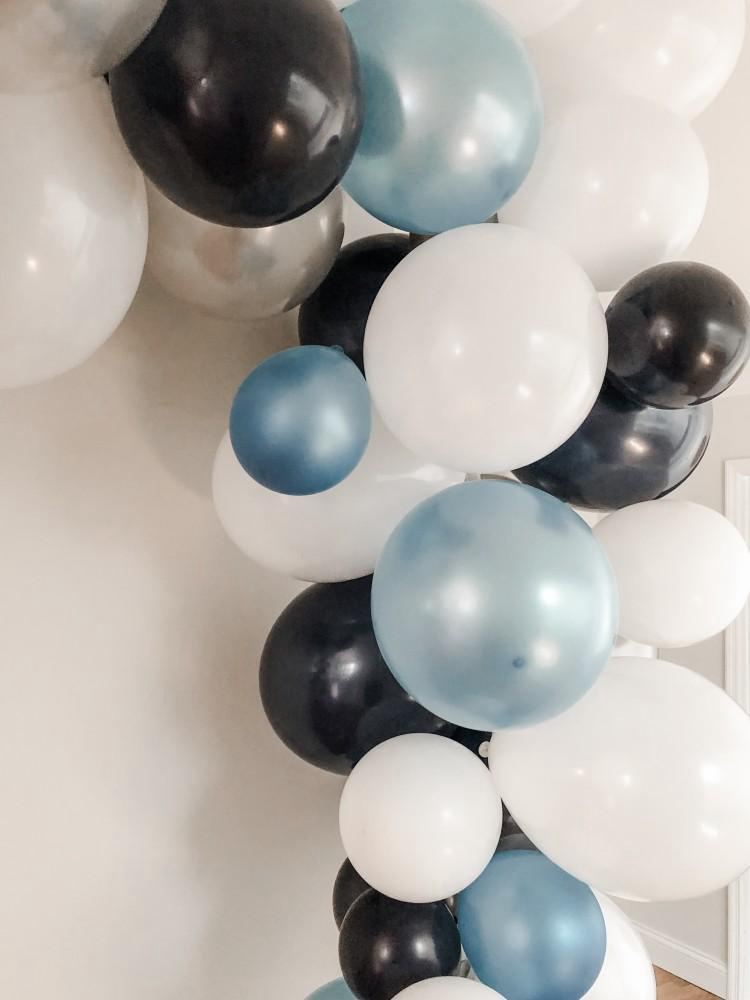 You don't need too much to make a balloon garland, It is very easy to make and it's cheap. Here is to make a wonderful balloon garland; You need only 4 important materials, a balloon inflator, balloon tape, command hooks, and latex balloons. Let your latex balloon be of different colors and fill them into different sizes to make them look amazing.
2. How To Make A Balloon Garland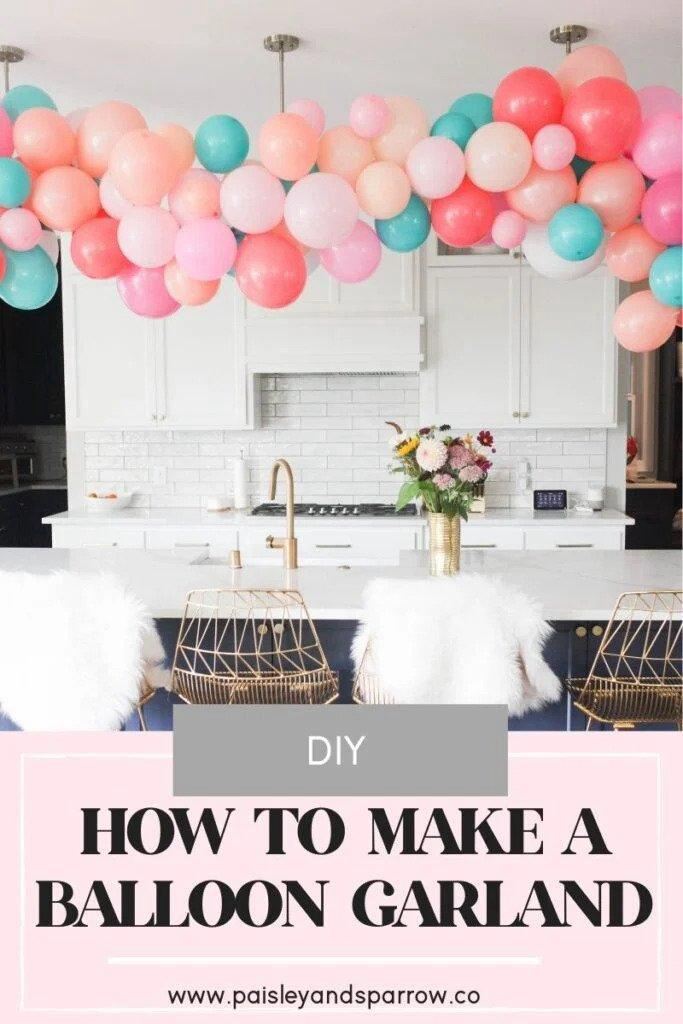 Looking at a balloon garland at parties, you will think how on earth they put that together, but it's quite simple and straightforward. All you need to do is to get some balloons that will be enough for the length and thickness of the garland. Then, inflate the balloons in different sizes and attach them to form a linear garland or any other shape you want it to take.
3. DIY Balloon Garland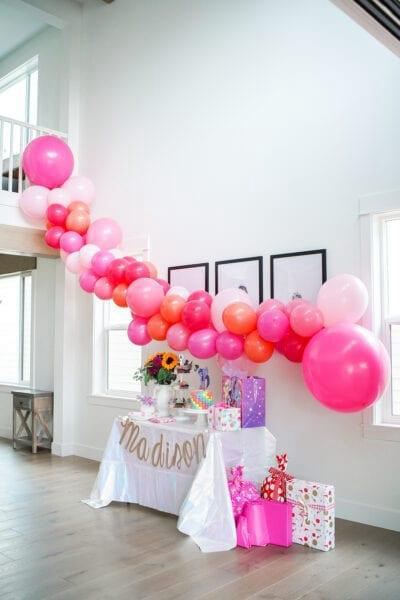 Making a balloon garland for the first time can take up much time because you're not very familiar with inflating the balloon and putting it together. But as time goes on you will become a pro. In this guide, this balloon garland was made in under 10 minutes, which means it's easy and interesting.
4. DIY Balloon Garland For Your Front Door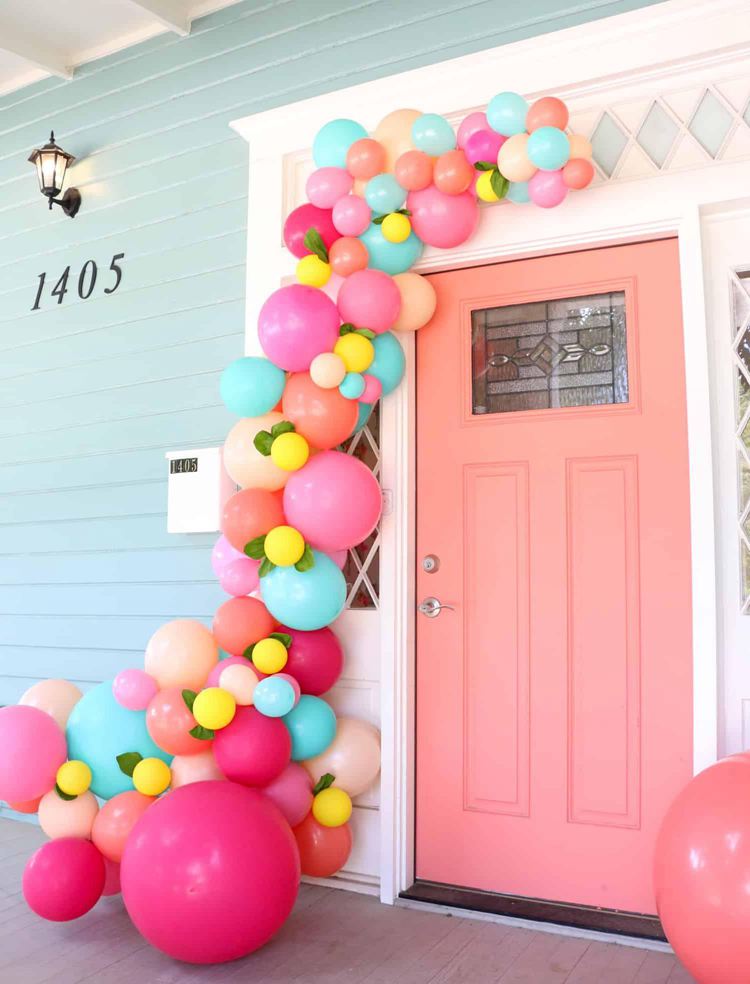 Are you planning to make a simple balloon garland? Then, this is the best tutorial for you. Inflate the first balloon and tie it. Then, inflate the second and tie it around the knot of the first balloon, continue with this process till you have a full line of balloons.
5. DIY Balloon Garlands
To make this balloon garland, get a balloon pump, some small balloons, big balloons, and strings. The first step you need to take is to blow the balloon by carefully putting the balloon pump into the opening of the balloon. Hold it down with your hand, use the second hand to press the pump and the balloon will come up.
6. DIY Balloon Garland With Circular Backdrop
There are many tutorials online, but I will recommend this balloon garland tutorial for you. The tutorial is very explicit and straightforward. The instructor uses an electric balloon pump to blow all the balloons and tie them separately. Then, she started tying the balloons together in a set of three.
7. How To Make A Balloon Garland Without Any Kit
Since kids love balloons, what else should be at their parties if not lots and lots of balloons and balloon garlands? This balloon garland was made from two cool tones of blue. After this, the creator blew all the balloons and started tying them together in twos. Each set contains both tones
8. Balloon Garland Tutorial
For your outdoor balloon garland, this is the best tutorial for you. The instructor inflates two balloons at the same time using an electric pump, then deflates them again. He inflated the balloon again and pressed them against a flat and smooth surface, then deflated them a little to give them a round shape.
9. How To Make A Balloon Garland
One thing that fascinates me so much in this balloon garland is the metallic balloons. They always look exceptional among other balloons when used together. This balloon garland was made from small balloons, big balloons, and metallic balloons.
10. How To Make A Balloon Garland In One Hour
If you're like me that likes home parties every now and then, you need to learn how to make balloon garland because the bill of decorating parties every time can kill. So, you can make this within an hour with some balloons and balloon tape.
11. DIY Balloon Garland Tutorial
You can make your balloon garland as colorful as you like. This balloon Garland was made from quite a number of colored balloons and it makes it look exceptional and beautiful. All you need to know about the process and instruction were given in this guide. Click the link below to learn.
12. DIY Balloon Garland
In making a balloon garland, you need to decide on the size of the garland and the size of each balloon. The shape and colors are very important as well. For this balloon, you can get a garland kit to make the work easier and fast.
13. Large Balloon Garland Tutorial
The larger the balloon garland the more the balloon that will be needed. The instructor explains each step as she practices it. It is very easy though it takes a lot of time because of the large number of balloons.
14. DIY Balloon Garland
Doing a balloon garland yourself makes it fun and beautiful. The material needed for this balloon garland includes white balloons, Marcano pink balloons, silver-grey balloons, strung, and BOBO clear balloons. The whole process of making it is very easy and cheap.
15. Easy DIY Balloon Garland
This balloon garland doesn't need a string or a command hook. All you need to do is to tie the balloon together by its neck. It is easy to make and inexpensive.
16. DIY Butterfly Balloon Garland
One thing that makes this butterfly balloon garland amazing Is the string light and shower curtain rings. Other materials that are used to make this include, fake roses, backdrop stands, fake hydrangeas, electric balloon pumps, drapes, balloons, fishing line strings, and balloons. You just have to do this yourself to get the actual amazing result you want.
17. How To Make DIY Balloon Garland
All you need for this balloon garland are latex balloons, an electric pump, a fishing line, and balloon tape. Once you get all the materials listed above the next step is to start blowing the balloons.
18. Making A Balloon Garland
The most beautiful thing about balloon garland is that it can be shaped into anything. After blowing and tying the balloon together, what you need next is a fishing line to attach them.
19. DIY Balloon Garland
Do you see those balloon clusters? Ain't they beautiful? I know you'll be thinking it's complex right? But it's not.
All you need to do is to blow different sizes and colors of balloons. Tie the balloons together in quads. Then, assemble the quads with a fishing line and you're good to go.
20. Balloon Garland Tutorial
The thing about this balloon garland is that all the balloons are of the same size. After inflating the balloon it will take up the shape of an oval, this is not the shape we need, so you have to deflate the balloon by gently releasing the air and applying pressure on the balloon.
21. Balloon Garland DIY
One thing I like most about this balloon garland is the dominant pink color of the metallic balloons. It makes the garland look beautiful and adorable. Click the link above to get the materials needed for the garland and the process of making it.
22. The Easiest Balloon Garland Method
This is the easiest balloon garland you can DIY. Although the method is not quite different from other methods, it's much easier because of the electric pump and command hooks used. Here is how to make this happen; First, You will need an electric pump, thick fishing line, command hooks, and varying sizes of balloons.
23. $1000 Balloon Garland Tutorial
While making a large balloon garland you need to be more careful while attaching it. Though the cost of making this balloon garland is very expensive, it is very adorable and beautiful.
24. How To Make A Balloon Garland The Easy Way
Sometimes you don't need to have a party before you can make a balloon garland, you can use it to decorate the house. To make this, you need different colors of metallic balloons.
Conclusion
All the processes and methods of making a DIY balloon garland are simple and similar. What makes the difference is the color and the size of each garland. Try out one of the balloon garlands today!