Do you want your home to look creative this and every other festive season? Not just indoor but outdoor as well. Of course, you do! That's why you are here! So, get ready to bookmark this page because we have 120 ideas for you.
You probably have been spending time with your indoor decorations and decorating less outside. That's going to change.
Outdoor decorations should also be given much thought and look magical, just like indoor decorations.
So, it's a few months to Christmas, and you should start collecting supplies on time. There is no better way to get into the spirit of Christmas than trying these outdoor Christmas decorations yourself. We will share with you 120+ DIY outdoor Christmas decorations you can make easily, and it's budget-friendly too!
You can use this to bond more with family, friends, and children while making your front yard and porch the most beautiful and colourful in the block with these creative ideas.
120 DIY Outdoor Christmas Decorations
All the decorations here are very easy and can be done by adults, even if you're a first-timer who hasn't tried outdoor Christmas decor before. Nothing too technical, and all the supplies for these decorations are easily available and cheap.
Let's get right into it and start decorating!
1. Colourful Outdoor Giant Lollipop
This giant lollipop will look beautiful on your porch, and it is pretty easy to do. You can make any number of your choice, say, two or three. The kids too will love working on this. You can make this giant lollipop using party trays and bowls.
2. Giant Foam Candy Canes
Your yard can never go wrong with these beautiful candy canes representing the shepherd's crooks. If you have kids, you can tell them the story of the shepherds who came to the manger to worship baby Jesus while making these.
3. Present Topiary
What you need for this project are boxes of different sizes wrapped in beautiful wrapping papers and placed on your outdoor vase. If you don't have a vase, you can just drop your topiary on the floor. Learn how to make one here.
4. Pallet Christmas Tree
If you have scrap wood lying around at home, then you can try this pallet Christmas tree. The Turquoise Home will guide you on how to make one. You can be more creative by adding Christmas lights to it.
5. Christmas Light Balls
Hang these beautiful Christmas lights around your home to give a magical ambiance. Learn how to make this DIY ball from chicken wire, twine, and lights.
6. Reindeer
Your yard needs a Reindeer too! So, if you can easily access logs, nothing stops you from making Santa's Reindeer. Make one using the Designer Trapped tutorial.
7. Outdoor Crate Train
Get your wooden crates and paint ready for this DIY! The Keeper of the Cheerios will teach you how to create a Christmas train successfully.
8. Truck with Christmas Tree
Red cottage chronicles have the perfect DIY Christmas project for the men in the house. Get your plywood ready and any truck design of your choice, and create this decoration. It will be different from the decorations your neighbors have.
9. Candy Cane Fence
There is no tutorial source for this. However, you need a wood pallet, red and white paint, plus painter's tape to make this.
10. Four Foot Log Snowman
Learn how to make a four-foot log snowman from Felt Magnet.
11. Outdoor Joy Christmas Display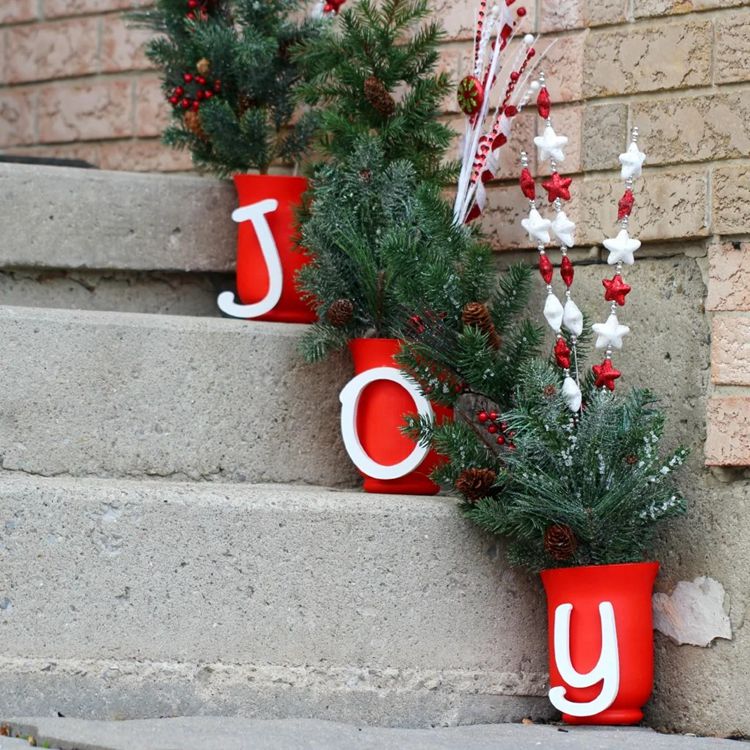 Learn how to make this tutorial via frugalmomeh.com. You can place it on your steps, front window, or any other suitable spot outside your yard.
12. Concrete Gift box
Transform your square concrete into a gift box. Tutorial via chica circle.
13. Concrete Christmas Tree
This project requires you to mix cement and sketch any tree design of your choice onto the styrofoam. Carve out the shape and pour your cement mix into the hole to create a concrete tree when dry. You can brighten it up by painting and adding lights to create a beautiful decor that will shine at night.
14. Plastic Pumpkin Snowman
Get your plastic pumpkin buckets ready with white paint and tree branches. Learn how to make this here.
15. Evergreen Gnome
The main requirement here is the evergreen greenery. Therefore, if you can lay your hands on one, then you should try this.
16. Pool Noodles Lollipop
What you need is a pool noodle for this project. Learn how to make this pool noodle outdoor decoration.
17. Evergreen Wreath
Follow the steps in this guide to also create an evergreen wreath. Get a wire wreath or styrofoam to make the base and pinecone ornaments to decorate the wreath. Also, get a red ribbon to create a bow.
18. Christmas Ball Wreath
Use your Christmas balls to create this door wreath. First, create a wreath base and arrange your balls around the ring. Your balls should complement each other for a beautiful finished look.
19. Wood Block Snowman
Get a similar woodblock and spray white paint on it to make this. Have fun painting the snowman's eyes and mouth. Lastly, you can try using a wrapping sheet or fabric and a rope to recreate the hat. Tutorial.
20. Santa Logs
Create this Santa log with Smart Girls DIY. You have to get your log, ribbon, and paint ready, and you will be done in 10-15 minutes.
21. Lighted PVC Candy Cane
Learn to make this giant candy cane with PVC. Make four giant candy canes and place them in different sections of your yard. Source via Amber Olives.
22. Outdoor Christmas Sign
Make this beautiful Christmas sign and place it outside your door. You can choose to be creative with the phrase. Girl Just DIY! will guide you on the basics you need to create your sign decor.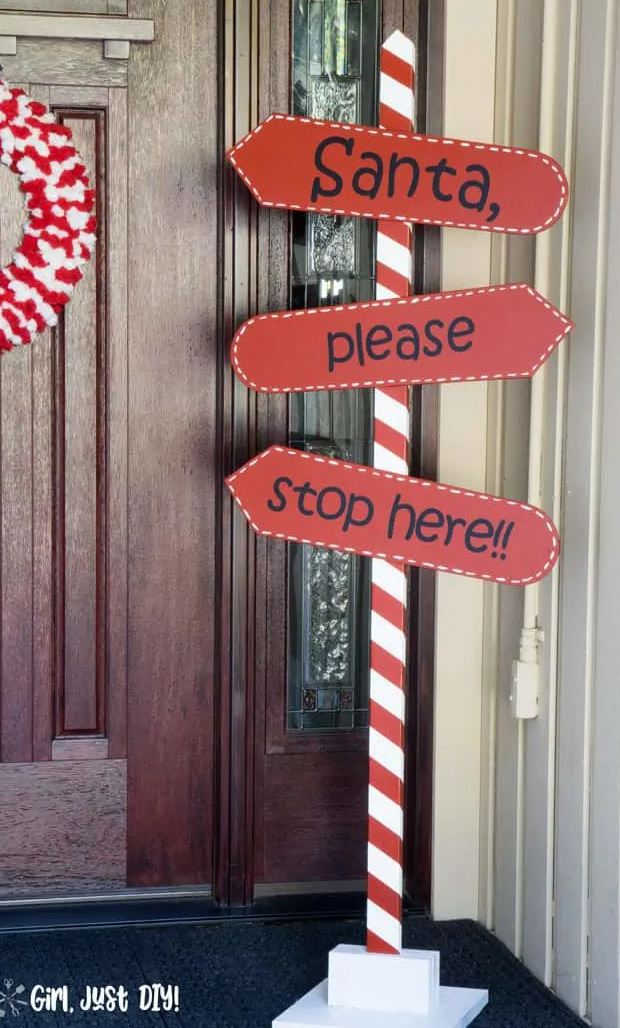 23. Wrapped Door
Wrapped doors always look great. There will be a lot of wrapped doors this season, so don't be left out. Lizoncall will teach you how to make one.
24. Paper Plate Lollipop
Here is another lollipop design you can try out which wouldn't cost you much. Paper plates are really easy to come by. Get one and paint different lollipop designs on them. To get a more detailed explanation of how to get started, click here.
25. Pallet Tree with Ornaments
The pallet tree doesn't need to be cut out in a tree shape. You only use the lighting to make a tree outline and decorate more with ornaments. Here's how to make one.
26. Giant Christmas Ornament
These DIY glossy ornaments will sit pretty on the snow. You'll need tuna cans, light globes, eye hooks, and spray paint for this project.
27. Twine/Yarn Wreath
Like every other wreath, first, get your wreath base ready, then start decorating your yarn. Here are more details on how to decorate a yarn wreath.
28. Christmas Door Swag Decoration
You don't need to buy Christmas door swag anymore because you can make yours with this step-by-step guide from firstdayathome.com.
29. Square Pine Cone Wreath
Put your pine cones into use by creating this pinecone wreath. You can decide to make yours' triangular, circular, or any other beautiful shape in mind. You can also spice things up by colouring your pinecones with any spray paint of your choice.
30. Plastic Ball Ornaments
What you'll need for this is a plastic ball, festive fabric, a ribbon that will match the fabric, and any festive embellishment (optional). Detailed tutorial via Smart School House.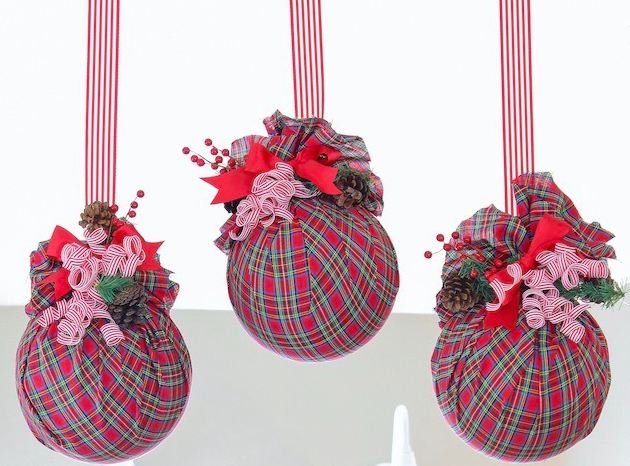 31. Red Wood Stars
If you have scrap wood at home, you should try making these beautiful wooden stars.
32. Tiny Christmas Wreath
This DIY wreath does not require too much effort or resources, and it takes five minutes to make one wreath ornament. You will need a tiny wired pine garland, jewellery pliers, metal rings, gold jump rings, charms, and a fishing line.
33. White Pine Cone With Ribbon
This is a straightforward outdoor decoration. Spray paint your pinecone, and use glue or a hot gun to attach the twine to your pinecone. Finally, add a bow to make it more Christmas-y (tutorial source unknown).
34. Christmas Lightbox
This lightbox is perfect for the night. Follow these steps to make yours.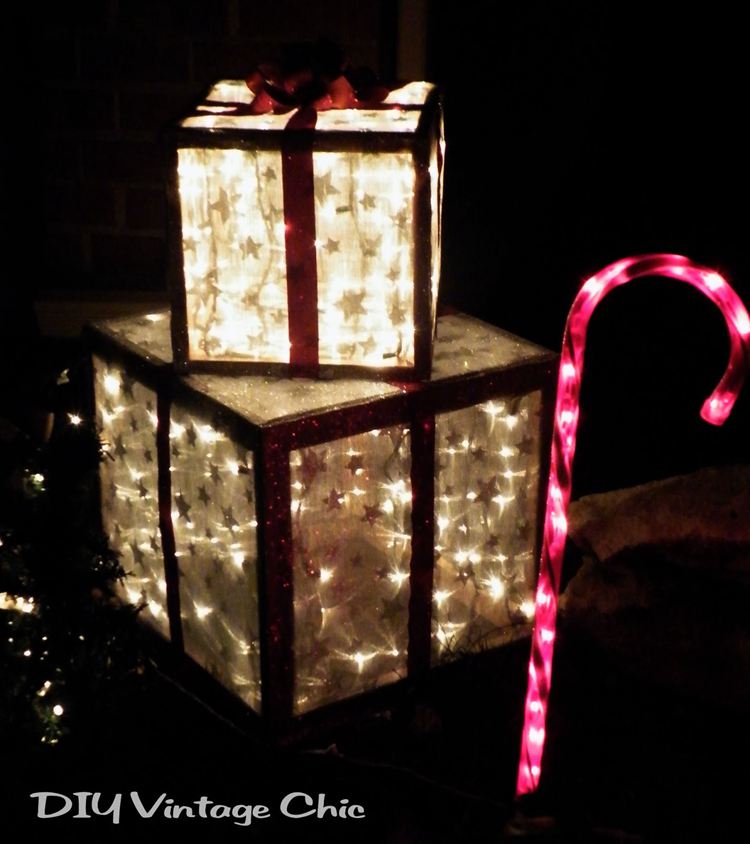 35. Ornament Topiary
This topiary is made with greenery and red ornaments. Here is a step-by-step guide by Celebrate & Decorate.
36. Christian Porch Light
This is an easy decor that will change the look of your porch. Look for a beautiful glittery ribbon and make a bow. Attach this bow to your porch lights. Source from Thrifty Decor Chick.
37. Porch Light With Hanging Pinecones
To make this get nine pinecones of different sizes, a bow tie, twine rope, and glue (tutorial source unknown).
38. Silver Bells
The giant bells are made from flower pots that are not expensive. They were painted silver and attached to round ornaments to look like a bell. Tutorial from Kenneth Wingard.
39. Square-frame Ornament Wreath
Get any old picture frame you are not using, colour it red, and add the Christmas ball ornaments to make this wreath.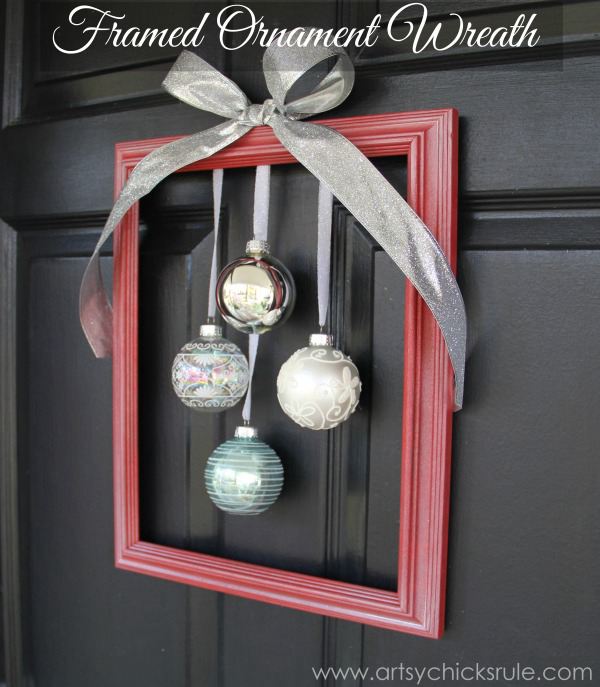 40. Vintage Grapevine Wreath
This is a beautiful grapevine wreath you could try during this festive season. Add a red bow, pine cone, or other Christmas embellishments to make your grapevine wreath merrier. Try not to do too much, so it could still have a vintage look.
41. Sliced Wood Snowman
This is another creative snowman made with wood. Create this sliced wood snowman this season.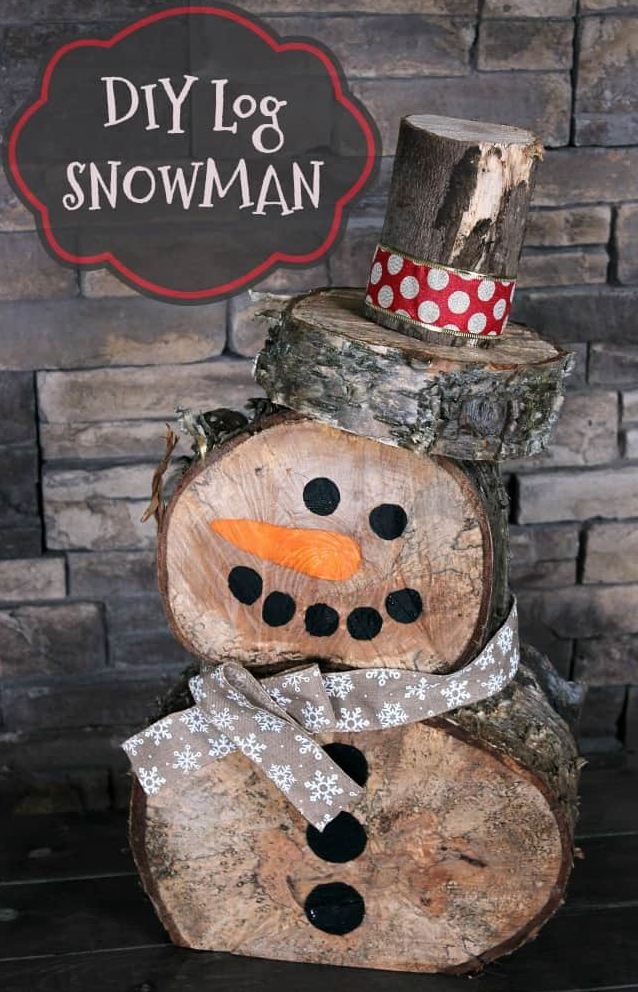 42. Rustic Branch Wreath
Anyone can make this Christmas branch wreath, and it doesn't require many resources. All you have to do is get your tree branches ready.
43. Joy Christmas Wreath
Tutorial via DIY.com. You can decide to change the wreath that signifies "O." Choose any wreath from our list to make the JOY wreath.
44. Christmas Doormat
Welcome friends and family with this easy Christmas doormat. Get a blank doormat, spray paint, stencil, and painter's tape.
45. Wooden Plank Christmas Tree
This is simple but elegant (source unknown), nothing too extra. If you have wooden planks (even if it's old), white paint, and Christmas ornaments, we recommend this.
46. Water Bottle Tree Ornament
Water bottles are something you can lay your hands on in every household. You should use them to make this water bottle tree ornament. (Tutorial source unknown).
47. Stick Snowflake
Here is how to make a snowflake ornament with sticks for the Christmas tree.
48. Christmas Luminaries
If you have paper bags and a printer, try out this Christmas luminary with letsgetcrafty.org.
49. Mason Jar Lights
Here is how you can make your mason jar light for your front yard.
50. Terra Cotta Snowman
51. Christmas Front Door Decor
This is perfect for people who don't have enough space on their porch. If you have these lanterns, you can stark them up with ball ornaments and pinecones. Source.
52. Snowman Shovel
Don't you just love this easy shovel snowman? Get your shovel and decorate them this season (tutorial source unknown).
53. Window Decor With Ornament and Garland
If your home window has a window box planter, try out this Christmas decor. Source from Just Grand (no tutorial available).
54. Bow Wrapped Garage
Your front door alone is not the only thing you can wrap. You should do the same for your garage too! Use thís same technique for your garage.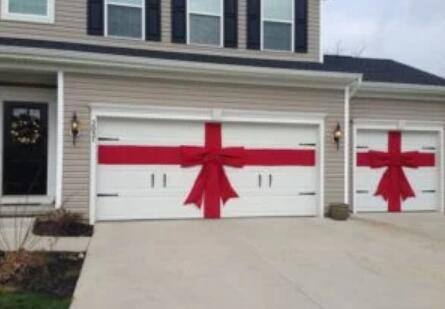 55. Starburst Ornaments
(Tutorial source unknown)
To make this starburst decoration, you need straws - alot of straws. Get a bundle of straw and tie them up with a string tightly. Hang these on trees, porch ceilings, windows, etc.
56. Light up Christmas Tree
(Tutorial source unknown)
57. Tire Ornaments
For this, all you need do is spray paint your tires with any colour of your choice. Also, you'll need a stencil to make Christmas markings at the center. Tutorial via Addicted 2 DIY.
58. Wooden Pallet Tree With Buttons
Here is another beautiful pallet tree idea. If you have wood pallets and buttons, you should try out this outdoor decoration. Tutorial from wildflowersandpistols.com
59. Hanging Pine Cone Ornaments
All you need for this is pine cones, rope, and white paint. Hang many of these on the branches if you have trees at home. See how this was made.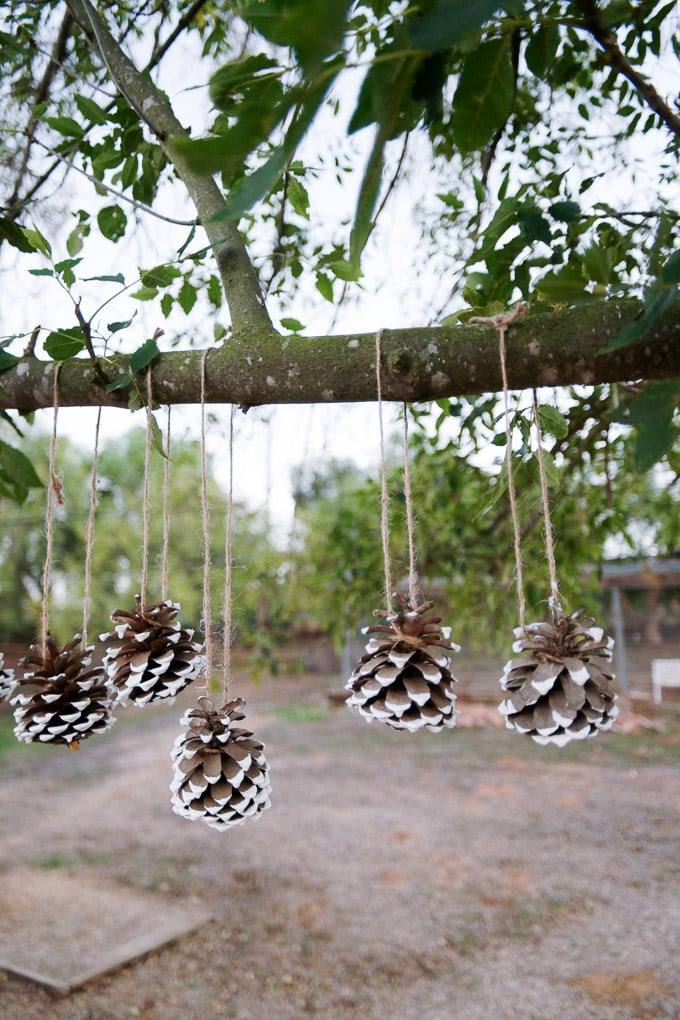 60. Colored Pine Cone
Here is another decoration you can make easily using your pinecones. The extra material you need here is poster paint and a paintbrush. Tutorial via DIY.com.
61. Christmas Wooden Joy
This design is made from small wood pallets arranged to form "joy" and is hung up high at the front door entrance (no tutorial available). Source: Just Grand.
62. Exercise Ball Ornaments
To make this oversized ornament for your yard, you'll make use of those big exercise balls and smaller playground balls your kids play with. The aim is to get balls of different sizes so, you could replicate this.
63 Front Door Candy Garland
If you are going for the candy cane and lollipop Christmas decoration, you can as well add this front door candy garland by Miss Kopy Kat to your design.
64. Tire Snowman
Put your unwanted tires to use by making this simple snowman. All the materials you need and how to make this snowman is explained in detail here.
65. Holiday Sign
(Tutorial source unknown)
66. Gingerbread Man
Draw a gingerbread man on a thick insulation foam and cut it out. Use any available ornament that fits to design the eyes and body. Here is a detailed guide on how to create this.
67. Wood Snowflakes With Light
If you have a big wood board, then you should try out this snowflake from abeautifulmess.com.
68. Pallet Snowman
Learn how to make this beautiful pallet snowman. Source from Craft a la Mode.
69. Wood Reindeer
Learn how to make the wood reindeer from Finding Home Farms.
70. Wooden Joy Wreath Sign
This is a different way to design your JOY wreath Christmas decoration. If you prefer this, follow the step-by-step guide and create yours.
71. Tomato Cage Lights
Source via 17apart.
72. Smaller Cut Wood Snowman
Learn how to make this reversible wood slice snowman and pumpkin with The Craft Patch. This is a two-in-one craft for winter and fall.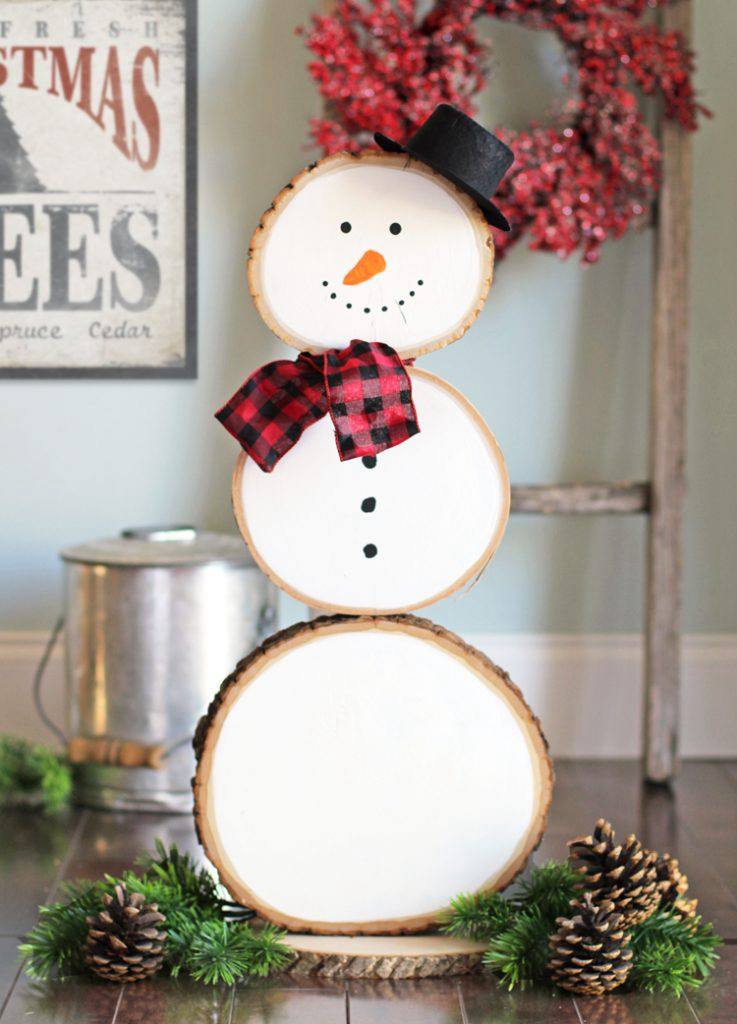 73. Mason Jar Christmas Tree
Remember our Christmas tree! This time Angelina Maria Made decided to twist things a little bit with the mason jar and without a doubt, you'll agree with me that it came out great.
74. Oversized Light Balls
Make these huge Christmas lights. Source: christmaslightsetc.com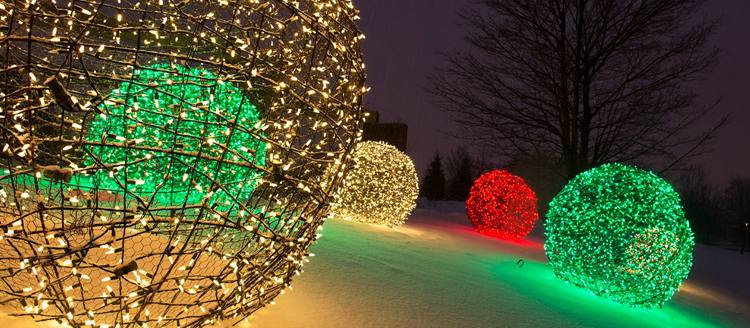 75. North Pole Sign
Follow these steps to make your own north pole sign.
76. Snowman Set
Tutorial via Sugar Bee Crafts.
77. Melting Snowman
Tutorial via Hallmark Channel.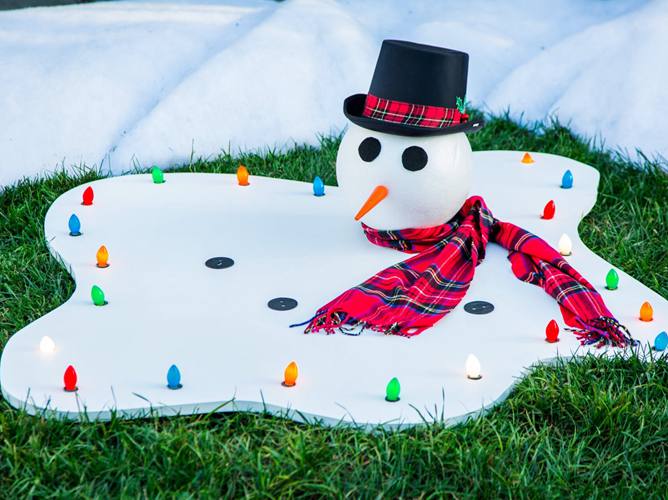 78. Wood Block Candles
(Tutorial source unknown)
To make this, get three woodblocks of different sizes (depending on your desired height). Drill the center of the block to fit in your LED tealight candle. Paint with red and white paint, and use painter's tape to get the strip painting right. Get a twine to make a bow.
79. Ornament Pallet Tree
If you can find a pallet and other beautiful Christmas embellishments, you can try this out. Here is the link to this tutorial.
80. Birdseed Tree Ornament
Source via Knuckle Salad.
81. Sparkleball
(Source unknown) You need a white disposable cup, glue, and Christmas lights for this.
82. Snowball Lanterns
Under your supervision, kids are the perfect fit for these. If your home is swimming with snow, make the most out of it with these snow lanterns. Place them by the side of your drive or pathway. Source: Little Green Fingers.
83. Hanging Basket
This is really easy to make, all you have to do is get a basket to fill it up with Christmas balls and wrap your lights around the basket. (Tutorial source unknown).
84. Christmas Light with Greenery
(Source unknown) To make this beautiful design for your porch lights, you'll need berry sprigs, evergreen clippings, pinecones, and floral wires.
85. Door Pinecone Cluster with Ribbon
This design will cost you almost nothing. Glue your ribbons to eight pinecones to make a pinecone cluster and hang it anywhere in your yard.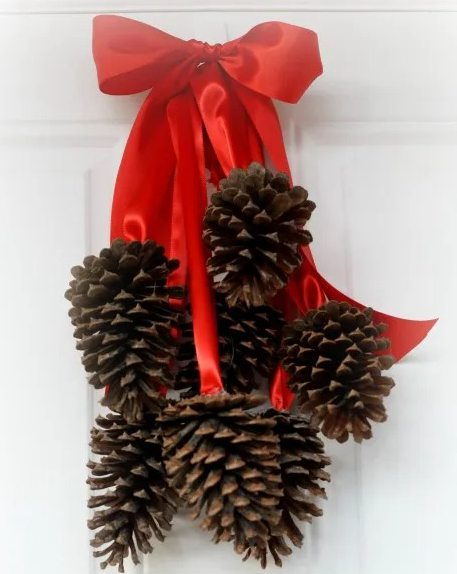 86. Ice Lantern
Ice lanterns are perfect for this winter season, work with Craftiments to make yours.
87. Mason Jar Snow Candles
Save up your jars for this beautiful decor to add to your porch this Christmas. Buy fake snow and candlelights then sit inside your warm home and what how beautiful your porch looks with this. (Tutorial source unknown).
88. Merry Christmas Front Yard Sign
Learn how to make this with allthingsthrifty.com
89. Old Sled with Evergreen and Pinecones
(Source unknown)
Your old sled can still produce something beautiful, try this out. The supplies you need are pinecones, evergreen clippings, and berry sprigs.
90. Grapevine Wreaths
(Source unknown)
The materials needed for this wreath is a grapevine wreath of different sizes that will go with your red ornaments - small, medium, & large. Also, you need a bow and evergreen clippings.
91. 3D Lighted Snowman
Add this decor to your other Christmas decorations, and let your snowman look different from all other snowmen in your neighborhood. (Tutorial source unknown).
92. Window Planter With Christmas Box and Garland
(Source unknown)
You need box shape woodblocks, Pine Garland, Christmas ribbons, red square paint, and pinecones.
93. Tomato Cage Christmas Tree
If you have a huge planter on your porch, try out this tomato cage Christmas tree. It will look great.
94. Santa Lighted Reindeer and Sleigh
You will once again need plywood to create this beautiful hanging reindeer and sleigh. If you are good at drawing, your drawing skills will come in handy. Create yours with this tutorial.
95. Wooden Lantern with Mason Jar
This is a very inexpensive decoration that will make your front steps look magical. Source: makingmontessoriours.com.
96. Giant Ornaments
These hanging giant balls are easy to make. Want to try one? See how it is done.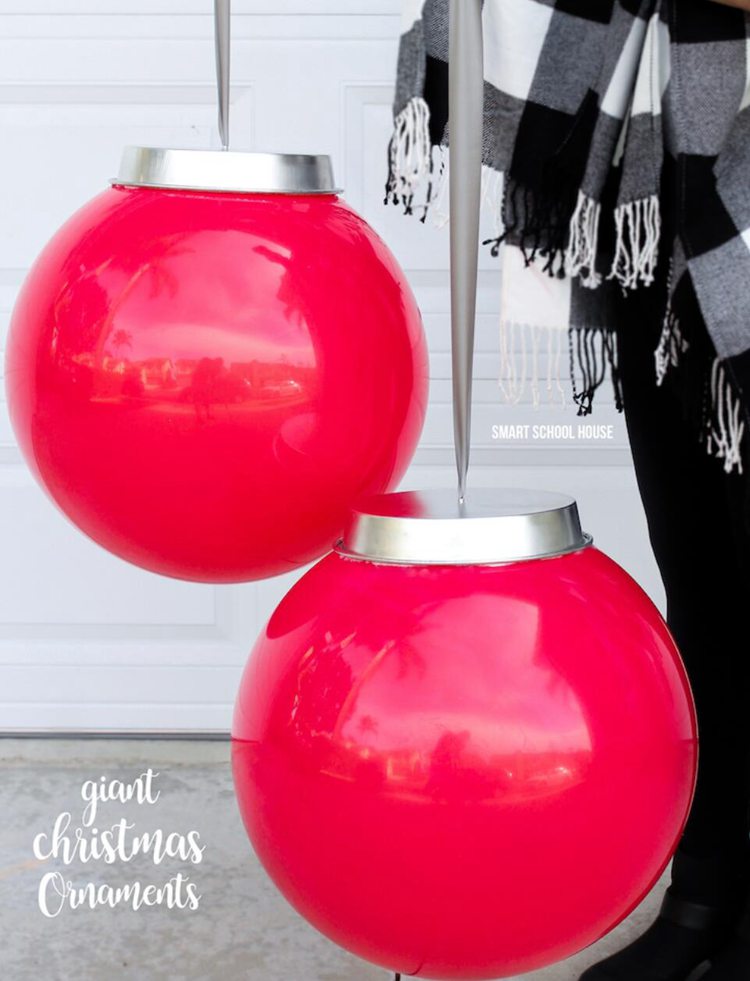 97. 3D Wooden Christmas Tree
You need two pieces of plywood for this decoration to create the 3D effect. If you are familiar with using a jigsaw, nothing stops you from creating this. Source: The DIY Dreamer.
98. Spindle Snowflakes
This stair spindle came in handy during the festive season. Who knew that a stair spindle could turn into beautiful snowflakes. So, if you stumble on a stair spindle, join 1905 Farmhouse to put it into good use.
99. Framed Tree Ornament Wreath
This is different from the regular wreath. Buy beautiful ball ornaments to replicate this wreath. Source.
100. Candle Lamps
Yes, you too can make these sophisticated-looking outdoor candles for the Christmas session. It requires inexpensive and easy-to-find supplies. Learn how to make one from Martha Stewart.
101. Santa Mason Jar
Here is another way to style your jar with Santa's belly belt. This decor will take you only 5-10 minutes. Welcome, all your friends into the Christmas spirit with this decor. Source.
102. Pallet Painted Snowman
(Source unknown)
All you need is a pallet, red bow, navy spray paint, black & white acrylic paint, and a cardboard hat. Before painting your snowman, first, spray the pallet before drawing. Draw out a neat and precise snowman with a pencil and any circular object you can find.
103. Snowman Door Wreath
Here is how you make your door wreath snowman. Source: Sweet Little Blue Bird.
104. Fullsize Driftwood Christmas Tree
You can start early to collect any driftwood you come across for this beautiful Christmas tree. Make a driftwood Christmas tree.
105. Hanging Star Lanterns
These hanging star lanterns are a fantastic idea for your porch. I bet you can't wait to see the beautiful glow it brings at night. How to make star luminaries.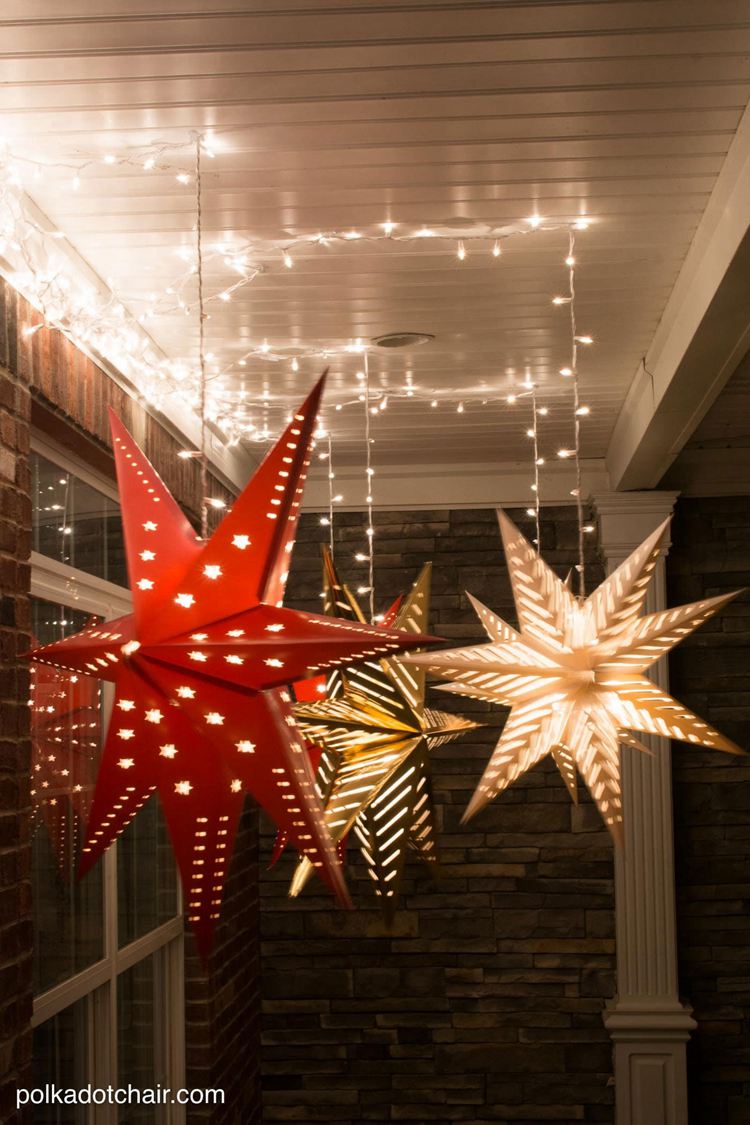 106. Santa Belt Flag
This is very easy for anyone who knows their way around a sewing machine. You just have to get a fabric that doesn't fray in red, gold, and black. Cut the fabric into different shapes accordingly, then begin joining the fabric with your machine. Here is the tutorial.
107. Snowman Porch Decoration
If your home has white pillars, you can try this snowman decoration. All you need is paper and fabric! How to make snowman porch decoration.
108. Christmas Lanterns
Here is another mason jar craft to add to your holiday decorations. Source.
109. Nordic Sweater Christmas Tree
You can find everything needed for this project in any household except for the nordic print ribbon and foam florist cone. Learn how to make this.
110. Socks Snowman
What a great way to utilize your socks. I know everyone mustn't have a pair of white or red socks, but you can quickly get one for this simple decoration. Source: Darkroom & Dearly.
111. Tomato Cage Ornament Christmas Tree
This tomato cage decoration is embellishment with ornaments and placed on a vase. You should try this super easy decoration. (Tutorial source unknown)
112. Yarn Tree Star Ornaments
Tutorial via Life Craft Eat.
113. Christmas Paddle
Learn how to make this Christmas paddle for your porch. Source.
114. Snow Globes
Your mason jar once again can create this. If you have come across a small beautiful artificial Christmas tree, you have to try this out. Source: Whipper Berry
115. Ice Cream Stick Snowman
Make your own popsicle snowman with these easy steps.
116. Entryway Garland
Aside from your door, you can try putting up this garland and ribbon on the pillars on your porch. Source.
117. Fish Bowl Snowman
Source: Smart School House.
118. Santa's Belly Jar Luminary
If you are a fan of Makeup like me, you should have glitters or Pigments lying around somewhere. The red, black, white, and gold glitters are useful for making a Santa jar luminary.
119. Lighted Plastic Cup Snowman
Here is how to make a snowman out of plastic cups.
120. Mason Jar Christmas Lantern
I bet you love this too as much as I do. That's why I saved it for the last idea. Learn how to make yours with this step-by-step tutorial.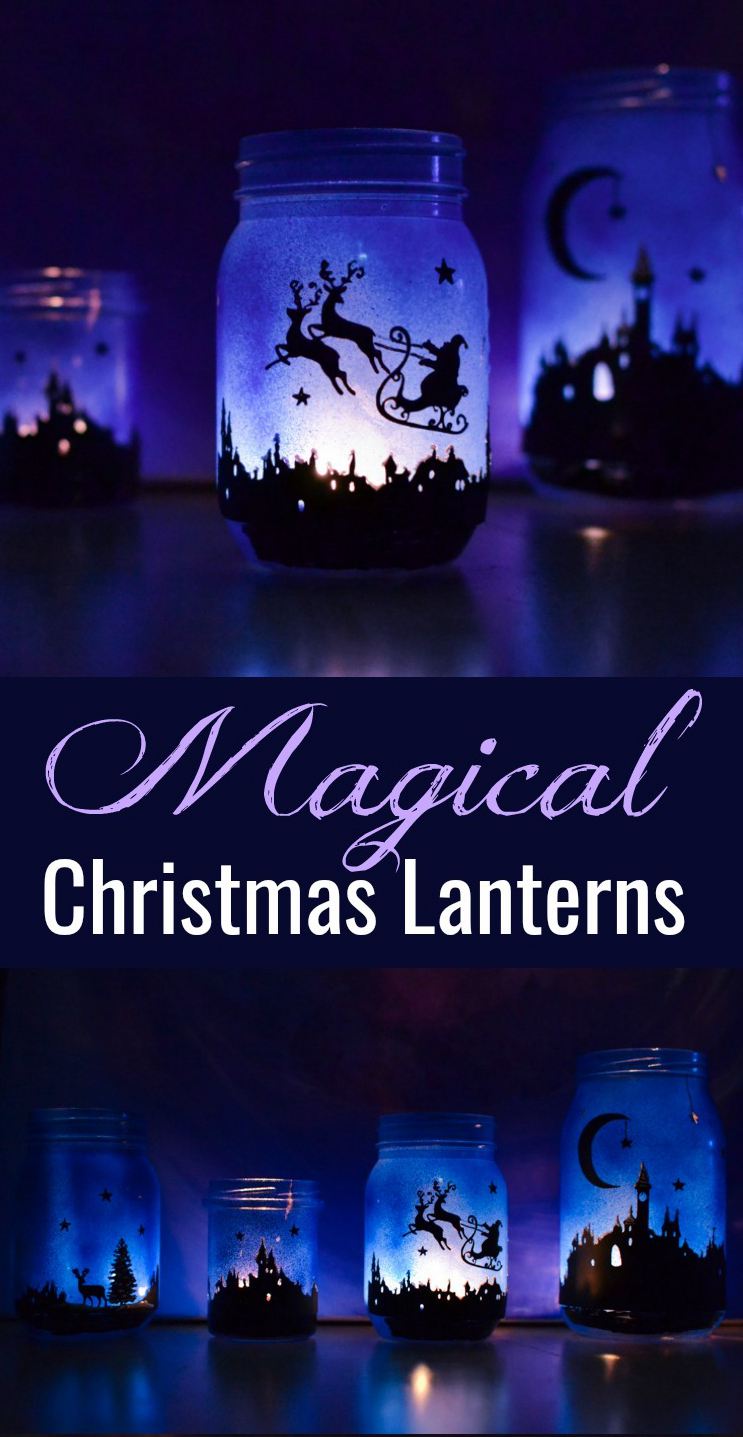 Conclusion
By now, you must have found one or two ideas you are planning to recreate. You can easily find all necessary supplies in any local art & craft shop. You can choose to add something extra to yours to spice things a bit.
So which of these designs appeals most to you? And which design are you trying out for this season? Remember to share your experience with us.