Here is a collection of DIY hot air balloons that you can find which are really simple to make. Some are plain and straightforward, others are fanciful and pretty amazing. You can try your hands on one and see if you can test your craft skills.
In this article, I have put together a list of 16 DIY hot air balloon projects made by other professionals out there. If you are looking for a fun project to do with your kids, I would highly recommend this.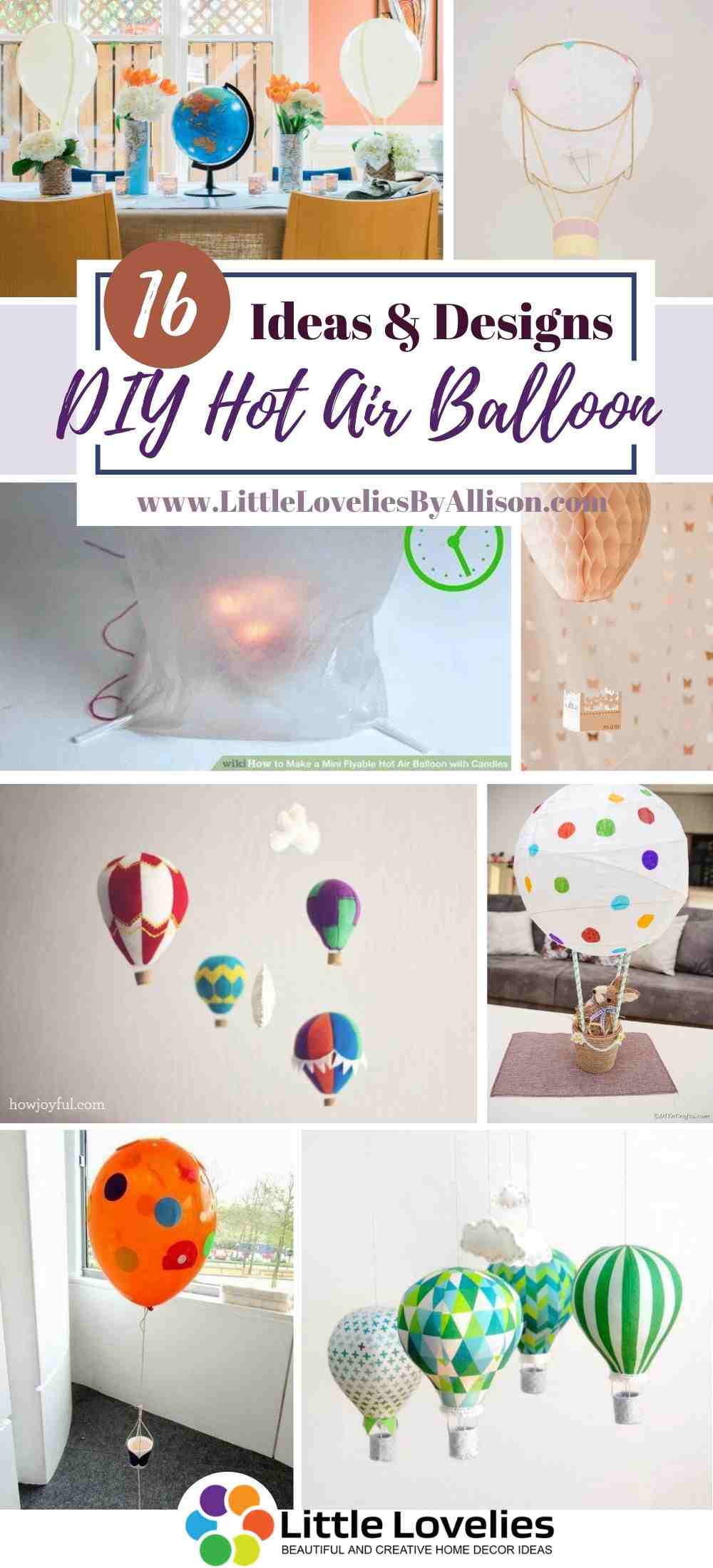 1. Candle Powered Hot Air Balloon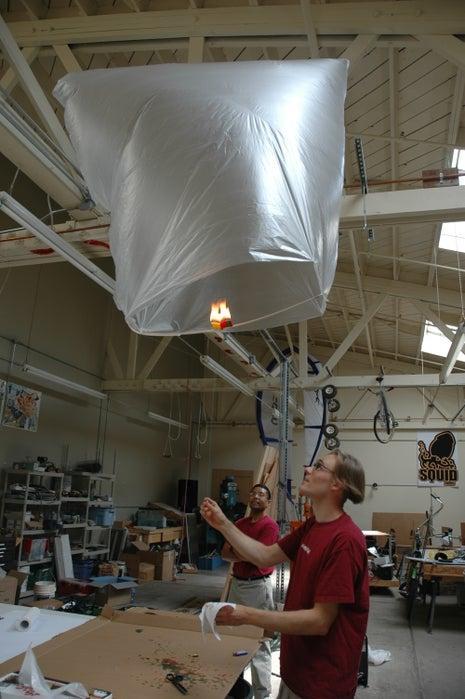 Here the creator uses a clear big plastic bag and some candles to make this DIY hot air balloon.
Strap 4 corners of the plastic bag first so it can come out as an enclosed balloon. Try not to seal it off too much. Make the candle base and attach the bag to the base. Light the candle up and watch it fly. The full guide will show you all the details needed to make this DIY hot air balloon.
2. DIY Hot Air Balloon Party Decor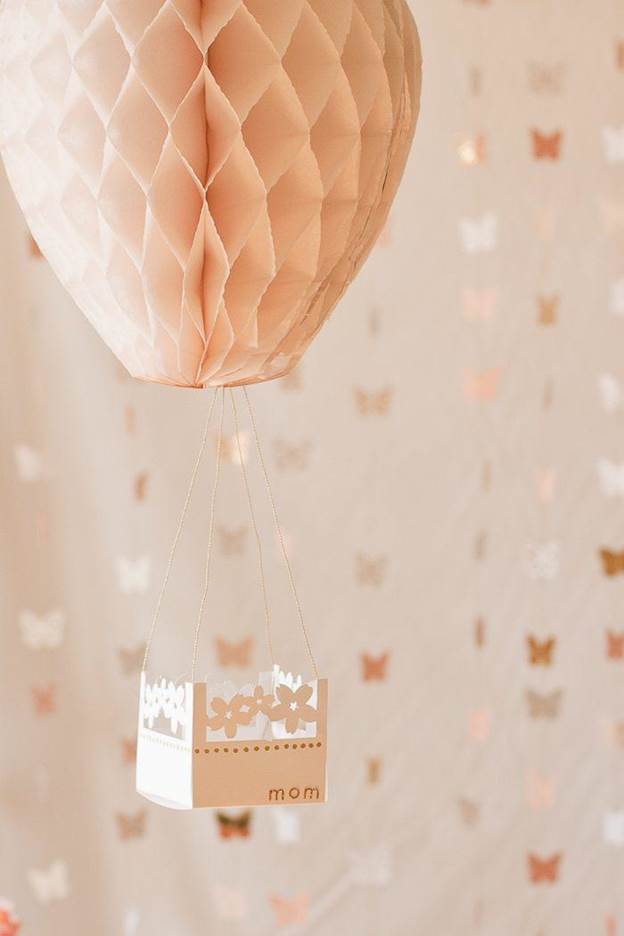 Hot air balloons can actually be used for a party decoration. There are a lot of ideas one could possibly get from this. It could be for a first birthday party or an engagement party with a little bride and groom in the basket or it could be perfect in a nursery.
To make this, you will need cardstock, honeycomb tissue balls, stickers among others. Trace a balloon shape onto the cardboard side of the tissue ball. Make a balloon basket with a flower edge. Attach the basket and secure it with tape.
3. How To Make A Hot Air Balloon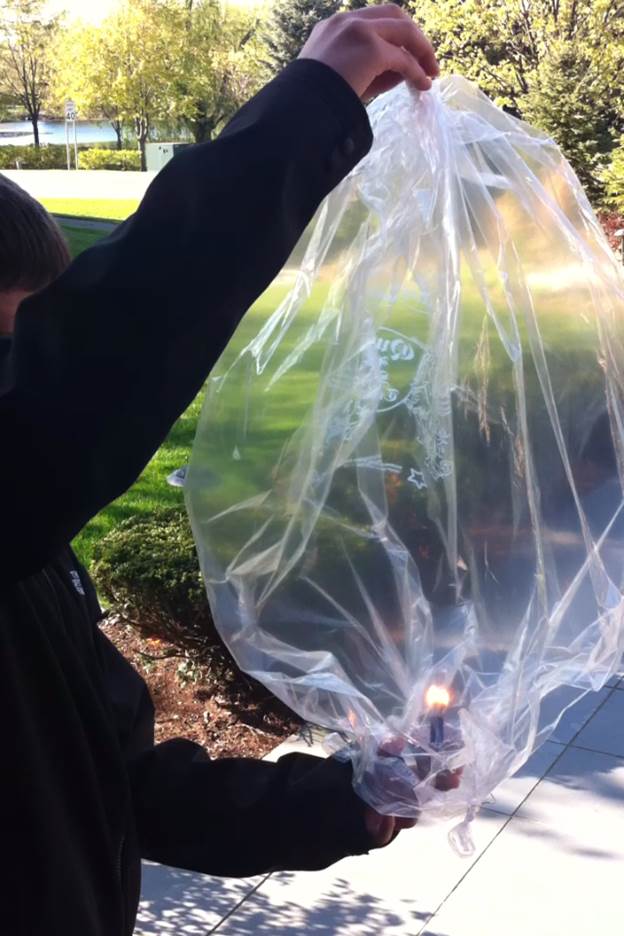 These are known as the oldest human-carrying flight technology around the world. How this works is that heat is released into the balloon and it will lift into the air and gradually rise higher. Here's one made from a nylon bag.
To make this, get a large plastic bag, birthday candles, thick wires, aluminum foil, a glue gun, and a lighter. Tie the bag at 4 even spots. Cut and bend the wire then make the candle holder. Glue the cup and add candles. Finally, attach to the bag.
4. DIY Hot Air Balloons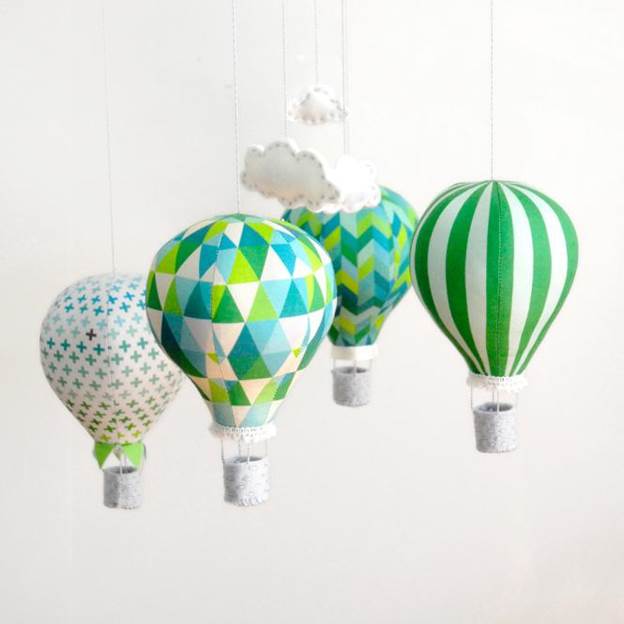 These are really fanciful DIY hot air balloons. They can as well be used for decorations. There are different balloon designs you can fit into yours to make a colorful view. Also, there are sections for clouds too.
This can be made with fabric and toy stuffing. Cut out the different sections of the hot air balloon and sew them up together. Attach trimmings to the base of the balloons for extra effects. Attach the pouches and string to a base that will suspend them all.
5. Hot Air Balloon Bunny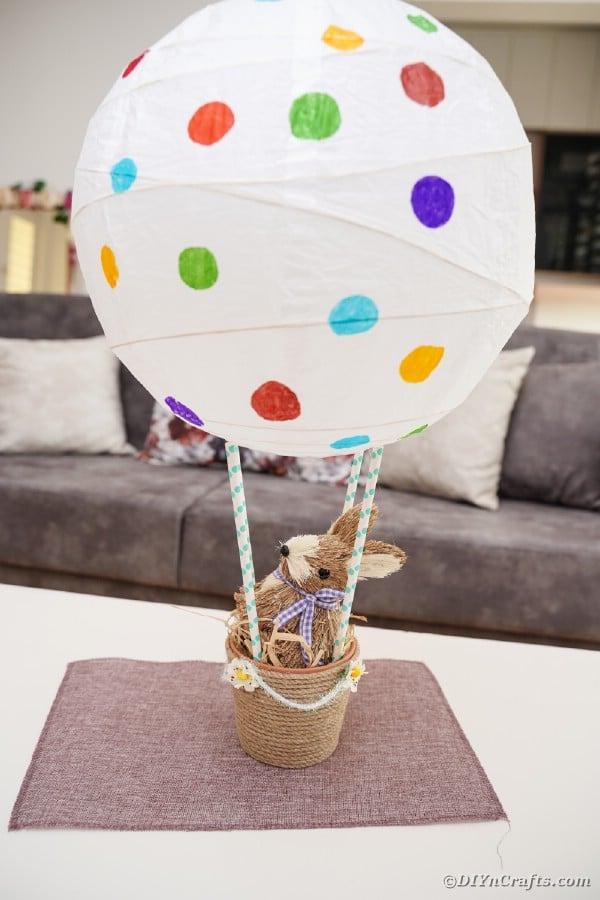 This is a colorful polka dot DIY hot air balloon that a bunny is suspended from. You can use different colors of lanterns as you want. You can also use different methods to add circles to the lantern.
For this, cut small circles of colored paper and attach it to the white background lantern. Glue twine or rustic rope around the flower pot. Start at the bottom and work your way up. Hang this from the ceiling.
6. DIY Hot Air Balloon Tutorial
This DIY hot air balloon is made from normal party balloons. There are a combination of different colors of these balloons strapped to a basket and used as a decorative piece. Put air in as many balloons as you can. Get a larger balloon and suspend it to the ceiling. Then begin attaching the smaller colorful balloons to the bigger one. Fix a basket below and you are good to go. The making process is very easy to follow if you have all the tools handy.
7. How To Make Hot Air Balloon
This is a decorative hot air balloon that can be used for props. Use a balloon pump to pump air into the balloons for a safer experience. After making the basket, use zip ties to hold the joint to the cardboard. Cut crepe paper streamers and stick to the carton to make a design. Attach smaller balloons to a bigger one and strap to the big carton.
8. DIY Hot Air Balloon Craft
This craft is made with a party balloon, paint, a basket, and some other decorative tools.
Inflate the balloon first then stick paper towels and glue all around it. Allow it to dry for a while and paint the entire balloon. Use some ribbons around it too. This will be quite heavy and will need suspenders to hold it onto the basket.
9. How To Make A Mini Flyable Hot Air Balloon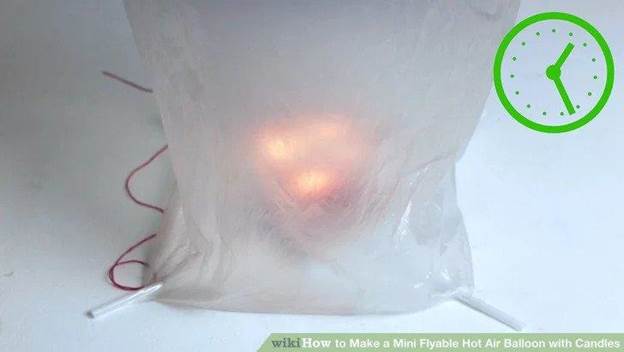 This DIY hot air balloon can be made to fly. It is made from a plastic bag and candles. The steps are pretty much easy and straightforward. Get a plastic bag that does not have holes in it. Fold 4 even corners. When making the basket, cut a square sheet of aluminum foil. Fold the edges and add candles to the corner. Make a straw frame and keep the candle frame on it. Secure the plastic bag in the frame. Try flying it.
10. DIY Hot Air Balloon Centerpiece
This can easily pass for a balloon collage. It is a combination of different straps of balloons with a cup at the base. It is decorated with roses and flowers in the cup. Making a hot air balloon is not so difficult. This is used for a centerpiece so you do not want it to be really big.
For this creation, you will need pretty smaller balloons in large quantities and of different colors. A small container that will serve as the base. You will also need sticks to hold the balloons up together with the base. The first step is to inflate the balloons and make a garland. Then assemble all the different parts together.
11. How To Make A Hot Air Balloon
To make this hot air balloon, you will need three major things; a balloon, a pilot, and some hot air. If you are looking for in-depth information on how to make a hot balloon this is the one to read, the creator did a lot of explaining on how an air balloon works. The making process of this hot air balloon is pretty much basic.
12. DIY Hot Air Balloon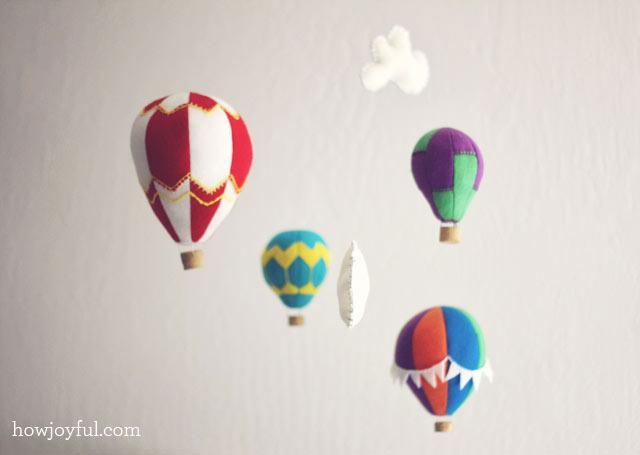 This is a fanciful creation for party decorations. The making process is very easy since it has just two pieces per balloon. Cut the different pieces and sew them up together. Stuff it up and seal the base. Attach a basket and let your balloons fly or hang.
13. Hot Air Balloon Project
You can always carry out projects with your kids. This is one to help out with that dream. This can be made with an actual balloon, foam cup, colored paper, and some other materials.
Fill the balloon with helium gas. Add your decorations to the balloons. To make your basket, make 4 holes in the cup at the bottom. Insert thread through the center and close the hole with adhesive. Insert thread through the 4 holes and strap to the balloon.
14. How to Make a Hot Air Balloon Centerpiece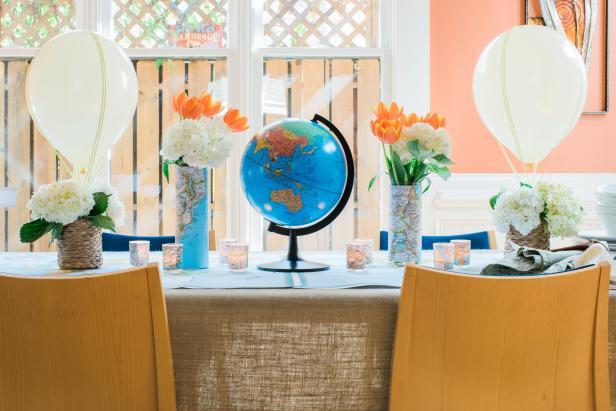 This can easily rest on the table as a decorative piece. It is embellished with flowers, greenery while the balloon sits above the basket.
The first step is to prepare the foam, flowers, and dowels. Prepare the balloon and add ribbon to it which will be fitted into the basket. Begin attaching the decorations one by one. Attach the flowers first so you can monitor how they are kept then you add the greenery. Use a ribbon to hold the balloon in place so it stays strapped to the basket. If it is a really light basket then you will need to fill the basket with something heavy.
15. DIY Hot Air Balloon Decoration
You can always give your home a classic look by making a DIY hot air balloon for decoration. You will be using a paper lantern and paper cups for this and it will be decorated with ropes along the sides of the lantern.
Decorate the basket first. Place the lantern upside down and glue the skewers. Decorate the lantern with the twine. You can do this in a semi-circle form round the lantern or any other way you can think of.
16. How To Make A DIY Hot Air Balloon
This DIY hot air balloon is just another decorative piece that can be made for your home, it can be used for babies or pets, the making process requires the use of dowels, glue sticks, 210ft twine, a glue gun, and a basket. Another important material to get is the hula hoop. This is by far one of the easiest to make DIY hot air balloons.