Here is an amazing DIY that will give you an exclusive look into the best ways to build table legs for your tabletop idea. The guides below are easy to follow and all you need is concentration and patience. Let's dive in and see which table leg will fit your tabletop today.
We were able to find 20 DIY table leg projects. Some of the projects are easy to make while others are a bit complicated.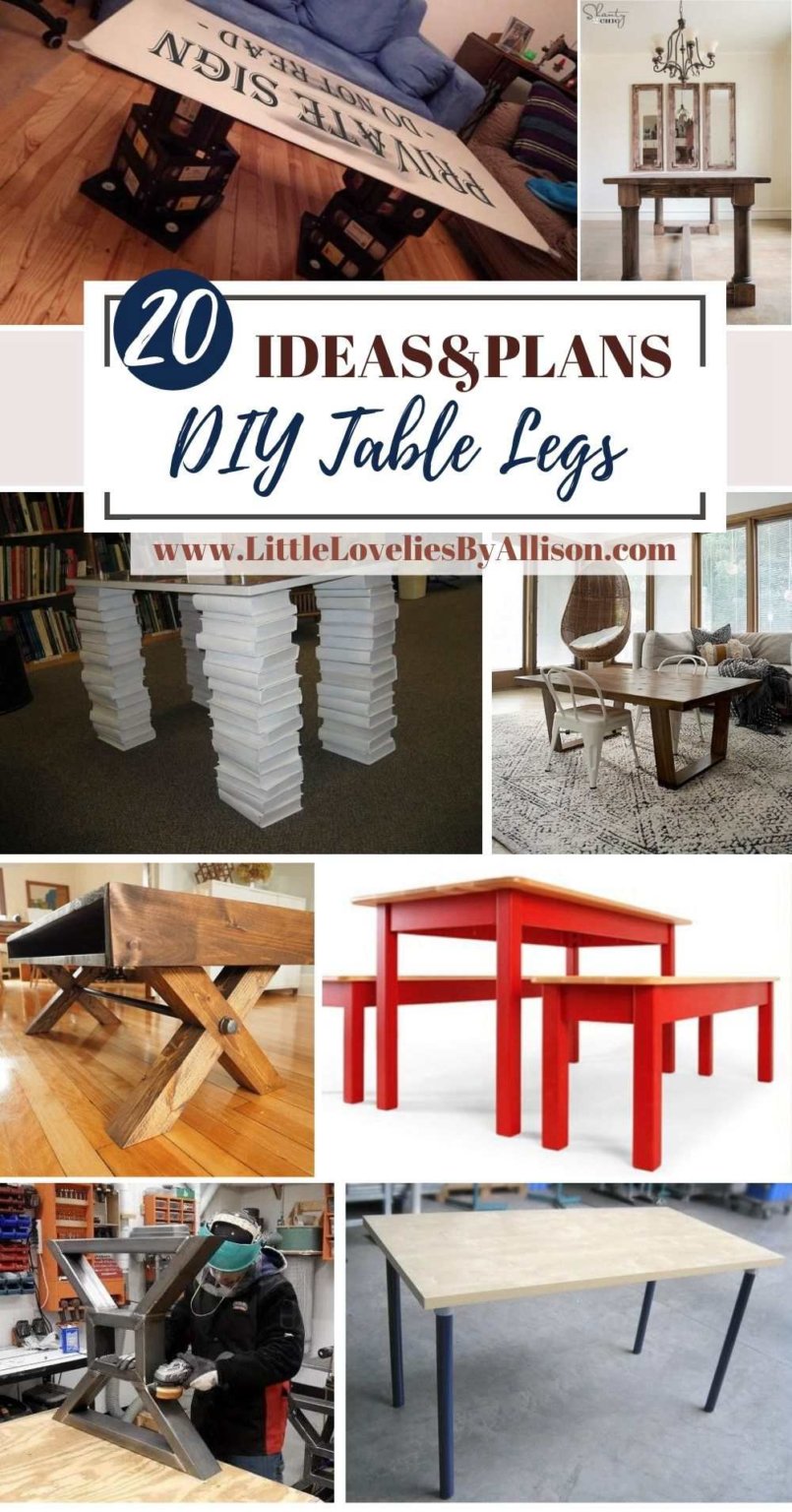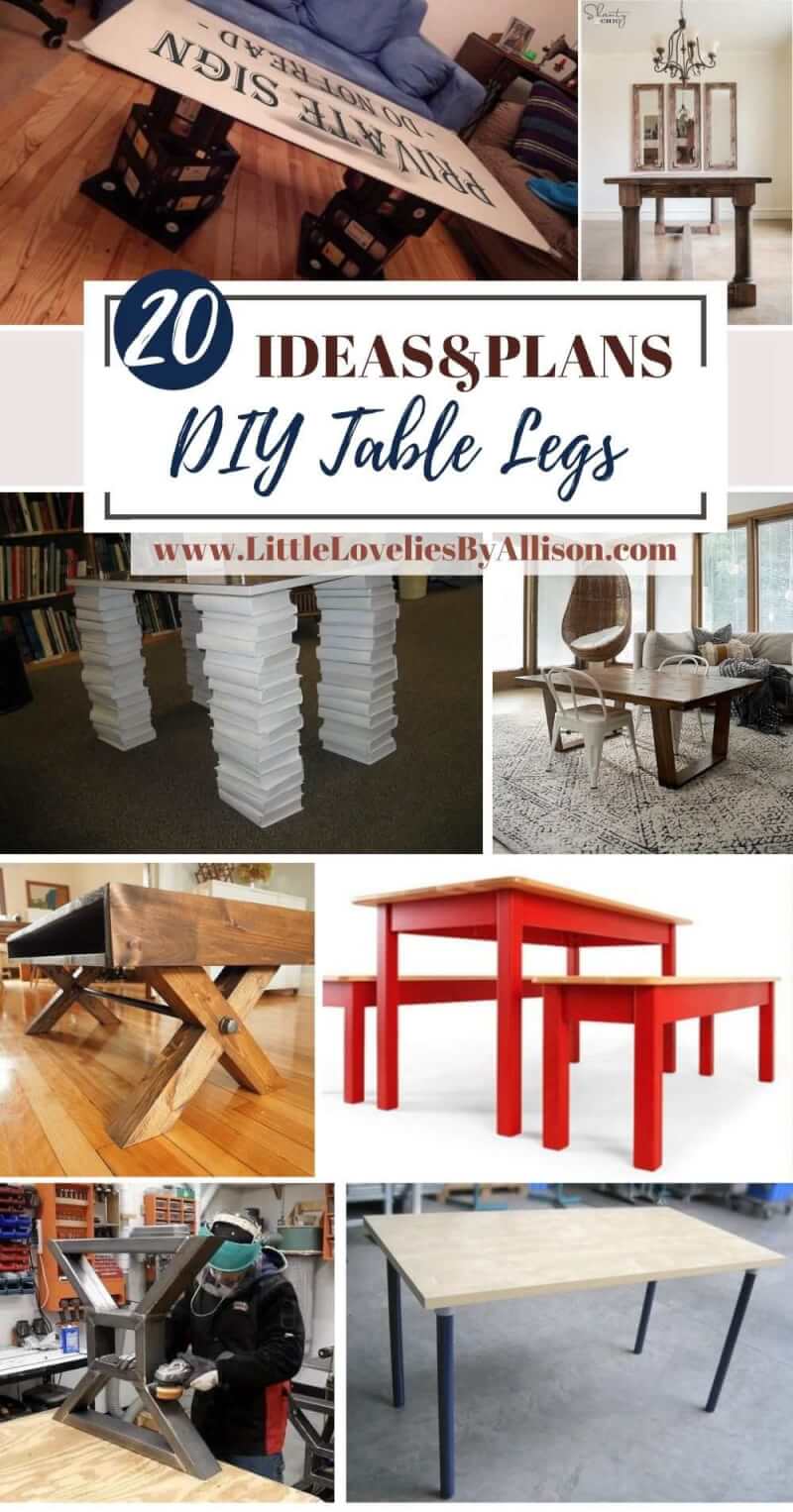 1. DIY Hairpin Table Legs
In this time-lapse video tutorial, the creator started by cutting and preparing the metal pipe that will be used as the table legs. The creator used hairpin table legs, it's a slim metal pipe that is connected by galvanized brackets underneath the table. If you're not an experienced metal worker, you don't need to fret, the building process and tools used are simple to use to complete this project.
2. DIY Modern Non-Metal Table Legs
If you have a nice wooden dining table that has big chunky legs, you can use this video guide to build new and modern wooden legs that don't take up much space down there and can give your room a cool look. The wood was a great idea, it made the table light and with the spray paint finish the creator used it made the wooden legs look like metal legs from a distance. It's a super easy and cheap build. Here are a few materials you'll need, wood, wood screws, wood dowels, Titebond wood glue, and a dark steel Rustoleum spray paint.
3. How To Make Table Legs
If you're an upcoming woodworker, this video guide should interest you, you'll learn how to laminate two 2x4s to make wooden legs. This is a simple process, all you'll need are a wood clamp, saw (optional), and a Titebond II wood glue. The entire process is super easy to build.
4. X Coffee Table Leg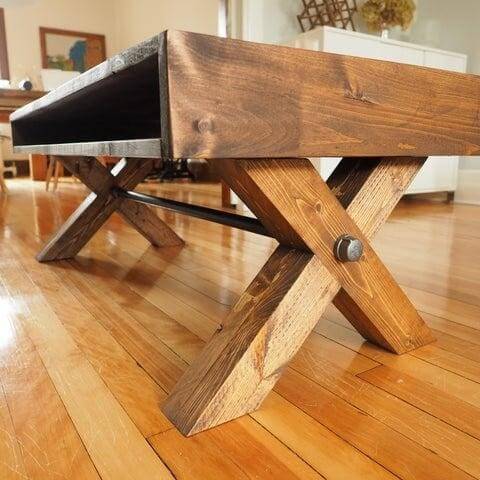 It's safer to draw a plan of how the coffee table legs should be. It's a simple X coffee table that comes with a shelf at the bottom. Here are the materials you need to begin with, pipe nipples, end caps, couplings, black iron pipe, polyurethane, danish oil, wood stain, wood filler, gorilla wood glue, and a lot more. For the tools you need, pocket hole jig, clamps, drill, miter saw, and more. The steps are easy and simple to build. First, assemble the box and fill in any in perfection with the wood filler. The rest of the steps are easy to follow.
5. Pipe Leg DIY Table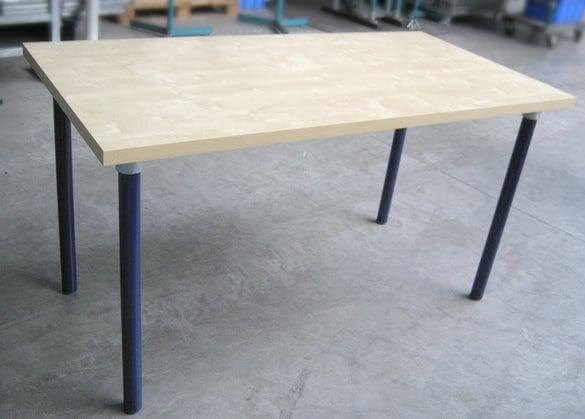 You can build this amazing tabletop from virtually any flat wood board that can easily take screws in. This guide will teach you to build the tabletop and legs, then assemble them. The tabletop will cost about $20, but the overall budget is $100 and that's quite cheap. You'll need flanges, wood screws, a plastic plug, legs, and a few more tools.
6. How To Make Table Legs From Wood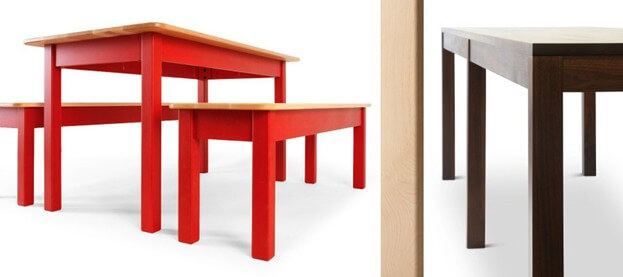 Here is a simple guide you can use to make square wooden legs. You need to choose the right wood for the build, and sanding the eyes, and final sanding in the body. The making process is super easy and fun to build.
7. How To Build Modern Desk Legs
To be able to build these modern desk legs, you'll need some advanced woodworking equipment. You'll need, without that equipment the making process might seem hard and tedious. Nevertheless, the first step is to flatten the rough sawn lumber and other sides with your planner. You'll be forming trapezoid legs that will be used as the modern desk legs.
8. DIY Modern Geometric Table Legs
You'll be using this video tutorial guide to rebuild the legs of the table the creator got for $10. If you have a table that is similar to this, it will be easier for you. These modern geometric table legs are sturdy and easy to build. They also look pretty awesome too.
9. X-Shaped Farm Table Legs
This video tutorial started with the creator cutting the lumber into the required shape. The preparation of the wood is the most tasking part of this project. Once you are done with the X-shaped legs, you're good to go. It's easy to build, you just need your miter saw, wood planer, sander, and a few more essential tools.
10. How To Make X Table Legs
V-shaped table legs seem to be the trending and widely used legs idea in the most recent table legs build. It's easy to make and you only need a few pieces of wood with a few tools. The making process is simple to follow and it's just gorgeous after building.
11. How To Make Curved Legs From Straight Wood
Just as you can make flat straight wood from a rough and curved tree, you can make curved table legs from straight wood. It's super easy to build. This video guide is easier to build if you're a woodworker.
12. DIY VHS Couch Legs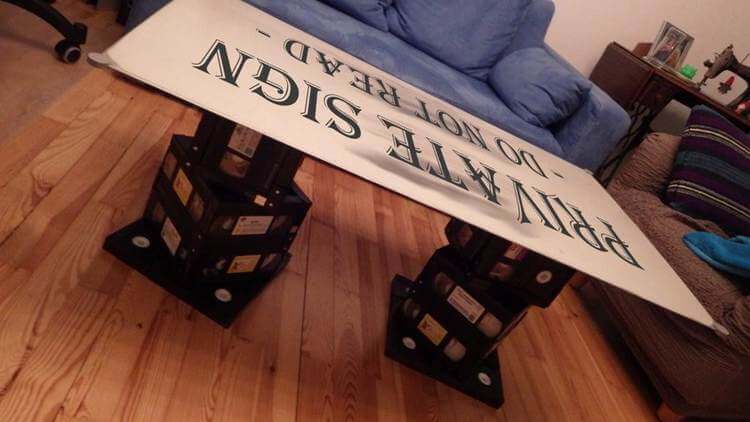 You'll need a whole lot of materials and tools to build these VHS couch legs. It's a modern table leg and it's not as easy to build as you may think but it's simple for you to follow the guide properly. You need VHS cassettes, plywood, cordless drill, rivet gun, sandpaper, jigsaw, bandsaw, and much more.
13. DIY Table Legs Out Of Books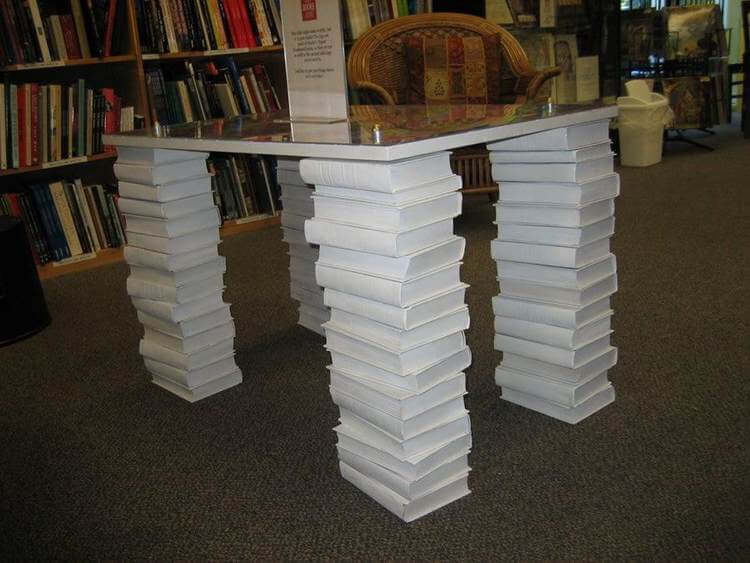 You can make these table legs with old books, isn't that amazing? The first and most important thing to do is to draft out a plan, this plan will help and direct you to build the legs with ease. With that guide, the entire making process is super easy.
14. DIY Metal Table Legs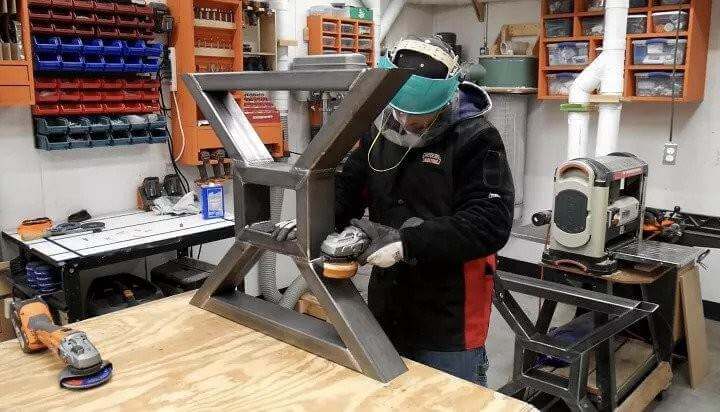 This is a table that uses sleek black metal legs, the legs are easy to set up, just some metal tubing and you're good to go. The creator used a TIG welder to assemble the parts of the metal tubing.
15. DIY Kids Table With Trapezoid Legs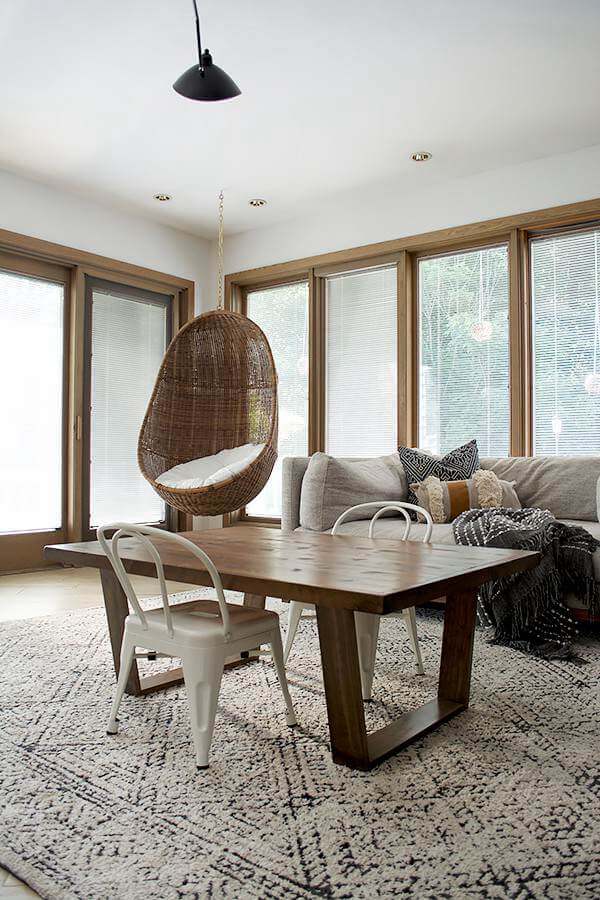 This is a super easy build, is a kid's table made in a trapezoid shape. You need two laminated spruce boards, metal brackets, wood glue, wood filler, and a few more supplies. The making process is quite easy to follow.
16. DIY Dining Table With Turned Legs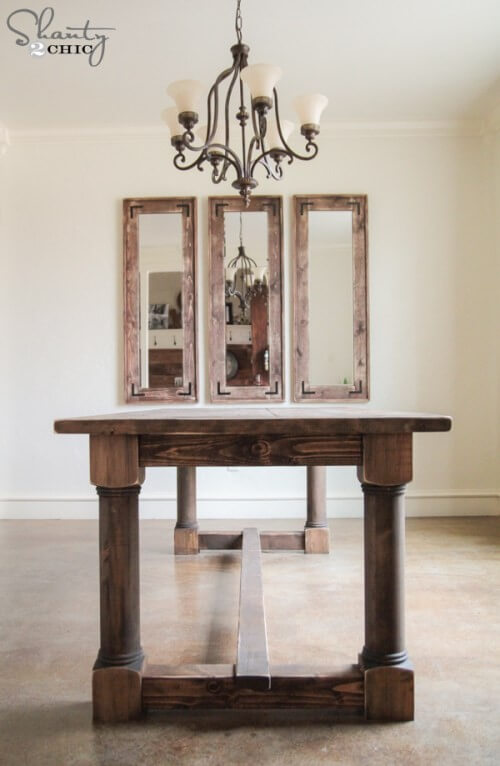 This is quite an expensive dining table leg that the creator built using knotty pine wood; it's a strong and long-lasting wood for this project. A dining table is one of the most important pieces of furniture that one needs at home, and making durable and sturdy dining table legs is necessary. The legs alone cost about $50, but the overall cost for the legs and the materials and tools needed is about $250.
17. DIY Coffee Table With Concrete Legs
Today you're going to make a coffee table with concrete legs. You will need a Quikrete 5000 cement mix, one 80Ibs bag is $5 which is super cheap. You also need a 3x4" plywood, vinyl baseboard trim, and a few other supplies. You'll use the plywood to build a mold for the cement.  The cement legs are ideal because it's strong and it can last longer
18. How To Make Hairpin Table Legs
Some people are scared of Hairpin legs because they feel it's not strong enough to hold the wood or any other medium used for the tabletop. That's not true, hairpin legs are super easy to build and they can last as long as possible. These hairpin legs are easy to set up.
19. DIY Steel Table Legs
This is a super easy DIY, the tools used are not started, but there is a link the creator of the video inserted that will take you directly to the online store he got it from. A lot of welding will be done but you don't need to have any welding experience to be able to complete the task efficiently.
20. How To Attach Table Legs
You can get all of the materials and tools used in this guide from Amazon, and there is a link inserted to make it easier for you to narrow down the search to the specific item you want. The making process is super easy and simple to follow.
Conclusion
There you have it, a super easy DIY that will guide, instruct and introduce you to new and amazing ways to build legs for fork desks, coffee tables, dining tables, and all kinds of tables. The ideas are amazing and worth the try, so don't fail to try one. Thanks for your time.