Many times you find yourself buying everything you need in your house. But, you can easily build some of these things using readily available materials and tools. If you are looking to create a functional workspace for your computer, you might want to DIY a keyboard tray.
The process can be exciting and will ultimately save you a significant amount of money. However, i understand that you might not know what to use and how to do it. This is why I have compiled 9 homemade trays you can build easily using tools and materials you can access.
1. DIY Cost-effective Keyboard Tray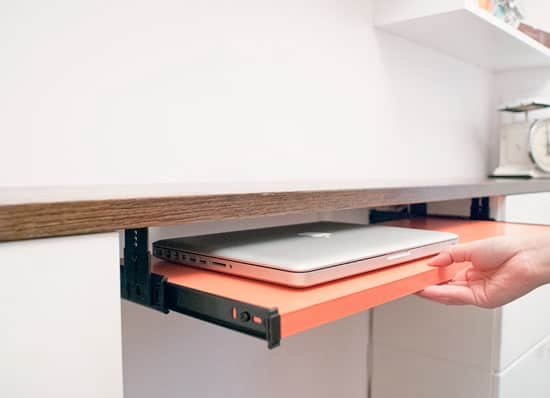 A couple wanted to include a keyboard tray but did not realize how expensive it was buying one. So, they resorted to making one at a fraction of the cost they had seen online. In this DIY, the couple highlights what you need and how to put everything together.
You will need a yard of solid wood that you find in your hardware store. Also, you will need variable height platform slides to attach under the desk. The project requires you to measure the length of the wood to match that of the desk.  You will then need to sand the wood, paint it, and attach it to the platform slides.
2. DIY Keyboard Tray for a Tall desk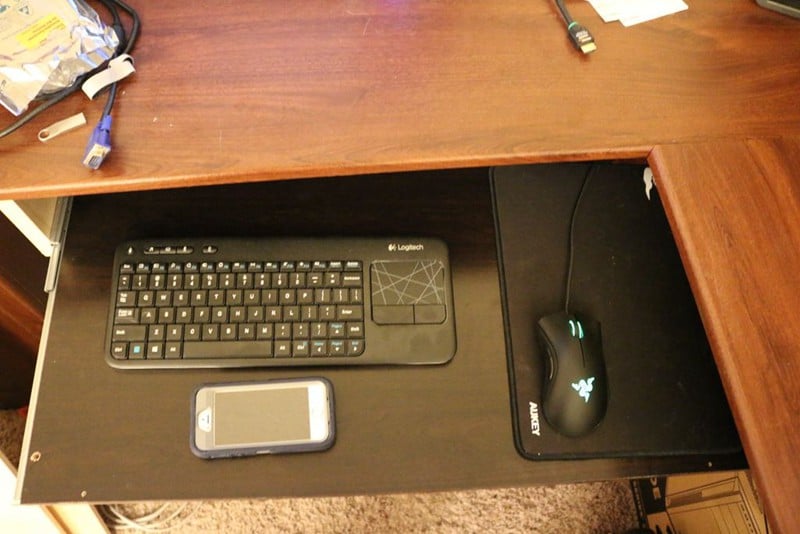 If you have a tall desk and there is enough leg room under it, you might want to add a keyboard tray. It is not only useful for the keyboard and mouse but also other office supplies to keep the worktop clutter-free.
For this DIY project, you will need a hand drill, bits, a tape measure, and a hand saw. For the materials, you will need leg materials, a tray surface, a drawer slide pair, and a few screws.
After cutting and measuring the board to the appropriate size, you can then attach the drawer slides and fasten with screws. You can use this tutorial I found online with a step-by-step guide.
3. Sturdy DIY Keyboard Tray
A keyboard tray provides extra space to place the keyboard, mouse, and other desk supplies. If you are looking to save some money and make one at home, this tutorial will guide you through the process.
The tutorial highlights all the materials and tools you need. It is simple and only requires a few cutting and measuring skills. This DIY is great if you want to build a solid keyboard tray to last long.
4. Movable DIY Keyboard Tray
This DIY plan is particularly great for artists and musicians looking for extra storage space for their equipment and supplies. It is easy to build and does not require complicated tools.
The best part is that it is quite large compared to regular keyboard trays. The design provides adequate space to fill not only the keyboard but other items as well. This tutorial on YouTube can take you through the entire process of building it.
5. DIY Keyboard Tray Using Reclaimed Hardware
You probably have an old desk lying in your garage for years. You can make use of it and reclaim some materials to build a new, sturdy keyboard tray. This project will not only save you money but also help you get rid of clutter.
You can take out the glide tracks from the old desk together with a block of wood from previous projects. After measuring to match the new desk, you can then attach using basic screws and a screwdriver.
6. Homemade Keyboard Tray for Gamers
Gaming is quite extreme and requires adequate space. On a desk without a keyboard drawer, it can be challenging to keep up with the sport. This DIY project is quite simple and caters to the needs of a gamer.
It uses a simple Ikea board and a pair of glide slides to use as the tray. You only need to screw the slides on to your desk's frame and secure firmly.
7. DIY Keyboard Tray and Desk
You probably do not have a sturdy desk to use with the tray. Whether you are building a new desk or simply upgrading your current one, this DIY plan can be helpful. It is ideal for people that need a reliable keyboard drawer for easy use.
It uses readily available materials, simple tools, and does not need expert skills to build. You will need steel bars or wood to build the frame of the desk. Following the cutting procedure, you can easily attach the pieces and make the tray.
8. Simple DIY keyboard Tray for a Regular desk
Installing a keyboard tray on your desk can be challenging if you have to build it from the start. This tutorial shows you how to fit glide sides on a block of wood and attaching it under the desk. You only need to buy a custom-cut piece, the glide sides, and a few screws for fastening.
The best thing about this DIY plan is that is works with different sizes and designs of desks. As long as you get the measurements right, it is easy to put everything together.
9. DIY Keyboard Tray out of Desk Drawer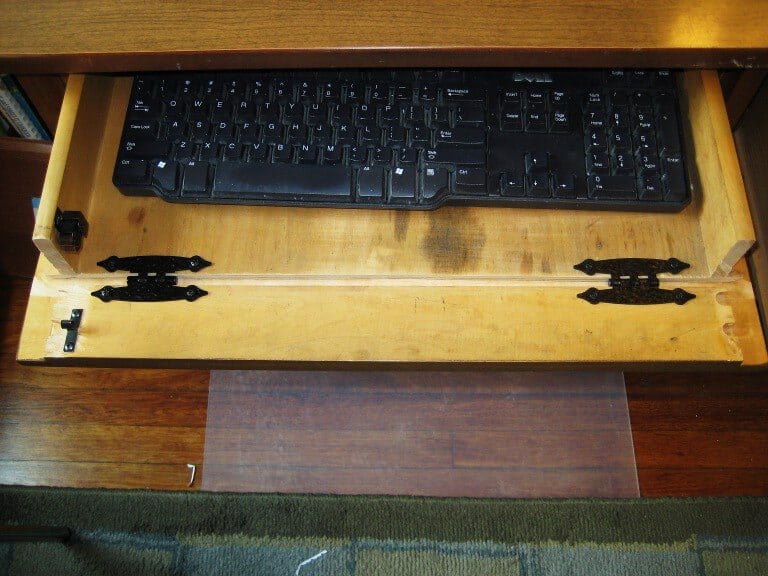 The best DIY projects are those that you use items you already have. You can make use of an old desk drawer and transform it into a keyboard tray. You only need to measure the drawer and ensure it matches the length of your keyboard.
You can then attach the drawer to the slides and fasten it under the desk. This tutorial shows a step-by-step process of building the tray. It not only saves you money but also gives you a creative way to use old drawers.
10. DIY Midi Keyboard Tray
This video guide will be more effective for you if you have a tabletop where you place stuff like your Monitor, mouse, and other computer and sound-related parts. The creator made a small sliding compartment beneath the table. He made this midi keyboard tray for just $30 and it's super easy to build. The creator bought a Kinjoek keyboard slide kit from Amazon, so. you can check the link in the description of this video to get a direct link to Amazon to buy it as well.
11. DIY Music Keyboard Tray
The same idea applies to this guide as the one above. The creator has a music studio and he needs a favorable place to place his keyboard and making a sliding keyboard tray seems to be the best option yet. He used a keyboard slide he got from Amazon, some screws and nuts, a Rubbermaid wooden shelf, a ratchet set, a tape measure, and a drill. The making process is seamlessly easy and simple to follow.
12. How To Install A Sliding Drawer Under A Desk
For this guide, you won't be making a keyboard tray, but rather install an existing drawer under your desk that you can use to easily slide your keyboard in and out whenever you want. If you have a MiDi keyboard, this video tutorial guide will still assist you to install the sliding drawer that will be used for the keyboard. It's super easy to install. You just need a good wooden board that will take the weight and size of the keyboard and then attach it to the slider and now you have freed up space on your table and you can effortlessly slide out your keyboard and make music.
13. DIY Keyboard Tray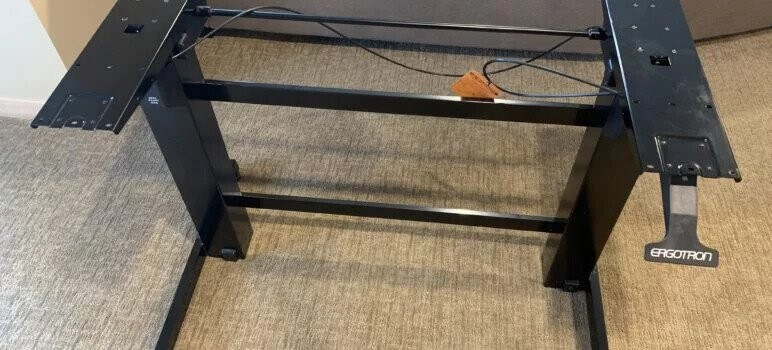 The first step in making a keyboard tray is choosing the right keyboard tray slides, then the options for the keyboard tray surfaces, and a few other supplies that you'll need to work with. The steps are simple and easy to follow. For the keyboard tray, you need 14 inches of hardware resources that enable you to attach a keyboard tray to the underside of desks or tables without necessarily making custom brackets. You also need a top mount, wood, screws and nuts, wood glue, clamps, orbital sander, and a few other tools and materials.
14. DIY Keyboard Tray From Walnut And Leather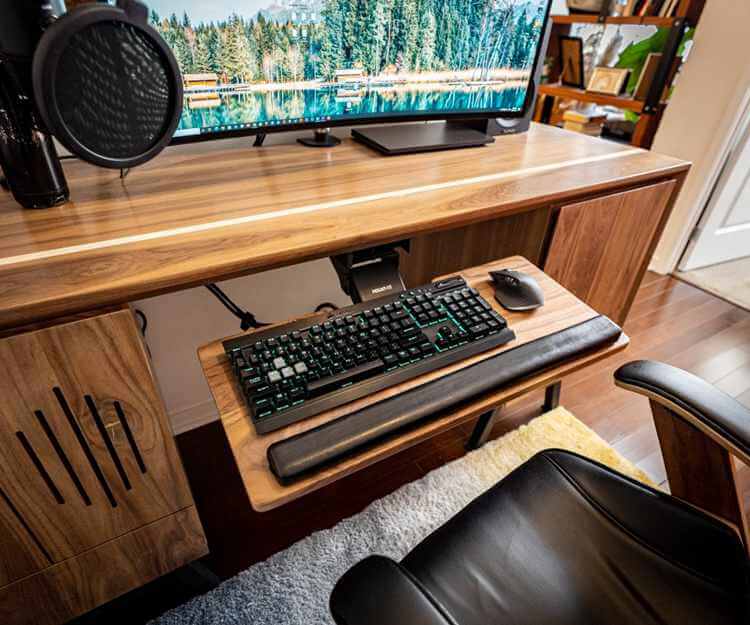 If you have a table or desk made out of fine walnut and leather, you might want to. consider trying this guide to make a keyboard tray that is also made out of the same materials to match with the table and add beauty to your desk. It's not just about the beauty of the tray, but how effective and durable the tray is when you decide to make it.
The hard part of this project is the wood, building the wood, applying wood glue, sanding, silicone mold work, leatherwork, and other features to make the wooden board perfect for use. Check the guide to learn more about the dimensions. This is a long and intense building project, but the result is worth it in the end. Another fun fact is that this keyboard is not a musical keyboard but a computer keyboard, so it's small and the tray won't take up much space underneath the desk.
15. DIY Keyboard Tray With Desk
This is a great keyboard tray for your desk or table, it's small, flat, and easy to slide in and out from underneath the table. It also has a small space created for your computer mouse which is perfect because you get to keep your hand on the tray and do all your work with ease. Here's what you need to get started, some sheets of plywood, keyboard slides, piano hinges,  a Navepoint 4U vertical rack rail pair kits, a table saw, power drill, sandpaper, power sander, tape measure, and a few others.
16. DIY Sliding Keyboard Tray
Here is an amazing guide that will teach you how to make a simple sliding keyboard tray from scratch with ease, as long as you have the necessary tools and materials needed. The fact is, it's not easy to build this tray, but if you follow the creator's instructions and directions, you'll be seeing a positive result and your sliding keyboard tray will be ready in no time.
17. DIY Apple Keyboard Tray
Do you have an Apple computer, and are you looking for a tray for the keyboard? Look no further, the creator of this guide built a tray that will carry not only the Apple keyboard but the trackpad as well. It's super easy and fun to build. First, you need to put the keyboard and trackpad together and measure, then take that measurement to the wood you'll be using for the tray. Measure and cut out your wood. Do the necessary sanding and cleaning to the wood, with your riser oak, walnut, and chestnut wood for the tray. Check the link to learn more.
Conclusion
A keyboard tray is one of the most important parts of a work desk or table, especially at home. It helps free up space on your desk and helps you relax your hands while you type or play the keyboard. It's easy and fun to build and doesn't require you to spend so much money, unless in getting the wood and keyboard slides which are still inexpensive compared with buying from an online store.
That's all for today, keyboard trays are easy and quick to make, just a few woodworking processes that don't require an expert skill level to perform. Thanks for stopping by, never get tired of making something new.