Many times you find yourself buying everything you need in your house. But, you can easily build some of these things using readily available materials and tools. If you are looking to create a functional workspace for your computer, you might want to DIY a keyboard tray.
The process can be exciting and will ultimately save you a significant amount of money. However, i understand that you might not know what to use and how to do it. This is why I have compiled 9 homemade trays you can build easily using tools and materials you can access.
1.DIY Cost-effective Keyboard Tray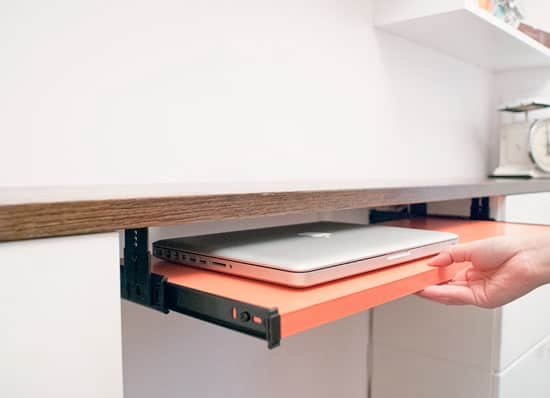 A couple wanted to include a keyboard tray but did not realize how expensive it was buying one. So, they resorted to making one at a fraction of the cost they had seen online. In this DIY, the couple highlights what you need and how to put everything together.
You will need a yard of solid wood that you find in your hardware store. Also, you will need variable height platform slides to attach under the desk. The project requires you to measure the length of the wood to match that of the desk.  You will then need to sand the wood, paint it, and attach it to the platform slides.
2.DIY Keyboard Tray for a Tall desk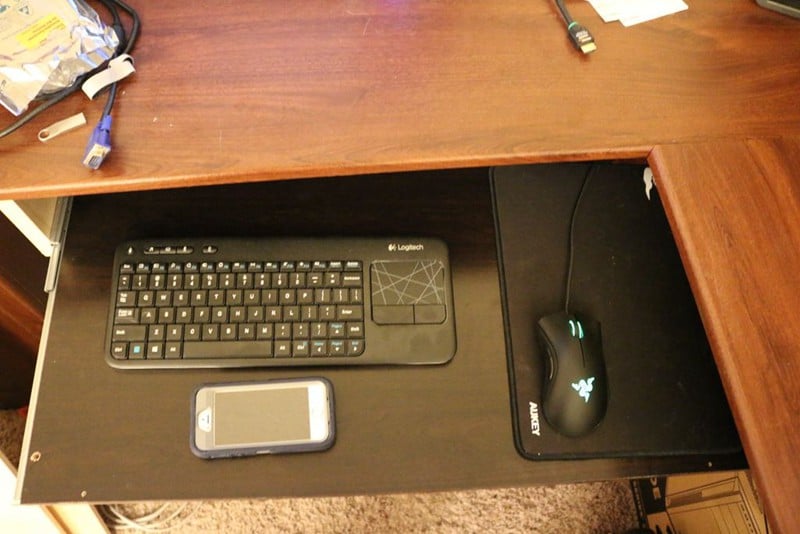 If you have a tall desk and there is enough leg room under it, you might want to add a keyboard tray. It is not only useful for the keyboard and mouse but also other office supplies to keep the worktop clutter-free.
For this DIY project, you will need a hand drill, bits, a tape measure, and a hand saw. For the materials, you will need leg materials, a tray surface, a drawer slide pair, and a few screws.
After cutting and measuring the board to the appropriate size, you can then attach the drawer slides and fasten with screws. You can use this tutorial I found online with a step-by-step guide.
3.Sturdy DIY Keyboard Tray
A keyboard tray provides extra space to place the keyboard, mouse, and other desk supplies. If you are looking to save some money and make one at home, this tutorial will guide you through the process.
The tutorial highlights all the materials and tools you need. It is simple and only requires a few cutting and measuring skills. This DIY is great if you want to build a solid keyboard tray to last long.
4.Movable DIY Keyboard Tray
This DIY plan is particularly great for artists and musicians looking for extra storage space for their equipment and supplies. It is easy to build and does not require complicated tools.
The best part is that it is quite large compared to regular keyboard trays. The design provides adequate space to fill not only the keyboard but other items as well. This tutorial on YouTube can take you through the entire process of building it.
5.DIY Keyboard Tray Using Reclaimed Hardware
You probably have an old desk lying in your garage for years. You can make use of it and reclaim some materials to build a new, sturdy keyboard tray. This project will not only save you money but also help you get rid of clutter.
You can take out the glide tracks from the old desk together with a block of wood from previous projects. After measuring to match the new desk, you can then attach using basic screws and a screwdriver.
6.Homemade Keyboard Tray for Gamers
Gaming is quite extreme and requires adequate space. On a desk without a keyboard drawer, it can be challenging to keep up with the sport. This DIY project is quite simple and caters to the needs of a gamer.
It uses a simple Ikea board and a pair of glide slides to use as the tray. You only need to screw the slides on to your desk's frame and secure firmly.
7.DIY Keyboard Tray and Desk
You probably do not have a sturdy desk to use with the tray. Whether you are building a new desk or simply upgrading your current one, this DIY plan can be helpful. It is ideal for people that need a reliable keyboard drawer for easy use.
It uses readily available materials, simple tools, and does not need expert skills to build. You will need steel bars or wood to build the frame of the desk. Following the cutting procedure, you can easily attach the pieces and make the tray.
8.Simple DIY keyboard Tray for a Regular desk
Installing a keyboard tray on your desk can be challenging if you have to build it from the start. This tutorial shows you how to fit glide sides on a block of wood and attaching it under the desk. You only need to buy a custom-cut piece, the glide sides, and a few screws for fastening.
The best thing about this DIY plan is that is works with different sizes and designs of desks. As long as you get the measurements right, it is easy to put everything together.
9.DIY Keyboard Tray out of Desk Drawer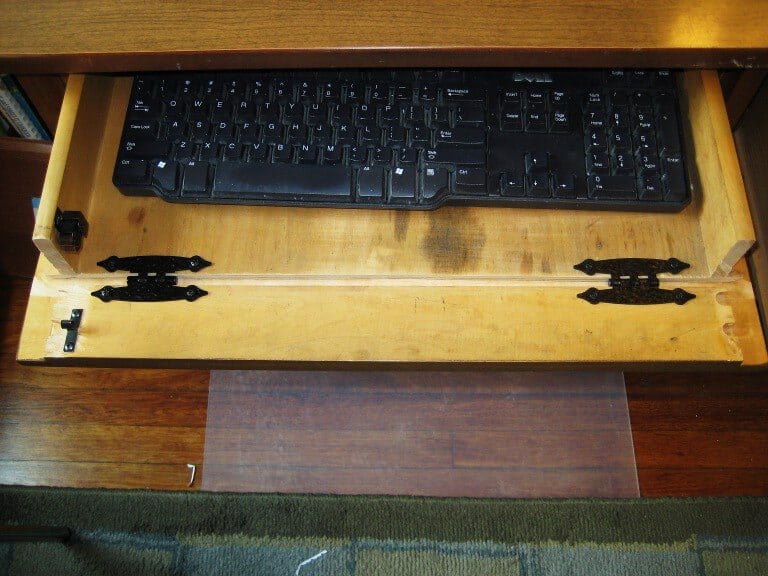 The best DIY projects are those that you use items you already have. You can make use of an old desk drawer and transform it into a keyboard tray. You only need to measure the drawer and ensure it matches the length of your keyboard.
You can then attach the drawer to the slides and fasten it under the desk. This tutorial shows a step-by-step process of building the tray. It not only saves you money but also gives you a creative way to use old drawers.
Conclusion
The beauty of DIY projects is that you get to create fantastic pieces from basic materials. These DIY plans are some of the best ways to use left-over wood or old blocks of wood to build keyboard trays. They are all simple to follow and do not require any special skills.