A chainsaw mill comes in handy to process logs of timber to usable planks and boards. If you are dealing with fallen trees from your backyard or looking into processing timber at home, then a DIY chainsaw mill can be a great option. Furthermore, it will save you money that you would spend hiring a professional miller.
Here are 13 homemade chainsaw mills that you can DIY easily using readily available materials.
1. Homemade Vertical Chainsaw Mill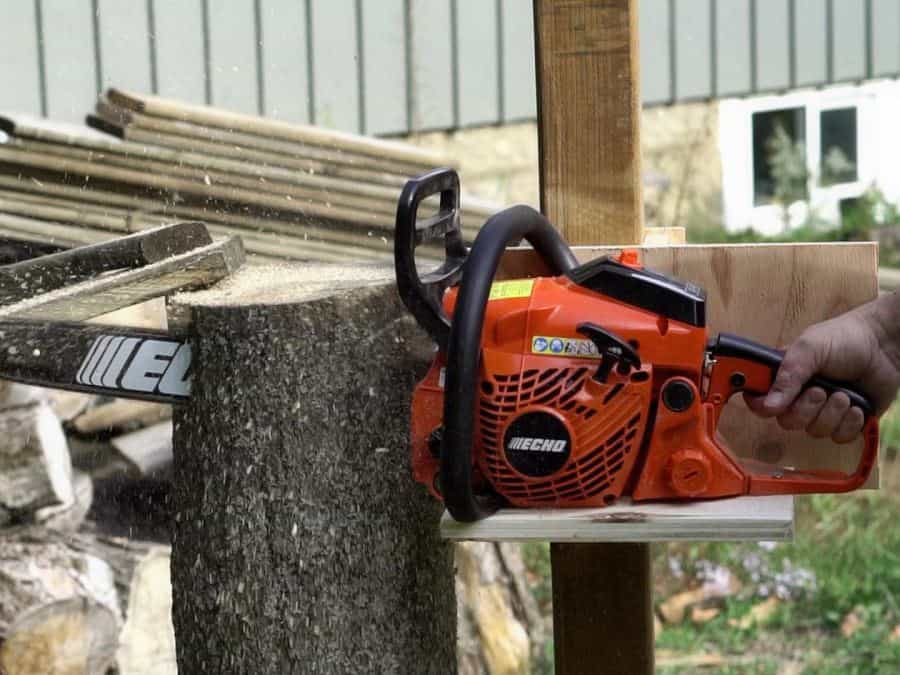 If you have wide, massive logs of timber, a vertical chainsaw is the best to cut it into boards and plants. You can easily DIY a vertical mill using a 4x4 maple post.
First, dig up the ground and stack the post. Backfill with soil and ensure it is stable and firm on the ground. It will ensure the chainsaw mill is steady and straight for clean cuts.
The vertical post acts as the guide when cutting down a log of wood. To ensure the base is stable, place a large, leveled block and mount the log using small wood pieces. It will suspend the post and provide stability.
2. Homemade Premium Quality Chainsaw Mill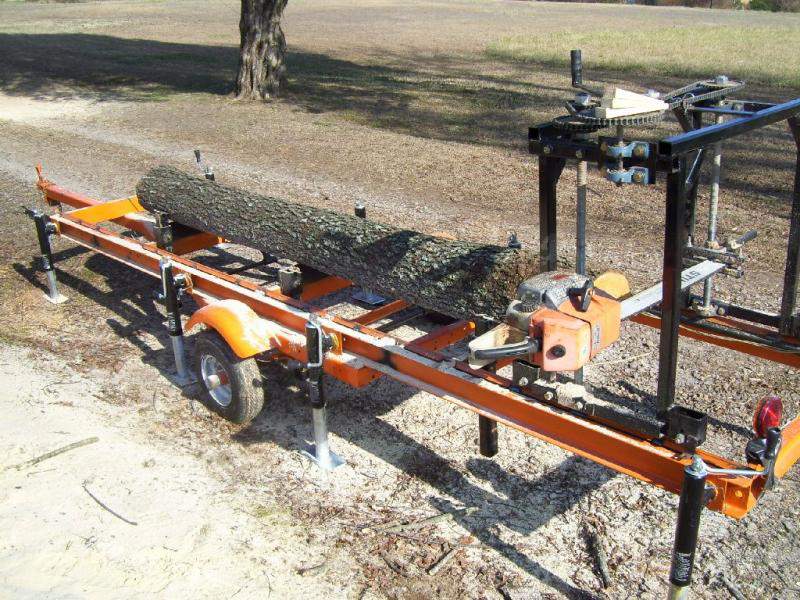 If you are considering a DIY chainsaw mill that you can use regularly, this tutorial can come in handy. It uses high-quality steel metal for stability and durability of the carriage.
You will need to buy steel bars, screws, and nuts to build the carriage. Additionally, you will need a circular saw to cut the steel or any other metal cutting tool. A welding machine will come in handy to attach the steel bars and complete the cubed carriage.
Using the screws and nuts, you will bolt down the chainsaw to the carriage. This design is easy, and you can always un-mount the chainsaw when needed.
3. Homemade Affordable Chainsaw Mill
One of the reasons you would want to DIY a chainsaw mill in the first place is to save some money. This DIY project uses readily available materials, and you only need to buy a few, if any.
You will need 2x4 and 1x6 wood planks to create the carriage. You do not have to use plywood, which can be expensive. A standard wood plank works as good. With a few screws, drill, and screwdriver, you can attach the wood and build the base.
4. The Simplest Homemade Chainsaw Mill
We all know that not everyone is artsy and crafty. With all the measuring, cutting, and attaching needed with building a DIY chainsaw mill, this project could be the best for you.
The project is not only the simplest to do, but also one of the most economical ones. It is also an excellent choice for light logging and milling. For this project, you only need threaded rods, nuts, washers, and an 18-inch bar.
You need to drill two holes on each end of the saw and use the attachment rod, nuts and washers to attach the wood. This leaves a defined width for cutting planks.
5. Adjustable Homemade Chainsaw Mill
Milling timber from logs can be exciting. But, you need to understand how to achieve different widths of cuts for the planks. It is only possible with an adjustable chainsaw mill.
The good thing is that you can make an adjustable one at home. Like the high-quality model, you will need steel bars, screws, nuts, rods, etc. This tutorial explains how you can build a chainsaw that adjusts to different widths. You can also learn how it works to achieve different cuts of planks.
6. Large Homemade Chainsaw Mill
Well, this chainsaw mill DIY is a little complex than the other models. But, it is one of the best in the quality of materials used. Also, it is useful for large logs and heavy timber milling.
This DIY is for the extremely handy people that understand the use of power tools. Additionally, the tutorial requires a lot of knowledge on measurements for precise cutting and attachments.
If you are up for the task and looking to building a large chainsaw mill, then this is the project for you. It takes you through a step-by-step process on cutting, measuring, attaching, and using the large chainsaw mill.
7. DIY Chainsaw Mill Without Welding
If taking on DIYs does not save money, then it is not worth the time and effort. This particular DIY project does not require the use of welding tools. You only need to use washers, nuts, and rods to attach the steel bars and build the carriage.
The project is ideal for people that need a carriage to use once or less regularly. The best thing about this model is that you can take the pieces apart and adjust any measurements. Also, you can alter the carriage width and length easily.
8. Homemade Chainsaw Mill for Small Cuts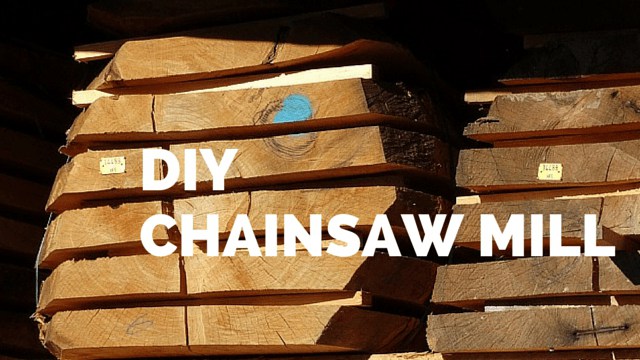 A small mill is ideal for cutting thinner logs of timber into small planks. This DIY is useful if you are considering building a chainsaw mill for a small project. With the chainsaw mill, you will need a ripping chain as it is much more effective than the other types.
The tutorial takes you through a step by step procedure to measure, cut, and layout the design. It then highlights how to weld the pieces together to build the small carriage. The last step, attaching to the saw, is easy and does not require any special tools.
9. DIY Chainsaw Mill for any Log Size
It is expected that all the logs will not be the same size. Therefore, you need a chainsaw mill that can work will any size of logs without compromising on the quality of the cut.
With your big chainsaw mill, you will need to find a bar or wood piece of the same length. Then, you will need to drill the saw and create holes to attach to the wood. The width between the plank of wood and the saw should be larger than most other mills to accommodate the different cuts.
10. DIY Chainsaw Mill With Wood
With this DIY plan, you will need a piece of a wood plank, wider than the chainsaw. This project is not only simple to do but also cost-effective. You only need a few pieces of wood planks and a few screws and nuts.
This video shows you how the wood pieces are attached to provide the stability of the chainsaw. It is a viable option for people that do not have welding tools or heavy cutting tools.
11. DIY Stationary Chainsaw Mill
This DIY tutorial shows you how to build a huge, stationary chainsaw mill for heavy wood milling work. It is particularly useful for professional millers that need a stable, long-lasting solution.
The project utilizes heavy steel bars, lots of nuts, screws, washers, and rods for attachment. The DIY chainsaw mill with these cuts long pieces of wood and is ideal for super long logs.
It is important to note that this project requires power tools for cutting, drilling, and attaching the parts. It is, therefore, ideal for long-term use by professionals. The project can be expensive, but it surely saves you money compared to buying a huge of a chainsaw mill carriage.
12. DIY Chainsaw Mill with the Alaskan Mill
If you have the Alaskan chainsaw mill, you can use blocks of wood, two rods, washers, and screws to create the carriage. This process is pretty straightforward but requires prior measuring and cutting.
In this video, the DIY'er uses small blocks of wood cut out to different widths. He then stacks them together to acquire the distance he needs when cutting. The blocks are all drilled in the middle, so the rod goes through.
The last piece of wood, which is wider than the saw, stacks on top of the small wood blocks. Using washers and nuts, he then fastens to secure the wood plant in place.
The DIY is great for people intending to cut different cuts but cannot afford an adjustable chainsaw mill. The different widths determine how wide the cut is after using the chainsaw mill.
13. DIY Improved Chainsaw Mill
I love DIYs because you can do just about anything with any material. This tutorial is extensive and might seem complicated but is one of the best so far. It utilizes long angle bars, lots of attachment, and a hauling system for wood cutting.
The DIY project is an improvement of the regular premium quality homemade chainsaw mills. It has an electric adjustment and a fast electric motor. More to this, it features a bar tip holder to reduce vibration reduction.
This model is ideal for professional millers and those with heavy wood milling work.
14. Homemade Chainsaw Mill
This is an inexpensive chainsaw mill that you can make for under $100, it's easy to build and you just need a few tools to get started. You need a hand-crank boat winch, lawnmower wheels, scrap steel, some threaded rods, and a few more other materials. You also need a trailer deck of about 14 ft long, the saw can also be raised or lowered. It's an effective chain saw that you can effortlessly make at home.
15. How To Make A Chainsaw Mill
In this video tutorial guide, you will learn how to make a milling attachment bar for a chainsaw. The chainsaw used is an old Homelite 1130G chainsaw which is pretty strong and durable. Here are a few tools you'll need to work with, a pin on 120V welder, a porter cable restorer, SawStop table saw, bosch miter saw, an articulated vise, and much more. Once you have got your hands on these items, you're good to go.
16. Making A Chainsaw Mill DIY
Before you begin this video tutorial, ensure to put on every safety gear when working with metal welding tools. This video started with the creator putting nuts on a threaded rod and assembling other metal parts to make the chainsaw mill. The making process is super easy and simple to follow.
17. DIY Chainsaw Mill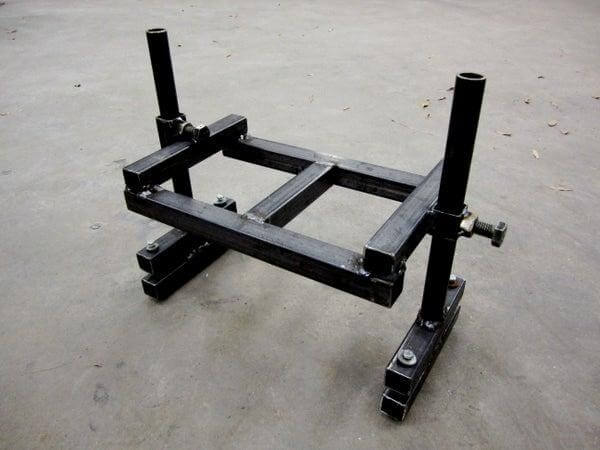 As always, start your work with safety materials like gloves, goggles, welding jackets, earplugs, welding masks, and more. For the tools you need a MIG welder, chop saw, vice grips, grinder, ruler, drill press and drill bits, and a wax pencil. For the building materials, here are a few things you'll need, bolts, nuts, washers, bar stock, a 12-in pipe, square stick, and a few other metal properties. The making process is quite simple, just follow the 5 intense steps carefully.
18. DIY Wooden Chainsaw Mill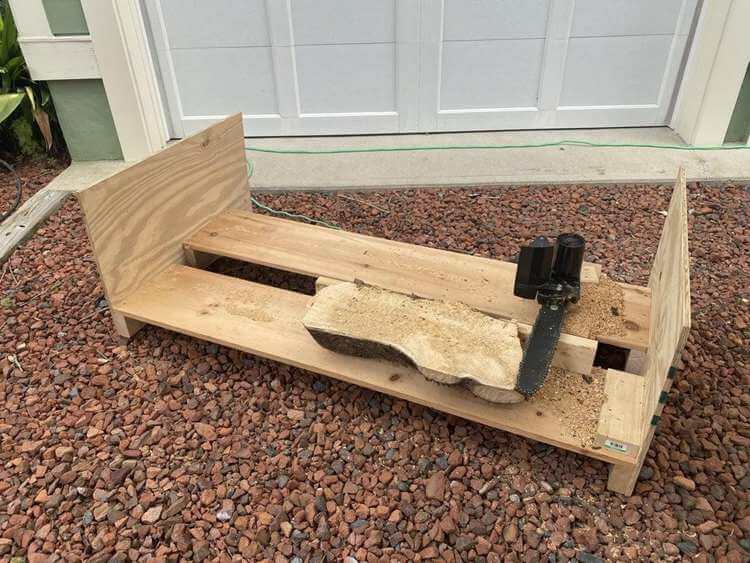 Safety first, as always then, get a few materials and tools to start building this special wooden chainsaw mill. You need a ¾" plywood, some 1x12" and some 2x4". You also need a screwdriver or a drill, then a chainsaw. The first step involves creating rails and support for the entire chainsaw mill build, assemble, attach anchors, but don't forget to sled the chainsaw and attachments. Once you check the link, you'll get a hang of the entire operation.
19. DIY $25 Chainsaw Mill
Here is a sweet guide that will help you make an Alaskan-style chainsaw milling attachment. You'll need a steel tube and a steel bar with their various dimensions. You also need some bolts and nuts, all these cost about $25 and that's pretty cheap. If you are checking this guide from long island NY, you should check the link to see where to get these materials for that cheap price. To start, you need a layout, you can easily get a pen and paper and draft out something quick but reliable and use that diagram to work and make this chainsaw mill with ease. After that, complete the remaining 11 steps, and you're good to go.
20. How To Build An Alaskan Saw Mill
Here is an amazing time-lapse video tutorial that you don't want to miss. The first and most important step is to drill two holes into the chainsaw bar, next insert threaded rods into the holes and tighten with nuts, then add PVC spacers that you should cut to your desired lengths. Now place a flat board on top of the spacers, then tighten with nuts to hold the wood I pace with the small PVC pipes, and complete a few more steps to finish This is a great way to build an Alaskan sawmill in 5 simple steps.
21. How To Make A Cheap Chainsaw Mill
You're going to need a piece of plywood board to get started, create two holes on it, then attach two threaded rods, tighten with bolts, nuts, and washers. This is one of the cheapest and easiest chainsaw mill projects on my list. The items you even need for the project are not much so you won't even have to spend much, and if you have any of the required materials at home already, it makes your job easier and you can save some money as well.
22. DIY Chainsaw Mill
Here the creator used some parts of a steel frame, a 2x6 cedar board, and a harbor freight crank winch. The winch cost about $20 which is pretty much the only item you might have to buy, which makes this project an inexpensive one. You'll also need a hammer and a chisel. This project is super easy and quick to build.
23. How To Mill A Log Using A Chainsaw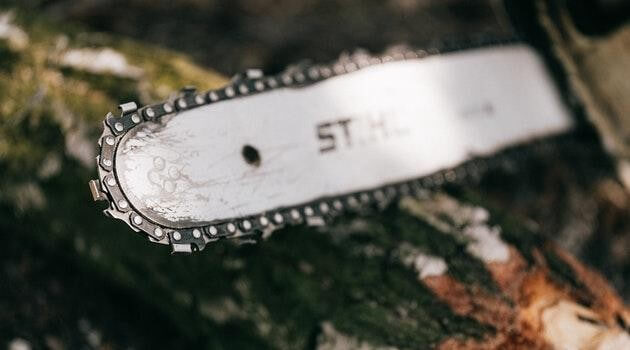 First, get your safety gear on, it's very important to prevent injuries or something more severe. Also, find a location that is isolated and far from people so you won't disturb anyone, also keep a fair distance from you and the machine. This guide will teach you 4 several simple methods on how to mill a log with a chainsaw. It's easy to learn, so you won't have any trouble at all.
Conclusion
A chainsaw is an amazingly efficient tool used to create beams and logs for timber framing work or to also cut out wood slabs for woodworking. It's not always easy to build but if you follow the steps given carefully, you can make a chainsaw mill with ease. You don't need to have high-level woodworking metalworking experience to be able to make a chainsaw mill. Thanks for stopping by.