Every woodworker needs a sawhorse, it's one of the most important things when it comes to sawing wood boards or planks. A sawhorse is a beam or rack in four legs that is used to support wood boards or planks for sawing.
So, if you want to get some wood prepared for your woodworking project, here is a guide that will help you make a sawhorse effortlessly, and in turn, you'll use the sawhorse to prepare wood for your build effortlessly as well. Check out our list of 25 DIY sawhorse plans.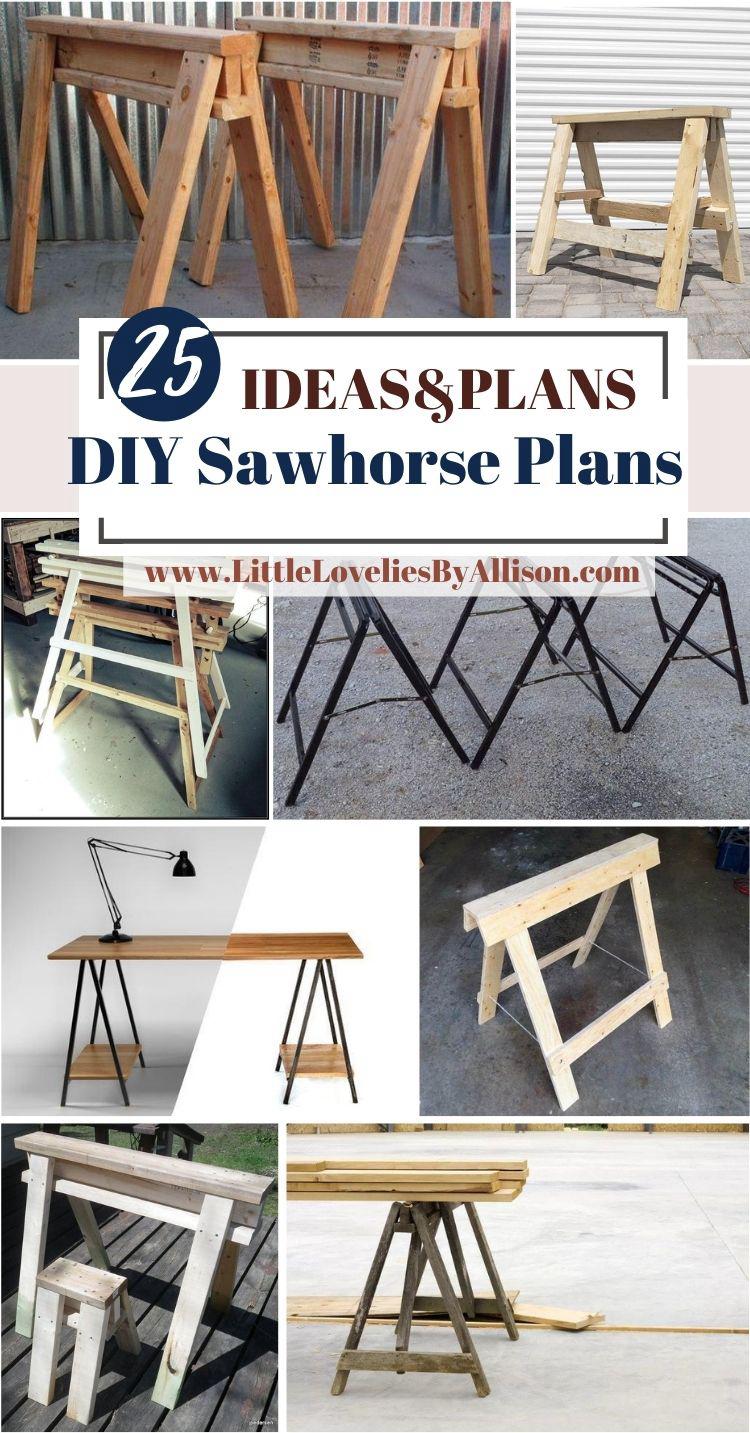 1. DIY Folding Sawhorses
Here is the first guide on this list that provides you with an amazing place to work. With just a circular saw and a power drill, you can make a pair of sawhorses that are strong enough to take a load. It's also a foldable sawhorse, so when you're done with your woodwork project, you can easily fold it up and store it somewhere safe.
2. How To Build A Pair Of Sawhorses
You'll need a pair of sawhorses to be able to place your wood board or plank for cutting, it takes only 5 2x4 lumber per set which is super cheap. It's also strong, quick, and easy to build. You'll need a few power tools and normal basic woodworking tools.
3. DIY Cheap Sawhorses
This is the simplest process to apply if you want a sawhorse super fast. All you need is your wood planks cut into the required dimensions, then start attaching them to form the sawhorse, no angle cuts needed, which is easier and makes the job neat and fun to build
4. DIY $5 Sawhorse
This is a cool sawhorse made from some 2x6 plywood, and you also need to ensure that the wood is strong enough to take any load on it without breaking. This also cost $5 to build and it's a foldable, cheap, easy-going sawhorse.
5. DIY Sawhorse Stool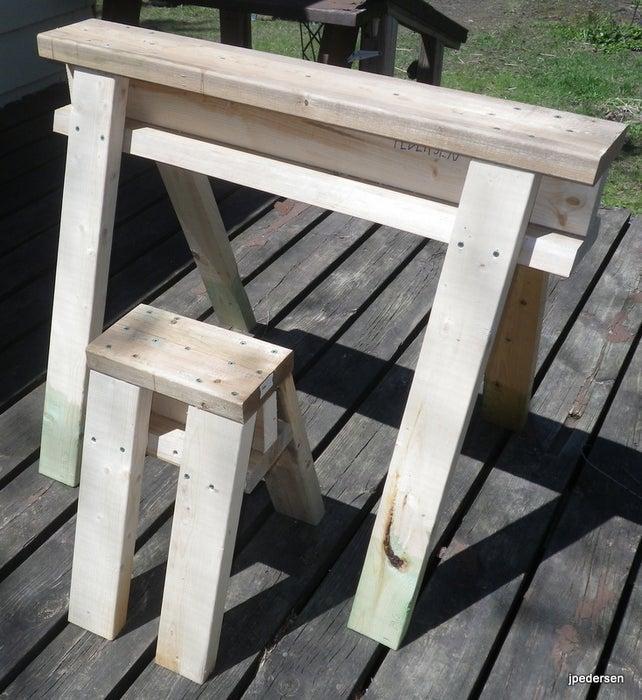 The first step in making this sawhorse is sketching how the sawhorse will look from various angles, the sides, front, and any other angle you can get. The next step is building the top frame of the sawhorse, before going to the four legs. This sawhorse was made with a small seat, which makes it easy for someone to cut wood boards with ease.
6. DIY Micro Sawhorse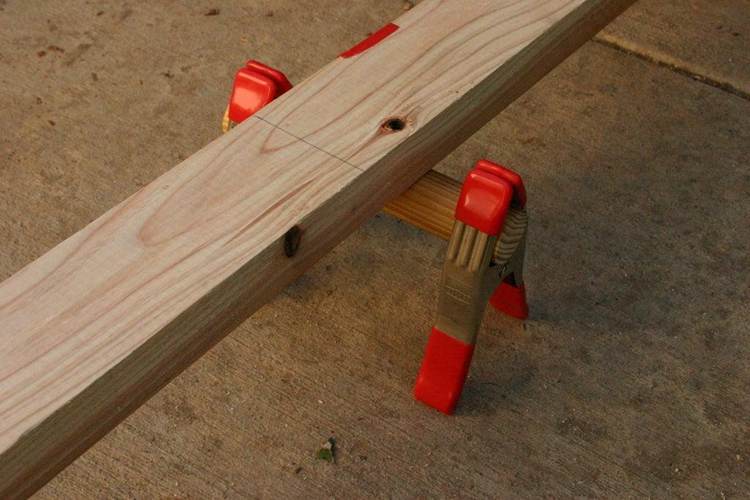 This is a super portable micro sawhorse, all you need are 2 or more string clamps, and a strong stick. The string clamps will hold the ends of the stick acting as the legs to keep the balance. You'll need to make two of these, one will stay at one end while the other is far apart, giving space for the wood plank to come in the middle for sawing. It's a simple, easy, and cheap process.
7. DIY Foldable Sawhorse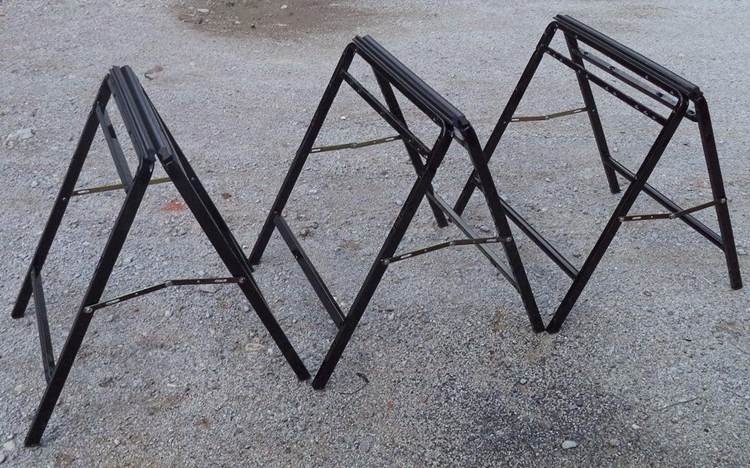 This is an amazing scrap sawhorse, you can have more than one person cutting wood at the same time on the same sawhorse because it's large enough to accommodate and since it's made of metal, it's also strong enough to endure the weight of the load you'll put on it. It's also a foldable sawhorse, which is easy to fold, and store at the back of your car and take it wherever you want to go.
8. Adjustable Wood Sawhorse DIY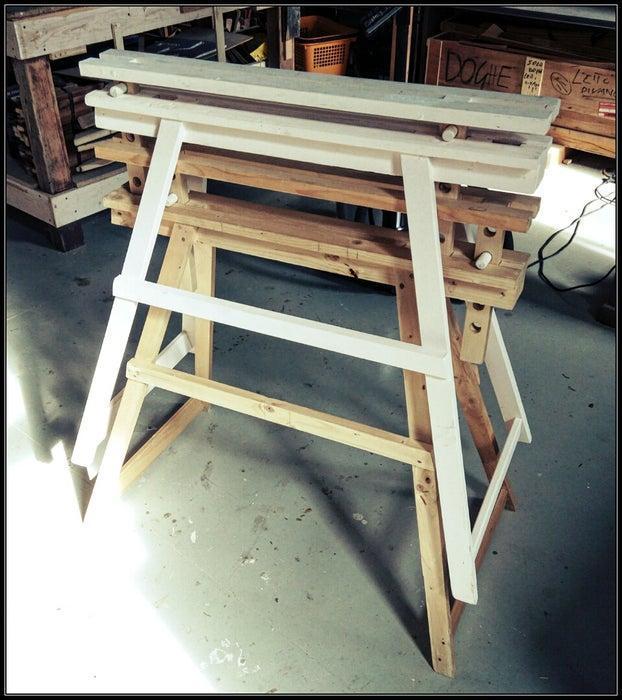 This is also another adjustable sawhorse. This is an efficient wood sawhorse, you can adjust the height only, and it also has a small cart under where you can store the planks you cut for easy transportation. You can't fold this, but you can stack them on each other to be easily stored, and save space.
9. How To Make A Folding Sawhorse
The making process won't take long, you can build a sawhorse in less than 30 minutes if you already have your materials ready to go. All you need for this foldable sawhorse are Heatons, hinges, chains, and lumber wood.
10. How To Build A Sawhorse
After cutting a few mortise and tenon joints, the creator of this guide put all those materials to form the world's strongest sawhorse. It has a firm balance on the ground and it's a bit higher in heights making it easy to work with.
11. DIY Three-Legged Foldable Sawhorse
A three-legged sawhorse is usually scary because it's difficult to believe it can carry the weight of a heavy load, but this one works perfectly. It's also foldable, once you fold it up you can carry it with one hand to anywhere.
12. DIY Sawhorse Plans
So, the first thing you need to start with is a sketch, this is important to guide you through the making process. You'll also need a hammer, bevel gauge, chisel, handsaw, and no power tools required.
13. Folding Sawhorse Plans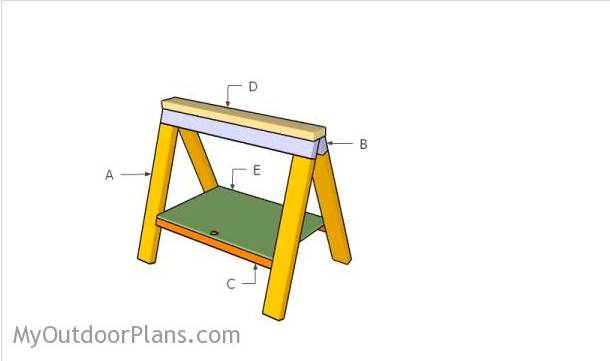 This build is a simple one, you'll need galvanized screws, redwood, cedar boards, or pine wood, a drill, waterproof glue, and lots more. The making process is simple to follow. It's also a foldable sawhorse, so it's easy to carry around a d store in a safe and dry place.
14. I Beam Sawhorse Plans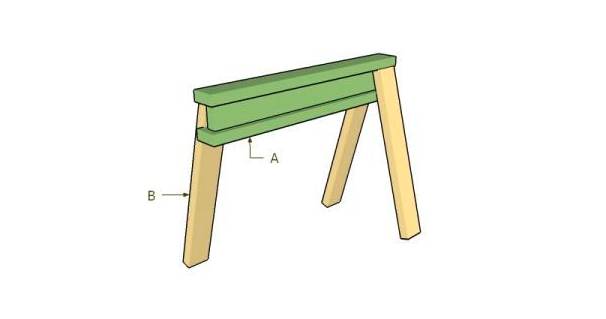 This design is different from the normal design, it's an I-beam structure that requires some lumber for the I-beam and legs, wood putty, wood stain, screws, and lots more.
15. How To Build Stackable Sawhorses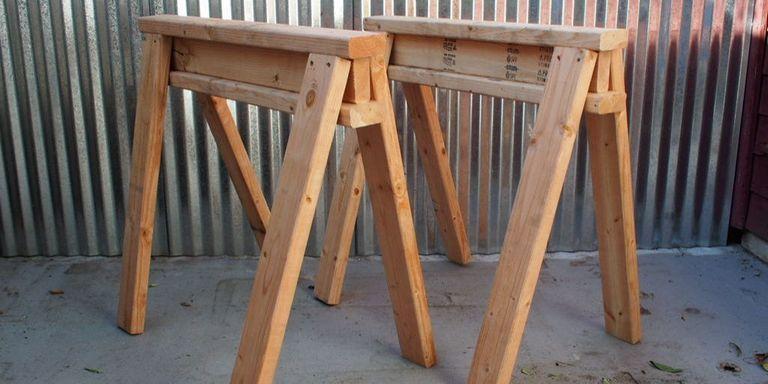 Here is a cheap stackable sawhorse, you'll need $20 to be able to make this, that's cheap, right? The creator started building with the I-beam, once you get that beam right the legs will be a walk in the park to finish. It's sturdy and durable.
16. Heavy Duty Folding Sawhorse DIY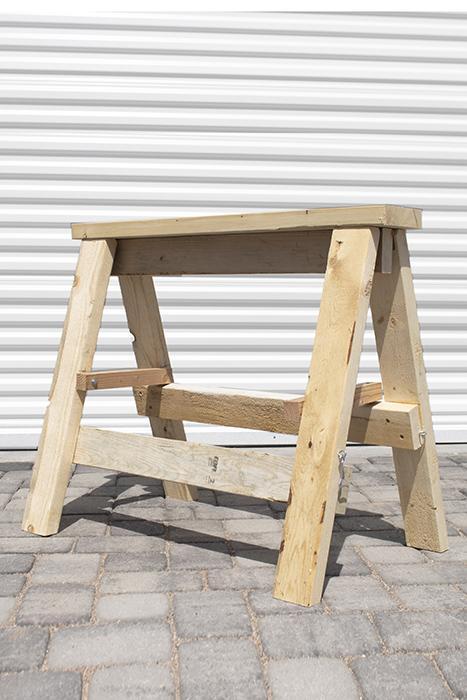 It's good to have a foldable sawhorse, this makes the job easier and easier for movement. The creator used heavy-duty non-mortise for hinges, lag screws, hardwood dowels, wood screws, a cordless drill, wood glue, wood screw, and a few other supplies.
17. How To Make A Folding Steel Sawhorse
I bet you're tired of using wood to make a pair of sawhorses, well here you'll be using some steel pipes, welding them to each other to form a sawhorse. It's super sturdy and foldable.
18. DIY Sawhorses
You deserve a strong sawhorse that will get the job done for you, why not try out this video guide, the one the creator made is cheap, quick, and easy to build.
19. Heavy Duty 2x4 Sawhorse
Here is a heavy-duty sawhorse made from some 2x4 lumber wood. No power tools required, just basic woodworking tools like a handsaw, hammer, nails, and probably a drill if necessary.
20. DIY Simple Sawhorse Plans
The creator of this guide used some 2x4 lumber to make a strong sawhorse that converted into his work table, by placing a large wooden board on top.
21. DIY Folding Plywood Sawhorse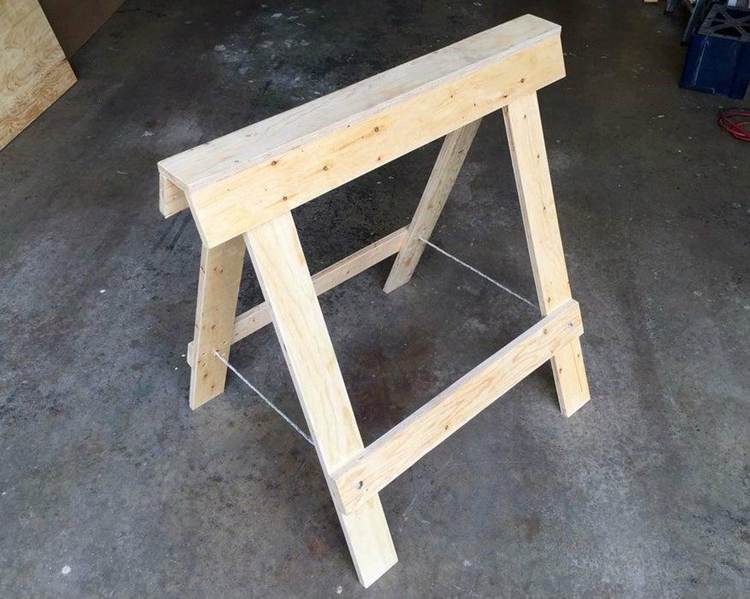 The creator of this guide used plywood, drywall screws, hinges, a polypropylene rope, deck screws, and that's it. This is a foldable plywood sawhorse that can fit just about anywhere.
22. DIY Folding Sawhorse Desk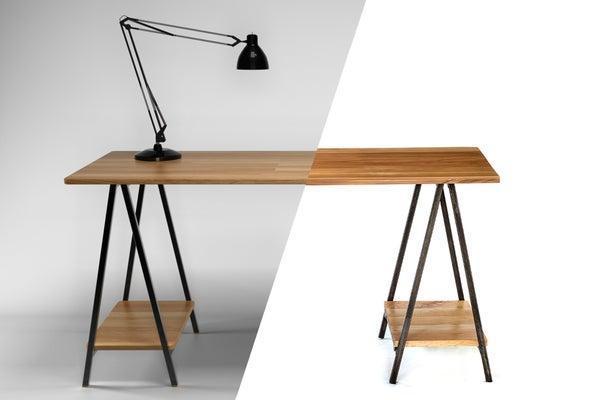 Here is another folding sawhorse desk, you can use this as a desk or you can buy a new one and keep it at home. It has a lower deck where you can store books. It's amazing how this was converted into a work desk.
23. Simple Sawhorse DIY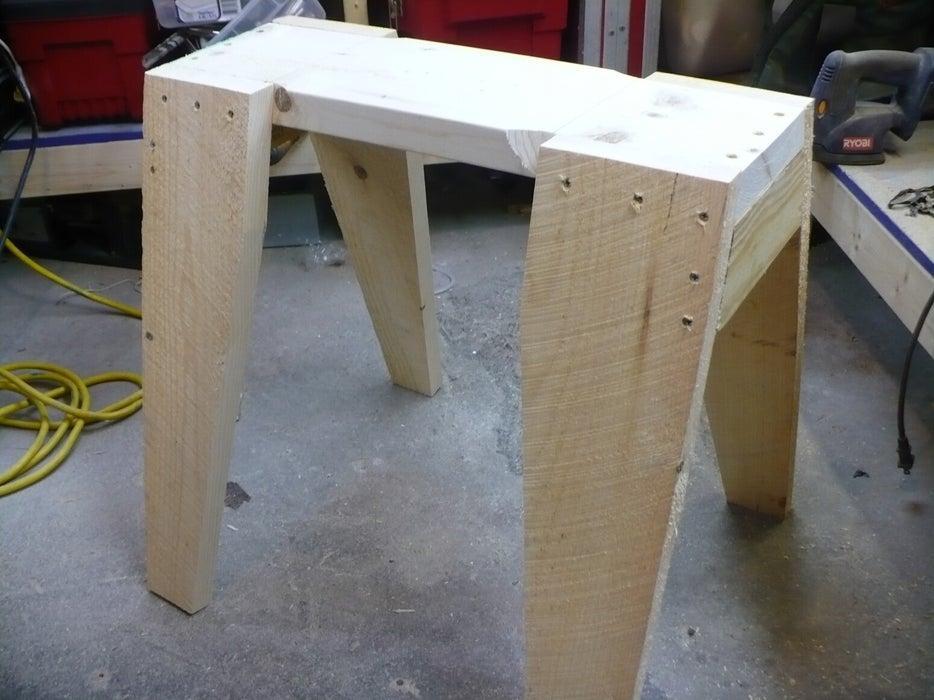 This isn't a foldable sawhorse, it's a sturdy stationary sawhorse, the design is straightforward, and the making process is easy to understand and follow. The only downside of this build is that it can't be folded and it's quite big and space-consuming.
24. How To Build A Sawhorse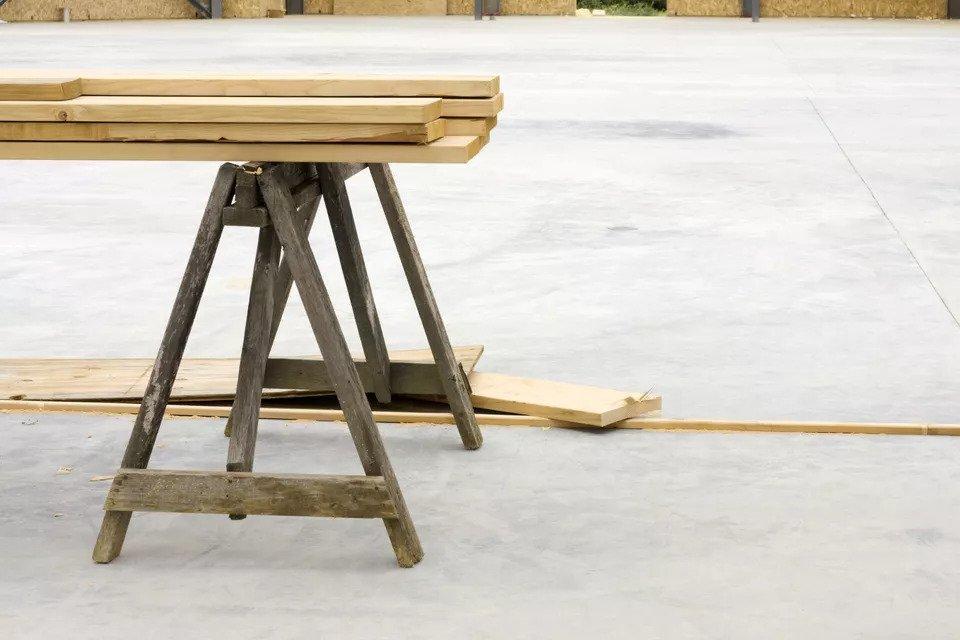 To be able to place your wood plank and effortlessly cut them, you'll need wood from this guide. This is a great sawhorse, the creator used old wood he had laying around at home. It was strong enough to carry the weight of the load he placed on it, so ensure that your old wood can do the same.
25. Steel Sawhorses DIY
Here is another steel sawhorse, easy to build and super durable. You'll need washers, screws, nuts, some pieces of end caps, an 80cm chain, and a long pipe that will be cut into the required dimensions. The making process will involve welding and it's a simple process if you have a welder kit or you intend to buy one.
Conclusion
Here we are, a successful list of the best sawhorse ideas and building plans out there, no need to waste time stressing yourself in cutting wood, try out one of the guides on the list above and thank me later. I wish you the best of luck, and thanks for stopping by, cheers!