Here's another important DIY every parent should check out. As your kids are growing up, the number of toys increases, However, it becomes difficult to keep the room tidy because the toys won't just stay on one side.
What you need to corral the toys is a simple adorable toy box. Check these 25 toy box ideas and choose the one that suits you. Also, after the build, feel free to customize the box to your taste.
1. Wooden DIY Toy Box
As your kids are growing up the number of toys usually gets out of control. Therefore,  you surely need a toy box to put all the toys under control.
Here is how to make a toy box:
You need to gather materials like wood, screws, Kreg jig, glue, and clamps. It is very advisable to cut all the wood pieces needed for each part of the toy box beforehand. Then, drill pocket holes in all necessary places. This will make the project easy.
2. DIY Toy Box
This toy box is expensive but it has some unique features that make it worth the money. It has a library-like space on the side where you can kid books for your kids. Also, it has an open space above the lid where your kids can make stuff or draw.
3. How To Build A Toy Box
This is made from a single sheet of MDF. All you need to do is to cut the MDF sheet and assemble the parts with glue and a staple gun. The creator provides an affiliate link to where you can get all the material and tools he used for this project.
4. How To Build A Toy Box
This toy box has two parts, the base and the cabinet. The base is made of solid poplar and the cabinet is made from solid red oak. Other materials used include Minwax pickling stain, piano hinges, black spray lacquer, and lid support.
5. DIY Toy Box
The creator of this toy box had floating shelves up on this corner before deciding on building a toy box below to compliment it.  If you have a corner of this kind you can add shelves to your toy box as well. This will give more room for more toys, especially big toys.
6. How To Build A Toy Box
This is what I call classic! This toy box was joined together with pocket hole screws and these holes add a kind of decoration to the box.
7. DIY Modern Wooden Toy Box
Maybe all you need is a simple toy box to ease the stress of tidying up every minute. This is my recommendation for you.
Though it might seem tedious putting this woodwork together, a building partner can help finish the project in about a day. It is made from plywood, thick project panel, torsion hinges, lumber, etc.
8. DIY Farmhouse Toy Box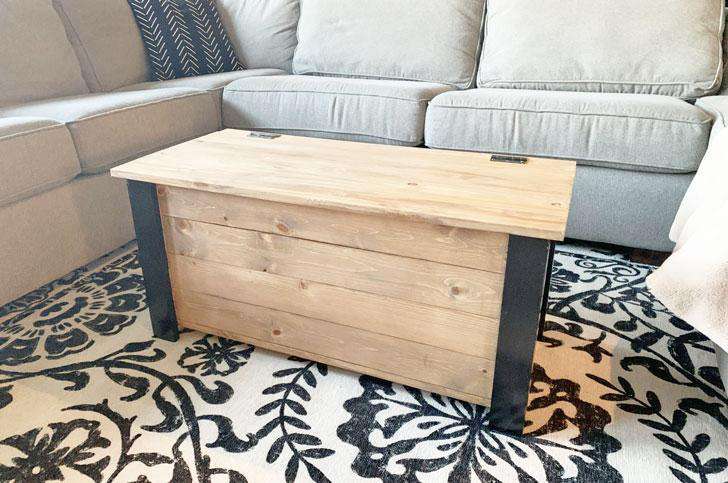 Making a cutting list helps to make work easier when dealing with projects like this that require different wooden parts. It is advisable to use a compound miter saw or a circle with a straight edge as a guide.
9. How To Build A Simple Toy Box
Until you get a toy box, your house may never be in order. That's a fact because if there is no place to contain all the toys, they will lie carelessly anywhere they find themselves. This simple toy box can help. It is made from a plywood sheet and a 2×2 board.
10. How To Build A Giant Toy Box
If you need a free plan for your box, feel free to check out the link in the video description. Once you get the plan, all you need to do is watch this video and see how the creator carefully put the giant toy box together.
11. Building A Simple Modern Toy Box
Sometimes, simple things are the most beautiful. This toy box is very simple and has a soft-close lid to compliment it. All you need to build this amazing toy box is in the video. The creator also provides a free downloadable dimension for the toy box.
12. DIY Toy Chest
These toy boxes are exceptional and adorable. They all have lids and a hole on the sides for handling. They were covered with fabric to make them look adorable.
13. DIY Simple Toy Box
This toy box looks modern and classic at the same time! The creator made the design of this toy box using Microsoft's 3D builder. He provided a free downloadable copy of the design. Check the link below to download the design and read more about the process of making this toy box.
14. DIY Stackable Toy Boxes
Mere looking at the picture of this toy box, you will know that the process of making it will be a lot of fun. It is a collection of cubic boxes stacked together, though you can remove each box and fill it with items. After making all the boxes, you can leave the painting to your kids, I'm sure they would love this part.
15. DIY Toy Storage Box
You should learn how to build this cute toy box. It is very portable and classic. Here are the materials needed for this cutie: Wood, pencil, jigsaw, wood glue, drill,  screws,  angle iron,  wood chisel, hinge, sandpaper, and paint.
16. Pallet Wood Toy Box DIY
A Toybox is another gift idea you can give your kids on Christmas, even on birthdays. However, be sure to load some toys there. It is very simple to build. All you need to do is to get some old pallets and plywood. Disassemble the pallets and start making your toy box from the pieces.
17. How To Make A Toy Box With Cardboard
What can you make from cardboard, if you can do a couple of things with cardboard, then you need to add this toy box to the list as well because it's amazing?
All you need to do is to get a cardboard box and remove the flaps from the opening. Make a hole at one corner of it and cover the box with a piece of fabric using glue. Prepare the lid and you're good to go.
18. DIY Large Toy Box
In this video, the creators started by building the legs. Each leg contains 2 pieces of wood joined together with glue. Then, they cut the plywood for the base, sides, front, and back of the box.
19. How To Build A Round Top Toy Chest
A round top! That's a new one. Roundtop gives your chest an exceptional look. This project is a little bit challenging and fun because you have to assemble each part separately with different joinery, then bring everything together as one afterward.
20. How To Build A Toy Box
If you've been wondering what gift to give someone expecting a baby, this should interest you. This bespoke handmade toy box is a wonderful gift idea! All you need to know is carefully explained in this video. Click the link, watch and learn!
21. Plywood Toy Box DIY
If you ever think of making a toy box by yourself, using wood, this might be the best way to go. Can you see how expensive and sturdy this look is? It is built with plywood sheets and wood edge bands. Other materials used include MDF skirting board, white primer, table saw, orbital sander, pocket hole jig, and soft close hinge set.
22. DIY Industrial Wood Crate Toy
The first step in making this toy box is to fix the side crates using a Kreg jig. Then, do the other part of the box together and space them appropriately. It is very easy. You can add casters under it to make the movement easier.
23. How To Build A Toy Chest
In just 5 hours with $95, you can learn and make this toy chest. Putting all the wood together requires patience. Among the materials, we knew there include wood, plywood, wood glue, and drill.
24. DIY Simple Toy Box With Lid
Ask me how to build a toy box with a lid and I will recommend this video to you. In this video, you will learn how to make a toy box with a lid using torsion hinges. One thing that is interesting about the lid is that, if you open it, it stays like that until you close it.
25. How To Make A Wood Toybox
This toy box has no screws or hardware, all that it requires is a drill, dowel, glue, and plywood sheet. You can make the store help you with all the necessary cuttings you need, and if you have the tools at home you can cut them by yourself. After that, identify each part and join them together with glue. Once the box is dried, drill holes on it and secure the box further with dowels.
Conclusion
These are the best DIY toy boxes you can find out there. They are inexpensive and adorable. If you have any questions or contributions regarding this article, feel free to drop it in the comments section below. Thanks for stopping by!