You can always buy a photo frame from any local store near you, most of them are cheap and inferior, while others are expensive and pretty durable. Now, there is a way that you can make a photo frame that might be expensive and inexpensive, depending on the guide you choose from the list of DIY photo frame projects below, but you can be sure that they will be durable and pretty easy to make.
With that, you don't have to buy a single photo frame anymore, you can easily make some at home and use them whenever you please. So, let's begin.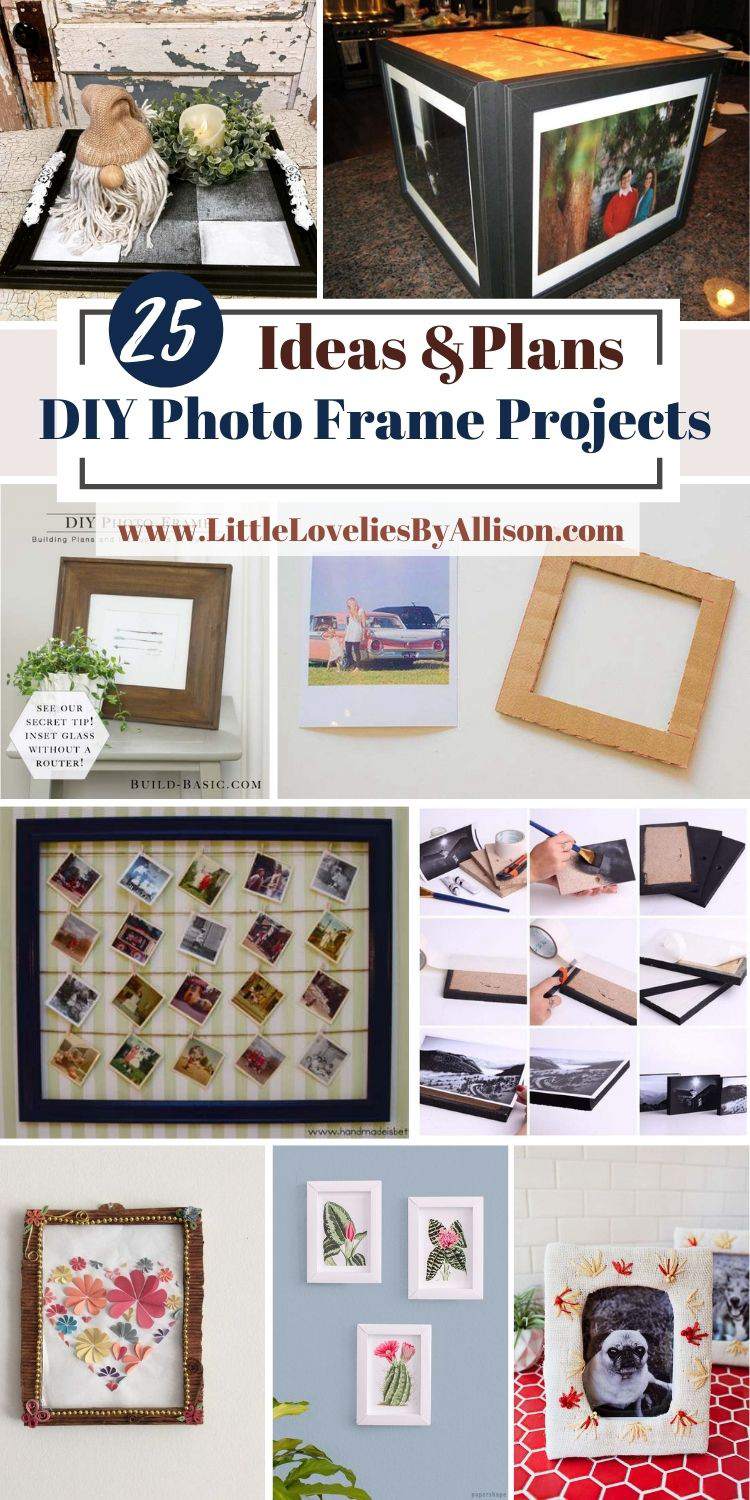 1. DIY Cardboard Photo Frame
This video guide offers you the ability to make a simple photo frame using cardboard as your major material. You will need cardboard of A4 size, black tape, a double sided tape, a transparency sheet in A4 size, and of course the picture you wish to place in the frame that must be of A4 size as well. Within 3 minutes, you will be done with this photo frame.
2. DIY Photo Frame
So, if you are not in the mood for cutting wood, and getting into serious work to make a photo frame you can use this guide and make a simple photo frame out of several paper sheets, paper glue, scissors, spray paint, rubber band and that's it. You don't have to spend a dime if you already have paper glue and scissors.
3. How To Make A Photo Frame
With this guide, you can make any photo frame with ease, regardless of the size. You can do so with a 1x2x6 square edge white wood common board, wood glue, clamps, wood filler, black matte spray paint, 220 grit sandpaper for finishing, and a few other supplies.
4. Cheap DIY Photo Frame
The creator is making a wooden canvas to go around it. The making process is super easy so you have nothing to worry about. You will need some foam boards, and they cost about a dollar for each. If you have wood planks at home, then you don't have to bother about buying wood for this project. It's cheap and effortless.
5. How To Build A DIY Photo Frame
His is a simple woodworking project that involves cutting with a miter saw, and some wood glue application construction for a sturdy photo frame. This project cost about $12, and it only takes an hour to perform from start to finish. It's a great beginner's project as well.
6. DIY Photo Wall Display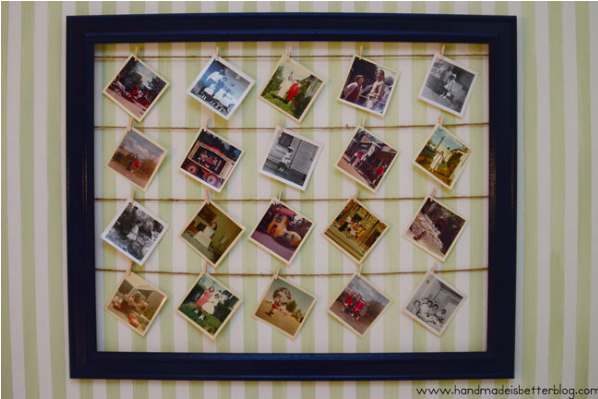 This is not an ordinary photo frame, it is not like a canvas frame that you can place just one photo inside, it's a photo frame made to accommodate several small photos at once, the creator certainly had a good idea in mind before creating this. You won't be making the wooden frame from scratch, rather look for an old frame and set it up with the other supplies.
7. DIY Paper Photo Frame
You can call this origami if you want, but it's way more than just origami, it's a cool photo frame idea for kids though but also a simple photo frame idea that can work for everyone else. You will need cardstock paper, glue or double-sided tape, a cutting mat, and lots more.
8. How To Make A Photo Frame
This is a unique and native way of making a photo frame. This guide features several methods of making a photo frame with their steps to instruct and guide you through, so you can use any of the methods to make as many photo frames as you want.
9. Beautiful DIY Photo Frame Using Cardboard
This is indeed a beautiful photo frame idea, the creator used cardboard, cut it into a frame shape, and took out the insides of another similar cardboard to design the outer frame sides. It's a simple process that can even be done by kids.
10. Homemade Photo Frame
This is a simple homemade photo frame that won't cost you a dime at all. All you need is cardboard, spray paint, and rice, yes! Rice grain. You will first cut the cardboard into the frame shape that you want, apply glue on the front sides, and pour rice grains on the body so that it will stick, and then spray it with silver spray paint or any other color that you want to use.
11. DIY Photo Frame
Here's what you need for this guide, some cardboard, cardstock, glue, ruler, cutter, pencil, and rope. With just that few materials and tools, you can make as many photo frames as you want and it will look great and unique on any wall space.
12. DIY Photo Frame Using Colored Paper
With this video guide, you won't have to bother about buying any photo frame ever again. With just any simple coloured paper, you can make a sweet photo frame that just requires markings, cuttings, and glue. Super easy and no money spent, unless in buying the paper, and glue.
13. DIY Photo Frame
Looking at the image above, it almost looks like that is the wood used for the frame, but fortunately, the creator used cardboard that he cut from a cardboard box, some newspaper, glue, some decorative items, a ruler, a pencil, and a few more supplies.
14. Easy DIY Photo Frame
This photo frame looks girly, the creator used cardboard, cut it into the frame size he/she desired, and then used some ribbons to design the outer parts to make it look beautiful and presentable.
15. DIY Photo Frame With Arduino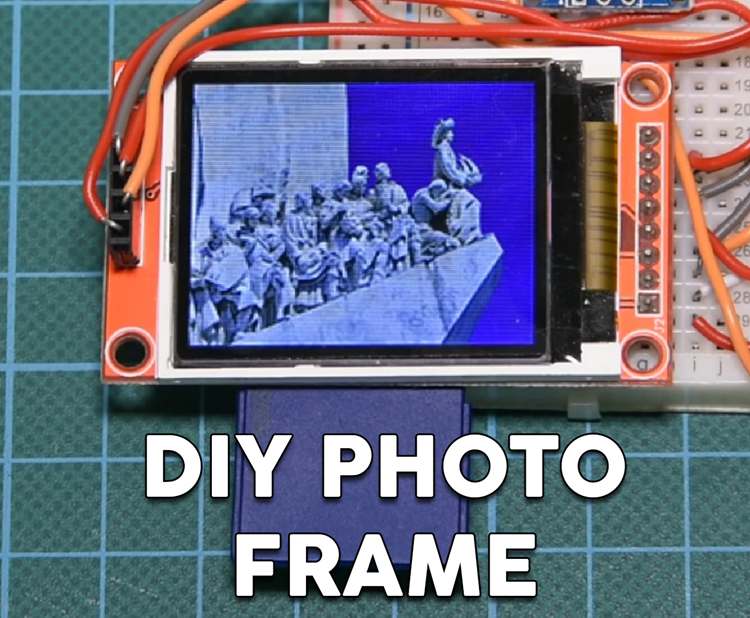 The creator of this photo frame idea decided to use something different and unique. He/she got a 1.8-inch color ST7735 TFT display, it cost about $5 and it works pretty well, and it shows color, which is a great addition. The creator also used an Arduino nano which he got online, check the guide to learn more and see where you can get it at a cheaper rate.
16. DIY Photo Frame Card Box
The steps to make this are pretty easy enough for anyone to build, you'll need four Wisden picture frames, 2 pieces of cardboard, fabric, 1 lazy Susan, and a few other supplies. It's a photo frame that can serve as a tabletop design.
17. How To Make A Newspaper Photo Frame
If you have waste paper, why throw them away when you can make an amazing photo frame with them. The creator used newspapers, but any other paper will work perfectly.
18. DIY Photo Frames
Are you tired of hearing about using wood, paper, and cardboard? With this guide you will be using craft sticks, it's still wood but slim and lightweight. It's easy to use and you don't need to cut it into any other size.
19. DIY Cardboard Frames
This is a super easy photo frame to make, you only need cardboard, glue, masking tape, and a golden color spray paint. With these few materials, you can make a cardboard frame of any size.
20. DIY Easy Photo Frames Using Cardboard
For this guide, you just need cardboard, glue, and acrylic paint of any color. With acrylic paint, you can make this photo frame in several colors and it can serve as a home wall decor.
21. DIY Photo Frame Tutorial
For this guide, you'll need some wood boards, you can get as many as you can of several sizes. You also need paint color, a paintbrush, and a few other supplies.
22. DIY Fridge Photo Frames
You can make this photo frame with a few materials that you can find at home like paper, any kind of paper will work actually, the rest of the steps are super easy to follow.
23. How To Make A Cardboard DIY Photo Frame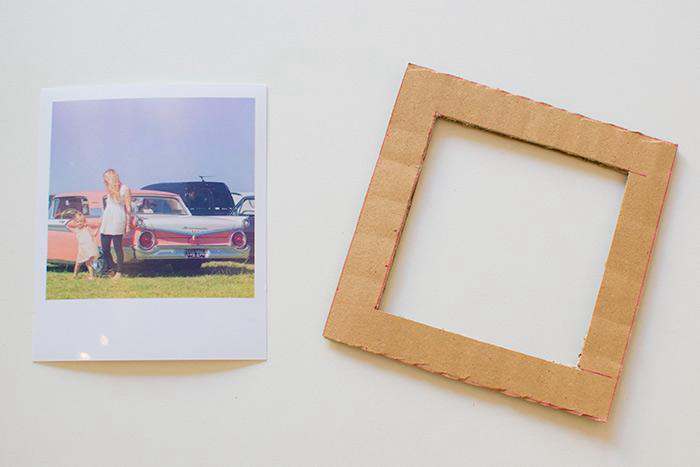 This is a simple straightforward cardboard photo frame that was made with yarn, glue, and a few other supplies. The creator started by marking the cardboard before cutting.
24. DIY Embroidered Photo Frame
This can work If one of your hobbies is embroidery. You can simply use the steps in their guide to create your designs and use different colors if you wish. First, you need a plain frame and a foam board to place before you start your embroidery.
25. DIY Picture Frame Tray
This is probably the only guide in this list that features a few power tools like a drill. You will need an actual picture frame to start with then follow the rest of the steps to finish.
Conclusion
That's all for today, with this DIY you won't have to buy a single photo frame again, and you can make as many photo frames as you want without spending so much. Thanks for viewing, bye. Feel free to drop your questions or contributions in the comments section below.