You know how in movies, they always have those gorgeous champagne walls? They look so dreamy with the light reflecting off of them and creating this surreal, magical vibe. Well your wedding doesn't need to be ready for the big screen — unfortunately. But you can incorporate elements of glam into your decor that are just as stylish while requiring far less effort and expense. I'm talking about DIY champagne walls of course!
The Champagne Wall, sometimes referred to as the Champagne Tower, is a beautiful addition to any party or event and is an excellent way of displaying and storing your champagne bottles. It can be easily constructed from items found around the house, so it's pretty cheap to make as well. In this article, we have put together 24 DIY champagne wall ideas that will inspire you and also teach you how to make a DIY champagne wall.
You May Also Like:25 DIY Rock Climbing Wall - How To Make A Bouldering Wall Indoor & Outdoor 
1. DIY Champagne Wall
The DIY champagne wall is an excellent idea! Especially for mini-events or parties in your house! At small events, there might be occasions where you have to make a toast, and there's the use for a champagne wall. One fantastic thing about this champagne wall is that it is made out of plywood sheets and pieces of 2×4s and then covered with glass panels.
2. Party Decor: Champagne Wall
Drinks are one particular thing in an event! And parties are not an exception!! To spice up a party,  a glass of champagne for everyone will make the party rock. If it is a small event, a champagne wall is ideal as they are drinking; they take it from the Wass and return the wine glass there afterward. Follow this guide to simply make your party rock.
3. Bubble Bar DIY
Fix the job of a user with a champagne wall! A champagne wall will go a long way at a bubble bar! Everywhere is rocking, and people are taking champagne, and they are returning it to the wall for a refill. You will need some hardware to put the wooden board together.
4. How To Make A Champagne Wall
It would be best if you had your miter saw on the ground for this champagne wall. With it, you can cut the wooden board easier and faster. After cutting predrill holes for assembly on each piece and start joining them with hardware.
5. How To Make A DIY Champagne Wall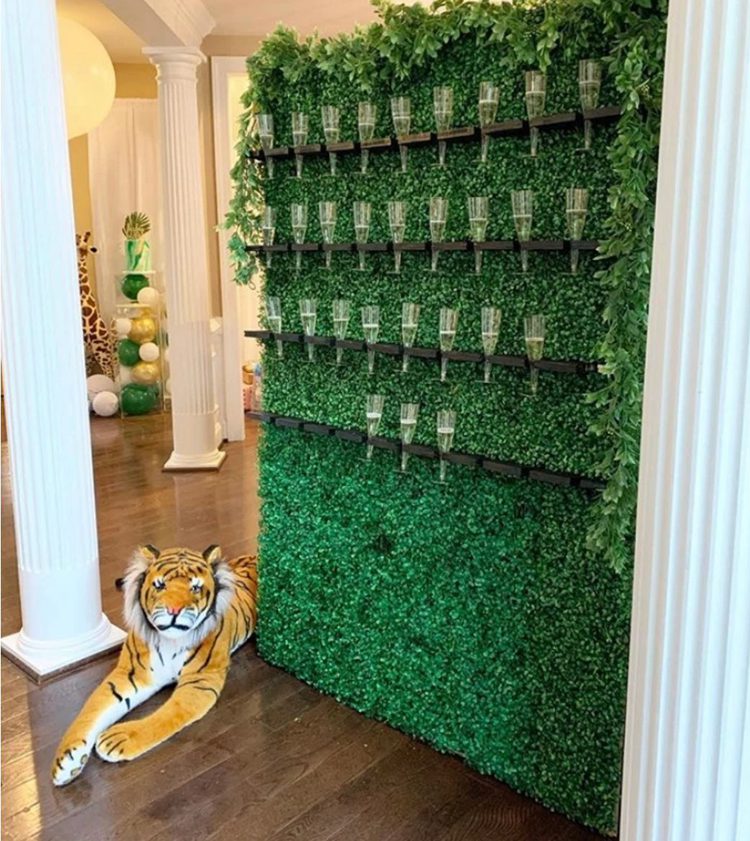 Do you want to make a champagne wall?  Don't you know where to start from? Here is a guide to explain the steps to you one after the other. You will need boxwood grasses, and if you like, you can first paint the wooden board green. Paint before attaching the grass to avoid the wood showing through the grasses. dcpublish
6. Champagne Wall Idea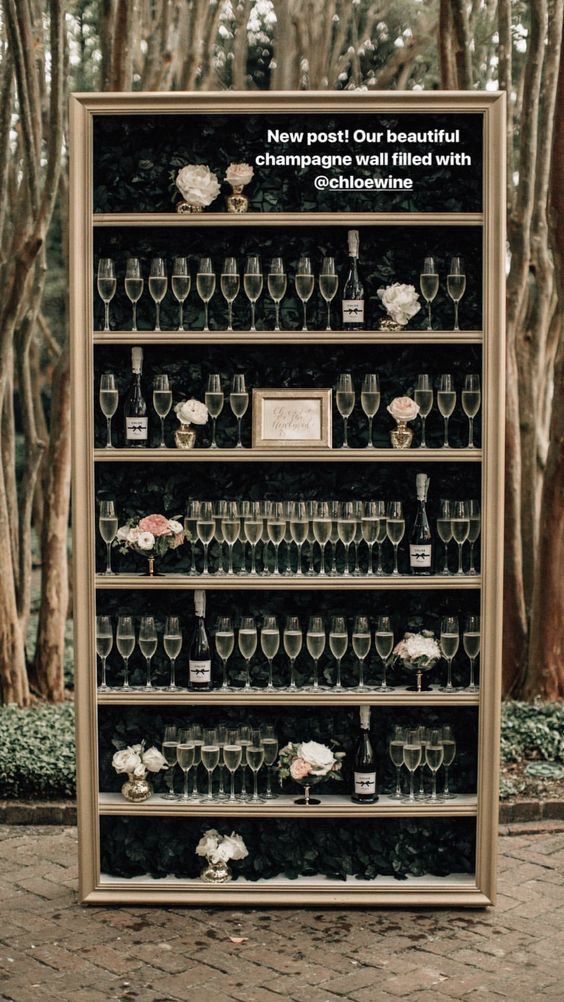 Here is another way of designing a champagne wall! Building a frame for the wall using wooden trims. The more extended trims will go for the sides of the wall, while the shorter trim will be used for the champagne shelves. Pinterest
7. Champagne Wall Idea For Guests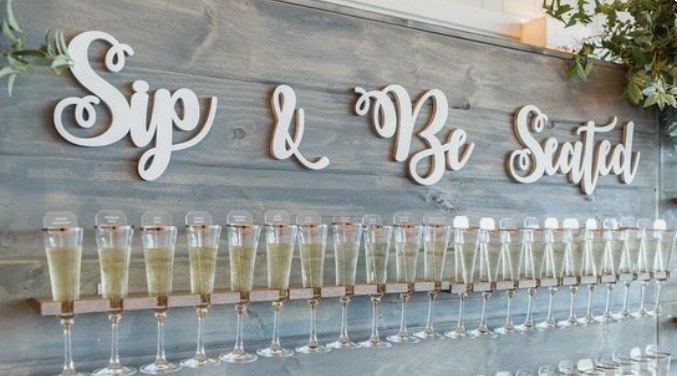 Having a large party? Don't you need a champagne wall? I know you need it. Here is a great plan that allows you to have as many champagne glass holders on one wall. Pinterest
8. Moody Winter Wedding Champagne Wall Idea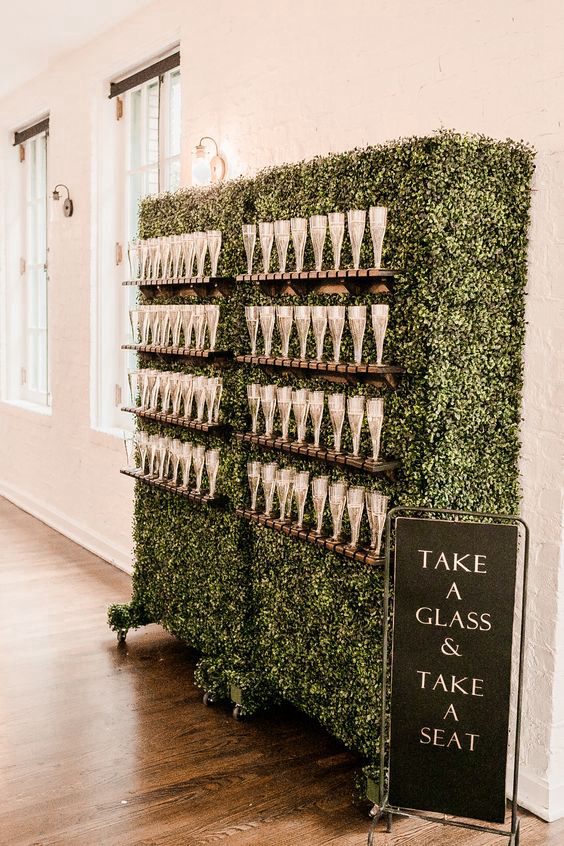 Here is an excellent idea for you if you want to build a champagne wall! It looks beautiful and natural because of the boxwood grass used to cover the whole wall. Pinterest
9. DIY Champagne Wall Under $100
This champagne wall is about 6ft tall and can be made for less than $100. The main component of the champagne wall is plywood. The bae, top, and both sides are made from plywood. Precut all the parts of the champagne wall and assemble them with screws.
10. DIY Champagne Wall Tutorial
Imagine you organized a party and you didn't have to worry about drinking? That can only happen when you have a champagne wall, and everyone goes there to grab a glass of wine by themselves! You will need a circular saw, speed square, plywood, wood screw, and a drill.
11. How To Make A Champagne Wall
Aside from the fact that this champagne wall is super cute, the grass panel makes it more enticing. To build this champagne wall, all you need include 5 pieces of 2×4s, one pegboard, paint, and one pack of grass panels. Paint the pegboard in green so that the color on it will not show through the glass panels.
12. DIY Champagne BookShelf
Do you have minimal space? And you want a champagne wall? Well, you can have one or a bookshelf. Get some kind of wood trims from the store and spray each piece. The more extended trim will frame the sides of the bookshelf, while the shorter trims will go in the middle for the champagne shelf.
13. Champagne Wall Box Wood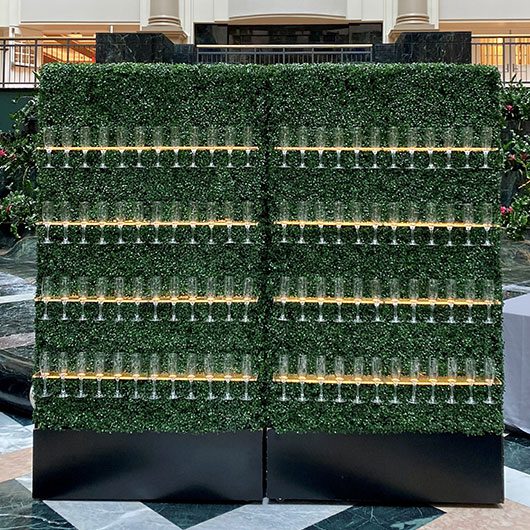 This Champagne walk is extraordinary with a dimension of 88"tall ×48" wide × 16" deep. Another fantastic thing about it is that it has wheels, which means it is mobile. It's 88" tall is measured from the wheel. visionfurniture
14. Tabletop Acrylic Champagne Wall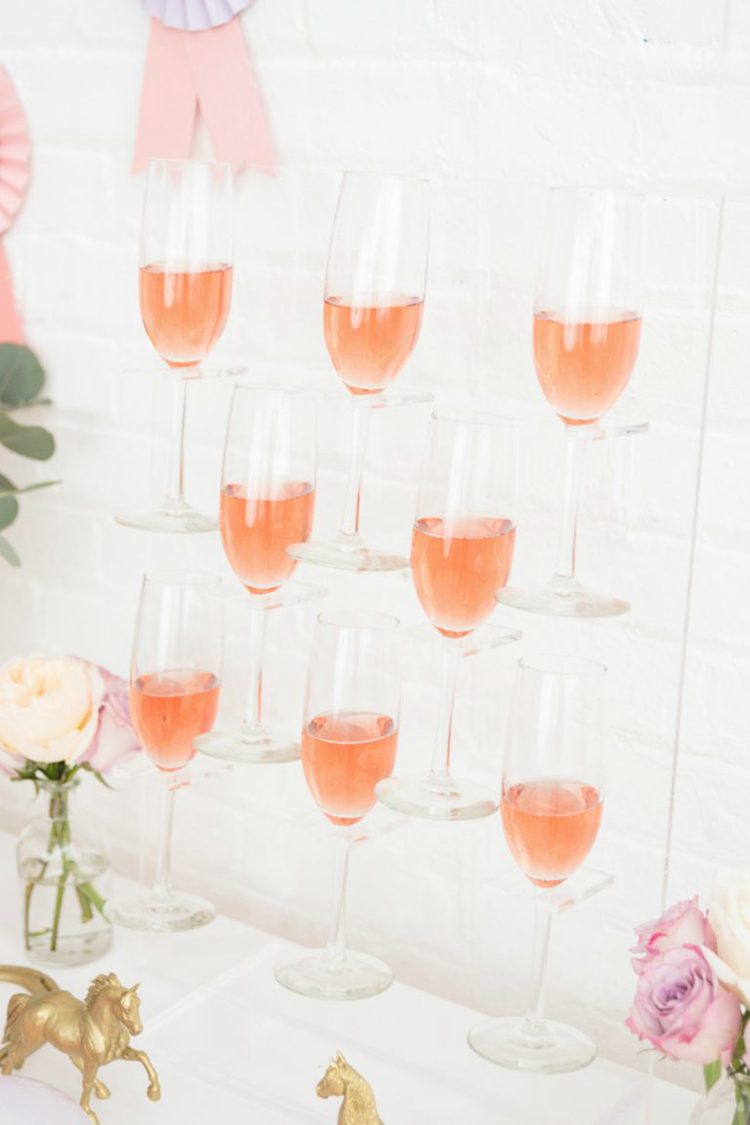 This tabletop champagne wall is made from high-end crystal clear crystal.  It had eight laser-cut champagne holders on display vertically across the wall. It is very stylish and easier to make. Follow this guide to know more. onestylishparty
15. DIY Champagne Balloon Wall Decor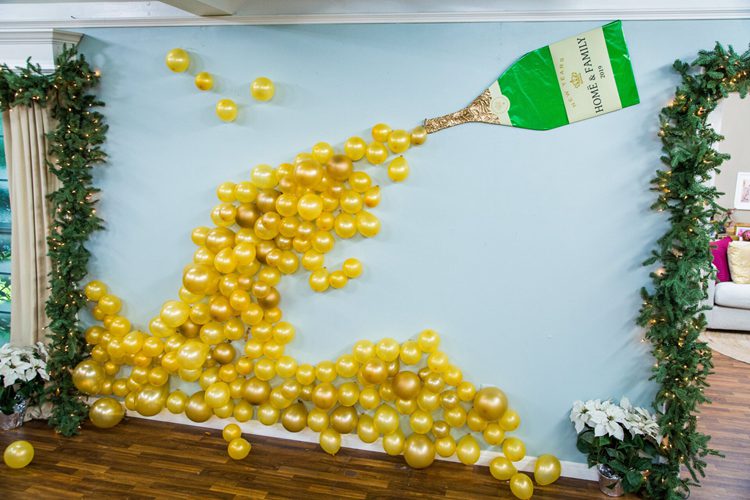 The design of this champagne balloon wall shows the way bubbles gush out of the champagne bottle. All you need to do is make one's Champagne balloon foil, different balloons, balloon glue dots, and a piece of fabric for the backdrop. hallmarkchannel
16. DIY Champagne Wall For Tabletop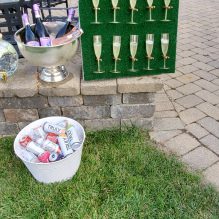 Champagne all for the tabletop! It sounds amazing? Well, if the party is for a small group of people, you can have it. You will need quite a number of materials for this champagne wall; dowel rods, carpet cutter, AstroTurf, sandpaper, drill, hot glue gun, scissors, plywood, and drill. shelby-joy
17. How To build A Prosecco Wall
Who doesn't like to rock a party with a glass of prosecco on their hands? Absolutely no one! Well, with a prosecco wall, you can make it easier for your guests by welcoming them with prosecco on its wall as they enter. The wall is a store-bought frame that you need to put together.
18. How To Make A Champagne Balloon Garland
Balloon garland is a beautiful way of decorating your house for events or any other occasion! Now, adding champagne to it makes it more fascinating. All You need is champagne balloon foil, different sizes of balloons, and balloon glue dots.
19. DIY Prosecco
There are different ways you can design a prosecco wall. In this guide, two of the designs were discussed! The first type of design is the prosecco shot, while the second one is. Prosecco donut wall. The champagne shelves make the difference; they are both made from the same kind of wood and paint with the same color.
20. DIY Champagne Button Wall Decor
Champagne wall decor is another way of making wonder with champagne! The wall decor allows your guest to press a button on the wall before getting a glass of champagne, and it's more fun. It is a straightforward procedure; go online and print out a " Press for Champagne '', trim the design and attach it to a frame. Glue the doorbell in the middle of the design, and you're good to go.
21. Wedding Champagne Wall Idea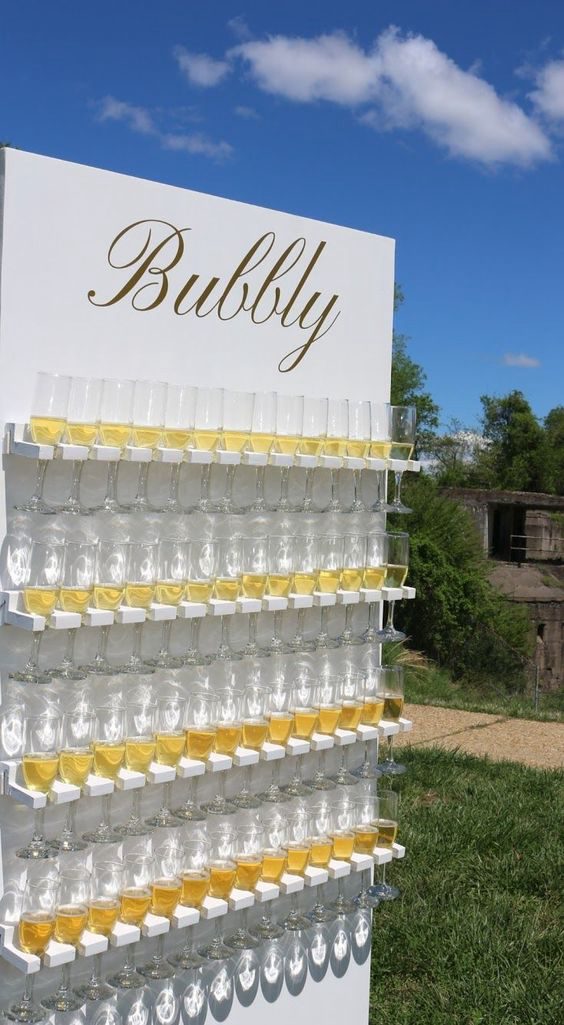 The champagne wall is perfect for serving a  welcome drink at a party. Each guest will grab a glass of drink as they come into the party ground. It is up to 6ft tall and carries the label "Bubbly."  Pinterest
22. Creative Champagne Wall With Neon Lighting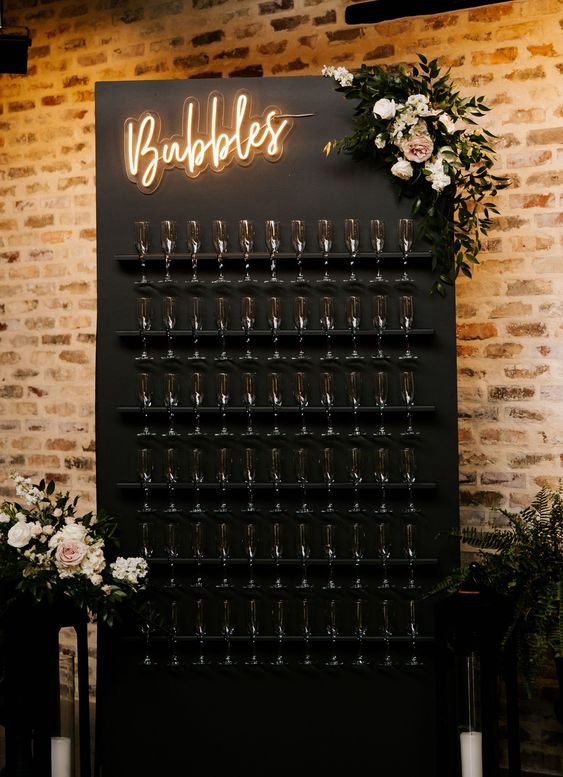 Why should you add a neon sign to your champagne wall? Well, a neon sign illuminates your champagne wall and gives it a bit of identity. It's a good way of decorating the champagne wall. The flower on one side of the wall compliments it amazingly. Pinterest
23. Wooden Champagne Wall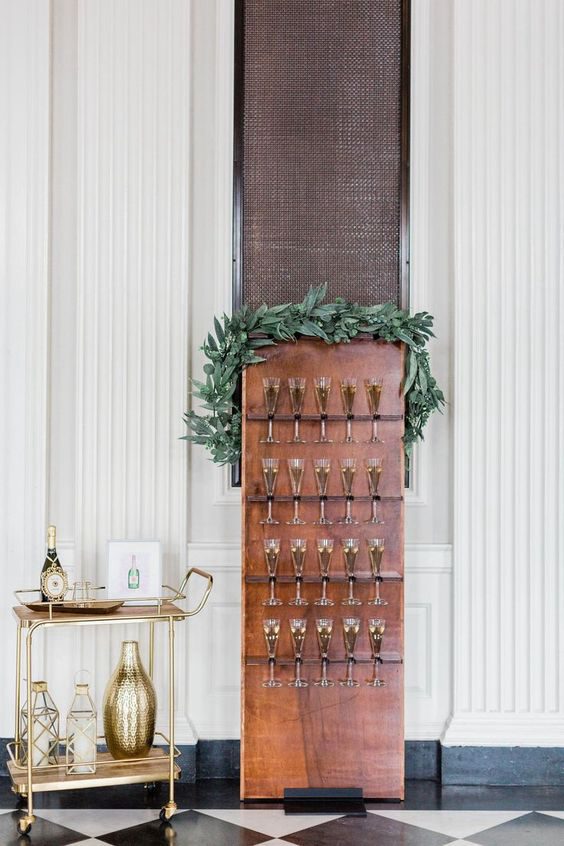 Here is a classic champagne wall with an elegant floral archway on it. The design for the shelves uses the donut wall, and it holds the glass firmly. Follow this guide to know more about the wooden champagne wall. Pinterest
24. Champagne Wall With Balloons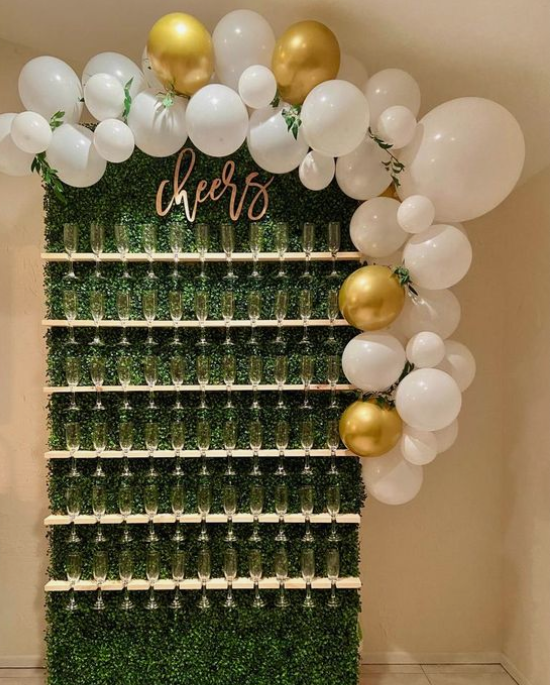 The champagne wall is just so stunning! And exceptional with grass panels. Adding a balloon garland to this completes the fascination! You can choose to buy the champagne wall, rent it or make one for yourself. In this guide, you will be out through how to rent this champagne wall and others of its kind. Pinterest
Conclusion
The champagne wall is a way of spicing up a party, either indoor or outdoor. Everyone wants a glass of champagne at a bubbly party! A champagne wall reduces the work of an usher who will serve guests during the party. Your guest can easily walk down the hall and grab a glass by themselves on the champagne wall. By making the champagne wall yourself, you're saving up your money while building something you love the way you want.