Sometimes your studio and workplace can get messy, especially during busy projects. You can try making your space more organized, and one way of doing this is to create a stand for your headphone.
Below are instructions on how to make a place to store your headphones when not in use. The advantage of using this is it is cost-effective, and you will be recycling old materials. Make a stable and lasting stand to last you longer.
1. Easy To Build DIY Headphone Holder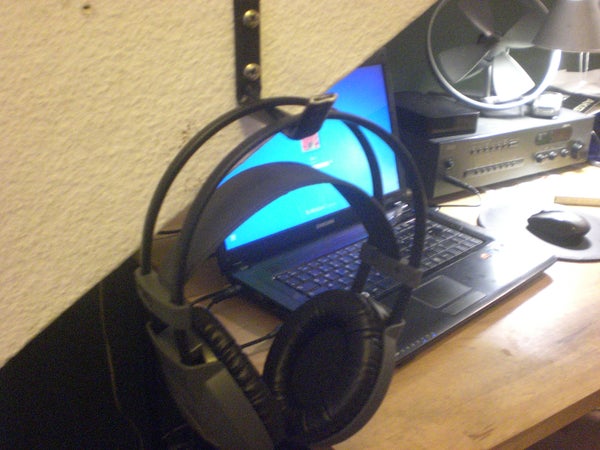 Let's start with a basic DIY headphone stand that you can mount on the wall and create more space in your work area. Headphone holders cost about $10 buy you can make your own from an aluminum pipe, a ruler, screwdriver, pliers, metal saw, drilling machines, screws, metal driller, and a vice.
Basically, you are using the tools such as pliers to squeeze the aluminum metal into shape. Use the drilling machine to make holes and the screws to hold it against the wall. Add some finishing touches such as duct tapes to make it appealing.
2. Simple DIY Headphone Stand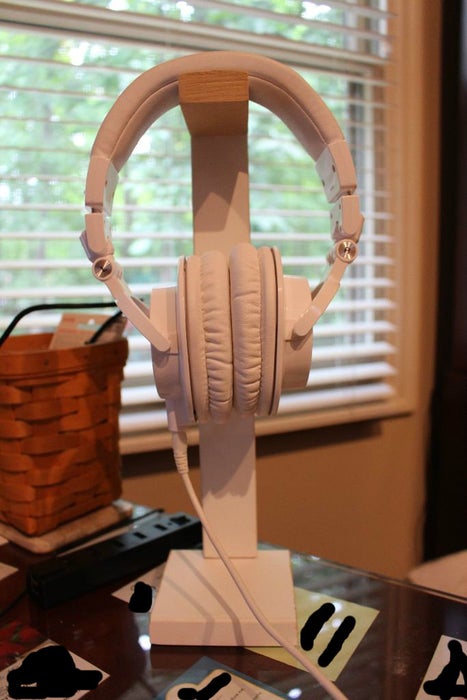 This is one of the most comfortable design you can do in a short amount of time. All you need is a handsaw, wood, a ruler, pencil, headphones, sandpaper, glue, clamps, paint, nails, and hammer.
The procedure entails; creating a stable base using the piece of wood. Use your ruler and pen to design the perfect size that can hold the weight but does not take up much space. Determine how long you want your stand. Cut out the 'pole.'
Using the hot glue, put all your pieces in place.  Apply enough pressure while making the joints to create a tight connection. The last step is finishing. Use paints and brushes to create designs and make your stand colorful.
Don't forget to use the sander to make the edges smooth.
3. The Wood Workshop DIY Headphone Stand
This type of stand allows us to be creative and come up with stylish designs. This process depends on the plan you want, but you need timber, jigsaw, wood glue, cable holder, hacksaw, and cable knob for a basic one.
The trick to making the perfect kind is using quality timber. Use extra thick wood and avoid those that crumble easily. After that, shape the wood to the desired shape and then use a spindle sander to make perfect curves.
4. PVC Tubing DIY headphone stand
Here is another easy to make stand that requires PVC tubing, six elbows, a tee, hacksaw, and sandpaper. Use the sandpaper to make the surface smooth after a cut.
Make the measurements for the top part, and cut the PVC tubing into the specified lengths. Join the pieces using the elbows. After assembling the base, use the tee to connect it to the top. Ensure that you apply enough pressure to make the joints tight.
5. Modern Banana DIY Headphone Stand
The modern banana DIY headphone stand requires a banana stand, a wooden dowel, a sanding tool, a drilling machine, polyurethane, and epoxy glue. For this type of frame, you have to buy a banana stand but if you have the means, make yourself. Get one that is in perfect shape and has no scratches.
To make this stand, get your banana stand, make the holder, sand the dowel, drill the dowel, finish, and attach the holder. The whole process is an easy one if you have all the requirements assembled.
The combination of banana steel and wood creates a stylish and sleek design. Use the space around the dowel to hang the headphone's cable.
6. LED DIY Headphone Stand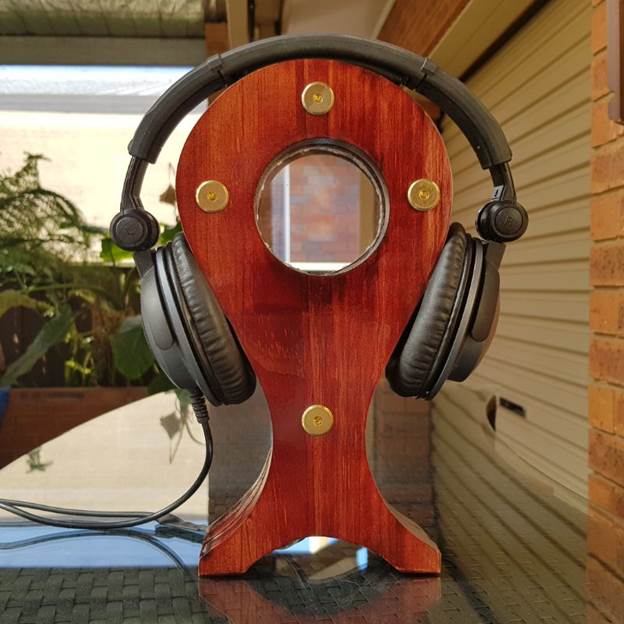 This is the perfect headphone gaming stand as it blends with your surroundings. Depending on the machines at your disposal, create an LED lighting controlled by a remote.
You will need the following materials; wood, template, pen, jigsaw, sander, sanding discs, hole saw, clamps, sanding wheel, LED lights, and a router bit.
The process entails making a template and adding the Perspex. The type of LED lights also matters; there are the flashing ones, dimming, and those with a variety of colors. Choose ones according to your preferences.
7. Reclaimed Wood DIY Headphone Stand
This is a fun woodworking project that helps you make use of timber lying around. Apart from wood, you need a band saw, pen, table saw, screwdriver, screws, orbital sander, Danish oil, jointer, planer, router, and round over bit, hand file, and a power drill.
First, shape the headphones on the belt sander, cut out the shape of your sketch, shape the bottom piece, assemble the top and bottom sections, then do the finishing touches. Let your imaginations run wild and include etched designs and other patterns.
You can also make a compartment to hold the headphone's cables.
8. Clothes Hanger DIY Headphone Stand
This process requires a metal clothes hanger, pliers, a ruler, binding wire or string, and headphones.
To try this, cut out the upper part of the hanger that contains the hook. Use pliers to do this. Straighten the bottom part, then shape it.
Use the ruler to create matching patterns. Use the pliers to make sharp bends. Lastly, use the binding wire or string to create a strong structure, then hang your headphones. It is as simple as that.
9. Bicycle Hook DIY Headphone Stand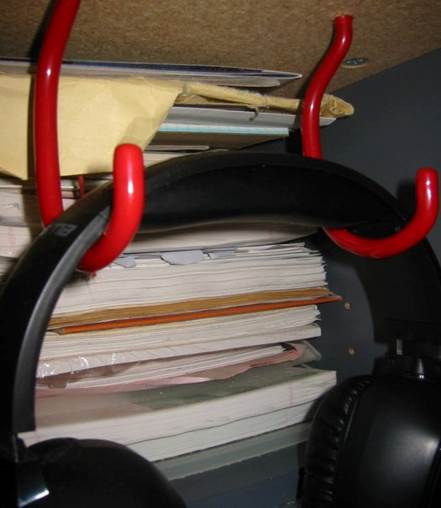 Another great way to recycle bicycle hooks. These hooks make the best stands because they do not rot, and they are economical. For the whole process, get two or more bicycle hooks, a ruler, pencil, hack saw, drilling machine with drill bits, screwdriver, and screws.
You need less than an hour to do this, and all you have to do is assemble the hooks, cut off screws at the end of your clip, mark your drilling positions, make the holes and mount your stand.
There are a variety of ways to place your hooks, mount them vertically or horizontally, depending on the space available.
10. Stacked Cardboard DIY Headphone Stand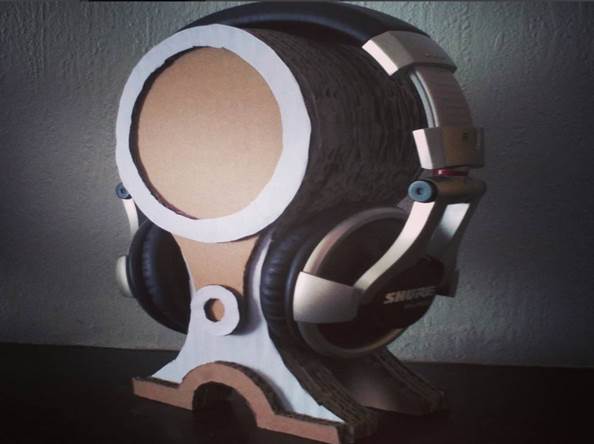 The stacked cardboard DIY headphone stand needs the following to set it up fully; double corrugated cardboard, a marker to trace the template to your cardboard, a pen knife to cut out the board, glue to stick layers together, and templates.
Start with cutting out the layers after tracing them on the cardboard. Glue the layers together and finally add decorations. The advantage of this stand is you can use complex designs. You have to make them before assembling the whole piece.
11. Cardboard and Hot Glue DIY Headphone Stand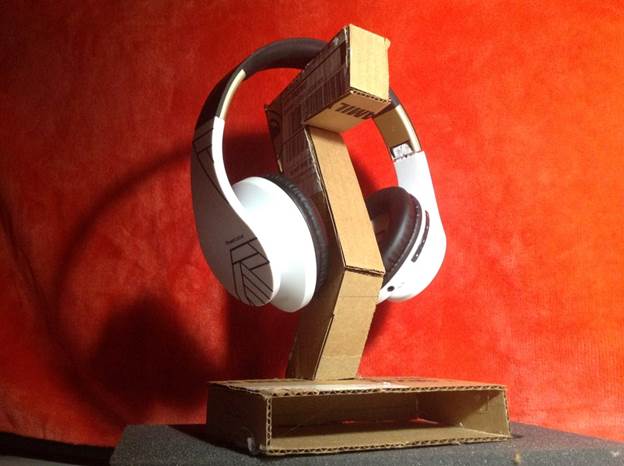 For the whole process of making the cardboard and hot glue stand, assemble the following; cardboard, a glue gun, glue sticks (hot), scissors, and pencil.
To make this stand, draw your template and then transcribe them to the board. Cut out the templates and glue your storage box and the foundation too.
Use the hot glue sticks to join the arms to the box. Add support to the weaker arms, and you are through. Decorate your stand using paints, drawings, stickers, and many more.
12. Spiderman Headphone Stand
If you have kids who love the Spiderman character, then this can be the best present to get them. It is simple to construct and what you need is a kata lox, maple, mahogany, headphones, Inkscape, planer, band saw, miter saw, jointer, belt bender, glue clamps, drill press, coping saw, files, sponge, and polycyclic.
This process can be tricky at times; therefore, you might need a helping hand. Most of the time is when making your face outline.
After assembling the materials, design your stand, prepare the katalox and maple wood, make a strong base, create the face outline, add the inlay pieces, sand, and then file your stand. Don't forget to add a finish to make it attractive.
Note that katalox wood is dense; therefore, you need the right tools to cut it.
13. Steam-Bent DIY Headphone Stand Made From Reclaimed Materials.
This stand type consists of steel scraps and reclaimed wood. Other materials needed include PVC pipe stuck, wood glue, band saw, plasma cutter, drilling machine, and rivets. Be careful not to pick fragile reclaimed wood as it is easy to crumble.
For this process, gather all the materials together, prepare the reclaimed wood, slice and steam the wood, shape, then sand your stand, then cut, bend, merge the steel by welding.
Conclusion
There are many benefits that come with making your headphone stand. You can create a frame according to your preferences and one that fits perfectly in the available space. It is also the right way of making some extra cash.
All the above methods are easy tasks, and you can comfortably do them at home. Some are good ways of recycling old materials around your place. Go ahead and make your family and friends headphones stand gifts.
Try out these tutorials today.