Are you looking for how to make your own DIY laptop stands? You are certainly in the right place. This DIY tutorial will give you different ideas and surely help you make them the easiest way possible.
I'm happy to present you with 20 amazing outstanding DIY laptop stands that you can make from the comfort of your home. All you need to do is get creative. The most amazing part of this tutorial is the making process which is super easy.
1. How To Make A Laptop Stand
Making this particular laptop stand is super easy, it is made from cardboard which is one of the most essential tools you will need, you will also need a ruler, glue, pen so as to mark the edges of the cardboard. The Making process of these is super fun and it's inexpensive. These types aren't durable but they're recommended for short-term. The video will give you directives on how to make these.
2. DIY Laptop Stand
A DIY laptop stand comes in handy and it helps with the ease of using your laptop. This particular laptop stand is recommended for people who are good with wood work. In making these, you will need a sheet of paper, which has to be glued to your plywood, you will need a hacksaw to help cut out the excessive part. In making it you have to measure 7-inches high of your wood, 10inches for the outside edge, 9 inches inside edges, etc. I recommend this DIY for a durable laptop stand.
3. DIY Laptop Stand From Shoebox
A DIY laptop stand from a shoebox sounds crazy but super easy to make and inexpensive. All you need are materials already available in your house which include a shoebox, a knife to cut out excessively, a pen and a ruler to help mark out measurement, glue to help put the box in place, Viola your laptop stand is ready.
4. DIY Simple Laptop Stand
This laptop stand is a minimalistic build that you can make in 5 minutes. All you need is a few pieces of plywood, a belt sander, table saw, nail gun, etc. In making this you have to measure according to your laptop size, that is proper measurement is required so as to fit in properly. You will also need a tape for measuring and lots more. This is very simple to make, and it's all fun. The video will guide on the length and width to measure.
5. DIY Laptop Stand For Bed
Here is an incredible and useful laptop stand made out of wood. All you need in building this includes wood strip, .75 in x 1.75 in x 6 ft, hardboard, MDF board was advisable, but the plain hardboard looked better and seemed more durable, two knobs attached to screws/bolts, two big washers, two-socket anchors, two very short wood screws (for the lip), four medium wood screws (for the legs) four small nails, etc. In making this stand especially making the legs the length of the legs will be determined by your stomach size, arm length, and how comfortable you want to be.
6. DIY Metallic Laptop Stand
Making a metallic laptop stand costs next to nothing, it looks great and really easy. In making these you need a Metal Mesh Document Holder which you need to bend so that the long sides lie flat, and flip it upside down so that the short edge sits on the desk. The weight of the laptop will hold the long side flat and make it durable. You will also need a roll of Anti-slip shelf liner, a small block of rubber, a glue gun, etc.
7. DIY Laptop Stand With Wood
Most laptop stands with wood are super durable, this looks very pretty, and seats perfectly well. For this project, the wood used is oak with faux metal legs, but you could choose whatever species of wood that suits you. The materials used include 1×10 board, 1×2 board, Wood glue, Wood Filler, SandPaper Spray paint, etc. You need to measure the size of your laptop so as to know the dimensions you will use, this is the first step in making a wood laptop stand, you cut your wood and assembly them for gluing, etc. The making process is really a GO- FOR.
8. Laptop Stand DIY Using Scrap Wood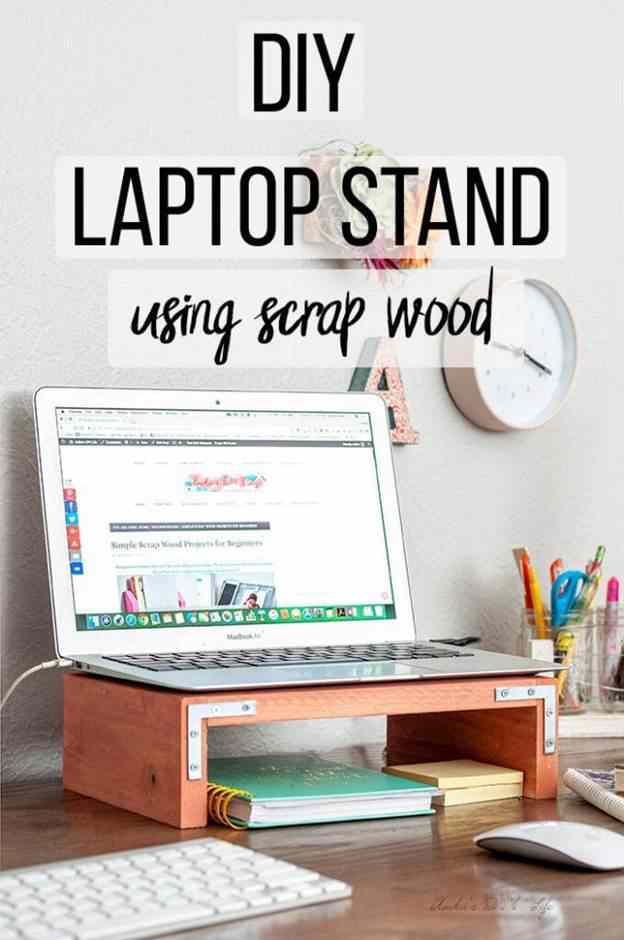 Scrap wood is another great idea in making laptop stands, making this laptop stand your neck and back will thank you. These could also be a gift idea. In making these, you need a miter saw, cut the 1×4 and the 1×3 board per the cut list, then attach one 1″ x 3″ board to the 1″ x 4″ board at a right angle using wood glue and finish nails. Making this with wood is more reliable because it lasts for a longer period of time.
9. DIY Monitor Stand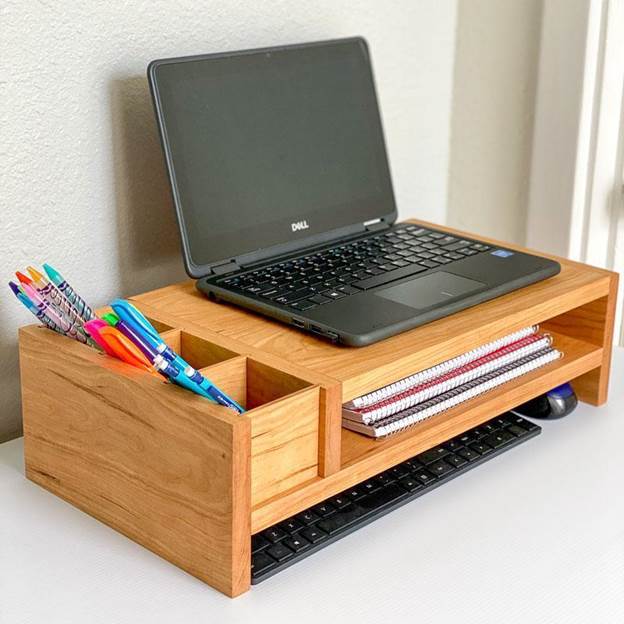 This laptop stand is a great way to raise your laptop to align with other monitors.  It's also a great way to raise your laptop to eye level so that you aren't looking down all day.  Not only is that bad for your neck, on video calls everyone looks up your nose.  One other thing that I really like about the design is that you can store stuff underneath it like a notepad and pen or maybe your cell phone. I recommend this design. It really helps.
10. Laptop Stand Using Shoebox
This DIY stand is very quick and easy. In making these, you will need a shoebox, glue, pen, and ruler which will help out in marking out the dimensions. This shoebox stand is recommended for an emergency situation. Super easy and very fast. But these aren't durable like the wooden laptop stand. Materials needed can be found at home and it's inexpensive to buy.
11. DIY Folding Laptop Desk
If you are looking for something portable to help with your laptop, this folding laptop stand is a great idea and it's a big game-changer. It's an easy build and here creativity comes into play. What you will need are just boards, pocket hole screws, linen white chalk paint, connecting bolts and cap, power drill, etc. Making this you will have to measure to make enough depths for your computer. Easy to make and very classy.
12. How To Make A PVC Laptop Stand
Making this particular type of laptop stand, you will need a long PVC pipe, six 90 degrees pipe. In making these you can decide to make your plans and dimensions. You have to mark and cut your pipe according to your dimensions. After this, you assemble them and try testing with your laptop. Viola a PVC laptop is ready. Super easy.
13. How To Make A Portable Laptop Stand
Here's a quick guide on how to make a portable laptop stand. This DIY laptop stand could be used as a bed laptop stand as well. It is very classy and effective. It's also easy to make, you will need wood, screws, a drilling machine, nail gun, glue, etc. The making process is quite easy to follow.
14. How To Make A Simple Laptop Stand
Making a simple laptop stand is easy and fast. This design requires a PVC pipe. Which you have to cut into different sizes, afterwards you assemble the pipes together and screw them in properly. You will also need wood for the surface so as to make it super comfy. The making process is very easy and very achievable.
15. Laptop Bubble Stand DIY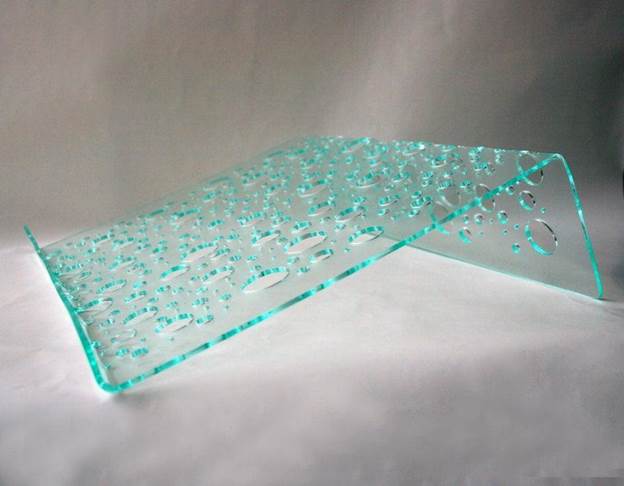 Do you want something out of the ordinary? The bubble laptop stand is the perfect pick, it is sleek and inexpensive. You will need 16*16 sheets of ⅛ acrylic, laser cutter, heat gun, etc. You have to peel the protective material off both sides of your acrylic. Position it correctly in the laser cutter and close the lid. Making these just beautifies your laptop stand, doesn't look boring, makes you ready for work.
16. PVC Laptop Stand DIY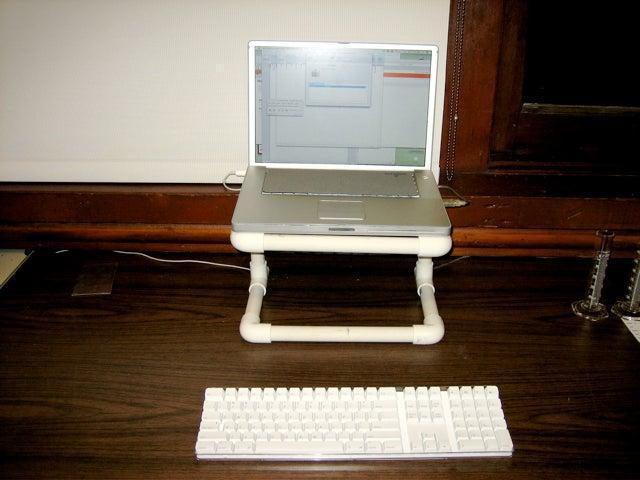 The PVC laptop stand is a full package on its own, with cable routing, no gluing necessary. Save desk space. Save your neck. Very easy to make, you will need Six 5 ½ " by ¾" pieces, Two 11" by ¾" pieces (for a Powerbook, for a dell 14 inch make these two pieces 7" to 8"), Four Tee Joints, Elbow Joints, with these your project is ready. Super easy.
17. DIY Laptop Stand For Bed
I'll recommend this bed laptop stand to make you less stressed and more comfortable in your bed. This is all about needing a comfy, flat surface so you can type in bed. Materials needed include wooden lap desk top, foam square, fabric (⅓ to ½ a yard, depending on your lap desktop size), trim, scissors, fabric glue, staple gun, and staples (make sure they are shorter than your lap desktop), wood stain and brushes (optional). This lap desk is really lovely, you can try making one.
18. DIY Laptop Stand Cardboard
A DIY laptop stand using cardboard is very quick and easy. This isn't durable but it works for any emergency situation. You will need cardboard, ruler, pen, glue, scissors, etc. After proper measurements have been taken you will need to assemble all of them together. Super easy and perfect for the laptop.
19. DIY Wood Laptop Stand
This DIY wood laptop stand is durable and simple to make. You will need some pieces of wood, and while making this type of laptop stand, you will need to have a plan drawn out, your plans will help give proper directives in regards to measurement. You will also need a pen, ruler for marking and a lot more. This video is recommended for proper analysis of how to measure. Quick and easy.
20. DIY Foldable Laptop Stand
This foldable laptop stand, the entire build requires only a few components like wooden rulers, metal hinges, and a few screws. It provides six different angle adjustments for the laptop and also the wooden construction provides a robust design. It could be folded inwards to attain a smaller form factor and thus provides easy storage in our backpacks. This is all creativity and it's simple to build.